FOLLOWING the Taylor Report in 1990, Liverpool's impetuous arch rivals Manchester United found themselves in a situation of ponderous limbo in relation to their Old Trafford home.
United's all-standing home had seen its capacity steadily decline since the Second World War. By the 1980s, the capacity had dropped from the original 80,000 to approximately 60,000. The Taylor Report would mean the attendance would be decreased further to rightly implement safety measures set, not to mention an estimated cost of £3-5 million that would be needed for the Stretford End and beyond due to the stadium's apparent disrepair.
United's hierarchy were faced with a stick or twist conundrum. The forced redevelopment was undertaken, with the removal of the terraces at the front of three stands, which increased the cost to around £10m. Pennies you might think, but not necessarily in those days. This also further reduced the capacity to an all-time low of 44,000.
In the years following the initial redevelopment, United went on to redevelop the North Stand in 1995. The same year the club purchased the Trafford Park Trading Estate for £9.2m which allowed them to envisage a grander scale of stadium redevelopment and eased many feasibility conundrums. In May 1996, the new three tier stand opened to a cost of £18.65m and increased capacity by around 25,000. Following this, a second tier to the East Stand was opened in January 2000; the stadium's capacity was temporarily increased to around 61,000 until the opening of the West Stand's second tier, which added yet another 7,000 seats, bringing the capacity to 68,127.
Old Trafford's most recent expansions, which took place between July 2005 and May 2006, saw an increase of around 8,000 seats. In 2009, a reorganisation of the seating in the stadium resulted in a further increase of the capacity by 255 to 75,957 making it the largest club stadium of any football team in the United Kingdom, the third-largest stadium and the second-largest football stadium in the United Kingdom, and the 11th-largest in Europe.
So, United were a club in transition with a young and ambitious manager, success had been starved in recent times but felt inevitably around the corner. They were also a club who had undertaken some stadium redevelopment and had the supporter demand which far outweighed supply and were at a point in time were they needed to decide whether to carry on expanding or not. Is any of this starting to feel relatable yet?
United's hierarchy chose to twist.
In 2016 Liverpool Football Club, under the stewardship of its divisive American owners Fenway Sports Group, opened its hugely impressive new Main Stand, towering above the skies of Anfield and in view from many of the city's panoramic landscapes and beyond. This was a development and sign of progress long overdue. From the bowl-shaped Stanley Park projections which gladly never came to fruition in the early 2000s to George Gillett's delusory "spade in the ground" falsities some years later, Anfield was in grave danger of becoming a forgotten community, stagnating in a purgatory of fortnightly fleeting influxes of match goers but otherwise resembling a place left to languish delinquent under a grey existence of broken promises and false dawns.
Anfield this season has a spark back, it has hope. The stand has breathed new life into the area. The stadium itself looks much more imposing and befitting of a club of our standing and stature. Work is carrying on outside the stadium to build a new hotel and club shop as well as plans for more small businesses to open alongside some much needed and deserved housing regeneration. For all of this, Liverpool's owners deserve their accolades and credit.
However, their next step, or lack of one, will ultimately define their tenure at Liverpool and will ultimately cast judgement from all quarters, as many, myself included, have been impartially on the fence when it comes to FSG up until this point. I've always felt my stance on FSG was an embodiment on the type of owners they ultimately are; non-descript, middle of the road, steady. After seeing the embargo of the High Court battle in 2010 that really could've seen Liverpool in ruinous free fall, FSG were a welcoming safety jacket to many of us.
However, the thing that the Main Stand has sparked more than anything is hunger, a hunger to keep going, to be relentless in further development of the stadium and the area. At first glance of the new stand in September 2016 anything felt possible. Eyes were ultimately then fixed on the suddenly underdeveloped looking Anfield Road and the scope for new life on that side of the ground. Even The Kop seemed developable given what we had been presented with in little less than 18 months.
"I don't know if there is a next step because ticket prices are an issue in England. That may foreclose further expansion. We'll have to see."
Ah…
John Henry's comments shortly after the opening of the Main Stand seemed a sobering plummet back down to Earth. It had all the school teacher dictation of being told not to get too carried away that we've all encountered in our adolescence at some point. Don't you dare start dreaming of progression and furtherance, that's on my watch, not yours!
At present, Liverpool currently have a deadline of September 2017 to submit plans for 'phase two', the redevelopment of the Anfield Road. It is not a question of if it will be done or not, as it looks increasingly likely that it won't, it is more a question of why it wasn't done immediately after the Main opened its turnstiles or even before. Henry's comments felt somewhat like an underlying dig at the fan's ticket revolt last year, a 'reap what you sew' type of statement that ensures expectations are well and truly managed. This aside though, there are more prevalent questions that need to be answered, like just what exactly is FSG's end game with all this? If there was no intention to further redevelop Anfield then why submit plans in principle as they were? Why, you could argue, did they bother doing the Main Stand at all if they were just going to stand still after it? Have their experiences in trying to raise ticket prices and the issue around cost effectivity put them off that much?
These are all currently questions floating in the Anfield atmosphere that, if left unanswered, will become more pertinent and unsettling as time goes by. As with FSG's tenure, if there is a wall of silence from their safe haven across the pond in Boston, the discontent will only rise up until voices are in one way or another heard. The insinuation from Henry that ticket prices and a lack of corporate opportunity in the Anfield Road end means that further expansion is unlikely is simply not good enough. The priority must quickly be shifted from one of seeking immediate financial compensation to simply easing the overwhelming demand to see Liverpool Football Club play football and the willingness to play more of a long game. If more people are able to see Liverpool perform in the flesh, then all of the other income generators that contribute to match day revenue will inevitably increase with it. At present, FSG resemble that overly careful mate or family member we all know who is far from hard up but will sacrifice a great night out for the sake of austerity and tell you they're skint.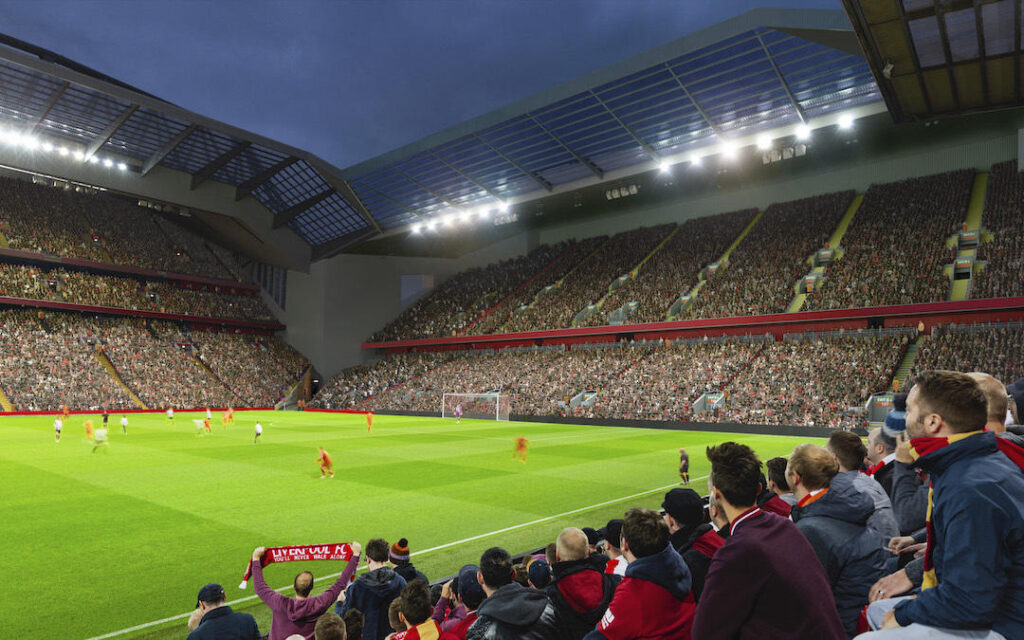 The other thing to consider here is Everton's impending new residence on Bramley Moore Dock. The sight of further development in the city as a whole is a good thing, this should never be doubted. If Liverpool is to regain its status as a football powerhouse as well as cultural one then the sight of both red and blue at the top of the football pyramid will only serve as evidence of this, and both clubs will need a stadium befitting of this status. However, the thought of Everton suddenly looking the more progressive and innovative of the two clubs could be damaging to Liverpool's ambition going forward for a number of reasons.
If you consider the constant stream of younger generation football fans split red and blue across the city that undoubtedly adds to it's vibrant and energetic roots as a rivalry, the prospect of Everton not only being more accessible, but now having a new stadium on Liverpool's waterfront with all its shiny new buttons, while Liverpool's season ticket waiting list remains closed at 20,000-plus and Anfield suddenly looking once again as a place stuck between ideals, the prospect of blue rather than red perhaps suddenly looking more enticing to the youngsters of this city and beyond.
Of course the Blues will tell us that everyone in Liverpool already supports Everton and Anfield is basically a four cornered map of Norway. And at the expense of being told my "Kopite head is falling off", the realities of Everton's impending stadium means Liverpool have to act to make sure they remain the Joneses, and are not suddenly just keeping up with them. As well as this, the club have a responsibility to make Anfield as accessible as possible for the people of Liverpool and beyond to come and watch a team with a plan, a club with an aim.
The purpose of mentioning United and Old Trafford was because it is something that symbolises one word: momentum. Liverpool currently has a manager that thrives on the word momentum. Jürgen Klopp, when at Mainz, advocated the club's stadium expansion when they were chasing promotion to the Bundesliga because it fed in with what he was trying to gather — momentum. At Dortmund, he set a goal of trophies and didn't stop at the first one, this saw attendances and season ticket sales at the Westfalenstadion rocket. Liverpool, at present, are a team on an upward trajectory that are improving every year and currently crave a return to the Champions League because it will evidence and signify one thing — momentum.
Klopp has already implemented a long-term structure for the training facilities which will entwine both the first team and Academy set-ups at Kirkby. He is constantly looking for the club to be progressive both on and off the pitch in line with his long-term vision for success at Liverpool and the owners must mirror this in their own actions to keep the pace. Klopp's appointment was the biggest indicator to me that these owners genuinely want Liverpool to be successful. A decision to stand on ceremony now in this sense would pose the question of just why they moved for Klopp so proactively in the first place and gave him seemingly every key to the castle. A repeat of previous years' inner turmoils, from cryptically veiled public outbursts to privately rumoured murmurings of unrest must be avoided at all costs. This could sound extreme, I appreciate that, but Klopp is not someone who will stand for any onerous presence in the confines of Liverpool Football Club from its hierarchy or otherwise. Rafa Benitez didn't stand for it and a civil war raged for what felt like an eternity within the club until his position became untenable.
Fenway Sports Group need now, more than ever, to sit up and take stock of Liverpool's current situation as a matter of urgency. They have been custodians for enough time now to realise this is a club who will not accept any form of sitting on its hands. In many ways, they are owners who have made a rod for their own backs by waking up supporter ambition and drive that we ourselves were perhaps guilty of being too pedestrian about. They would be wise to heed the lesson of times gone by where their actions have been somewhat unmeasured or dismissive.
More importantly, they need to honour their commitment made to base Liverpool's future at its current home, a decision that effectively diminished the option of a new stadium elsewhere and means that Anfield needs to be the absolute best it can and should be in every single department.
In many ways, it is their very own case of now or never. Stick or twist, lads, your call.
Recent Posts:
[rpfc_recent_posts_from_category meta="true"]
Pics: David Rawcliffe-Propaganda Photo
Like The Anfield Wrap on Facebook