AHEAD of Liverpool's crucial clash with Manchester United at Old Trafford, we spoke to our mate Ste Armstrong from United We Stand to get an opposing view on the game.
Firstly, what are your personal best and worst moments of Liverpool visiting Old Trafford?
You've known me long enough to not expect the obvious, so here goes.
Ask most, they'll say the best was the cup game in 1999 where United scored in the 88th and 90th minute to win the tie. Ask them the worst and you'd expect the majority to say the 4-1 in March of 2009. I wasn't that arsed about that, truth be known. I knew Alex Ferguson would use that to fire them up and get a response that would all but secure the title and he did.
I've seen us lose 5-1 to City and that for me was the worst thing to ever happen. In fact the only plus point of the time they won 6-1 at Old Trafford was that the Blow Up Banana carriers could finally stop going on about that shambles of a day at Maine Road.
Best for me was New Year's Day in 1989. Liverpool were toe-to-toe with Arsenal and United were massively shit. We finished 13th that season, just 12 points above a drop that was a distinct possibility for us that season. Ferguson was struggling and no-one expected anything other than a seeing to. Liverpool managed to lose 3-1 to a team full of young lads, and Ralph Milne. That at the time felt like the best thing ever. We played Middlesbrough away the very next day and lost. Two games in two days. Imagine the whinging now?
Worst for me was a year later. March 1990, another abomination of a season that was famously saved by that FA Cup run. Winning the FA Cup made people forget we finished five points above the relegation zone. Anyway, it was by some distance the worst United v Liverpool game I've ever seen. We lost 2-1. Liverpool even scored our goal. You know those days you have when you can't wait for the cricket season to start? One of them.
Last time we spoke, United were sixth with four wins from seven. Now they're sixth having won six on the bounce, do supporters seem to be pleased with the way the team is performing now?
Supporter view hasn't changed one bit all season. Everyone who goes could see and feel the difference.
Honestly, the football under Louis Van Gaal was the absolute worst. Anything that isn't that is a step up and people have, and continue to be, genuinely happy to see attacking football. Yeah scoring none against Burnley after close to 40 shots is easy to label as poor but it was edge of your seat stuff. The performances, the attitude, the whole club just felt better and everyone who goes could see that.
If anything, the support reacted much calmer to that period than the manager did, but he's now worked out that what was said to him about the club, about the support was actually true. He's in a great place now and the club has loads to look forward to. I haven't enjoyed football as much as this for about six years.
No one is getting giddy, though. Fixtures have been kind and you could say that with the exception of Spurs at home, United should be winning those games. But yeah, there's a real feeling of optimism around.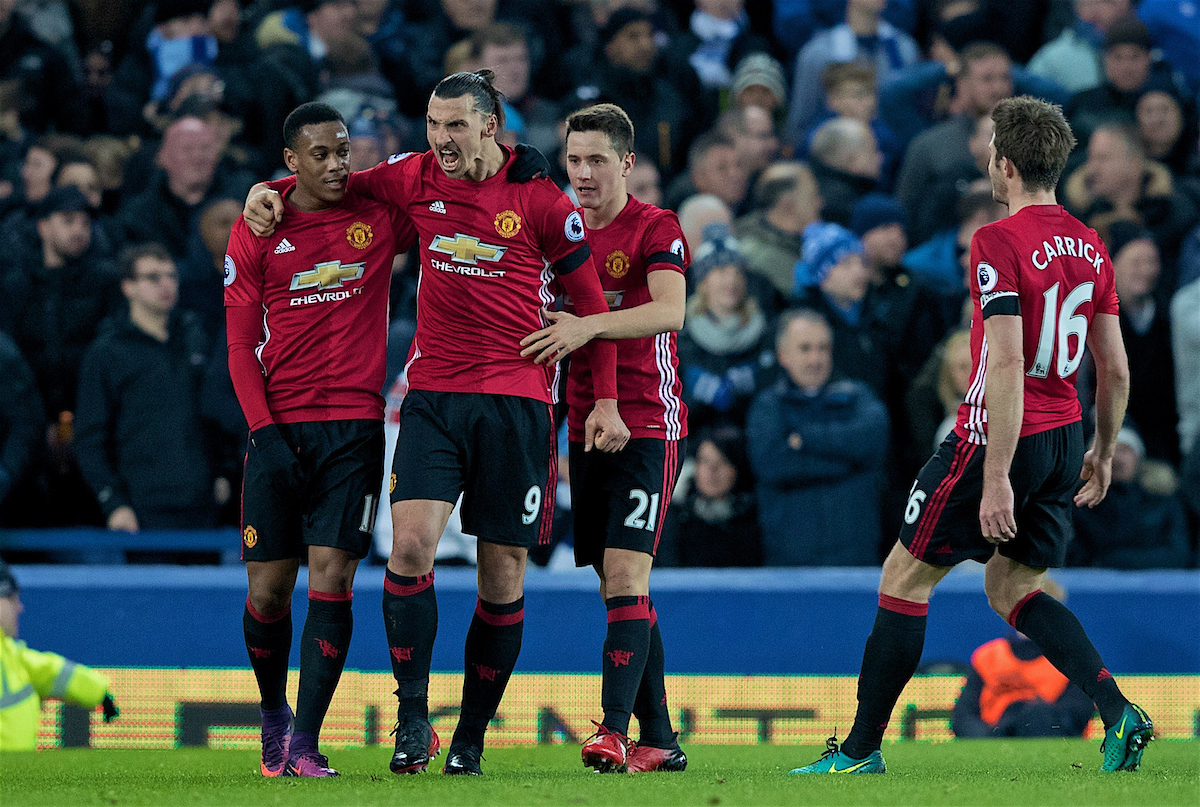 Is it frustrating then that that form hasn't seen the team move up the table?
Not really. United are winning games and playing better with each game. You can't moan about that and if the table doesn't change, so be it. I feel like I've got my club back, that I'm going to see United as they are meant to be and that's alright with me.
Chelsea are the best team I've seen us play. Manchester City produced the best performance. Everyone else, for me, is bang average at the moment. Liverpool aren't the side they were three months ago, Arsenal will hit the shit button at some point and Spurs will soon remember that they are Spurs and find a way to Spurs things up.
United just need to stay focused on playing better each game, work hard at working better together in terms of the telepathy that should exist in great teams and see where that takes us. United are currently sixth. They are currently outperforming that position and I am sure that the club and everyone in it will be happy with that. Sixth playing like first will see them climb. First playing like Swansea would worry me much more, so I'm alright with where we are at.
Last time out against Hull, Jose Mourinho seemed to criticise the atmosphere at Old Trafford. What did you read into those comments?
Did he? I can't comment on that as I didn't see a single comment that criticized the atmosphere. I'll give you a view on what I saw him say in the post-match press conference. He said he wanted people to not come to the 'theatre', a reference to that dreadful Old Trafford nickname but to "come and play with us". That, to me, wasn't a critique it was a call to arms to make it a proper cauldron.
I think he knows full well that he had no need to say anything. It's United v Liverpool and it will be bouncing, probably not as toxic as it was at the Europa League game but it will be lively. Don't forget he's never experienced this match at Old Trafford before so he has no idea what he's walking into. He'll know when he walks out what it means to everyone.
It's been spun as a dig at the fans, it wasn't. It was simply a request to take it up another level. Interestingly enough, the bulk of that press conference was nothing but praise for the standard of support during that period, further echoing what he said to us in his recent interview with UWS.
What I do think is of huge interest is that him saying it was a massive indication of his growing confidence in the role and comfort with his high-profile surroundings. He wouldn't have made a demand of the support in October as he wasn't in a position to. You can say what the hell you like when you are eight wins on the spin and unbeaten for a fair while.
For the record, the atmosphere against Hull was shite. We mentioned it on the post-match podcast. I sell the mag every game and you always see a really different crowd in a League Cup game. A lot of regulars don't opt in to the cup scheme and the place gets flooded with kids which isn't a bad thing, even if pre-pubescent chants of 'United' does go through me a bit.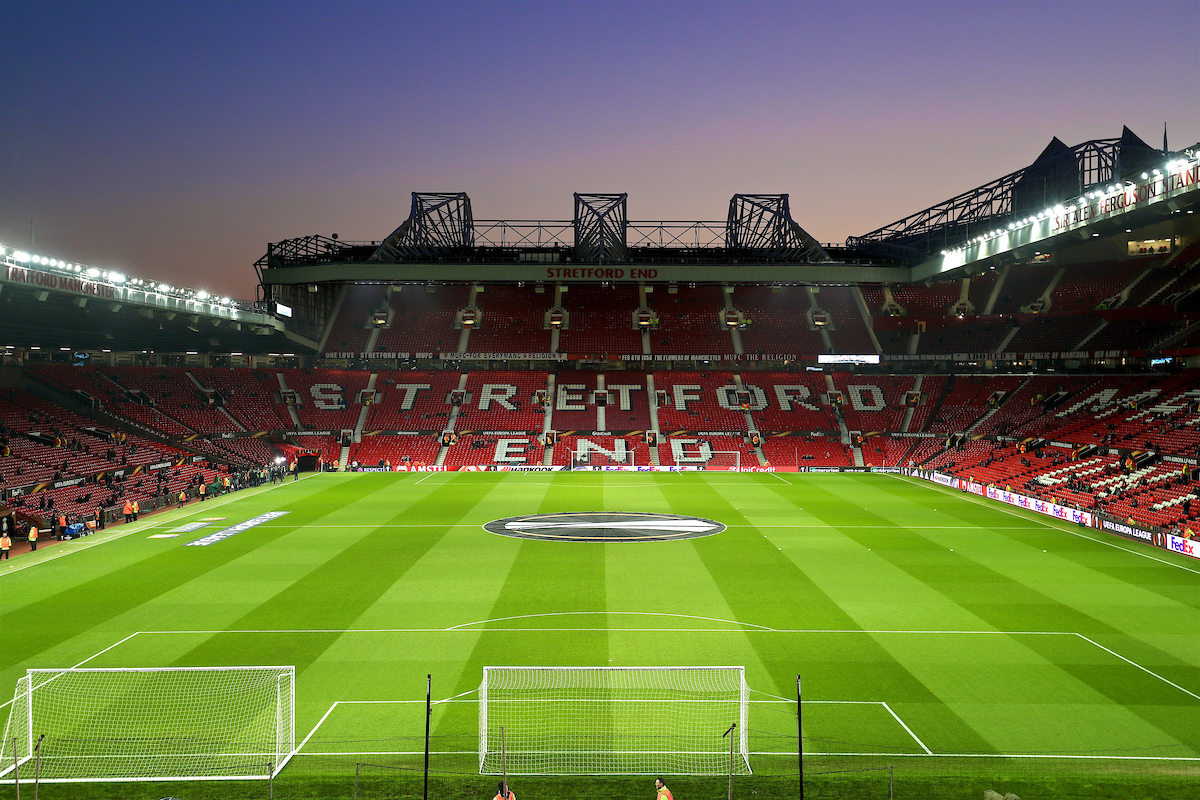 With that being said, what sort of atmosphere do you expect on Sunday?
Anfield in October was weird. The club on a high was playing a rival that, at the time, was struggling to get going. It should have been a bear-pit like it was in the European game, but it became the flattest Anfield I've probably ever experienced. The end result of that was a nothing game and a fairly easy night for United.
People can whinge all they like about how United played that evening, I had no issue with it. Sometimes you have to batten the hatch down and try and stave off a crowd and a team that are going to come at you. We've done that loads of times at Anfield. Probably every year since 1999.
Ultimately, the crowd didn't get going and neither did the side. That can't happen on Sunday and I think that is what Mourinho is trying to avoid. He can expect noise from the second the sides walk out. What happens after that, as always, will be dictated by the away fans and the performance. A good away crowd does lift a home crowd, but nothing raises the volume like a cruncher of a tackle or the team bombing forward with flair. So if those components are in place it should be lively.
I used the word 'toxic' about the games last season. I'm from an era of mass violence in football. Parts of me miss the intensity that was created as a result of that, and the unbelievable rush of adrenalin we would get. What I don't like is the horrible, snide, one-upmanship aspects that bring tragedy into it. I'd like to think that is behind everyone now. It would be nice to think those who died on the runway in Munich, and those who lost their lives at Hillsborough can rest in peace. Manchester isn't full of shit at all and as someone who has worked in Liverpool for 20 years I can categorically state that 'you'll never get a job' is bollocks. There's no need to wander into those areas anymore, but people on both sides will continue to do their own thing, I'm sure.
There's an argument to say that at times it's not a football rivalry at all. It's just rivalry about other things taking place at the same time as a football match. I love the chants of 'United' during your pre-match sing song. I love singing about my team, my club, my city. It's possible to be tribal without being a bellend.
Many believe Sunday's game is huge in terms of how the title race will pan out, would you agree with that?
The outcome of the title won't be impacted by this game because neither of the two teams involved are going to win it.
I've been where Liverpool fans have been, in terms of getting close to three decades without a title win. I understand the ease by which hopes of it ending can be raised, and also the speed at which those hopes can come crashing down around you. It's almost impossible to enjoy going to the match at times.
For me, Liverpool don't have the depth of squad or the strength of mind to win this title. That could change because the manager does have what it takes but talking to me now I just don't see it.
Regardless of the title, it feels like it could be the most pivotal game for a number of years with respect to where both are currently at. As it stands today, United are playing better, more confidently, and have great momentum. That from our point of view has to continue if our progress is to continue.
Liverpool have hit a bit of a wall and they need something out of the game this weekend to arrest that and give what we know to be a good squad a shot in the arm. I'm talking literally there, by the way. There's absolutely no room for doping in football and manipulation of fitness using unapproved medical techniques.
A good win for United and you can expect them to bound into the last third of the season with a real swagger. A win for Liverpool and you can assume that they'll use that as evidence of being firmly back on track. Anything is then possible from both sides point of view going into the last few months of the season.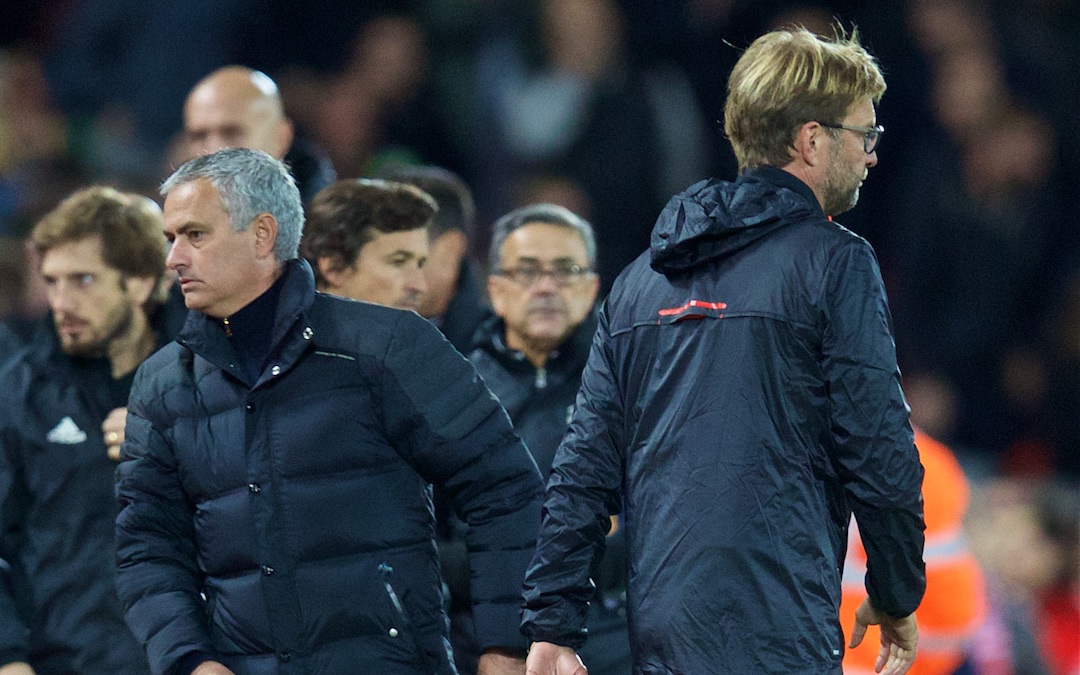 Do you think that both sides being in the mix adds something more to the rivalry?
I think it helps to channel the rivalry into football things as opposed to other stuff. The hatred peaked in 1985, it couldn't ever be as intense as that again. I could never feel the same about this fixture again from that period onward.
It's been a lot snider since, and largely exists in the bedrooms of people on the internet. I can walk to Anfield now without any fear whatsoever. Liverpool fans can mooch about Old Trafford without any mither. The days of me and my mates having to take cover behind the counter of a Chippy to basically not get our faces slashed near Goodison are long gone.
The fixture, for a number of reasons, lacks the hatred I experience with City and Leeds in particular. But, for many, it remains the game of the season and the one that gets people fired up. What happens on the pitch should be the driver of the rivalry that exists off it, so the games with more at stake definitely add more fuel to it, yes.
Finally, rather than a standard prediction, what sort of game do you want to see?
I'm a big fan of knee-high tackles with two feet, players being absolute shithouses and general intimidation. The 1970's basically. High tempo, with players throwing themselves into it like their life depended on it would be mint.
You always want your players to show that they know what this game means. Bryan Robson and Norman Whiteside always did that and that is why they are held in such esteem. You can all pick your own players from the past who can represent that for Liverpool, also. I'm not sure either side has many of that type, the type to froth at the mouth about it in the tunnel and go on the pitch like they've been possessed. So I'm unlikely to get my wish.
I expect you'll see United play with the same style they have for the last few months now and while it isn't in Jürgen Klopp's nature to try and soak it up I think he's going to have a plan to do that for part of the game. United are now a team that scores early and has started scoring late again. Van Gaal was happy to be 0-0 at half-time whereas Mourinho isn't. Van Gaal rarely made a difference at half-time. Mourinho absolutely does, so visitors to Old Trafford now need to be on top of their game from kick-off to the final whistle.
It will take a perfect performance of outstanding concentration from Liverpool to win this game at Old Trafford. Something they are capable of doing, but they enter it lacking the swagger they had two months back.
I think odds against for a home win is incredibly generous, and 13/5 for the away win at least a point short of what it should be given the form. It would be brilliant for us, definitely not for you, if this was the day that Wayne Rooney became the club's all-time leading goalscorer. I think he'd quite like that.