"WE'RE building something here, detective. We're building it from scratch. All the pieces matter."
A line from the nonpareil Clarke Peters character Lester Freamon in The Wire, talking about his investigation into a spiralling drug conspiracy case in West Baltimore at the height of its power. I took solace in this quote recently in the immediate aftermath of our recent perceived apocalyptic results against Southampton, Plymouth Argyle and Sunderland. But none more so then after Sunday's valiant draw at Old Trafford.
I think we can relate to what is said, us Reds. From our point of view, we're seeing our own case growing with previously unimaginable capability as the days go by; the interested parties are looking on with increasing consternation. We're uncovering new evidence and having our eyes widened to things we did not know were ascertainable by this team. We're going above and beyond our payscale, making every team who faces us feel like there's a thin line 'tween heaven and here. All the pieces matter, yes they do, Lester.
There is no sinew of doubt about it, this Liverpool is right in the battle for this league title and, for me, still will be come spring time. The draw against Manchester United had all the hallmarks of a team not interested in falling by the wayside or losing its nerve. Looking at this team has got me thinking of the previous two challenges we have seen in 2008-9 and 2013-14 and how this feels quite incomparable to those two previous quests.
Those two teams were excellent, I loved both of them equally for their contrasting brilliance, and the heartbreak still lingers over the fact both couldn't get over the line, for many reasons, but predominantly because they were both good enough to win the football league. I also think the two sides were more alike than we realise. Although two very different managers were at the helm, both sides had characteristics that would catapult them into the elite district of the Premier League; however their same strengths would ultimately count as their inherent weakness and contribute to their downfall.
Under both Rafa Benitez and Brendan Rodgers, both sides had two leading protagonists. The Steven Gerrard-Fernando Torres and Gerrard-Luis Suarez partnerships were undoubtedly the creative, spell-binding and world class vehicle that embodied their Liverpool and drove them through all the trials and tribulations that faced them, admittedly less so Gerrard in 13-14 but even then, to his credit, he was still running around doing loads of Ste Gerrard stuff. This would, of course, lead to the lethargic talkSPORT narrative of a one or two-man team, one that is currently unfairly being levelled at the current Chelsea side with Diego Costa and Eden Hazard.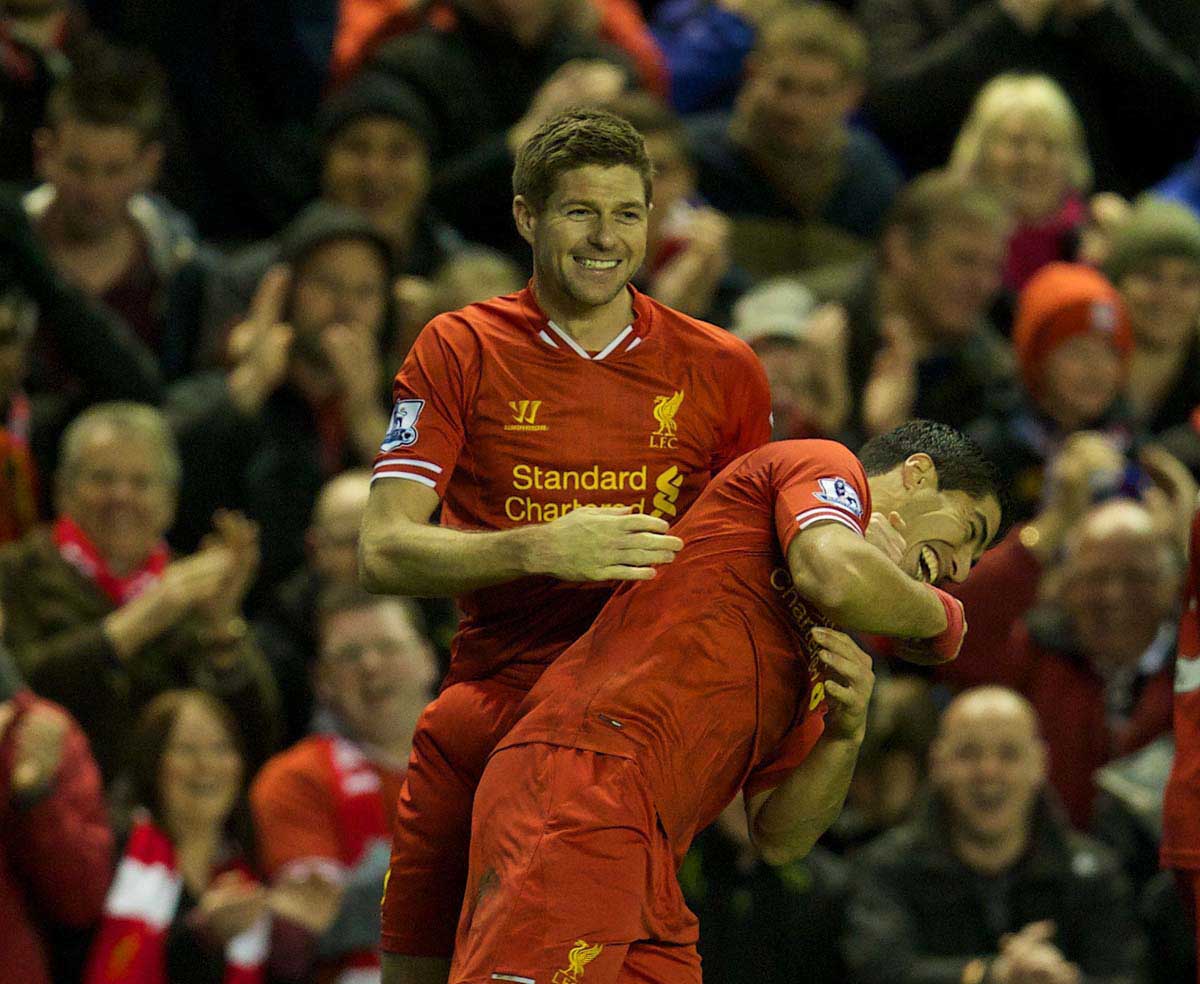 Compare this to the current Liverpool side. The best way to do so was summed up by a Manchester City fan who, when speaking on an Anfield Wrap podcast recently, claimed that there were not many Liverpool players he would swap for City's on an individual basis, but he would have this Liverpool's team ethos and sense of togetherness in a heartbeat.
Although I don't agree with him on the player point, what he emphasised was more about just what it is Jürgen Klopp has created here; a monster that cannot be bought or quantified in a tangible sense with no one player relied on to be the one who disembarrasses us when the chips are down, as in previous years. This side have all the collective togetherness coupled with an unwavering drive and ambition to be the best. The team is the star here, no requirement for 30-yard headline makers, though you could argue Philippe Coutinho is more than capable. Instead, you make one more pass, and one more, and one more. Everyone with a unified responsibility which stretches from the cleaning staff at Melwood to the arse on the seat at Anfield. The collective will win, my army is bigger than your army here, lads, a battle in which you can't triumph.
If you look at the identity of the two previous sides mentioned, each had a clear modus operandi that led to its results and was embedded in the nature of performance. Benitez's Liverpool was tactically unreal, setting up with a spine that was looked back on in successive years with all the fondness of a melancholic love lost, and rightly so. They were built on a platform of being tactically and defensively superior, with the added fillip of Fabio Aurelio running games from left-back which had all the elegance your heart could desire from a game of football.
In a similar mould, in 2013, once the Suarez ban was lifted and the debacle of Hull away had occurred, Rodgers found a formula of his own in the form of unwavering attacking play with pace and directness. A front two that were the most antithetical and adversely brilliant partnership imaginable, coupled with a diamond shaped instruction of endless legs and creativity. This brought with it a river of goals and tons of buy-in. A result of mad games made so by the maddest Liverpool side I've ever seen, a side not phased in the slightest by conceding three knowing they'd score six. This is how they would win, they would make the maddest game of football in the world and you'd get lost in their madness. Halfway line goals to go three up followed by the same players sprinting to retrieve throw-ins in our own half; all the madness, all the best.
As previously mentioned, though, both sides' strengths also counted as their weaknesses and that ultimately showed. In 08-09, we will always look to the home draws against the likes of Stoke, Hull, Fulham and West Ham all before Christmas that cost us. There was and still is a finger that is pointed at Benitez's ultimate unwillingness to scrap plan A and throw the Robbie Keane-embodied caution to the wind in games. His perceived unwillingness to make the desired subs or positive changes in games was seen as something that ultimately cost Liverpool and the rest, as they say, is Federico Macheda v Aston Villa.
I've always shared the view that Rafa was not as blindly stubborn as people made out, when it came to tactics and winning games of football. He could be in other ways as we saw, and rightly so, but his in-game management was never overly-flamboyant at the best of times and he always did what he believed was right to win. However, the perception remains that he didn't do enough to win those eventual stalemates, and his Liverpool weren't always adept at finding a way to.
Likewise, 13-14 will always be remembered for Chelsea at home, and will always drag up the 'why didn't we play for the draw?' argument that I'm still to this day willing to fight to the grave against. We played Chelsea the same way we played the rest, which had put us in a position to win the league in the first place. It was never as simple as cancelling each other out, that side was created on a bedrock of buy-in, it had no other way to play and it would have gone against everything it stood for had it abandoned its style. What if we had done the same at Old Trafford or Arsenal at home? Hindsight is the strongest ally of criticism in football. Brendan Rodgers stuck to what he had built and had placed all his faith in, that's why, for a split second, we all believed we could beat Crystal Palace 10-0.
This Liverpool side is like something I've never seen before in its approach. It has a certain unnerving calmness about it that we're not used to. While we as fans have persistently explored the debate of identity and formations and left-backs at different points of the campaign, this Liverpool have been chameleon-like in their application, adapting to all the possible denominations of how to win a football match, knowing what a Liverpool goal now looks like and what our footballing identity is. They have blown teams away, been dogged, cut loose, held on, left it late and done it early. Barcelona-esque, even Gerard Houllier-like on occasion, they have adapted an identity to match what is required to win a game of football.
More impressively, they have suffered their setbacks in isolation (despite all our heads falling off) and not let bad habits develop in a regular point-debiting fashion. The losses to Burnley and Bournemouth were very hard to take, as were the draws with West Ham and Sunderland, such is the pace set by Chelsea and their recent winning streak. But I have a saying in life that sometimes we need to do the things we never do to remind ourselves why we never do them. This has been the nature of this Liverpool this season. Setbacks will happen, however dwelling on such setbacks is a problem that all clubs should seek to avoid if they're to reach the summit of their aspirations.
It might also be worth mentioning that this side has so far taken 12 points from the teams that accompany them in the top six. These are games that are effectively looked on as being the 'six- pointers' when it comes to this here league winning business. That's with four of those fixtures still to be reversed against these sides, three of which are at Anfield. In 08-09 Benitez side took an admirable 22 points from those around them, with Rodgers men managing 16 from those in the vicinity. That means 10 points from four games would see us match one previous tally and better the other. If we're being the believers the manager wants us to be, then who's to say the maximum 12 points can't be achieved given how assured this side looks when pitted against the best this league has to offer? We know from past experiences these points will prove to be pivotal come the season's end.
There is maybe one standout correlating factor at play this year with those previous. It should never be forgotten just how bare bones both previous sides were in their quest for the elusive 19. Benitez had to deal with endless lamps opposed to sofas during that season, David N'Gog for Torres being the most notable abyss in quality beyond the 11. Likewise, Rodgers always maintained Liverpool lost the title the minute Jordan Henderson was dismissed in the dying ethers of City at home. He had a Victor Moses and Iago Aspas-sized hole in quality that was evident in the proceeding fixtures.
We have seen similar holes in this Liverpool beyond the first 11. When I looked at both benches on Sunday I had a feeling that substitutes, or a lack of them may have a sizeable effect on the result and it did. Jose Mourinho, having already handed Wayne Rooney and Juan Mata the responsibility of coming on and pushing Liverpool further back, then looked at the lack of height on our bench and opted for the 2005 spirit of Robert Huth figure in Marouane Fellaini as opposed to the talented Marcus Rashford. Liverpool were not afforded such luxuries from those on the fringes, having already placed sizeable responsibility on the likes of Trent Alexander-Arnold in what was a colossal fixture.
This, though, will only count as another positive for Liverpool. We have a manager who is somehow able to make everyone who comes under his wing treat football for the condensed, disrobed and instinctive game that it is with no regard for occasion and no requirement for trepidation. As highlighted in Jonathan Northcroft's excellent Sunday Times piece last weekend, Klopp has a self-alleging belief and empowerment that he places in every one of his boys, particularly The Academy players who we as fans have been begging to be entrusted for many years. The belief instilled in every member of this squad means that mistakes can be made but players aren't then castigated and made to feel eternally imprisoned by them.
There is also an acceptance, and to a certain degree warmth, in the knowledge that Klopp is developing these young boys and allowing them to grow as people. In a way, protecting them from us and from football's ever rotating conveyor belt of objectification, relating to very young human beings. I accept that this may not be overly comforting in Liverpool's quest to win the football league, but I believe Klopp will ultimately improve a player the more he improves the person and this can only benefit Liverpool when they reach the home straight of 16-17 and beyond.
The relativity of all of this will not be known until May of course; good lord, that feels a lifetime away still. We're only just past halfway. Yet, thus far, the things we know to be true are as follows:
Win 13 on the spin and we're not going anywhere, at all.
Spend £86million on a lad and we will strip him bare of all his human facets and make him look like a modern-day Jean-Michel Ferri with highlights and an emoji.
Pit us against what's around us and we will more than likely come out on top, and look well worthy of doing so.
Give us a blip, or injuries, or Anthony Taylor and we will deal with them isolation, nothing more allowed to fester, done.
Ask us to win a game mostly every way possible and we have, and will again.
These factors make this feel different to me. What did we learn from our previous assaults? We learnt that the heartache doesn't get any easier should we fall short. But let's embrace this in its different and more organic way of finding what it is we all want and have longed a lifetime for. Let's do what they all can't and pull together as one collective leading light, a football club destined to be the sole arch protagonist. With a manager who wants an ayatollah of a squad photo rather than any individual accolade, a man who wants this as much as any one of us and has the pedigree to deliver it.
This manager is building something here, piece by piece, a conspiracy different to the Liverpool sides who have gone before him. He's in this for the long haul, and in my opinion, might just change the way we look at and define how success is achieved in this country. Make no mistake, we are building something here, and by God all the pieces matter.
Recent Posts:
[rpfc_recent_posts_from_category meta="true"]
Pics: David Rawcliffe-Propaganda Photo
Like The Anfield Wrap on Facebook