IN April 1990, Liverpool beat QPR 2-1 at Anfield. A John Barnes penalty won the game and, by extension, the league with two games to go to finally see off the threat of – yes – Aston Villa. All wrapped up to the extent that Kenny brought himself off the bench for the final home game at Derby County.
It's hardly news that this is the last time we won the league but there is something about that match which may be more surprising. The attendance was 37,758.
Imagine us going into the Southampton game on May 6 just needing three points to secure the title with only 37,000 being there. Unconscionable, isn't it? There would be more than that lining the streets, waiting for the coach.
The thing is, league titles were celebrated but not as vociferously as we would/will in May. When we won it at Meadow Lane, Notts County in 1984 a lot of Reds didn't travel because the Bunnymen were playing the Royal Court Theatre in town — and we were used to winning the league more than Bunnymen gigs in a venue where everyone could get tickets. Today, there's no band in the world who could keep me away from Anfield on the day we play the Saints. It would have to involve The Beatles and a process of cryogenics and I'm not even sure that that would be enough, but the point is that if you missed the lads throwing around the league trophy, you'd see it again next May or the one after.
The next league title will be the greatest in the history of the club. Nothing will top it. The celebrations will make town look like a month-long Roman orgy. It will make Kenny's clincher at Chelsea away in 1986 look like a bog-standard Charity Shield win on penalties. It will make the fall of the Imperial Empire in the revamped version of Return of the Jedi look like polite applause for a 11am karaoke singer in a pub that isn't really open yet. It will be the biggest thing in the world. Bigger. I'm not sure my limited brain can consider such a prospect.
And yet, in some circles, to merely entertain the prospect of the Reds winning the League is to jeopardise it. That it smacks of arrogance and grandstanding and invites gargantuan amounts of hubris if we fall at the final hurdle. Or slip.
This is understandable in some respect. The end of 2013/14 hurt us all – no sense in denying it – but at no point should we look back at that season and regret getting excited about it. On a personal note, I'd danced around the away end when Steven Gerrard sank the late pen at Fulham, I'd drank myself sick in town when we battered Spurs at Anfield and I'd shook at the possibility of what lay ahead when we finally saw off West Ham, but at no point did I think that any of that was wrong. I'd waited 24 years for that feeling of being the Champions of England and I intended it to be a season-long high — or at least from Christmas – rather than a night out after the final game.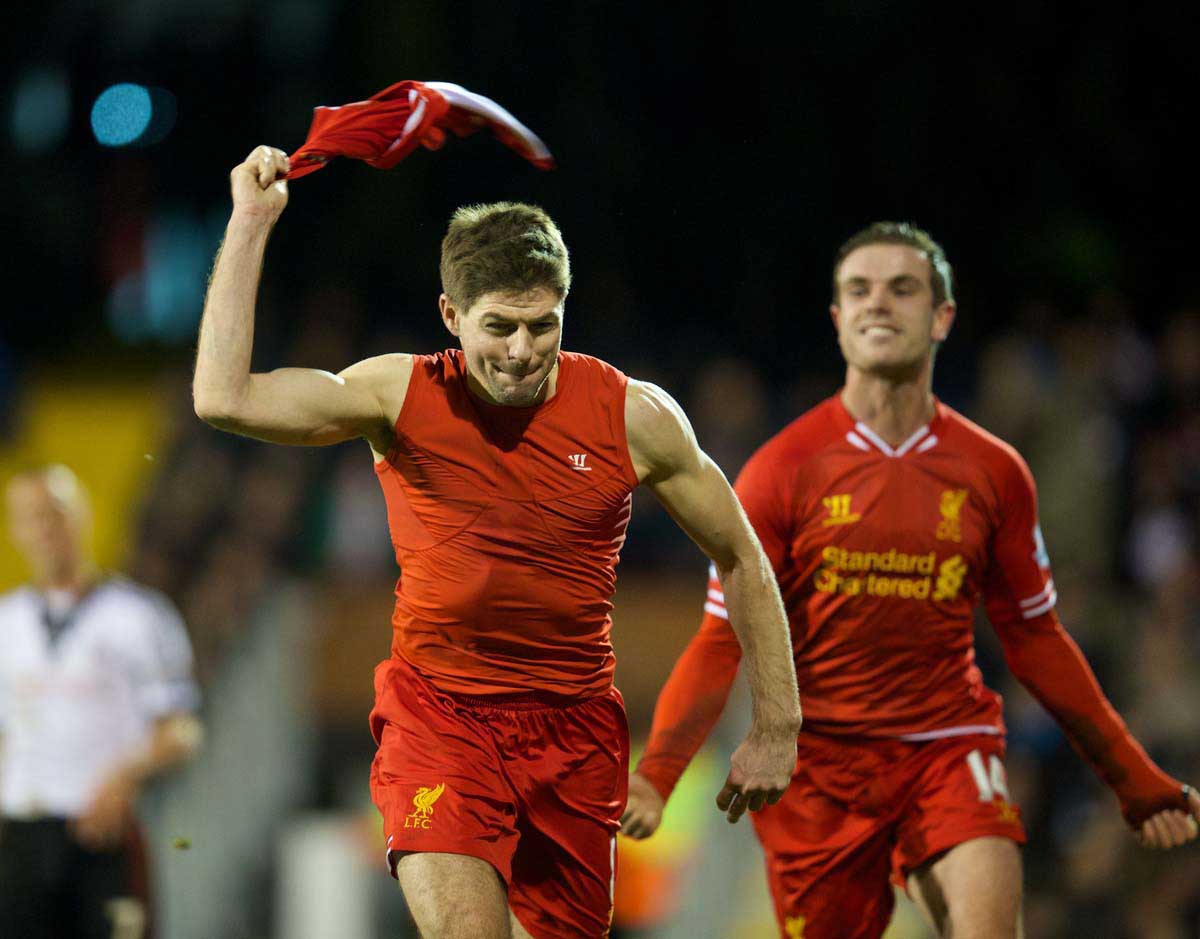 Leagues are won on momentum. The 2005 Champions League is a case in point. We were just a Gerrard mishit against Olympiakos away from it being a nothing season, to watching Andriy Shevchenko approach the penalty spot and thinking 'He doesn't fancy this.' At the end of the first leg against Juventus my mate texted me to say that this looks like our fifth European Cup. We still had Turin to contend with before Leverkusen, the English champions (arguably Mourinho's best side) and one of the greatest teams Italy has ever produced to get there, but try telling us that when we've just done the Italian champions with Anthony Le Tallec playing up front and Scott Carson in goal. Things coalesce. Momentum builds.
Did anyone sit down and think 'Let's not count our chickens?' when Luis Garcia belted one in to give us 2-0 lead against Gianluigi Buffon? Well, yes, probably. Did it stop us daring to dream? From Burnley to the Bosphorus? Not for a second. Not for a nanosecond.
I know it's tempting fate. I know it makes you get laughed at if it doesn't happen. I know it all means nothing if we crash, but isn't this what we're all in it for? The rollercoaster? The lost minutes where you find yourself sitting in the office or wherever and thinking about what happens on the final, final whistle? You can't bottle those moments up and then try to replace them with stats and caution. Football is about romance, not something to be kept in a cupboard until the trophies are handed out. It's a process, not a full stop.
There's caution, sure, but there's no fun. And there's no fun in no fun.
As for not climbing onto a league-winning high horse in case the fans of other clubs laugh at you – so what? Once again, to use an example from a previous campaign, when, in 2009, we sang 'We're gonna win the league' for an hour after Yossi Benayoun scored at Fulham, we didn't care about holding back. It was the final release of an incredibly tense game where he hit the woodwork time and again and it was vented over a long night on the terraces and surrounding pubs. No-one left at the final whistle to spend the night staring alternatively at the league table and their watch.
Incidentally, does anyone remember Liam Neeson being in one of the corporates above the away end and him raising a glass at us with a grin on his face? He'd just lost his wife, Natasha Richardson, a few weeks earlier and this was his first appearance in public since.
As much as this game can hurt you, as much as it can wreck weekends, dash dreams and leave you screaming at footballing injustices and bad luck, we do it for the good times. We do it to celebrate it with our mates. We do it for the sigh and the head-shaking when everything is going mad around you. Remember the footage of the lad in the stand at Istanbul, who puts his hand on his forehead and shakes his head unable to comprehend what's just happened? It's about that second. The 'I don't know how we've done that but I never want this night to end' moment. It's Gerrard's Cup Final winner. It's about that moment.
Well, there's a case in point. When Gerrard scored in 2006 and Cardiff went mad, did anyone sit down patiently and refuse to stand until the final whistle went and extra-time and penalties were over? Not me. I think part of my ribcage is still in Cardiff somewhere.
I can understand a natural caution, but we're at the top of the league and playing with such mental strength – which is as important as any match-winning acumen – that it's only right that we climb on the rollercoaster and enjoy the ride. It's only natural to count the hours until the Reds play again. It's only human to allow that escapism into our lives. Tempting fate is one thing, but being drunk on Red life is another and more desirable prospect.
And if we don't do it – so what? You can't have those times taken away from you. No one will take Luis Suarez's four goals at Norwich from me, nor will they remove that last half-hour at the Cardiff away from me. Nor Old Trafford, West Ham, Suarez's dive at Moyes' feet or Philippe Coutinho's goal against the run of play against Manchester City — when a young scamp called James Milner came on to run us ragged.
Plus, it might also do the team some good if they know that the fans certainly have no fear of success when their inevitable moments of doubt descend. Starting a match knowing that the fans believe – and have always believed – might be the very thing that helps us cross the line.
Up the possibly title winning Reds!
Recent Posts:
[rpfc_recent_posts_from_category meta="true"]
Pics: David Rawcliffe-Propaganda Photo
Like The Anfield Wrap on Facebook