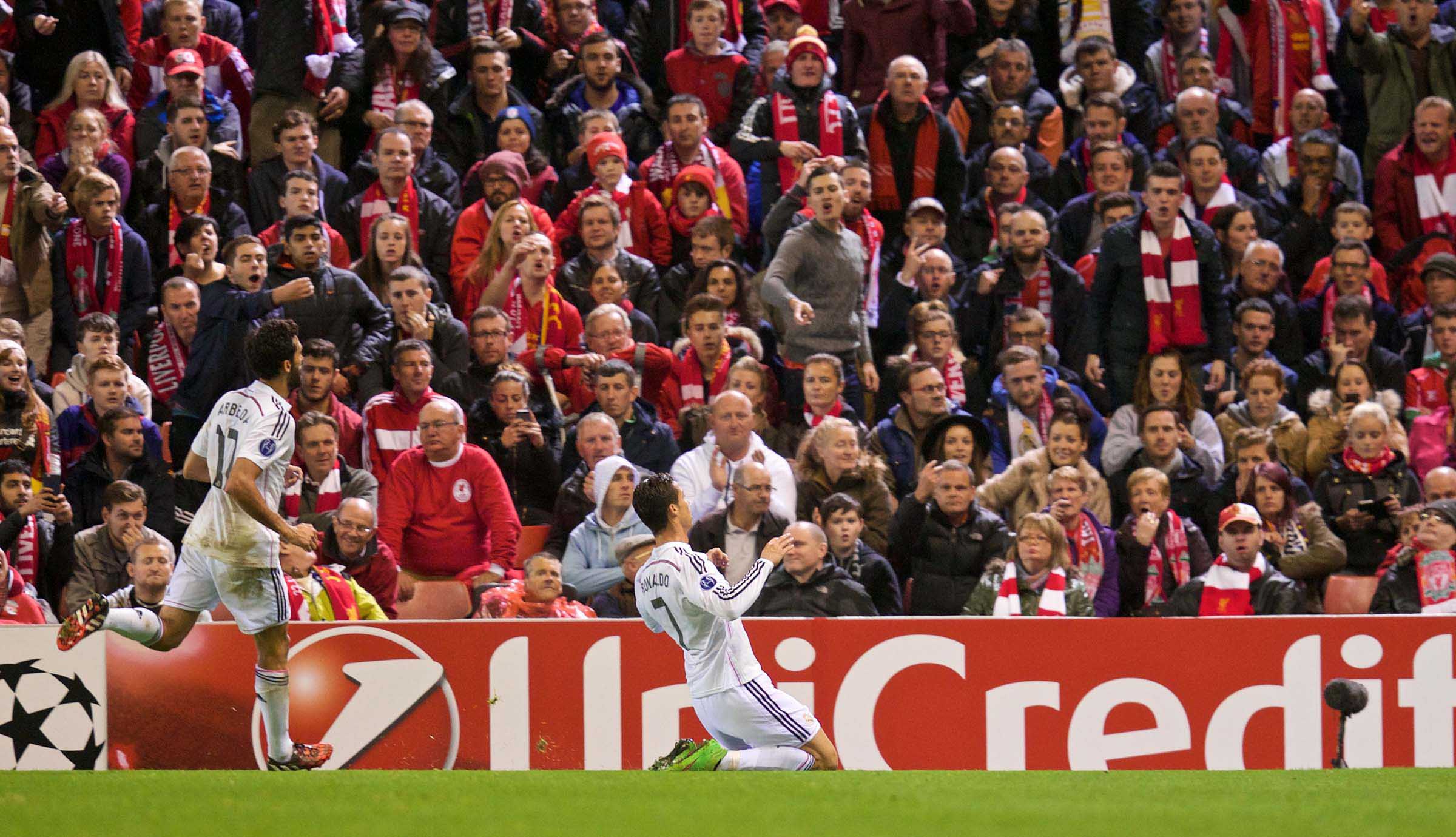 IT'S been just over two years since a servile Anfield blew kisses at the visiting Real Madrid before proceeding to roll over and have their belly tickled as Liverpool played grateful host to their regal guests.
Madrid left a tepid L4 that night three goals to the good without so much as a laundry bill to take care of.
And yet the humiliation was far from complete as Brendan Rodgers waved the white hanky before a ball had been kicked at the Bernabeu by fielding a reserve side (pictured below) and asking the Reds to play dead.
Liverpool lost the game in Madrid by a goal to nil, but the long-term damage was far more significant, and the loss of goodwill for the manager — not six months from taking Liverpool as close to the title as they have been in a generation — would prove ultimately irrecoverable.
Coming off worse to Real Madrid is no disgrace but to meekly surrender without any intention of laying a glove was a stunning miscalculation on the manager's part and proved to be the beginning of the long end of Brendan Rodgers' tenure at Liverpool.
Liverpool have had embarrassing defeats in Europe before, but never has the towel been thrown before a ball has been kicked. And at a time when fans look more than ever for common ground with the club, the one thing they have always shared is a defiance — at least on the pitch.
We've been played off the park many times, Barcelona once ran rings round a Gerard Houllier Liverpool side and got applauded off for it, but it was earned not offered, we never wilfully deferred to anyone, ever.
"We are Liverpool Football Club and we are going to give you a fucking game."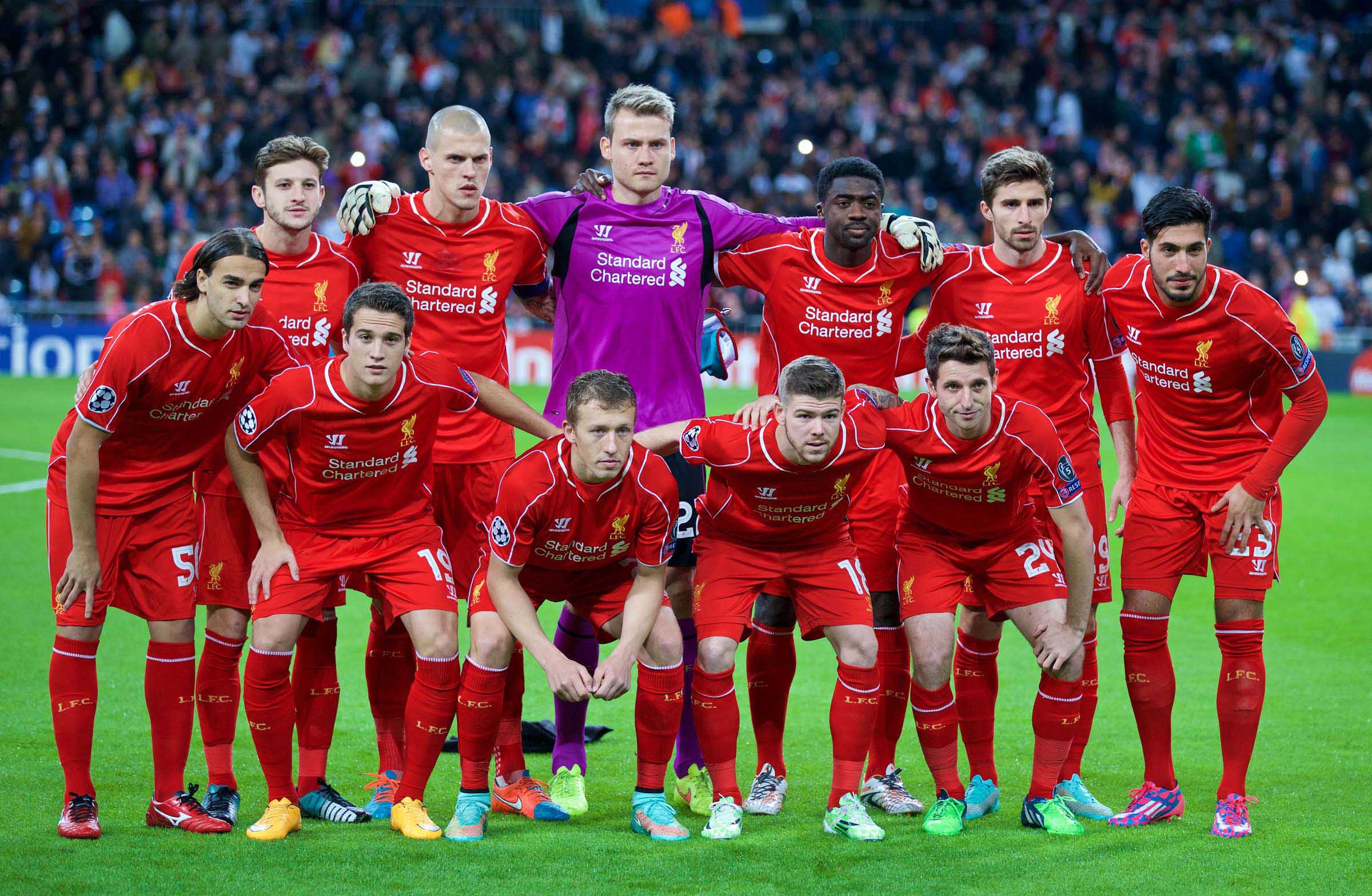 Something changed in the the inertia and panic of the summer of 2014. The disappointment and manner of not winning the title after finally convincing ourselves that we could do was one aspect, and then the impact of losing Luis Suarez to Barcelona. It ended with both the club and the fanbase seeming to accept that Liverpool didn't quite deserve to be at the top table anymore.
Even in the lean years, we've always walked with a swagger — our chest out, knowing that while we might not be the best, we would never lie down. For anyone.
Mission mediocrity accomplished, up the 'not getting ideas above their station' lower case 'r' Reds.
Liverpool needed either radical overhaul or commit fully to slowly sailing into dotage and become a shrug of the shoulders — a once great institution that still does good numbers, somewhere that has a boss museum and pops its heads up every every now and again with a plucky cup run and the odd appearance as a talking head on those 80s lookback shows on Channel Five hosted by Sara Cox.
Liverpool didn't just go radical, they went Jürgen Klopp.
Fast forward two years: Selhurst Park — a huge, boisterous, dirty, sweaty mass of an away end, whose enjoyment at being in the moment is matched only by 11 defiant and unyielding lads refusing to acknowledge anything other than victory at a ground that has left scars as deep as any other.
Liverpool took the lead at Palace only to be pegged back, and while no-one is kidding themselves that we need to stop conceding soft goals, what is undeniable is that, up until recently, Liverpool would have caved in after gifting Palace their first equaliser — especially given the manner in which it occurred.
And then we did it again, and again in a way only Liverpool can, Palace hadn't had a kick but somehow found themselves level at 2-2.
While heads might have gone in the away end, which is something that we're going to have to work on (see Manchester United at Anfield), the lads in Ninja Turtle Ooze green went straight up the other end and Joel Matip headed the net off.
Bobby settled the away end nerves late on, but on the pitch Liverpool never really looked like they wouldn't finish off what they started, and more than that, Palace ended up with the look of a side who thought they could score six and still lose.
It's not the first time Liverpool have held when they previously would have wavered — Tottenham, Arsenal and Swansea all in one way or another asking questions that were answered, with only really our early-season trip to Burnley showing any kind of mental weakness.
The effect of Klopp's energy, intensity and ferocity isn't just limited to the boys in Red by any stretch — he's managed to put the fear into the opposition, too; a type of fear that Alex Ferguson's Manchester United thrived on and a fear that would convince a team 2-0 up with 10 minutes left that they were destined to leave Old Trafford with nothing.
The examples are endless, but one that always sticks in the mind is from April 2009. Liverpool had just won 3-1 away at Hull in the early Saturday kick off. On the way back word had filtered through that United were down 2-0 against Spurs at Old Trafford — a result that would give Liverpool real momentum in race for the league that year. Not one person in the car had any belief at all that United wouldn't come back.
The final score? Manchester United 5-2 Tottenham.
They had done it a fortnight earlier, too, against Aston Villa. Having been 2-1 down with 10 minutes left, they won 3-2 — the winner scored by the now Nottingham Forest marksmen Federico Macheda and his stupid fucking haircut.
It was said that Ferguson's Manchester United never lost a game, they just ran out of time to win.
That might have been with a bit of tongue in cheek, but you always felt that opposition, especially at Old Trafford, took to the pitch frozen with fear and waiting to get beat — a permanent state of Everton Derby-itis.
It was a fear that forced panic and mistakes, gave the steadiest of midfielders the jitters, the coolest of forwards the yips and put the calmest and authoritative defenders on their keeper's toes — it was the seed of doubt that can choke the oxygen out of a side.
For Ferguson's indomitable United, now read Klopp's relentless Reds.
Teams no longer expect to leave Anfield with a point or three against a weak willed and gutless Liverpool anymore — they expect to be blitzed.
And when the angles of attack are everywhere, it's no surprise that so many clubs now arrive with a plan to do little more than to keep their heads above water rather than get pulled under by the Liverpool riptide.
Limp and languid has been replaced by intensity and controlled chaos and it's transmitting itself to the stands. The odds nerves still bubble, but the sense of collective is as strong as it has ever been under FSG's reign.
What once felt like a slow separation between the stands and the lads is now glorious reconciliation, wardrobes are getting vaulted off and chandeliers are getting tarzanned.
Liverpool are learning to ride the lightning and leave their opponents thunderstruck.
Jürgen Klopp expects Liverpool to win, Liverpool supporters expect Liverpool to win but just as importantly, and with increasing frequency, so do the opposition.
The white hankies of the Bernabeu suddenly seem like a long time ago.
Barcelona, Real Madrid? Who the fuck you trying to kid?
Up the capital 'R' Reds.
Recent Posts:
[rpfc_recent_posts_from_category meta="true"]
Pics: David Rawcliffe-Propaganda Photo
Like The Anfield Wrap on Facebook
We've been shortlisted for Best Podcast at the FBAs. You can vote for us here.