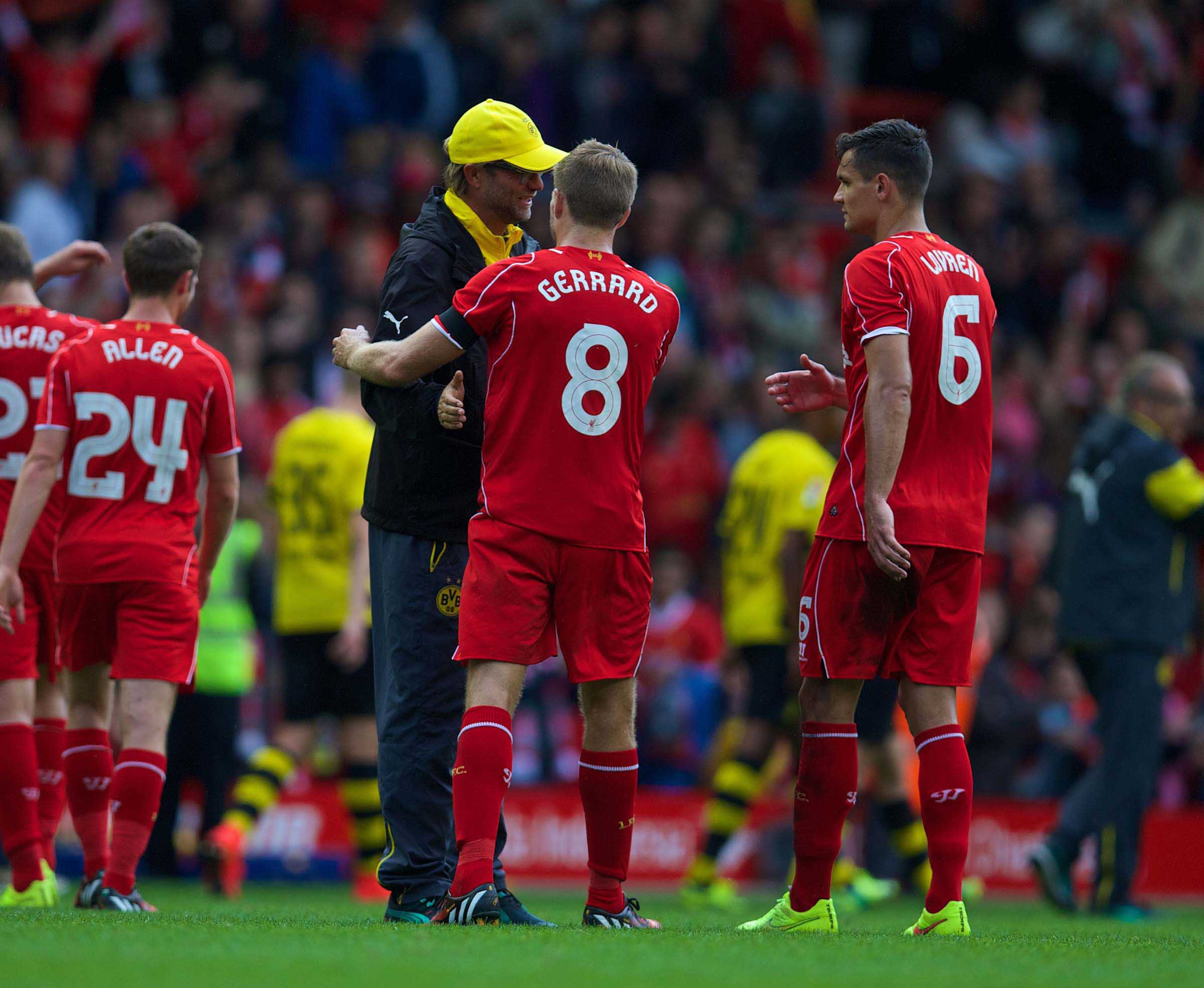 JÜRGEN KLOPP has given Liverpool gravitas, reach and respectability. In one fell swoop, his appointment as manager made the football world take notice. It was a statement that Liverpool meant business again — no longer a project and instead aiming to be a football club worthy of the name.
Klopp and his behind-the-scenes team have set about revitalising a club that had lost its way; one that lacked leadership and inspiration, was indecisive and looked one more wrong appointment away from slipping permanently into the second of the Premier League's mini-leagues.
A transition from forgotten to feared looks to be well underway. But while results in the immediate are currently great what also feels so refreshing is that the club is demonstrably thinking of the future, and thinking about the future in a smart way.
The aim in the past would never have been to burn bright and then fade away, and yet that is exactly what Liverpool have done over and over — too often setting fire to the foundations just when it looked like something was building; another manager, another high turnover of players, more gambles, more sticking plasters and more quick fixes.
Now the clear aim is to sustain. Klopp has signed a six-year contract, along with what Liverpool call 'first assistant coach' Zeljko Buvac ("the brain") and 'second assistant coach' Peter Krawietz ("the eyes").
First-team development coach Pepijn Lijnders, who retained a position in the set up after working for Brendan Rodgers, acts as a bridge between first team and the club's best young talent, describing his role on the official website as "…assisting Jürgen to develop a specific way of play, a recognisable Liverpool FC style, but also give young talent the chance to develop to first-team standards."
Academy director Alex Inglethorpe has also signed a long-term deal while also offering a mentoring role to Steve Heighway, who he was happy to turn to for help and advice.
Michael Edwards was appointed Liverpool's first sporting director at the start of the month, a position that will see him lead on transfer negotiations — a responsibility that previous fell to departing chief executive Ian Ayre.
With alternatives to the current Kirkby and Melwood set up also being explored, it's clear that the revolution is in full effect with sense and structure at its core.
Why then, say many, would Liverpool's decision makers upset things by introducing a newly-available Steven Gerrard to the mix?
As it became clear that Gerrard would leave LA Galaxy — news confirmed today — talk has intensified that the man who made 710 appearances for Liverpool would come home in some capacity.
The romantics have spoken of a dream bit-part playing role, culminating in Gerrard — who won two FA Cups, three League Cups, the UEFA Cup and the Champions League at Liverpool — finally getting his hands on the Premier League trophy.
Brendan Rodgers' Celtic have also been linked with an offer of playing time for the ex-Reds captain, who is now 36.
The more pragmatic suggest Gerrard, who is working towards his UEFA A Licence, could be offered some hands-on time with Liverpool's youth.
Back in January, Gerrard said: "I have had a chat with Klopp. I haven't had an offer as such, but the club have let me know they are keen for me to come back."
Later, in June, he told Laduma: "People need to understand that Jürgen Klopp is his own man. He's got his own team of people around him that he is very happy and content with.
"Of course I've got a huge Liverpool connection and Liverpool is in my heart and always will be but there's nothing to really comment on. There's no future decision to work with Klopp, I get on really well with him, we're in contact but there's no job opportunity there at the moment."
"At the moment" was toffee enough for speculation to continue and today Gerrard said: "'I've got options on the pitch, off the pitch, but I've got some thinking to do over the next two, three weeks.
"I'm not ready to make a decision or finalise anything I am going to be doing moving forward. What I will say is I'm going home to spend some time with my family and basically go over my options and decide what is the best challenge for me next."
So could and should Gerrard be welcomed back with open arms at Liverpool?
Klopp, as usual, has handled the situation expertly so far. Asked about the continued talk of a Gerrard return following Liverpool's Premier League win over West Brom at Anfield, the manager said: "Steven Gerrard is always so welcome at Liverpool FC. You cannot imagine how welcome.
"So, absolutely no problem. But everything that we have already or will speak to each other stays in this talk. That is how I know Stevie and that is how I am. But nobody should worry that we have no space for Steven Gerrard. No – everything will be fine, 100 per cent."
Perhaps this is key: everything will be fine. Everything will be fine because Klopp says so. Various faces of the manager have been evident since he took the reins in October but all of them, whether angry, happy or sad, appear to be fuelled by honesty. What you see is what you get. This isn't a blagger, a chancer, a game-player or a snake oil salesman — this is a de facto leader who is inspiring the club to better places.
Everything will be fine.
Had Michael Edwards been appointed sporting director during Rodgers's time as manager you can guarantee a then fractious fanbase would war over the whys and wherefores. As it is, under Klopp, he says it is fine — so it is fine.
"This decision is hugely positive for us," said Klopp on Edwards' appointment.
"It will make us better and stronger in managing the process of building and retaining playing talent at all age groups. Development is so important and it makes sense to have a position, within the football structure specifically, that focuses on where we can improve.
"It's no secret I like the concept of a sporting director and having worked under this model previously I have found it to be nothing but positive and forward thinking. Michael is absolutely the right person for this."
No arguments. So could Gerrard be absolutely the right person for something else?
The assessment from some that he could in some way topple a well-oiled machine that is setting the Premier League pace seems to stem from clashes with Rafa Benitez during his six-year reign at Liverpool.
This is extended into imagining a power-hungry ego, out of control, undermining the current boss, looking to feather his own nest.
While Gerrard won the Champions League and the FA Cup under Benitez, and readily admitted that tactically he was the best manager he played for, he also revealed he was never close to the former Liverpool boss.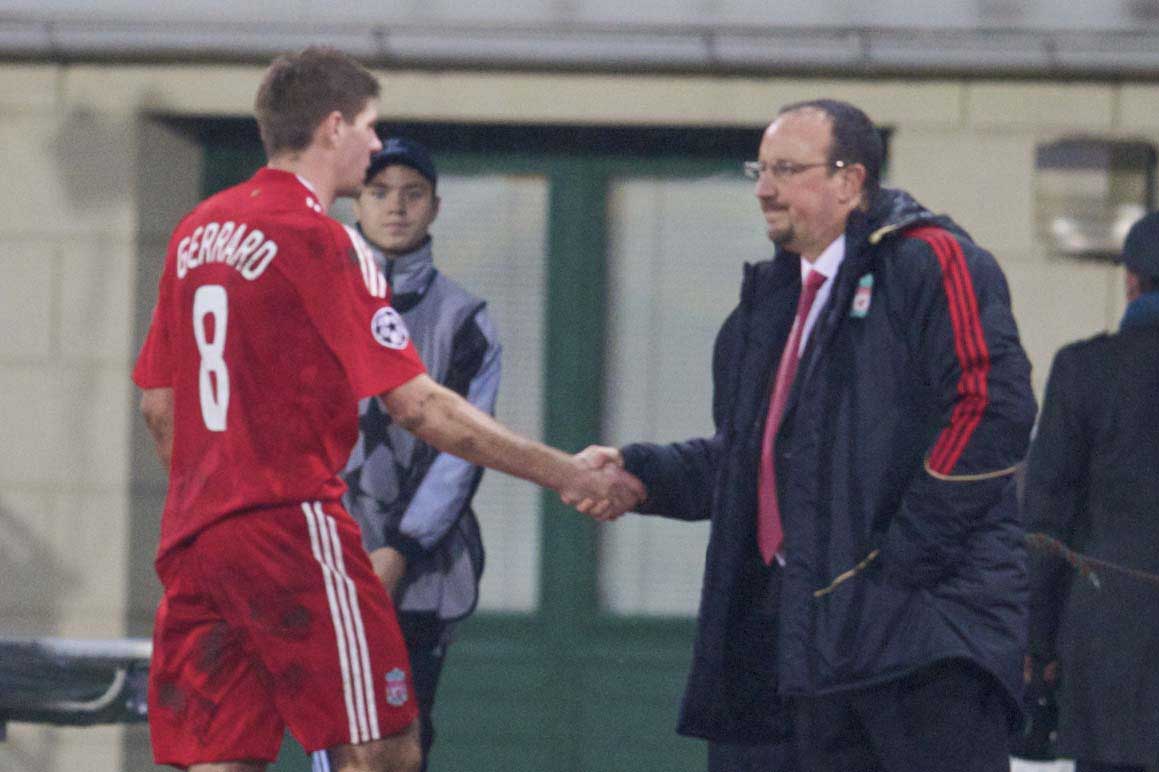 In his autobiography he wrote: "I don't think Rafa Benitez liked me as a person. I'm not sure why, but that's the feeling I got from him. It probably started even before he spoke to me, when he met my mum.
"Rafa was appointed as Liverpool's manager in June 2004 — and I was playing for England in the Euros in Portugal that summer.
"Even though he was being replaced by Rafa, Gerard Houllier still loved Liverpool and he remained very close to me. He and my mum flew out to Portugal to watch me play for England against Croatia — and they bumped into Rafa.
"Gerard introduced Rafa to my mum. Rafa shook her hand, said hello and then immediately asked her a very blunt question: 'Does Steven like money?' Apart from a standard 'Hello… good to meet you' introduction, those were the first words Rafa said to my mum. I thought: 'What kind of question is that?'
"I can pick up the phone and speak to all of my previous Liverpool managers. Except for Rafa. It's a shame because we probably shared the biggest night of both our careers — the 2005 Champions League victory in Istanbul — and yet there is no bond between us."
Such revelations helped fuel a long-standing opinion from some fans that Gerrard "helped" to get Benitez the sack, effectively downing tools as the manager warred with the owners and the media during a time when Liverpool as a club was its most dysfunctional.
Similar accusations were levelled at Jamie Carragher, with the pair painted as power-mad players desperate to oust a manager they didn't like.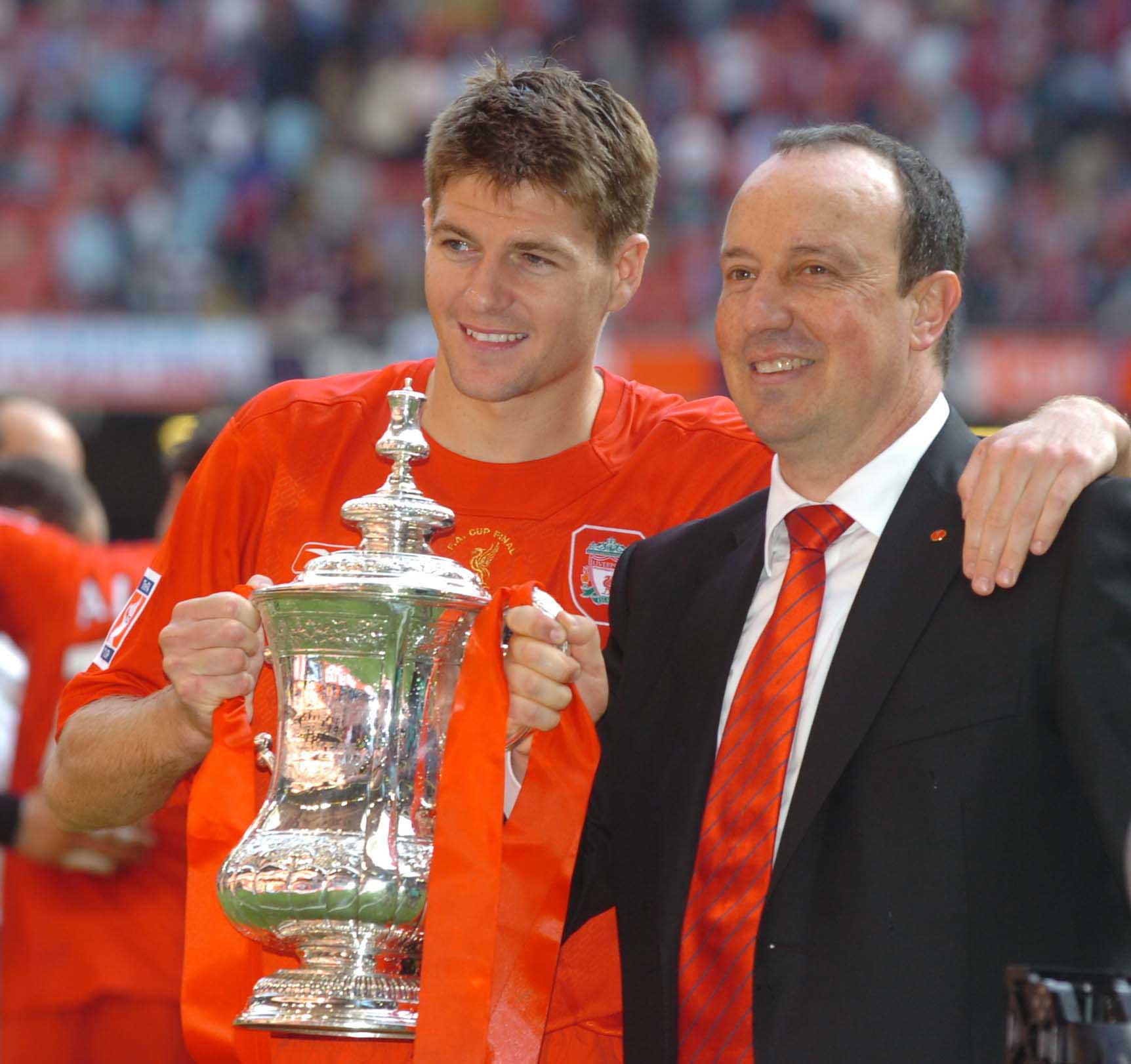 Time, though, has moved on. Whatever happened, both men are older and wiser. Benitez's Anfield reign now largely seems to be viewed in a more positive light than it was in the summer of 2010, with the internal politics and media smears at the time now fast fading memories.
Both Gerrard and Carragher have spoken positively of Benitez in the time since, and, while his football genius is now accepted in the main, that it is also tinged with an edge of madness is also acknowledged. There are numerous tales of Benitez being difficult to work with. And they don't all stem from the pantomime villains of Benitez's past, Gerrard and Carragher.
Whatever went on behind the scenes back then — and much of it remains guesswork as fans are largely only ever told the stories that the protagonists want to tell — Liverpool is a different place now, Steven Gerrard is a different person and a different manager holds the power at Anfield.
Key, perhaps, is that Klopp appears to like Gerrard and Gerrard likes Klopp. The German is a man manager who successfully walks the tightrope of balancing closeness to the players with discipline and respect. Benitez had a different approach — and it's clear which Gerrard favours.
Past incarnations of Gerrard should be forgotten. Forget, too, the troll-like bores who continually point to a slip as the takeaway moment from 2013-14. Think instead of Gerrard's influence that season.
It was the campaign when he grew into the role of a statesman-like leader, talking up Liverpool on and off the pitch and doing everything he could to squeeze every last drop out of his own ability and of those around him. He was almost an unofficial No.2 to Brendan Rodgers. He was a leader. He was inspirational. And he was one of ours.
It wasn't always the case in seasons past. Flailing arms, scowling faces, it was so often clear that Gerrard couldn't contain his frustration at the ineptitude of some of his team-mates. But it was frustration born of passion and a burning desire to succeed. A passion that even in his final season he let boil over when he was sent off against Manchester United.
Why did he show that lack of discipline? Why did he react like he did? Because he cared. Perhaps too much. Think what you like of the man but no-one can doubt that.
All of those experiences, 26 years at Liverpool, the time in LA, fatherhood; all of those things have moulded Steven Gerrard.
Detractors will dig up the past, but like anyone, Gerrard has grown up, matured and changed. He's no longer the lad clearing off the line in the Merseyside Derby and celebrating with a clenched fist. He's no longer the lad launching himself into bone-crunching X-rated challenges or scoring 30 yarders like it was a tap in. Gerrard also isn't the person he was during Benitez's reign, and vague theories of too much influence and too little effort dating back six years or more shouldn't swing decisions — or support for decisions — to tap into his talent once again.
Gerrard has to accept the reality that his playing days at the highest level are at an end. Mentally, that's tough and it's well documented that many players have struggled to make the transition into another career.
Indeed, some of Gerrard's comments have hinted at dissatisfaction with himself over the lack of forward planning on his own behalf.
He said in January: "I have regrets I didn't start my coaching badges at 21-22. All that time wasted in hotels as an England player when I've been bored and was watching The Office and The Sopranos. I wish I'd done my CBA [coaching] licence then, so I'd be doing my pro-licence now.
"I know many players get to the end of their careers, get handed a thick C licence pack and say, 'Nah, I'm not doing that.' That's 70-80 caps and 600 career appearances and he is just going 'Nah'. He could have had it done.
"I had a meeting with the FA and said these players that are earning a certain amount of caps – don't let them go away from the game. Do more to keep them involved."
Gerrard aged 36 years is a thinker. He's sharp. He has opinions on the game. A man with 114 caps for England. The man with the third highest amount of appearances for Liverpool in the history of the club.
Liverpool had the opportunity once to tap into his knowledge and find a role for him. That opportunity was missed. Now it is here once again. It looks smart to take advantage before another club does.
For a generation of Liverpool fans, Gerrard is the best player to play for the club; a local lad come good who went from games of football in Huyton streets to lifting the European Cup as captain of Liverpool.
What should his job be? Take your pick. As an influence and inspiration to the young footballers at the academy in Kirkby looking to follow in his footsteps he would be second to none. Imagine being coached by Steven Gerrard? Imagine being able to ask how he went through the levels and made it to the top? Did he ever doubt himself? Did he have bad days? How did he keep on going? What did he do – mentally and physically – to get himself in the right place to perform?
There are theories and badges. And there are theories and badges delivered by a figure you can't fail to respect. Those that come through the ranks under Heighway respected him absolutely. Part of why was because of who he was. Steve Heighway – two-times a European Cup winner, four times a League winner. Why wouldn't you listen?
Elsewhere at Liverpool, there are other areas in which the club once excelled that powers have waned. Links to the community aren't everything they should be. Does the club do enough to engage local youngsters? To get kids playing football?
For those offered the choice, like boyhood Evertonian Robbie Fowler once was, who do they choose to get their football education from – Liverpool or Everton? Which club has the best reputation at grass roots level? Which club is in the schools more; has the necessary network, knows the city inside and out?
If it needs fixing, or improving, Steven Gerrard could help with all of that. He has the stature. He has been there, seen it and done it. Could Gerrard help ensure Liverpool get deals over the line for the best young talent? It would certainly be a statement to send a European Cup winner to try to get things done just like Liverpool once sent Kenny Dalglish to do the same.
And how about off the pitch and away from the football? Could there be a role there? Glance at the set up of the board of Liverpool FC. The name that jumps out for any football fan is Dalglish. Why? Because he is Kenny Dalglish. He is Liverpool. And so is Steven Gerrard.
Ajax Amsterdam's board features Edwin van der Sar (CEO) while Marc Overmars is the director of football.
At Bayern Munich, Karl Heinz-Rummenigge and Uli Hoeness are former players turned board members and in recent months Philipp Lahm has expressed an interest in following in their footsteps.
At both clubs there is a culture of turning back to former players and offering them meaningful roles, creating a closeness and a culture that is sown through the years regardless of personnel. Players and managers know the required qualities and standards and fans identity with those qualities being displayed and those standards being reached.
It was something Liverpool once did so well: "The Liverpool Way." It's something that was lost in the chase for "progress" but something that Klopp seems keen to restore.
None of this is to say Steven Gerrard should be parachuted into a unsuitable role for the sake of it. Only Klopp and Gerrard can know if they share common ground on what could be a good fit.
But Klopp — and those around him at the club — should think long and hard on how Gerrard's skills and experience can be utilised. Of how he can help to create an identity, something Klopp is doing so well.
Having ex-players — people with the club at heart — makes the club feel like a club. Having someone born and bred from the area and who supports the club provides a link with the fans and the community. Liverpool has a global support but it is in the city and should be of the city.
Liverpool is getting better at a lot of things and there is a considered and clever approach to much of what it does, led by Klopp. Bringing Gerrard into the fold could prove to be more of the same.
Think not of the problems Steven Gerrard could cause Liverpool, think instead of the opportunities he could create for Liverpool.
"Everything will be fine."