45, 43, 13, 17, 17, 54, 20, 16, 27.
ELEVEN games in, nine games in which Liverpool have scored, and eight times we have scored before half-time. Thirty goals at 2.72 per game, Jürgen Klopp's Reds have been relentless and ruthless in their push to the summit of the Premier League table.
Comparisons with Brendan Rodgers' free-scoring 2013/14 vintage have flowed, and the discourse has inevitably centred around attack vs defence. It's an obvious talking point – it was the last time Liverpool found themselves top, when they scored at an obscene rate of 2.66 per game across the season and conceded 50 times.
The Reds scored 101 goals that year. Over half (52) were scored by the attacking duo of Luis Suarez and Daniel Sturridge, a partnership built on individual brilliance instead of the traditional link-up play that defines the great strike partnerships in the game.
Liverpool bulldozed sides that season. They kept going and going, often taking the foot off the gas on 60 minutes because the three points had been wrapped up with ease. On average, across the course of 2013/14, Liverpool scored their first goal after 21.7 minutes.
Ten times they were at least 1-0 up in the first 10 minutes. During their 11-game winning streak of spring 2014 the first goal was scored, on average, after 18.7 minutes; five times it came in the opening six minutes, and on each occasion it arrived in the first half.
The latest opening goal of the season came on the final day, when Daniel Agger nodded home a Steven Gerrard free-kick against Newcastle after 63 minutes. Only three times did Liverpool fail to score at all that season.
Liverpool were fast starters. It was the hallmark of Rodgers' ethos, with the electric Suarez at the heart of it all. That opening 20 minutes against Arsenal, the first half evisceration of Everton and the two-goal burst against Manchester City defined the approach.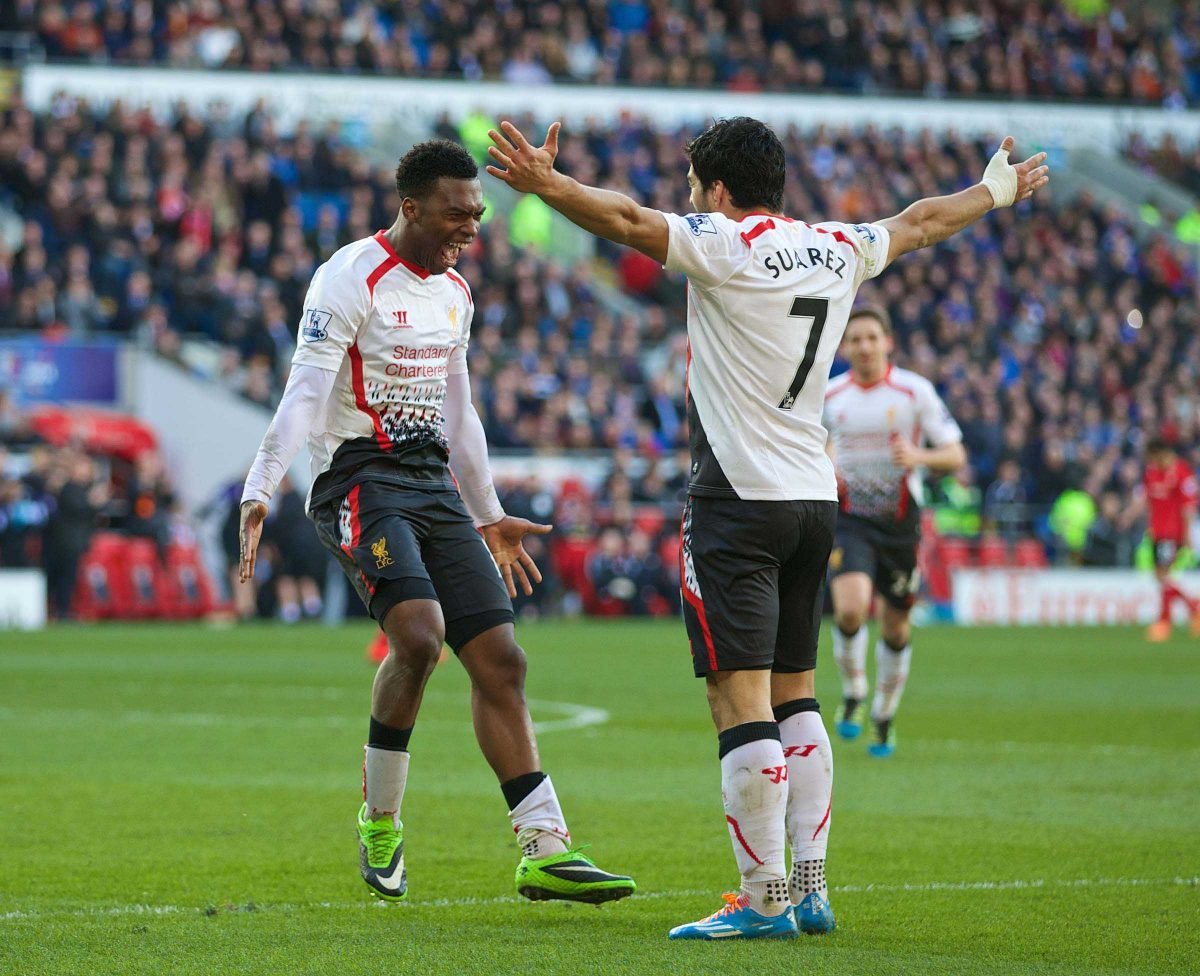 Three seasons later and Liverpool look like launching their first title bid since. Media comparisons have been rife, but overwhelmingly lazy. On the surface, the similarities are obvious in the way they both play to their attacking strengths, seemingly with an attitude of 'if you score three, we will score four'.
Rodgers' side were built on individual brilliance, that unique quasi-partnership between Suarez and Sturridge responsible for the source of many of its goals. Klopp's Reds have many ways in which they can hurt you, and have an attacking trident in Philippe Coutinho, Sadio Mane and Roberto Firmino that are spreading the responsibility out in equal measure.
The trio have scored 16 of Liverpool's 30 goals so far – Mane with six, and the Brazilian pair with five each – while in 14 games in all competitions there have been 13 different goalscorers. Goals are coming from set-pieces, from corners, from crosses, from counter-attacks and from range.
The most striking difference, though, is in the approach. While 2013/14 was crash-bang-wallop, attack from the first minute, Klopp's side are more thorough and surgical, playing their way into a game before pouncing.
The first goal has arrived, on average, after 28 minutes. The Reds have yet to score in the opening 10 minutes, but five times the first goal has come between minutes 13 and 20. The slow starts have become an almost deliberate strategy.
Liverpool look like they lull the opposition into a false sense of security, letting them believe they have the game under control, before slowly but surely stealing the initiative and not letting it loose.
Against Watford, Liverpool did not have their first shot until the seventh minute. In the 16th they should have opened the scoring when the ball dropped to Lucas Leiva in the six-yard box. Coutinho and Firmino both go close, James Milner hits a tame shot with his left straight at Heurelho Gomes, before Mane heads in on 27 minutes.
The progression of Liverpool's chance creation between Lucas' miss on 16 minutes and Mane's opener on 27 was the definition of 'a goal is coming'. In that 11-minute spell Klopp's side registered seven shots at goal, compared to three in the opening quarter-of-an-hour.
Liverpool become rampant in a way which is easy to miss. It comes so naturally to a set of players who have so clearly worked, worked and worked on it vigorously on the training ground. It happens in a way the opposition can not predict, it happens before they realise it is happening, and by the time they realise it is too late.
Opposition players are having it out with each other on the pitch, powerless against the tide coming their way. While the defence let itself down in the 4-2 win at Crystal Palace in October, Liverpool had a spell at 2-1 up in the first half where they engineered four goalscoring opportunities in five minutes.
This is a Liverpool side actively choosing to start slowly, to pace itself before reaching full throttle. Fast starts are often demanded by fans in big games, to catch the opposition cold. It is a tactic that comes with the danger of blowing yourselves out by 60. It can play into the opposition's hands, when they know you will tire sooner or later.
If a team has started quickly, it is easy for the opposition to recognise and counter it. What Liverpool are doing, and perfecting, is much more difficult to counteract. There is no sense of when the flood arrives, just that it will, and no sense to how long it will last; there is no certainty that it will end, but if it does they will be out of sight.
Most encouraging for Reds is that this identity has arrived in the first three months of the season. The final third of the 2013/14 season characterises how that side is viewed, but after 11 games they were not viewed as title challengers.
They were playing well, scoring freely, but not in the authoritative, blitzkrieg manner that defined the spring. They began the season with three 1-0 wins, before hitting the top in time for Christmas. A credible title charge did not appear plausible in the autumn.
Fast-forward three years and it his hard to imagine Liverpool's strong start disappearing. The mood is different, and it would be no surprise to see it last beyond Christmas.
Up Jürgen Klopp's slow starting Reds.
Recent Posts:
[rpfc_recent_posts_from_category meta="true"]
Pics: David Rawcliffe-Propaganda Photo
Like The Anfield Wrap on Facebook