THAT time of year again. Nice people put us forward for awards and we ask more nice people to vote for us.
It's a little different this year — The FSF have decided to nominate us for Radio Show of the Year. It's an interesting decision; we're the only non-national show to have been nominated. The other nominees for the award are as follows: 606 on BBC 5Live, Hawksbee and Jacobs on talkSPORT, The Monday Night Club on BBC 5Live, Rock and Roll Football on Absolute Radio and The WSL Show on BBC 5Live.
It's one that will be difficult for us to win, not least given those shows that are up against us.
We're pleased to have been nominated in that category, though. It's good to be recognised for what you do and we work very hard indeed at it. We're lucky to have so many good contributors both in Liverpool and across the country who get to be very much themselves and talk about football. This year will end with somewhere around 100 people taking the time to do so. We're pleased to be nominated for them.
We have been recognised for our work in the past, not least by the Football Supporters' Federation. We have twice won FSF Podcast of the Year, in 2012 and 2015, and recently won the fans' choice for Best Podcast at the Football Blogging Awards — thanks to all those who voted.
But more than anything we're pleased to be nominated for Radio CityTalk and Radio City as a whole. As a whole Radio City has been doing the business across Liverpool since 1974. The tower sits on top of the skyline of the city and everyone there has been very welcoming to us since we started doing shows. Back in 2012 when we had been doing podcasts for only 6 months Steve Hothersall asked us to start to host a show.
At first it was recorded but soon it went live and from that point it clarified a lot of what we were trying to do with The Anfield Wrap. Live radio is brilliant you know. It is everything you could ever want to do. It is immediate and vital. The energy of live radio was invigorating and we realised the wide range of shows we could do. Without that boost, that energy, that explosion of ideas, we probably wouldn't have ended up with the Player and everything that comes with it.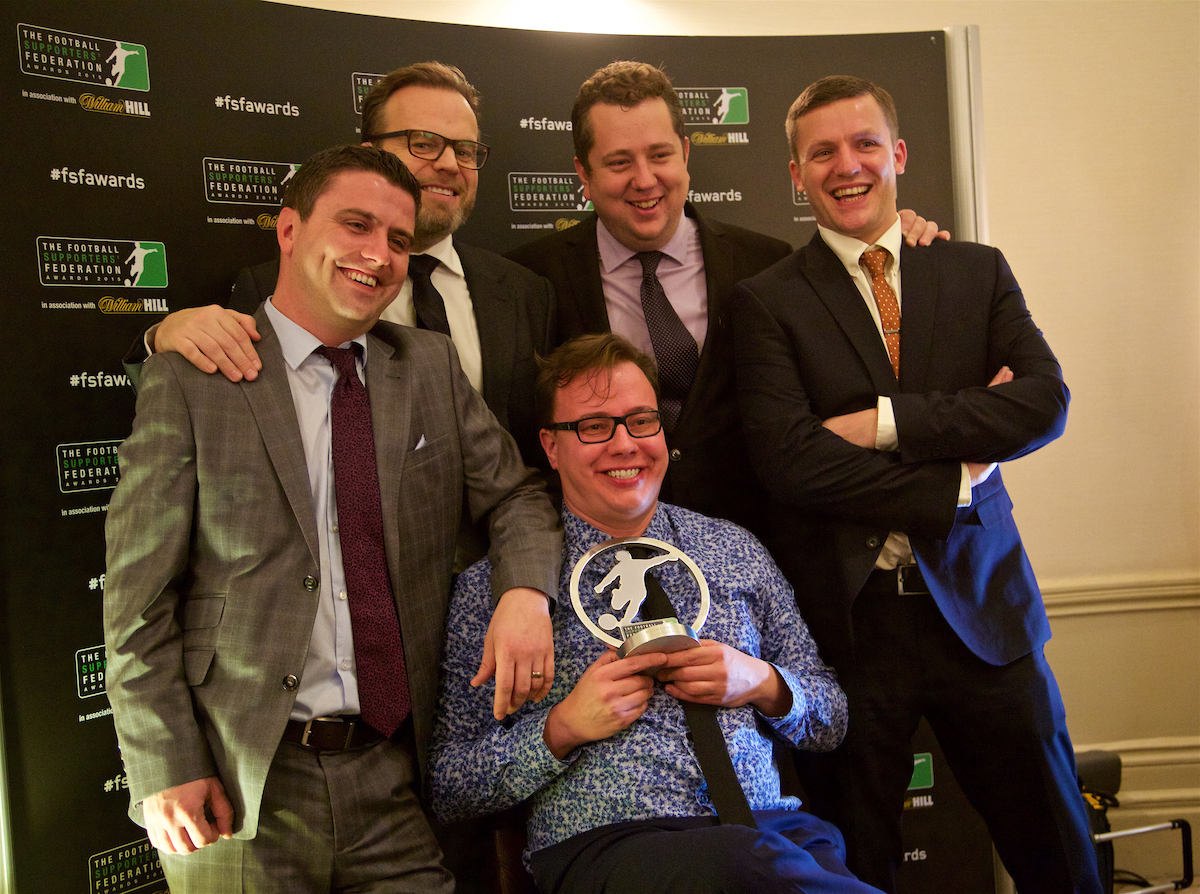 That's a reason to win in and of itself, but more than that the people at City have been very supportive of what we do. Steve constantly has suggestions as to how we improve. First Carlos and now Dave are a joy to be produced by. It goes beyond them though. Everyone in the station is kind and always has time. Ange and Julie on the front desk, Eddy, Jo, Mick and Dave showing visitors around overseen by Kelvin. Molly running the office. Simon controlling the station. The other presenters, Mick Coyle and Connor Phillips now, Adam Catterall formerly. The newsdesk. I could name everyone. If we win the award I probably will because I am a gobshite like that.
But I'd also try and name everyone because it matters. It matters bringing our community (us, those who do shows, you who listen) into theirs. It's a reminder that everything we do as a species is about collaboration and at the heart of collaboration is warmth. We don't have to love one another all the time, if at all. But we do have to work together; none of us exist in a vacuum.
We probably won't win — as said, these are national networks we find ourselves up against. But if you can find the opportunity to do so, vote for us and ask anyone else who might fancy it to do so. We'd like to win. We like being the insurgency, you'd have guessed that by now. We like being the people who find new ways to do things. But whatever happens, thanks to everyone whether you vote or not. It's been a good year. Two finals, a thousand shows (I don't know how many), a million laughs. Hopefully they've been shared.
If you'd like to listen to our CityTalk show you can do so every Thursday at 5.30pm on Radio CityTalk 1548MW and later as a podcast here.
You can vote for us, Jamie Carragher, Philippe Coutinho and anyone else you fancy here. Voting closes at midday on November 25.
Have a lovely Christmas. Advent in the high street…
Here's to a Championship season.
Love Neil.
Recent Posts:
[rpfc_recent_posts_from_category meta="true"]
Pics: David Rawcliffe-Propaganda Photo
Like The Anfield Wrap on Facebook