UNLESS is has all been an elaborate ruse by Gareth Southgate, and let's face it he doesn't look the sort, Jordan Henderson will captain England tonight for the first time.
It's a remarkable achievement for a lad who has been written off countless times during his football career. When researching this piece I found an article that included the sentence "Jordan Henderson's short career has already had more ups and downs than Alton Towers" from, wait for it, November 2010.
Who knows what the analogy would be now. The ups and downs show no signs of letting up. There are Liverpool fans who would have sold him in the summer. There might be some who still would. Jordan keeps pushing on, developing his game, adding to his achievements.
His career is a reminder that ascents are rarely in a straight line. How attitude is as important as talent when the going gets tough. Even at Sunderland it is assumed he was thought of as a young star straight away. In fact he was loaned out to Coventry aged 18, after just one first team appearance.
This can deflate a player, make him doubt whether his boyhood club truly believe him. Instead Jordan did what he always does. Gets on with it and tries to prove his talent. His focus at Coventry, likely his first time away from home, was undoubted. Here is a young Jordan Henderson talking in an interview for the Coventry club programme.
"You have to adapt when you are on loan. It doesn't matter how long you are going to be here. I am here to work hard and do my best for Coventry.
"Football is my life — it has been since I was a little boy. It's all I've ever wanted to do so I am prepared to give up everything I've got to become a footballer — whether that's leaving home or leaving my friends. My number one priority is football."
Even at 18 he seemed to recognise nothing was going to be given to him. That drive to succeed was apparent. Now he talks about how that period helped develop him as a player.

Back at Sunderland Henderson won Young Player of the Year twice in a row, yet not every fan was convinced. He was booed off the pitch when substituted against Manchester City in March 2011, just months before Liverpool bought him for £16 million. Here is Jordan towards the end of that season, after scoring twice for Sunderland against Wigan to guarantee Premier League survival.
"People say you have to be mentally strong during those periods and you can never doubt yourself. It makes you confident when you have all the players and the gaffer making sure you are OK. Had my form dipped? Maybe a little bit. At no point did I stop working hard, or less.
"The creative stuff I was doing wasn't coming off. In the last couple of weeks I've got better and I have proved a point or two."
Henderson might have been talking about Sunderland, but it could have just have easily been several points during his Liverpool career when many Liverpool fans doubted if he had the required quality for the level.
His first season at Liverpool was underwhelming at best, with just two goals from 48 appearances. The price tag didn't help, nor the — probably untrue — rumours that Sunderland would have accepted half of the fee and were staggered by Liverpool's opening offer. It seems unlikely given how manager Steve Bruce has spoken about him since.
Jordan Henderson will have known he wasn't showing his full potential. Possibly scarred by being booed by the fans he's stood alongside as a Mackem a few years earlier, he apparently turned the tables on a local journalist interviewing him in his first season and asked him what the fans thought of him.
At the end of his first season the manager and director of football who had bought him were sacked, apparently for badly spending club funds. Jordan Henderson probably didn't need it confirming by Damien Comolli today that they might have been partly referring to him. Then a new manager came in and tried to give him away to Fulham.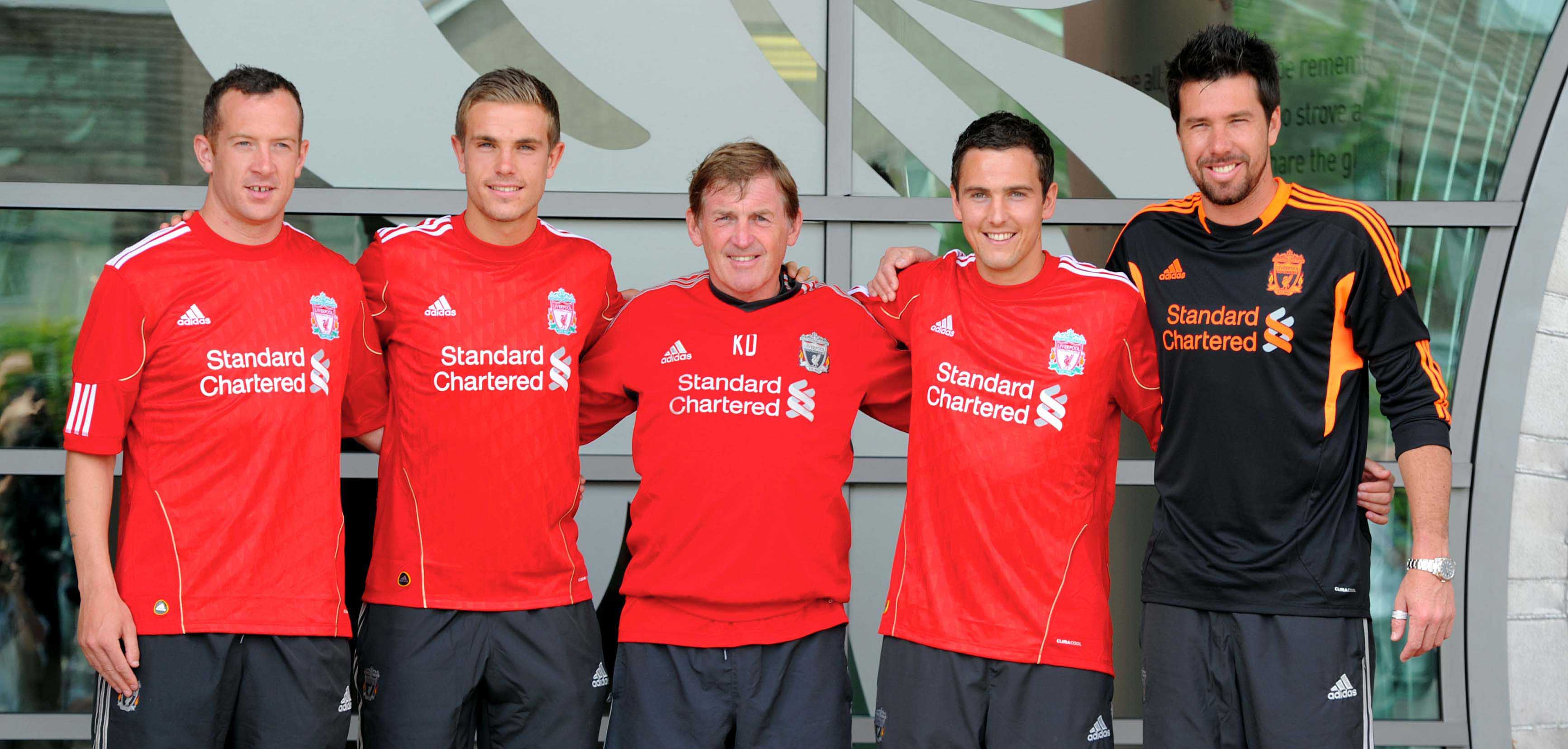 Most players would have gone, given the complete lack of faith reflected in being a makeweight for Clint Dempsey, of all people. Jordan was determined to fight. He eventually won over Brendan Rodgers, becoming a key part in the side of 2013/14 that came so close. The manager put the lost points at the end of the season partly down to not being able to replace him when he was suspended.
Yet still adversity came. Alex Ferguson very publicly stated that his running style "might cause him injury problems later in his career." Everyone got very angry for him. Then, in a possible act of witchcraft, he got an injury to his heel that meant he couldn't run.
It was painful watching Henderson at times last season. It looked quite literally painful for Jordan. He just couldn't get about. The worry was Fergie's words were coming true. That the club weren't telling us everything. That Emre Can had overtaken him anyway and that Klopp was looking at other midfielders. He was an unused substitute in the Europa League Final.
In the summer the rumours started again. That Lovren might become captain. That Klopp didn't fancy him that much and was open to bids. When asked directly about it, the manager was hardly rushing to put out fires.
"I am pretty sure it is only a rumour, but if not and if a player — let's not say Hendo but any player — comes to me and says he doesn't feel comfortable and wants to leave, style of play, more money, then you always have to start thinking. That's all I can say on this."
Now Klopp might have been making a point to his squad, but for Jordan there may well have been a feeling of deja vu. Another manager who isn't sure. He started the season in a deeper position. The criticism of him after Burnley, and to a lesser extent Arsenal, was vocal. Yet again he came back. He's been terrific for the last month.
I understand why people see Jordan Henderson as captain material. At 26, he has almost seen it all. He's a great role model for a younger England side. You've got a setback? Which one, mate, I've had them all. Let's have a chat about it and I'll tell you what to do.

Many Liverpool fans aren't bothered about England. I'm pretty much one of them. It's hard not to be made up for Jordan, though. The man who has responded to every adversity with class, determination and a willingness to learn.
It might make him walk that bit taller for Liverpool, too. Which is no bad thing indeed.
He deserves it.
Recent Posts:
[rpfc_recent_posts_from_category meta="true"]
Pics: David Rawcliffe-Propaganda Photo
Like The Anfield Wrap on Facebook
We've been shortlisted for Best Podcast at the FBAs. You can vote for us here.