IN APRIL 1981, Howard Gayle was summoned from the substitutes' bench to play for Liverpool in the second leg of a European Cup semi-final at German Champions Bayern Munich. The previous October, by filling the same role against Manchester City, he became the first black footballer in Liverpool's 88-year history to play at first-team level. The Toxteth-born player pulled on a first-team shirt only five times in total, scoring once. But he also notched up 62 goals in 156 games for Liverpool's successful reserves side. In 61 Minutes In Munich, Howard tells Simon Hughes of his childhood growing up in the Toxteth and Norris Green areas of Liverpool, life on the streets, progressing from a teenage football hooligan to a Liverpool first teamer. Here, in the first of a series of extracts on The Anfield Wrap from the book published by deCoubertin Books, Howard talks about his most famous moments in a red shirt – that night in Munich.
---
OCTOBER 1980 was a busy month for Liverpool, with eight games played. For the league fixtures, substitute responsibilities switched between Ian Rush and Jimmy Case, while I was selected as one of five substitutes for the home leg of European Cup tie against Alex Ferguson's Aberdeen.
I was itching to play. I know it's a cliché, but there's something different about playing in night games, especially at Anfield under the lights when there's a full house. Ferguson had made quite a lot of noise before the fixtures, adding to the sense of anticipation. Bob Paisley, though, was not the type of manager to fall for any mind tricks and Liverpool ran out easy 5–0 winners on aggregate over the two legs.
After Aberdeen, CSKA Sofia, the Bulgarian champions, were dispatched easily in the third round, setting up a semi-final tie with Bayern Munich.
I stood in the Kop for the first leg and Bayern were the better team. Liverpool seemed to run out of ideas against a well-organised defence and a 0–0 draw was a fair reflection of the way it went. As I funnelled out of the exit gates with my hands in my pockets a few minutes before the end I didn't consider what the result meant for me. Not for a second did I think about being involved for the second leg a few weeks later in West Germany. Bob Paisley always went for the tried and trusted players on these occasions.
The odds of choosing to use an untested player with barely half an hour's first-team football behind him must have been a thousand to one. I went home and sulked like every other supporter. The odds, indeed, were stacked against Liverpool reaching the final.
—
Joe Fagan marched into the Liverpool dressing room inside the Olympic Stadium and said, "There you go, lads – this is what that lot out there think of you."
Joe pinned a translation of an interview with the Bayern captain Paul Breitner in which he criticised Liverpool's performance in the first leg as "lacking imagination".
Joe then pulled another sheet from his pocket. "Look here, lads." It was a leaflet the Germans were handing out to the home supporters inside the ground of directions to Paris where the final was taking place.
I felt like a visitor. It wasn't my place to react. I looked at Graeme Souness. His eyes were wild with rage. It was at that moment I knew that Liverpool would be the team going to Paris and not Bayern.

I knew at that point I was on the substitutes' bench for the match. Bob had told me after we'd finished our pre-match meal that I was going to be involved.
I'd travelled to Munich believing that I was only there as help, in case of an emergency — if someone else pulled out with injury, because Liverpool's players were falling like flies.
Bob offered no explanation of why he chose me, nor did he explain what he expected of me, although I didn't expect him too. He wasn't a man of many words.
It was only then that it sank in that I was representing Liverpool at a European Cup semi-final. Suddenly, there was a chance — albeit a small one — I might play.
It was clever management because I suppose if I'd been told a few days before, I'd have thought about it too much and become needlessly nervous. It was also clever management because the Germans, despite their reputation for meticulous preparation, did not have a clue who I was.
As a player, I was unconscious in terms of the moment's magnitude. When you are in the moment, it's difficult to enjoy it because all of your energies are focused on the ultimate aim of helping the team to win the match. I did not think about the fact that a few years earlier I'd been banging in goals for the Timepiece, being chased around boggy pitches by hulking defenders in front of 30 people on a Sunday morning; and now I was here: in Munich, pitting my wits against some of the most decorated players in Europe inside a historic football stadium where a World Cup final had been hosted, with more than 75,000 spectators watching.
When the teams lined up before the kick-off I could see Klaus Augenthaler, Paul Breitner and Karl-Heinz Rummenigge. They were legends of the game. I was a kid not long off the street. But I wasn't daunted, not one bit.
All of our preparation had been especially guarded, so maybe, looking back now, perhaps it shouldn't be viewed as a surprise that Bob had another trick up his sleeve.
There had been no training session at the Olympic Stadium. On the Wednesday morning, we went to a park and worked on set-plays, practising a routine where we'd overload the near post from corners then the kicker would aim for the back post, hoping to sneak someone in. It was all very secretive.
—
The hostility of the crowd was not my focus when Bob Paisley decided to bring me on for Kenny Dalglish. I was only focused on what was to follow, not what was going on around me — or even the significance of the event. The first few minutes were like being swept away in a dream. You can hear the voices of individuals: team-mates shouting for a pass. Sometimes they get louder. But chanting is different, just a constant hum.
Liverpool supporters tell me the racist abuse from the home terraces was bad — on another level. Afterwards, Bob spoke about it, saying he'd never heard anything like it. But it genuinely did not affect me. I was so focused, so determined to do well, so determined; I was oblivious to everything but the ball, my teammates and the opponents in front of me.
I relished the atmosphere. The more people watching, the better, as far as I was concerned. I was an adrenalin junkie — feeding off the energy of the occasion.
As soon as I'd had the first touch of the ball, I was away. I did not realise there were monkey chants. I did not feel intimidated by the occasion. I did not feel out of my depth. I felt like I belonged in the European Cup semi-final. You might read this and consider it to be arrogance. At Liverpool, I always believed I was playing for the best club in Europe: the best team.
I had no idea of how Bayern were doing in their league campaign. Basic information like that wasn't readily available to everyone as it is now. I knew about Augenthaler, Rummenigge and Breitner because they were international standard players. What other clubs were doing didn't interest me at all, though.
I'm sure Bob Paisley did his research, especially going into a game of such importance needing to use four inexperienced players. But he never stressed the strength of other teams as if it was something to worry about. Tactically, it was a simple case of him ordering Sammy Lee to follow Breitner around the pitch.
If Liverpool broke forward then Sammy could free himself of that responsibility, but as soon as Bayern regained possession, he knew that he had to track Breitner straight away.
I remember dribbling past Klaus Augenthaler and creating a chance before turning around and seeing the look on his face. He looked surprised, even scared. From then on, every time we were involved in a foot race, I knew I had two more gears on him. He knew he was in for a hard night. He had to find a way to stop me, so he threw in a foul. Then his team-mates followed.
One of the fouls should have resulted in a penalty. I received possession and legged it towards goal, beating the right-winger, Wolfgang Kraus. A few defenders had a nibble, trying to bring me down, but I was away.
Suddenly, Wolfgang Dremmler appeared from nowhere. I was darting in towards goal, then he launched into a tackle, cutting me up — almost in half — nowhere near the ball. It was the clearest penalty I've ever seen. It was an easy decision to make. As the last defender before the goalkeeper, Dremmler should have received a red card. The crowd fell silent, the whistling stopped — they knew it too.
Yet the referee — Mr Garrido da Silva from Portugal — pointed for a goal kick instead. He was quite a few yards behind play because the foot race between Dremmler and me had been rapid. Nothing, though, was impeding his view.
I watch the replay now — 35 years later — and still, it leaves me utterly bewildered. At the time, I turned around waiting to see my team-mates celebrate, only for my face to turn to horror upon realising Garrido's decision. Only the referee can answer why he chose to award a goal kick instead of a penalty. I don't know whether he's still alive.
Friends who were watching inside the stadium and those back home believe he simply bottled it. There was a tendency for referees to favour home teams during European matches back in the 1970s and 80s. I'll admit, sometimes Liverpool probably benefited from decisions: a consequence of referees wilting in the febrile atmosphere of Anfield.
Referees certainly weren't as strong-minded — maybe as neutral-thinking — as they are now. It was a European Cup semi-final. The mood inside the Olympic Stadium was moody. There was monkey chanting. There was a swathe of opinion against me. Maybe it's unfair for me to speculate. Maybe it was simply a bad decision. Maybe he was fearful of the consequences had he gone the other way.
It's all ifs, buts and maybes, but had he got the decision right and pointed to the spot, then it's quite likely that Phil Neal would have scored to give us an early lead. Phil rarely missed. He was Mr Consistency.
It would have meant rather than just speaking of the impact I had on the game, my performance would have been marked by something palpable –something significant. "Howard Gayle — he won us the penalty in Munich," people would say. "Howard Gayle really helped get us to the final."
Maybe the moment would have been the proof Bob Paisley needed to trust me.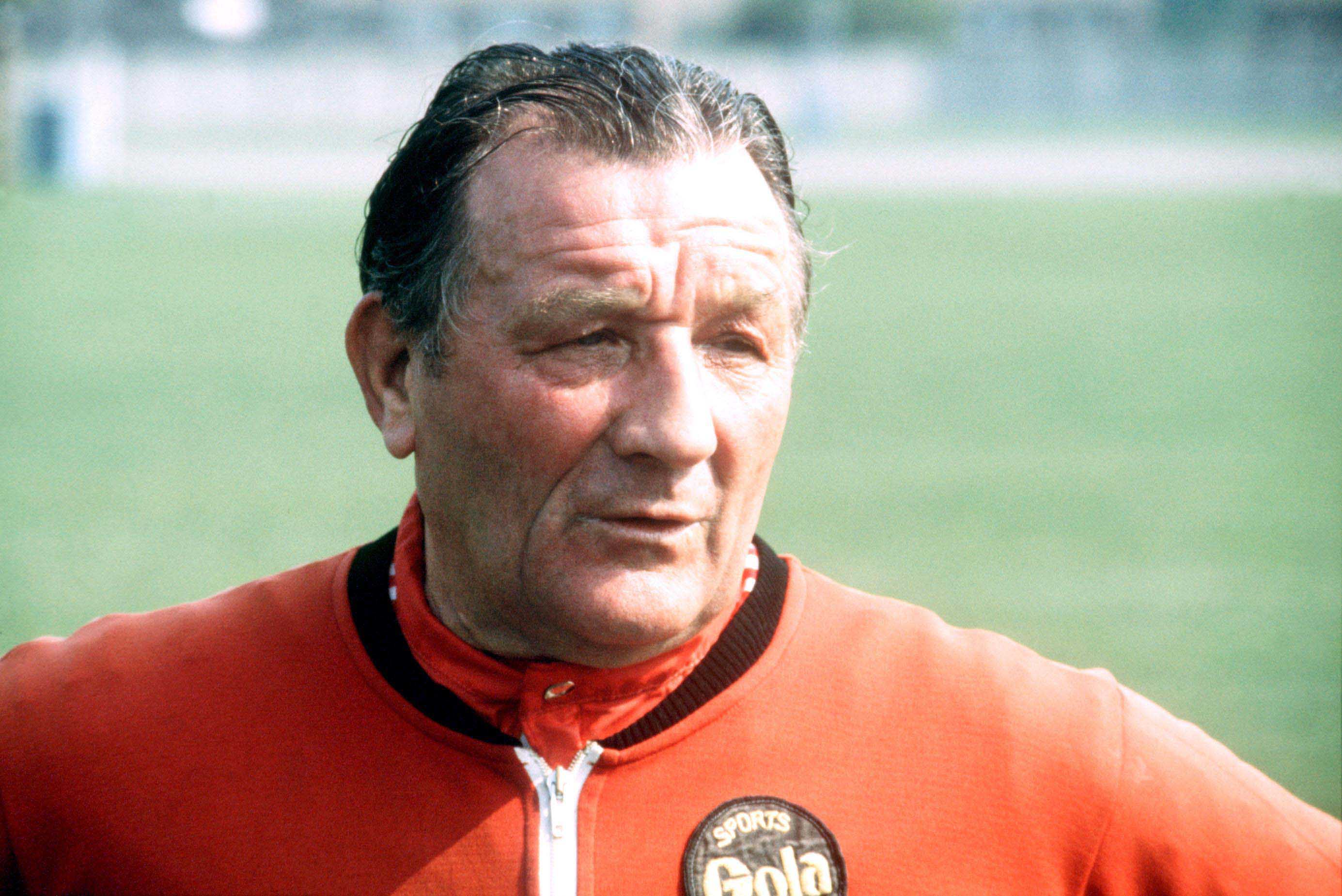 I'm sure Bob Paisley wouldn't have wanted to use three inexperienced players in Munich.
Aged 22, I was one of them; Colin Irwin and Richard Money were the other two. Colin was 24 years old and had made fewer than 50 appearances for Liverpool's first team and, though Richard was 25, he'd only started in 11 games since signing from Fulham the previous summer.
My rise from park football to the European Cup semi-final in just under four years was reflected by the fact nobody outside the club seemed to know my age.
Upon my introduction to the game Barry Davies, from his position in the commentary box, said that I was just 19 years old. It might have been a lack of research on his part. Maybe it simply reflected how much of an unknown I was. And yet, I was performing very well indeed. So were Colin and Richard.
It might sound unusual to describe 24- and 25-year-olds as inexperienced but that's the way football was back then. Reserve teams were older than they are now, where players are often released at 21 if they haven't made their first-team debut.
I felt like I belonged at the Olympic Stadium in a European Cup semi-final. I could sense fear in the German team every time I received the ball. Graeme Souness was our best player and he only passed to you if he thought you were up to the mark. Every time Graeme gained possession, he was looking for me as an outlet. That gave me tremendous confidence.
With Graeme in the team, I felt like I had someone backing me. The experience was exhilarating.
Within 60 seconds in the second half, however, my mood shifted and my optimism drained away completely. The decision to book me for a foul on Wolfgang Dremmler was unfortunate. Again, I think if you look at the replays, you'll agree. I barely touched him but his screams convinced the referee to do something about it.
Mr Garrido's decision to book me was exasperating. In commentary, Barry Davies described me as "a really silly lad", who'd shown "a little bit of immaturity in this sort of atmosphere". Considering the level of unsporting attention I'd been subjected to by the German defenders — considering I'd not reacted to provocation once — I thought this comment from Davies to be unfair. Yes, OK, I'd fouled Dremmler, but was it worthy of a booking? I don't think it was. It was my first foul in the entire game. All you ask for from the referee as a professional footballer is consistency.
It had taken several fouls by Klaus Augenthaler for him to get booked. Why was I booked for my very first — especially when it clearly wasn't malicious? I think that ultimately, the referee thought he had to book me because he'd booked so many of Bayern's players. He wilted under pressure from the crowd.
In the moments that followed, I chased after the ball, tracking back towards the defence. I'd been disciplined throughout my time on the pitch.
When there was a stoppage in play, I could see Joe Fagan and Bob Paisley in discussion. Joe then passed a message on to Ronnie Moran. Up went my number: number 16 was going off and number 12 was coming on — Jimmy Case for me.
I was absolutely gutted. I couldn't believe it. Less than 60 seconds had passed since my booking. I didn't get much of a chance to prove I could keep my cool and see the game out. The scoreline was 0-0 and we knew that one goal for us would place enormous pressure on Bayern. I had been Liverpool's most direct route to goal.
Bob Paisley also knew, however, that I was on a booking and the tie was 20 minutes from extra time. And that was his reasoning later on when speaking to the media.
Generally, though, the Liverpool staff did not explain their reasons for the conclusions they arrived at, certainly not to players. I was left feeling like I'd done something wrong. Graeme Souness patted me on the bottom as I jogged towards the touchline. I barely touched Ronnie Moran's hand that he reached out to me when I passed Jimmy as he trundled on. I was fuming.
Jimmy had won two European Cups with Liverpool and he was a fantastic player. It was a surprise he wasn't used in the first place. Barry Davies described the decision as "experience being used instead of impetuous youth". Listening to Davies, you'd think I'd let the team down. Obviously, I disagree with that totally.
In cold analysis, Bob's decision surprised me because of its timing. He may have been concerned about the potential of facing extra time with 10 men if I was sent off but, in substituting me, the probability of that happening continued.
There was 20 minutes to go and he was aware that Graeme Souness and David Johnson were really struggling with injuries. It nearly backfired on Bob because a few minutes after my exit, Jonno started holding his hamstring.
It forced Bob to make another tactical change because Jonno could barely walk. I guess it's up to you to decide whether it proved to be fortunate or inspired, because Jonno's inability to move forced Bob to push Ray Kennedy up front.
Liverpool ended up with 10 and a half men because Jonno's mobility was reduced considerably, hence why he was shunted into a wide position. Perhaps Bob understood what was needed and for that he deserves credit. Ray had arrived at Liverpool six years earlier as a striker before Bob converted him into a left-sided midfielder.
Ray's striking instincts returned in the crucial moment, scoring Liverpool's vital away goal with a superb volley. Although Bayern equalised through Karl-Heinz Rummenigge with a couple of minutes to go, we were through.
When Ray scored, I celebrated. When the final whistle was blown, I celebrated. I returned to being a fan in those moments.
Beneath the happiness, though, I was embarrassed. I'd become the first black player to play for Liverpool. But straight away, I was getting asked questions about becoming the first substitute to be substituted.
Munich had been sweet and then bitter. As we boarded the bus for the journey back to the airport, I was filled with doubts rather than positivity. I'd played well and caused some of the best defenders in European football problems. But Bob Paisley did not trust me enough to see the job through.
It should have been the greatest night of my life. Instead, I felt as though I was back at square one.
– 61 Minutes In Munich: The Story Of Liverpool FC's First Black Footballer by Howard Gayle in collaboration with Simon Hughes is out now. You can buy it here. A FREE launch event is being held at Liverpool's The Black-E on October 28. More details here.
– Listen to a special edition of And Could He Play where Howard Gayle discusses three Liverpool players he shared the pitch with here.
Recent Posts:
[rpfc_recent_posts_from_category meta="true"]
Pics: PA
Like The Anfield Wrap on Facebook
We've been shortlisted for Best Podcast at the FBAs. You can vote for us here.