FIRST off, I'm a big fan of Daniel Sturridge. He's the most naturally gifted player in our squad, the best finisher and he comes across very well in interviews. I should also point out that there's an extent to which some of the things I'm going to talk about here require me to do a bit of guesswork about what's going on in Jürgen Klopp's head. I got criticised for that last week, weirdly.
No matter how much I like Sturridge, I have to admit that I'm sick to the back teeth of the circus surrounding whether or not he starts games.
I am very much a glass half full kind of supporter. I believe the manager knows what he's doing or, at the very least, that he knows an awful lot more than the rest of us. I feel we won't really know whether Klopp's getting things right or wrong until we get to the end of the season and look back. That doesn't mean we should never question his judgement — people are of course allowed an opinion and the manager, by his own admission, can't get everything right.
I'm also happy to admit that I don't know enough about football to be concrete in my belief that I'm right on any given subject. Let's look at the left-back situation, for example. I believe that we should have bought a new one. I think Alberto Moreno is still making the same mistakes that he was making when he first joined and I think we look an awful lot more solid at the back when he doesn't play.
Having said that, I don't know that the things I'm calling "mistakes" are mistakes in the manager's eyes. Perhaps he's doing exactly what he's been told and Klopp is quite happy. Similarly, I don't think using James Milner at left-back is a long-term solution, yet I also thought his performance at White Hart Lane was excellent. Maybe the manager thinks the two players can learn from each other and be used alternately depending on the opposition.
There's an odd movement that's been going on in football commentary by the masses recently. It appears as if every single thing that happens must be viewed in uncomplicated, black and white terms.
To use Mamadou Sakho as an example, according to some you either think he's the best defender in the Liverpool squad or a waste of time. I think when he's on form he's excellent and the bias against his ability on the ball is based on him looking a bit gangly, but that when he's not at the races he can be a bit of a liability.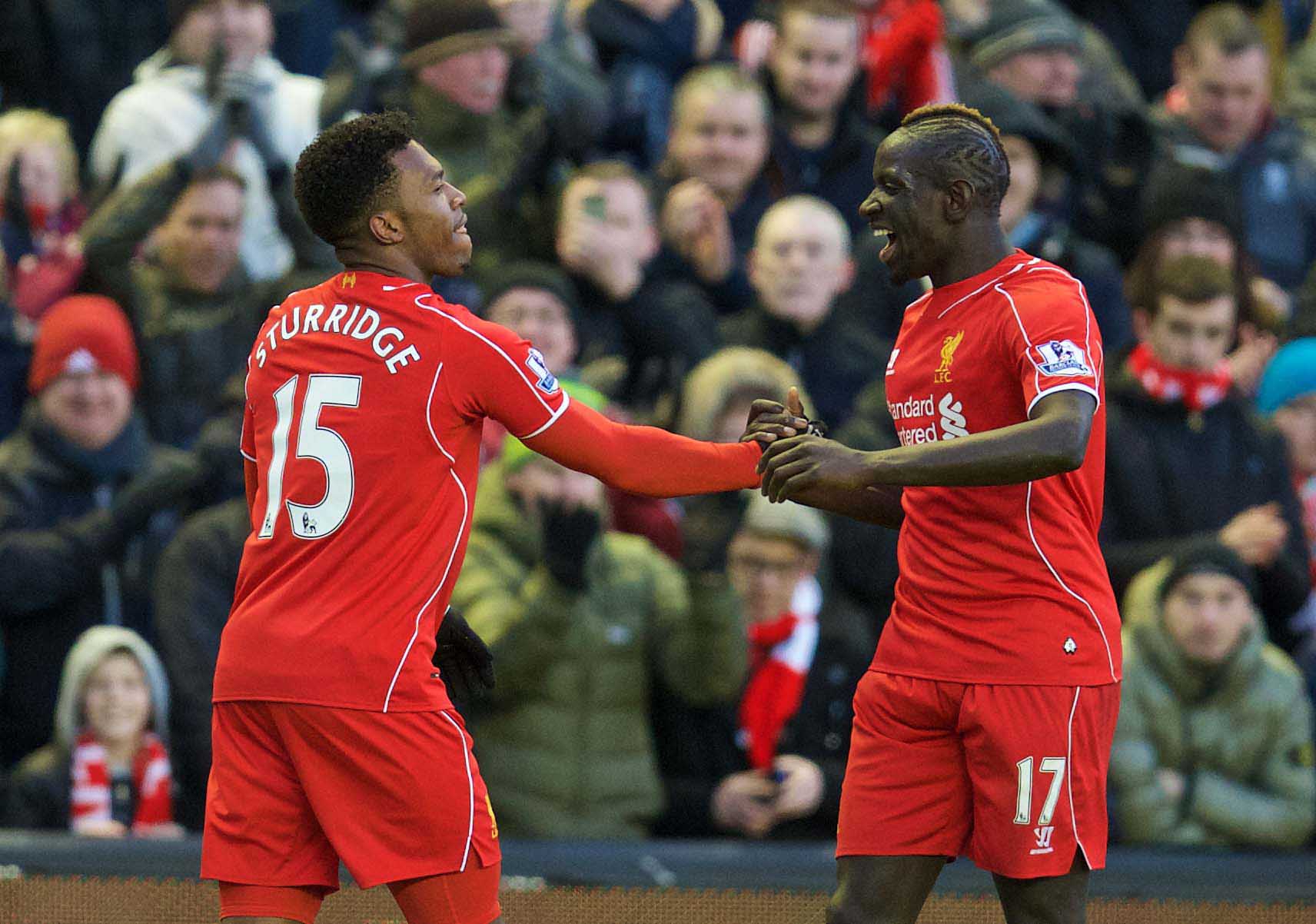 Which brings us, sort of, around to Daniel Sturridge. The manager's decision not to start him against Tottenham has once again thrown open numerous conversations about what it all means. There's existential angst about whether or not Klopp "trusts him" and talk that perhaps the German is trying to force him out of the club. If I'm honest, I'm struggling to get my head around it.
It seems to me the manager wants several things from his players. He wants everyone on the pitch to put a shift in, relentlessly, for the entire time that they're playing. I also think that he wants everyone to be doing a little bit of everything.
I'm convinced he hasn't gone out to buy a specialised defensive midfielder because he doesn't think that should be one man's job. Rather, he expects the entire team to get back into position when the ball is lost and for the midfield unit to shift back and help out the defenders.
When it comes to the attacker, especially in the big games where the opposition team is as likely to have as much of the ball as we do, I think that Klopp wants the man at the front of the line to constantly put the other team's defence under pressure. He wants them closed down immediately, given no time to breathe or pick a pass. He wants our forwards to disrupt their rhythm by never relenting.
I don't think that is Sturridge's natural game and this is where black-and-white thinking can cause problems. Roberto Firmino works harder in the final third than Sturridge does. Now that does not mean Sturridge is "lazy". Far from it, it's just Firmino works in a different way to our number 15. He's better at getting across and closing down players than Sturridge is, for example.
I also think Sturridge is selfish. That's not a criticism — I think strikers should be selfish. I think all of the best forwards in the world have a streak of selfishness. I don't think Zlatan Ibrahimovic does his little back-heeled passes because he's desperate for Wayne Rooney to score, I think he just wants people to talk about how amazing his back-heeled passes are. If it results in a goal, great. If not, at least people will talk about how cool he looked doing it. Seriously, he's obsessed with back-heeling the ball, but I digress.
I have no problem with Sturridge, who is 27 today, being selfish, but I wonder whether it's what Klopp wants from his players when he's spent most of the summer talking about the importance of a strong squad. Look at Sturridge's comments recently about being played out wide. Does anyone in football disagree with him? Of course he's at his best when he's played through the middle. But at that moment in that game that's not what was best for the team. The manager would have had to re-jig a lot of things to make that work.
When it comes to whether or not Klopp "trusts" the striker I think that depends on what you mean.
The problem with saying "we should have played Sturridge" is the suggestion that it really is just that simple. That the manager takes out Firmino or Philippe Coutinho or Adam Lallana, drops Sturridge in instead and everything is hunky dory.
But it doesn't work like that. Sturridge wants to play through the middle and he's at his best when he's allowed to do that. Yet it's not as if we're playing someone else in that position that the manager is choosing ahead of Daniel. If Klopp wants to play Sturridge in the position Sturridge wants to be played in then he has to change the tactics that he favours to accommodate him. In a sense, he has to build a team around him.
Does the manager trust Sturridge's fitness enough to do that right now? Probably not, to be truthful. Do you? Klopp currently has an attacking trio that can interchange, move around and cause defences problems. If he puts Sturridge in, knowing that he's not happy playing out on the left or the right, then everyone else has to change their game.
Liverpool looked sensational against Spurs for an hour on Saturday but couldn't finish the moves off. It's easy to suggest that if Sturridge had been playing he would have been on the end of some of the moves, but that ignores the fact that if you change the team around to bring him in then those same moves might never have happened.
There's something else I find interesting. Imagine, for a moment, that Sturridge starts against Arsenal. For the purposes of this we're going to ignore what I've just written and pretend the game pans out in exactly the same way. We have our burst of 15-20 minutes of brilliance and we win 4-3. For the Burnley game we drop Sturridge and lose 2-0. What does everyone say? I'm guessing it would be something along the lines of "why has he dropped Sturridge?" and so on.
Why is it that no-one asked why we changed a winning system for the Burnley game? The Mané injury is the obvious answer, but that's not the only thing that was different. Sturridge doesn't start v Arsenal and we score four. He doesn't start versus Tottenham and we could have scored four in the first half alone. He does start versus Burnley and we don't score.
https://www.youtube.com/watch?v=-QtRNpi54RA
I imagine plenty of you are losing your heads over that, screaming at your computer and calling me all sorts of nasty names. That's because I've made things far too simplistic. No Mané, for example. Plus Sturridge starts out wide. You're probably also mentioning his two goals against Burton Albion.
In essence, though, that's exactly my point. Despite what the catchphrases might tell you, football is an incredibly complicated game. Especially nowadays when the best managers go up against each other and it's more like a tactical game of chess than the sport you and I play in the park.
I don't think the manager not using Sturridge has anything to do with whether or not he "trusts" him. I think it's to do with the manager being acutely aware of what sort of striker Sturridge is and what sort of player the manager wants against big teams.
That's not a criticism of the player. It's an acknowledgement that what works against Chelsea, Manchester City and Spurs away is perhaps not the same as what will work against Hull, Stoke or Crystal Palace.
Sturridge's natural game isn't to constantly threaten, close-down and harass. Why shouldn't the manager pick the players he wants for each type of game we face, rather than changing his entire approach to accommodate someone whose game doesn't tick the right boxes?
The manager should — and will — pick the team that he thinks will win matches. It's not offensive to Daniel Sturridge if Klopp thinks he'll be brilliant at destroying the so-called "lesser teams". It doesn't mean he's "lazy" because the manager thinks another player works harder. It isn't the case that his "selfishness" is a bad thing, it may just only be appropriate in certain circumstances.
Everyone is entitled to question the manager. But can we stop the circus coming to town every time Sturridge doesn't start? It's boring, tiresome and, in my opinion, it's wrong.
For podcasts on every Liverpool game this season, transfer gossip, the lowdown on new signings and more, subscribe to TAW Player for just £5 per month. Minimum sign-up is just one month. If it's not for you, all you've shelled out is a fiver! More information here.
Our latest FREE show is here, just press play:
https://audioboom.com/boos/4985998-the-anfield-wrap-spurred-on