SIGNING players because we need 'someone' has been something that Liverpool has specialised in in recent years.
It has been maddening. On deadline day, the Prosecution's number one piece of evidence made his way to the Cote D'Azur to sign for Nice after two utterly miserable seasons as a Liverpool player. Well, one really.
I was in favour of the signing of Mario Balotelli in August 2014 in theory. He's a talented footballer, and if someone somewhere ever manages to unlock it they'll get a very useful player although it's looking increasingly unlikely that will happen. For £16million, it was worth the gamble.
With hindsight, it turns out we backed a loser but you live and learn and you get things wrong. It was a terrible idea. Brendan Rodgers sanctioned the signing because he needed a striker, seemingly any striker (Samuel Eto'o was also mooted). It's a bad approach. When we get things wrong as a club we need to learn from them.
The main problem was Rodgers didn't believe in him. This wasn't the reason Balotelli failed at Liverpool — I'm not pinning that one on the former manager — but given how clear it was that Rodgers didn't fancy him in the slightest it was a completely pointless signing.
The Italian started a few games in the early stages, got injured and wasn't really seen again. He started three games after November 8 of his first season. Balotelli was basically done at Liverpool after just three months.
If Rodgers believed in the player he would have lasted longer than three months. If that's all he was prepared to give him, then what was the point in signing him?
The story goes that Balotelli was what Rodgers was offered in the end — a him or no-one situation. He would have been pilloried if nobody arrived to boost the squad following the departure of Luis Suarez, so away we went — £16m plus £5m-plus a year in wages for a player that he wasn't really fussed about; a huge financial burden placed on the club.
Mario Balotelli might not be the worst player we've ever signed for big money, but broken down, on so many levels, the transfer has to be a definite contender for the worst we've ever done.
I don't blame Rodgers for saying yes — given the choice it would have been incredibly bold for him to go in to the season with a front line of Daniel Sturridge, Rickie Lambert and Fabio Borini. Or stupid. Or even both.
We've taken the complete opposite side of the coin at left back this season. If you don't think Alberto Moreno is good enough then that's fine. If you don't like James Milner stationed there then that is also fine. But the argument that any left back should have been brought in isn't for me.
I've seen that happen before. In the summer of 2010 Emiliano Insua was booted out of the door and was widely viewed as not being good enough, which he wasn't as we can easily see with the benefit of time.
The issue was the 'solution' to this problem, a problem which wasn't even close to being the biggest one that Roy Hodgson inherited.
Liverpool's answer to the question in this circumstance was to give Insua away (while probably still paying his wages), and sign Paul Konchesky. We paid money to get a worse player at a time when we didn't actually have any money.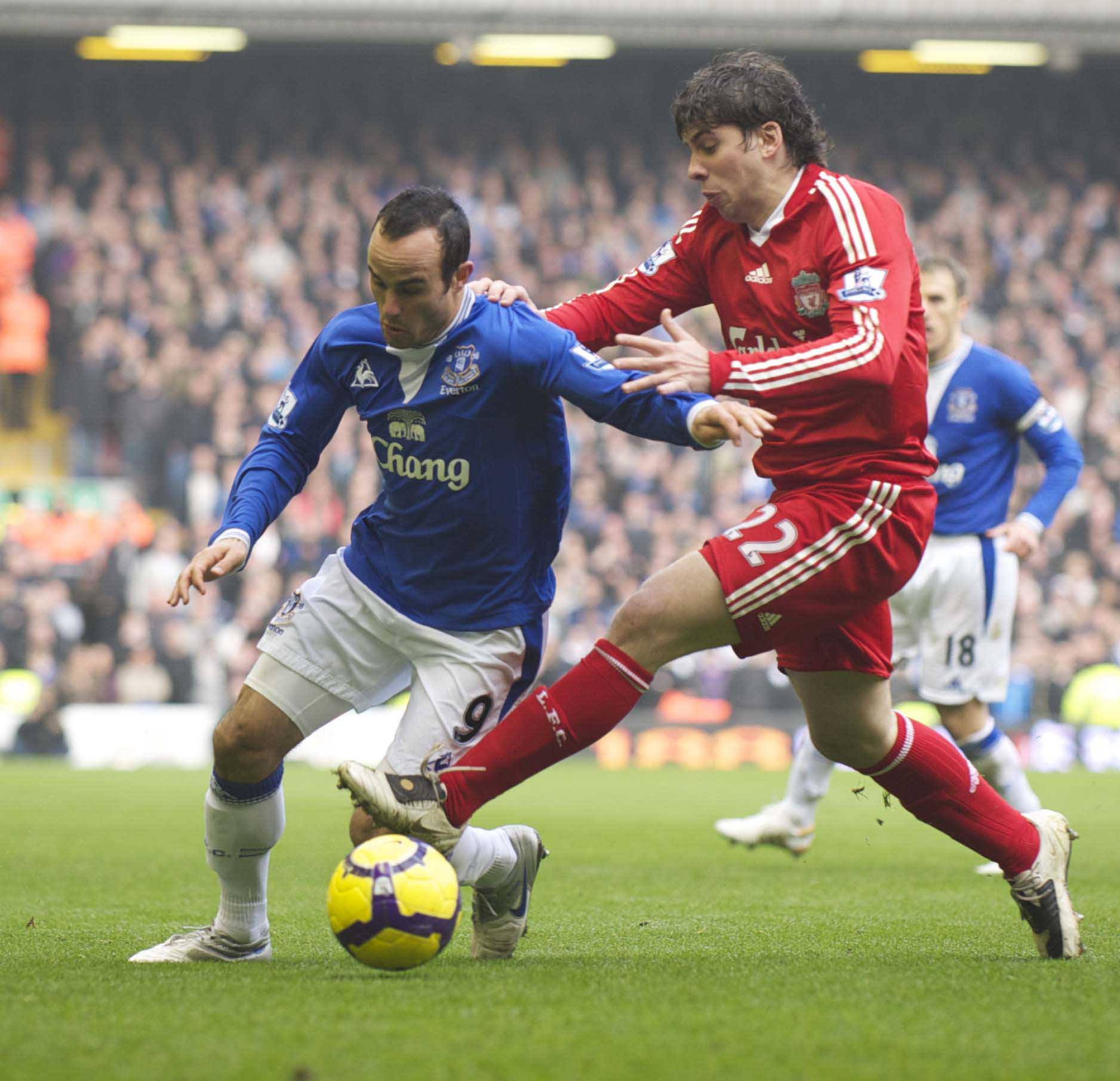 We weren't in great nick at this time for a variety of reasons, but we paid £5m to downgrade in a position when our second-choice striker was David Ngog. A player of Ngog's level wouldn't get in our 25-man squad this season and he was our go-to option when Fernando Torres wasn't firing.
Decisions like these have hindered us over the last 10 years and I'm glad to be able to look at this summer and see it as the first step towards not being lumbered with dross that aren't going to help us in the long term.
A new left back would have been great, but only the correct one. Signing a left back because Moreno is perceived as rubbish is all well and good, but if you're spending money on something that isn't making you better than it's a waste of time, you're just creating another problem as opposed to solving one and you're paying for the privilege.
Moreno is frustrating and Milner clearly has his limitations but believe it or not, there are worse left backs out there. If the manager didn't feel he could buy an improvement in the window just gone then stick, don't twist to twist again.
Doing just that has contributed towards holding us back for too long. Players like Jermaine Pennant might have seemed like a good idea at the time but he was second choice to Daniel Alves and look at how it turned out in the end.
We would have been better off just pocketing the money and waiting to sign someone who could actually contribute. We needed someone who could deliver from wide so we signed someone who could just do that. He just couldn't do it well enough. It was a waste of time.
You can carry the stick or twist thing over for a number of things that Liverpool have done this summer.
It would have been foolish to let Joe Allen go and sign another midfielder if you didn't replace him with a better player. The jury is clearly out on Georginio Wijnaldum but his mobility and eye for goal are more in keeping with what Klopp wants from a player than Allen's neat and tidy control and possession-based game. A specific horse for a specific course if you like
Klopp couldn't find an appropriate left back, so we didn't just fill the squad with one we'd have to get rid of in 12-18 months. I'm fine with that. Moreno or Milner simply aren't going to be the reason we do — or don't — finish in the top four, win the League, or whatever.
Ragnar Klavan is going to be a better option than Kolo Toure on the grounds that his legs work, and Joel Matip a better option than Martin Skrtel because he doesn't appear to think that a key element of defending is trying to take your opponent's shirt off him when the ball is in the air.
Loris Karius's style is better suited to Klopp's football than Mignolet, while Mignolet then becomes better than Adam Bogdan as an option on the bench.
Sadio Mane  is sensible because we didn't have a player of his type. We bought a threat that previously didn't exist in pace and trickery.
Similar can be said of Marko Grujic; he's arrived and boosted midfield — an area that needs boosting. It arguably still does, but if the correct central midfield partner for Emre Can in the eyes of Klopp isn't available then I don't believe we should buy one just because it's area we're a bit short of quality in.
He wants Mahmoud Dahoud and he's prepared to wait, so for now Jordan Henderson is fine. Not great, and something we should look to improve on in the long term, but he's fine. Managers at both club and international level pick him for a reason — they can't all be wrong.
https://www.youtube.com/watch?v=3IjTcWUnomQ
Signings don't always work out, but ones that everyone knows won't work are a problem. Gambles are also problem. I don't see this summer having any gambles, and I see plenty of areas of improvement.
It isn't a perfect Liverpool squad but it's been streamlined in a way that will help us to push on. We don't have a single player that I would classify as not being good enough and by that I mean at least provide some form of contribution. Slag Moreno all you want but he's still better than most of the left backs in the league. So is Milner. Henderson is the same in the middle of the park.
I think it's the best summer we've had for a while. We haven't lost a single player that I'm in the slightest bit disappointed about and the best player we lost was Joe Allen on whom my feelings are well documented.
We have plenty of players who could step up a level, and that's where we should be. If you want Liverpool to be the best, you have to put up with things like Coutinho being linked with Barcelona. He came in six months after Charlie Adam went to Stoke. I don't want players that Stoke could sign at Liverpool.
A Champions League finish this season is vital. Do that, and we'll have a squad next summer set up in such a manner that we can go out and buy two to three players to really kick on.
Listen to the latest *free* Anfield Wrap podcast here:
https://audioboom.com/boos/5012770-home-front
There are players Liverpool can improve on, but awful footballers? No. We aren't looking to the bench and asking someone like Nabil El-Zhar to come off and change a game, or wondering if Milan Jovanovic can provide something.
Not happy with our squad? Have a look at the bench that Spurs had the other week. That's a direct rival. They've got two strikers and three centre backs in their squad by my reckoning. Look at some of the players Arsenal played against us the other week — they wouldn't get on our bench.
These are teams we're competing with. Manchester United, Manchester City and Chelsea are in a tier above and Liverpool's aim in the next few years should be to consistently punch at their weight, not match it once every fifth season like we have done the last 10 years. That needs the owners to want that, and the manager to be able to implement it with what he's given.
We've done well in the transfer market this summer and given Klopp a good base. There have been a lot of bad decisions around this club in the last decade, decisions that it hasn't taken a genius to see were ridiculous: sacking Rafa Benitez and replacing him with Roy Hodgson, spunking money on players that managers didn't want, panic buying. You name it, Liverpool have done it.
This summer, though, could Liverpool have done more? Probably. Have we got a lot wrong? I honestly don't think so.