WHEN Jürgen Klopp joined Liverpool in October, it was the start of a new era, writes LUKE CHANDLEY. Under Brendan Rodgers, the football started poorly, moved on to a good patch, then an excellent patch and was soon followed by a from-bad-to-worse patch. That's pretty much how it ended and where Klopp took over.
When the manager arrived, there were plenty of problems to deal with, but the biggest was one Liverpool had encountered repeatedly ever since Luis Suarez departed for Barcelona. Scoring goals.
When Suarez was at Liverpool, it was a weird dynamic. A weird team dynamic, but one full of goals.
Under Rodgers, with Suarez, Liverpool scored freely. Even when the defence was poor (arguably the whole of the Rodgers era), the goals kept flowing because we had one, all-action, full-on danger man. One focus of attention. After him, we also had a bunch of players ready to ride a wave and get excited. That's where their confidence came from — from Suarez. Not only as a direct result of his actual football, but also from the idea defenders had of him: he is their only threat; he deserves our attention the most.
A dangerous road is trodden once defenders focus too much on too little. The focus comes away from the ball, away from the pitch and identifies with one man. It's a trait that plays into the hands of the other players, and if he's good enough himself — as Suarez evidently was — into the hands of the player himself, too. Great players make space for themselves and their teammates, no matter who is against them. Once their teammates start to take advantage of this, their game raises. It's a snowball effect.
It's this snowball effect that we were missing at the end of the Rodgers era.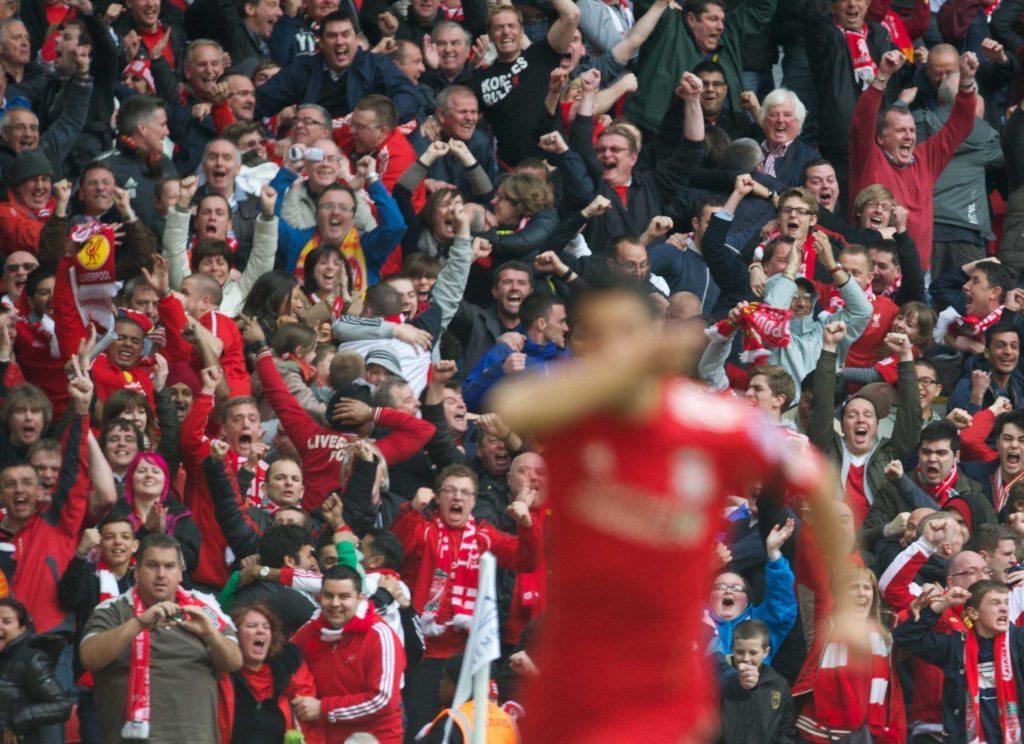 Goals win games and we didn't have enough of them in the side. Professional players of any position can score goals, but only if they are in and around the box. When Klopp arrived, it was clear he instructed his midfielders to crack on, to break the lines and to support our struggling forward line. Goals. Win. Games. It doesn't matter where they come from. Goals. Win. Games.
This approach of pushing more midfielders forward also helped in Klopp's pressing-from-the-front mentality. They start higher to begin with and work from there once they win the ball back. The further back you start, the more pace you need. And last year, Liverpool lacked pace. So the obvious solution: start closer to where you want to end up.
Throughout last season Liverpool fell short. As the months went by it was clear to see for everyone that, while our play really was improving in patches, it was very much more of the same in other ways, too. Although we were getting used to pressing at different times and working harder for longer, the midfield didn't chip in enough with the goals to help a hit-or-miss strike force. Something needed to give.
Our defence was improving, too, but still making poor mistakes and all Klopp could do was defend mistakes and coach defenders. It was becoming clear he was unsure about some players — something that has become clearer still now he has let two of last year's four defenders leave. One popular figure, one loyal servant. Neither good enough. No man is popular enough, no man is loyal enough to save himself from a lack of quality.
Since the arrival of the summer, the top half of the pitch has improved dramatically. For a start, the end-of-the-season featured the comeback of Danny Ings and the continued fitness of Daniel Sturridge (arguably the best forward in the league when fit and firing). We have also seen Jordon Ibe leave, a player with potential to be great, but potential to be not-so-great, too, and a risk not worth taking. Sadio Mane has come in, Gini Wijnaldum, too. A clear focus on pace and goals from elsewhere on the park. Goal win games.
https://www.youtube.com/watch?v=Vhzio09Q1og
Our forward line also goes from picking itself to the unpredictable, but the important part is added goals. Not just because they win games, but because they grow confidence, too.
With Suarez, defenders had more to think about than just Suarez himself but they often only realised that when it was too late. The result is the same here, but the process is different.
With Sturridge, Ings and Divock Origi you have a mix of pace, power, finishing and the excellent asset of 'pain-in-the-arsery'. Ings and Origi chase. Non-stop. Sturridge's ability is in his quick feet and knack of finding space on his left foot when defenders themselves know they need to keep him off it. His finishing just adds to the perfect package and the other two have proved before now that they can score goals.
If you have even one of these players on the park you have a great chance of finding the net, but now behind them we are beginning to see the potential threat we lacked to support the main man. Roberto Firmino scores goals, runs, has this gnarly way about him and is unpredictable in his play. Adam Lallana is a presser, plain and simple, but goals need to come from him too.
Philippe Coutinho seems to be becoming the player he was always capable of becoming, with his passing as good as ever but match-winning goals added to his armoury, his return last season the best of his professional career.
Mane is lightning quick, scores goals and can cause headaches against the top teams, while Wijnaldum plays in multiple positions, scores from them and has an engine that will have Klopp purring.
All of this is forgetting the likely departing Christian Benteke, the promising Sheyi Ojo and the midfielders that will also find more space once the opposition defenders' heads have exploded with the threats in front of them; Jordan Henderson, Emre Can, James Milner.
All of a sudden then, things are looking bright, rosy and Red.
When defenders have too much to think about they seem to not think at all. They lose concentration, discover frustration and find themselves being turned inside out by the time they figure out who is doing what, where.
Klopp knows that goals win games. Numbers on the board are what helps you win titles and trophies. Yes, losing Ibe is a bit sad, Joe Allen has impressed countless times recently and Benteke might not have had sufficient time to bed in, but goals win games. And more often than not, the lads above didn't offer enough of that. At top clubs, clubs who win things, goals come from everywhere. Jürgen knows this.
He told The Liverpool Echo this weekend: "When you remember last season, there were a lot of games when we were really dominant.
"When we were good with the ball, passing and moving, overlapping, things like this, but in the end we didn't finish it off enough.
"You need players for whom it's natural that they go there (into the penalty area). We have these players.
"In this moment we have four or five strikers. Five, including Roberto (Firmino), for the roles behind. You need the numbers to push everyone."
Goals win games, and now we have more goals to spread across fewer games and more competition, too. So let the games begin.
For podcasts on pre-season, Liverpool past and present, transfer gossip, the lowdown on new signings and more, subscribe to TAW Player for just £5 per month. Minimum sign-up is just one month. If it's not for you, all you've shelled out is a fiver! More information here
Never listened to an Anfield Wrap podcast? The latest free show is here. Just press play on the button below.