IF there's one thing that infuriates me about this club it's the overwhelming affection.
That's sounds wrong, doesn't it?
Let's try again.
If there's one thing that infuriates me about this club it's the unconditional love and support for the manager and certain players.
Well, that's closer but not especially helpful.
What I mean is this; some supporters see no wrong in things at times regardless of clear catastrophes and place that single-minded adoration under the banner of support. The team could spend a game pissing on the corner flag and some people would support and advocate it. You're not a proper fan unless you do…etc.
There are Liverpool players, both past and present, whom many of us really dislike. I certainly have my own.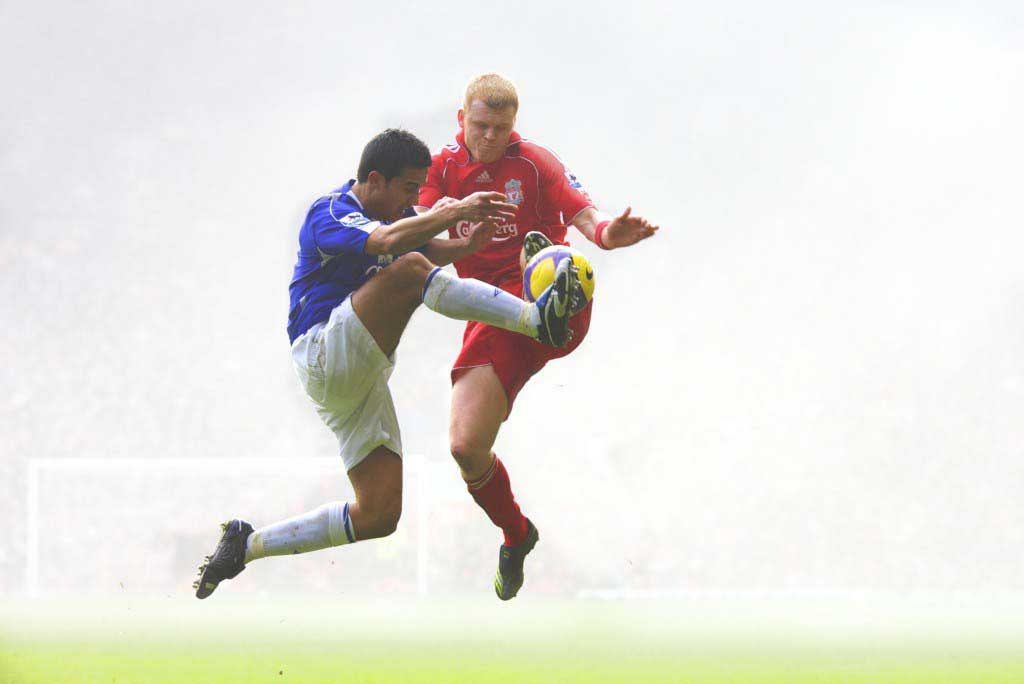 I was recently sent an email offering me the opportunity to meet John Arne Riise at the upcoming Barcelona game.
Now, people who know me here will be holding their ribs of the prospect of such an encounter. I can see how that would go. A handshake from 'Ginge' (footballers' nicknames, eh?) and a pat on the back, maybe some polite — if forced — conversation before I get out my phone and present him with a showreel of his LFC lowlights.
And I mean all of them.
This would include the game at Craven Cottage when he passed with unerring accuracy to Xabi Alonso for 45 minutes. What a first half that was. It was quite astonishing just how many times he found the gloriously-haired Spaniard regardless of where the left back was on the pitch.
Xabi was on the bench at the time.
I swear to God that he was doing it just to annoy me.
But, I know what you're thinking. Riise was great, yeah? Istanbul, the cross to Gerrard, the free kick against Manchester United and those glorious goals against Everton, Spurs and so on. But, for me personally, these were all flashes in an incredibly large pan. We could never be friends.
We all have our favourite and our 'Christ, not him' players and though our support is always welcomed, it can often become too much and blinds us to faults.
For example, I'm largely baffled by the Mamadou Sakho love-in. There are times when he's great and comes up with a nugget which warms him to my heart, such as referring to us as "The Liverpool country", while on the pitch against Dortmund there's the odd balls-out tackle when we need it most.
But there are other times when he makes me feel like I've had depth charges dropped into my bowels. Some good, some bad. I get all the pics on Instagram of him decorating and what have you, but I'll never go down the road of full-on love. He's alright, Sakho. Just alright.
I'm the same with the manager. I think he's great. Really, I do. He seems an interesting man and one that knows what he's doing on the pitch. I absolutely love that he echoed my view last year that we should buy Mane and Wijnaldum as I was telling all and sundry that they were two people we should look at. Obviously, that was also followed by a sense of 'Jesus, lad, don't listen to me!' when he bought them, but Jürgen and I are on the same page. That'll be a relief to you.
No, I like Jürgen. He's fun, engaging and doesn't make me frown too often. I'll take that.
But full-on love? Not yet. I need trophies first.
This is not to say that I don't admire both men or have a problem with them. Not at all. I can't emphasise that enough. Happy for them to be here.
And yet…
And yet there are people who chastise you for not signing up to the Full-On Love Newsletter. I've lost count of the number of times I've been told to "support Everton" or that "the club doesn't need fans like me or for living in the past too much" (guilty on that last one).
I'll admit that I do have a problem with the level of zealotry shown to people at times and that includes people who just happen to be related to the administrators of the club.
A friend of mine was baffled at my reaction to a picture of a man wearing a Linda Pizzuti T-shirt a while back. There he stood, thumbs aloft with a pic of Linda on his chest.
"What's wrong with that? The lad likes the owners," she said.
A fair argument, maybe, but for me that is a strange hero to adopt in a club of so many. In the old days (see!), I never carried a flag for the wife of former chairman Sir John Smith and frankly find it odd that anyone should extend their love of the club to someone who tweets the score when we've won. But, yes, I was shouted down for pointing that out.
"We just love the club, lad," I was told. "Get with the programme."
Ah well, each to their own. All sorts to make a world. If we all felt the same way yaddy yaddy yadda.
In certain quarters, criticism of the manager, Sakho and Emre Can infuriates people. Not one of those people have won a trophy at Liverpool (early days, admittedly) but they cannot be questioned, it seems.
So it's been a fascinating week thanks to the Sakho/Klopp story. If there's been a falling out you'd expect people to pick sides. I wondered who would be made the villain of the piece bearing in mind that we all love both men. Has Jürgen thrown him under a bus? Has Mama gone mad and let his boss down? Whose side do we take here?
Ah, here comes James Pearce.
I'm not on Twitter at the moment — other things to deal with — but I had a look to see what the story was. At the time of writing there's a suggestion that Sakho has been sent home due to attitude problems while others have said that it's merely so he can get his Achilles looked at back in Melwood.
That last idea would be odd given that he'd only just got to America. Why take him in the first place if he's not going to play and the Arsenal game is only just around the corner? Why not just leave him at home? I'm not quite buying that.
My Twitter feed instantly sought one man to blame and, as Mama and Jurgen are off-limits, went to James Pearce — the Liverpool Echo journalist who broke the story. Now, let me say from the outset that I don't know James Pearce. I know a few journalists, both local and national, but any interactions I've had with him have been on Twitter. He once told me that he received a tweet after the Stoke 6-1 game telling him that his position was now "untenable". Fair enough. He did very little tracking back in that first half. So, this is not a case of a mate standing up for a mate.
James — like Si Hughes a few weeks ago — was accused of making a story up. Of printing speculation.
Let's just see how that would work for a second. You're in the same rooms and stadia for months on end with 40 or so men whom you absolutely rely on. Relationships being currency in that world. If the club decides to freeze you out (and it does happen) you've got nothing to go on other than second-hand information and you won't last long with that.
Think about it.
If you went out with your mates every Friday and one of them consistently told your boyfriend/girlfriend a pack of lies about what you'd been doing they would cease to be your friends. Pointedly, James is not currently wandering around the grounds asking people who we've bought. He's still in there and there's a reason for that.
Another element in all this is that the club relies on the Echo, too. The paper conveys their news to the local people — those who the club sees as their strongest fan base as they're more than likely to be match-goers given the geography. They brief the press daily and subsequently need to have their voice heard.
Most journalists are happy to report on any of this stuff even if it's of limited interest (loan moves etc) so it's a two-way street.
The relationship works both ways and unless it's something extreme, such as the Hicks and Gillett (see the great Khmer Rouge memo, which name checks Tony Barrett then of the Echo) or the situation at Blackpool — both parties, club and journalists, uses the other evenly.
True, a relationship can become too cosy, just as it can become strained. There has to be a healthy respect between the two. A club should expect its local journalist to print negative stories as that's their job just as much as the journalist wouldn't be too surprised if the club was trying to either hide or delay something.
It's also the case that a journalist can be frozen out for printing a story which is 100 per cent true as it gives someone somewhere within the staff a troublesome 24 hours. The better journalists know their quarry well and build trust to such an extent that the passing of information becomes less than a briefing and more of a relaxed conversation. I've witnessed this happen first hand.
I wouldn't call myself a journalist but I've written match reports for a national newspaper and attended a few post-match press conferences in my time. You only have to be at a couple of them to see who a manager does and doesn't trust.
I was at a Forest game a couple of seasons ago when Stuart Pearce walked in, saw a man next to me in the front row and hugged him in greeting. It was obvious that they went back years and both trusted the other. I sat back and, realised that this man would get all his questions answered, be given access to him post conference (when the Monday paper writers have a more impromptu second conference, usually in a corridor, about things other than the game we've just witnessed) and subsequently better access than I could have.
Stuart Pearce was fine with me and answered my questions, even managing to share a joke with me while doing so, but I knew who the new boy was. I also reasoned that the older head could criticise Pearce, who was sacked not long after, had he wanted to. Clubs and their staffs know the game and don't sulk if they've been caught out.
This brings me back to James Pearce. He's still allowed in the room because there's no way he'd take a 'flyer' when there's so many other things to write about. He's hardly short of stories and this is the one time of the year when everyone wants to know everything. Had he been foolish enough to ignore all that and make up something mad he wouldn't be there now. He is still there.
Of course, not all managers get on with the press pack. I write this as a man who was once stared out by Ian Holloway for daring to remind him that his side hadn't won for 12 games in a 'presser'. The press room actually gasped when I asked him for his thoughts on that. I didn't mind.
Only being a freelance reporter I didn't need a relationship with Holloway and he had no idea who I was. James is different.
He'd never take the risk of damaging his relationship but would still ask the same question albeit it in a less crass manner.
The same goes for Simon Hughes and his story about the Chinese buyout recently.
Some of the Twitterworld said that he'd made up the entire thing and just wanted to undermine the owners. Coincidentally, I saw him the next day and mocked him good-naturedly about it before asking why someone who had spent years climbing the journalistic tree would even consider making up something like that.
He shrugged his shoulders, baffled at the outrage a genuine story had caused for him rather than those involved. Had Si took a flyer and made up the whole thing both he and The Independent would be facing lawsuits.
Neither are.
Even during times when we're pissed off with the club, we all support them as best we can, but sometimes we stand too brightly in its light and refuse to believe ill of them. Occasionally, there will be things which embarrass the club (we're great at that) and it's okay to notice and point out a dog turd in the Garden of Eden.
If we don't like the story it's not always the messenger's fault. People at the club can make mistakes and it doesn't make you any less of a fan to acknowledge that from time to time. If Sakho has been silly then that's fine. He's human. If Jürgen has brought him over knowing full well he can't play and it's been a waste of time then that too is fine. He's human, too. There's no need for caterwauling and histrionics all the time.
Though learning to defend a ball with your right leg before a Champions League semi-final against a side who many deem to be strong rivals might be a wise move.
Sake.
For podcasts on pre-season, Liverpool past and present, transfer gossip, the lowdown on new signings and more, subscribe to TAW Player for just £5 per month. Minimum sign-up is just one month. If it's not for you, all you've shelled out is a fiver! More information here
Never listened to an Anfield Wrap podcast? The latest free show is here. Just press play on the button below.