THIS week marks 29 years since Liverpool paid Watford £900,000 for the services of John Charles Bryan Barnes, a player who proved to be one of the finest ever to pull on the red of our club. The Jamaican-born winger clocked up 407 appearances for Liverpool in 10 years at Anfield, scoring 108 goals — many of them special — and winning the League in 1987-88 and 1989-90, the FA Cup in 1989 and the League Cup in 1995. With so many tales to tell, so many aspects to his 10 years with the club, we thought it only fitting to dedicate a week to Digger. We've got shows, opinion piece and interviews with the man himself. Mike Nevin and Karl Coppack have already had their say, now it's the turn of Gareth Roberts.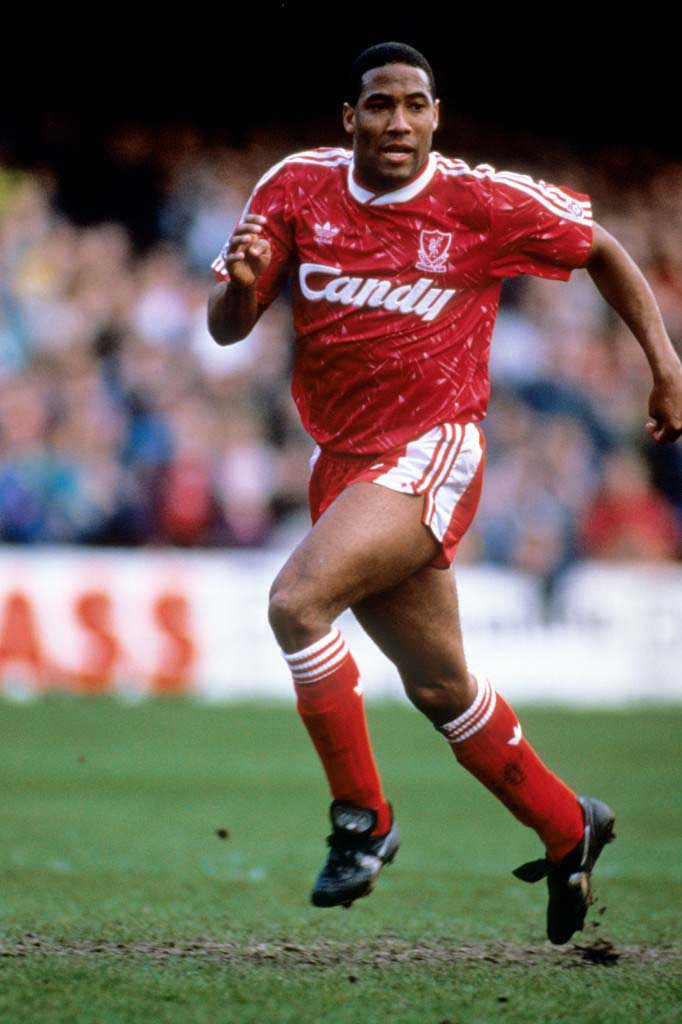 OVER the course of this week on this website and on the special podcasts, you'll read and listen to scores of magic moments from one of Liverpool's greatest being relived.
That solo goal against QPR, complete with reality-defying shimmy, the one he bent in against Villa — "Oh my word, what can you do about that? Absolutely nothing!" — a similar strike against Everton, undressing the Mancs…the list goes on. Everyone will have their favourite John Barnes moment for different reasons.
Like any Red around at the time, I was mesmerised by all of those goals. It was an age without Sky Sports. Without the internet. Without GIFs, without Facebook.
You couldn't spend a week holed up watching live football every night from your living room, and instead, for the non-match-goers, it was highlights and the odd Big Match on ITV. Season review videos were treasured back then and commentaries became embedded in the psyche as the games were played over and over in spare time.
"Barnes….still Barnes."
"Barnes, with as much strength as he can muster…"
Many John Barnes Liverpool goals will live long in the memories of Reds who pinned his poster to their wall. A Diadora one, signed after I queued up in a sports shop in Bold Street for his autograph, in my case.
But of all the delightful finishes that came from the boots and the bonce of Barnes, a less-heralded goal, which arrived at home to Wimbledon in 1991, still nudges its way forward when I think of the great man.
This was my first season as a regular match-goer. The time I'd waited for and dreamt of. Violins out one more time, but I didn't have the usual family legacy to lean on to lead me to Anfield. Instead, I had to do it all myself. I've never watched a game with my old fella; he still wonders quite why I invest so much time and money in "22 fellas kicking a ball around". His loss, obviously.
But Wimbledon. The Crazy Gang. The team that denied us the FA Cup and another double in 1988. With Barnes, Rush, McMahon, Molby and, er, Carter, in the ranks, surely Liverpool would have too much for them this time. Regardless, just going those early matches and taking it all in was a pleasure in itself; taking in the sights and sounds, being a part of it.
I remember going to this game early. You could pay on the gate then and it was still standing on the Kop. Our usual routine was to jump the bus from Huyton, visit a mate's granddad in Anfield for a cuppa then queue up and get in the ground early. It was a totally different match-going culture to today simply because of the logistics. Depending on the circumstances, if you got down there too late you weren't getting in (to be fair this game didn't sell out, but nevertheless). And so there was a routine inside the ground, too. Boo their players when they came out for a nosey at the pitch before getting changed. Cheer ours when they did the same.
When Liverpool's team later returned, stripped and ready for the warm up, every player was greeted with a song. And for Barnes it was simple. "Johnny Barnes, Johnny Barnes, Johnny Barnes…". At this point, like thousands of other, I idolised Barnes. He was a star. He was special. And we loved him.
John Barnes Week: The Greatest Player I've Ever Seen At Liverpool
John Barnes Week: Liverpool's Black Superstar And The Issue Of Race
Watching players on the telly, or listening to commentary on the radio which was the more regular way for those not fortunate enough to be there, to keep in touch with the action is one thing, and plenty of pleasure can be yielded from a match on either form of media. But nothing quite compares to being there. At the game it's not just a story, something almost make believe, distant. At the game, you feel it. You live it. You watch it first hand and the words in your head to describe those moments are your own.
This day against Wimbledon, the Dons of Plough Lane hadn't come to play much football. They were physical, strong and set on stopping first and foremost. Liverpool weren't on their game either, a fact that had Kenny Dalglish in the spikiest of moods post match. In truth, it was a grind. And football often is. For all that we love it, and for all that it is sold as the flashy razzmatazz of 'the beautiful game', boring matches happen. Teams struggle for form. Clubs come for a point. Players have off days and goals are hard to come by. And it's times like these that you need a John Barnes.
Those that remember this game will be thinking, 'hang on, didn't Liverpool take the lead then throw it away late on?' And that is what the history books show. But when Warren Barton drove in a free kick on 82 minutes at least a lacklustre Liverpool had a lead to give up. A lead given to them by John Barnes in a moment of magic.
It wasn't a slalom through three or four players. And it wasn't a postage stamp pick out from 25 yards. But when Barnes brilliantly controlled a, ironically against a Wimbledon side famed for the tactic, long ball from Steve Staunton, before lifting his finish over Hans Segar it was a moment I witnessed. A moment that left me jumping for joy and swaying in a sea of people. Earlier, I had glanced at one of my schoolmates who was sat, nonplussed, on a crush barrier, watching piss trickle down the Kop steps. As I say, it wasn't a classic game…
Liverpool — and football generally — needs its John Barneses; players who provide the magic, who light up dull games, who win points when you're at your worst and who, even 25 years later, can put a smile on your face when you think about how good they were.
Without Barnes that day Kenny Dalglish's mood could have been much fouler and Liverpool's day much darker. And while Barnes would be the first to stress the importance of the collective over the individual, in that game — and in many more — his instinctive ability bailed out the Reds.
It was also one of the earliest moments of class from Barnes that I saw for myself, another snapshot that leaves you wistfully nodding as to why we revere him so to this day.
The adulation is richly deserved. John Barnes. Liverpool legend.