THE story of the original South Liverpool FC is one consigned to the history books — a Non-League side with a past as vibrant as the city that housed it. As with the majority of great stories, this is one that has its fair share of ups and downs, with a scattering of some footballing heroes along the way. JOSH SEXTON revisits the history books, and speaks to two Liverpool legends, Jimmy Case and John Aldridge, who graced the turf of Holly Park.
South Liverpool was formed in 1894 — just two years after the Mighty Reds — but it wasn't until 1910 that the team began to properly make a name for themselves in the community. It was then that African Royals FC were rebranded, under the influence of William James Sawyer, with the ambition to one day become a Football League side.
The club won a few FA Cup games in the following years, including a controversial win over Wrexham — a game which was replayed three times, with the first result overturned due to poor officiating as a result of dissent from Wrexham players. However, it wasn't until 1914 that they really captured the imagination, when a game against Tranmere Rovers attracted a crowd of over 18,000.
They enjoyed their best FA Cup run during the 1919-1920 season, seeing off the likes of Crewe, Southport and Carlisle, before eventually losing out to Rochdale. Despite this success, the club still failed to secure a place in the Football League and, after their holding company went into liquidation, they moved to Wallasey, reforming as New Brighton FC.
Mersey Paradise Lost: The Tale Of New Brighton Tower FC
Under their new alias, the club were able to secure Football League status after several failed attempts, entering Division Three North. Early talks had begun, featuring founding father Sawyer, to reform South Liverpool FC as a separate entity to New Brighton and it was confirmed in 1935, securing Holly Farm as the premises for their new ground.
This new lease of life appeared to do wonders for the club, as they entered their golden years between 1936 and 1939, winning several trophies including three Lancashire Combination titles, three Lancashire Junior Cups, the Liverpool Challenge Cup, the Lancashire Combination Cup and the Welsh Cup. However, they still failed to secure a place in the Football League.
Shortly after, in 1940, Sawyer died in Wallasey, signalling the end of an era for the Non-League club. They did, however, make history, becoming the first UK team to play under "permanent floodlights" in a friendly against a Nigerian side in front of 13,000 at Holly Park, a match broadcast on the BBC World Service.
The next few decades saw a series of ups and downs, particularly in terms of league position, with the team dipping in and out of the top tier of the Lancashire Combination, but they had arguably their most famous moment as a club in the spring of 1967.
A charity match was organised at Holly Park to raise funds, and the Non-League side had already got some big names in English football to play, including Liverpool legend Billy Liddell. But, the organisers were aiming even higher and, after being unsuccessful in their pursuit of Pele, they managed to secure Ferenc Puskás, who only asked that they send him a plane ticket in return.
Jimmy Case was around 13 at the time and, being from the area, admitted: "I probably jumped over the fence to watch the game, without paying. That Puskás charity game was a big thing, and Holly Park did have a good following so it was definitely a spectacle."
The former Liverpool midfielder recalls how he ended up at the club, explaining: "Just prior to going to South Liverpool I was playing for the Blue Union dockers' club in Garston in the Sunday league. A fella called Gerry Towey said, 'Would you like a go at playing for South Liverpool', which back then was a big club in the area — it was a step up. So, I jumped at the chance to go training with them when I was probably around 16/17, and that's how it came about."
When asked about the memories of his time at Holly Park, he recalled: "I could go on all day about the facilities, because there were none! You'd turn up for training and the pitch wasn't the best, as it sloped down to one corner.
"I remember an incident where there used to be a big cylinder on the side of where the communal baths were, where all the players would get in. It was a coal or wood fire, and it heated the water up for the players. It started banging as if it was going to blow up, so all the players were jumping out and running outside with nothing on! But, in the end it settled down.
"Also, we used to train underneath the stand on the far side, it was a covered area with steps going back away from the pitch, and we'd run along there, but the steps had worn away so it was treacherous on the health and safety side of things. We'd also train under the bridge, where the train went from Lime Street to London Euston, and we'd train in the middle of the dual carriageway on this gravel area, doing sprints, just to save the pitch. So, it was all very basic, but you made do with what you had."
Case moved directly from South Liverpool to Anfield, after being scouted by one of Bill Shankly's right-hand men. He said: "I actually had trials with Burnley before I went to Liverpool, but I got turned away at that time while I was playing for the youth team when I was around 16/17.
"Liverpool came about after I'd got myself in the first team, at around 18. I'd done about 12 games for South Liverpool, and there was a night match, a really wet horrible night, and I was playing on the wing as a young player, being quite nippy.
"I was taking a corner and a fella walked past with a flat cap on, and a Jack Russell on a lead, and he said, 'Alright Jimmy!'. I looked at him, I was piss-wet through, and I said, 'Alright'. I picked the ball up and put it down for the corner and then he said to me, 'Would you like a trial for Liverpool?' In other words, I said, 'get lost' but it was more like 'Fuck off' because I thought he was taking the piss.
"A couple of weeks later I got the trial and somebody told me it was Tom Saunders, who had come to have a look and see how I was doing. I did a two-week trial and then they asked to sign me but I turned them down because I'd already done two years as an apprentice electrician in Speke and you had to do a four-year term with no break.
"So I was signed semi-professional by Shankly then, and I'd train with the kids on a Tuesday night as well as two mornings a week taken off work, which the club agreed with my workplace. Once I finished my apprenticeship, Shankly had left the club, but Bob Paisley signed me as a full-time professional."
John Aldridge was another former Red who was part of the youth team setup at Holly Park, before moving to Newport County in 1979. Aldo has his own memories of Puskás coming over to Garston. "I was very young at the time, and my dad took me. It was probably the first time I'd been there and it was absolutely chocker. But, from what I can remember, I enjoyed it."
John, like Jimmy, came through the youth ranks at South Liverpool, before moving into full-time professional football, and eventually becoming a success at Anfield.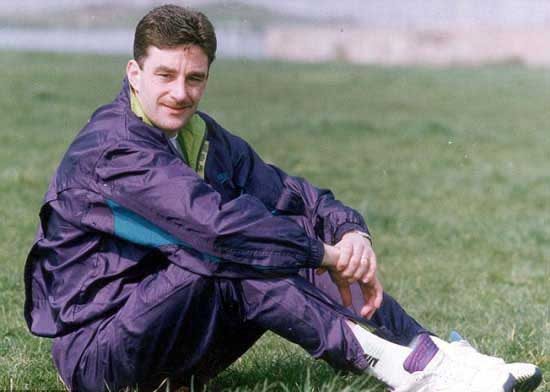 "I was playing in the County Combination with Cheshire Lines, which was about half a mile away from Holly Park, and they must've been watching me and decided to sign me on a non-contract, when I was 19 going on 20."
Footballers' wages were much more modest in those days, particularly at Non-League level, and most players would hold other jobs while playing, even at a young age.
John remembers his time at Holly Park fondly. "It was a big thing for me. At the time I was doing an apprenticeship as a toolmaker. It was nice to play and get £6 a week, which sounds daft! It was good as pocket money then, and we were on £4 a win, so you could get £10 a week, which wasn't bad as I was also an apprentice. I was earning 40 odd pound a week. It was brilliant. Money wasn't the biggest thing it was just nice to be playing football and getting a few bob for it."
Aldo's break came when he was spotted playing for South Liverpool, signing for Newport County in the Fourth Division at the age of 20.
"It was exciting. They paid £2,500 for me, and then £1,000 after so many games. South Liverpool did quite well out of it. I remember they used the money to level out the pitch because there was a terrible slope at Holly Park, going down away from the main road. So they used some of that money to sort it out, which I was made up with as it needed doing."
John has memories of watching Jimmy play, being from the same area and, being a young lad at the time. He said: "I used to watch Jimmy play for the Blue Union, as my dad was the secretary, and I watched Jimmy play for South Liverpool sometimes when they played in the Northern Premier League so I knew all about him."
Having survived perhaps their worst financial crisis in 1978, and with the money coming in from the sale of Aldo, there was still an air of positivity at the club. New Brighton, the club that started out as the first South Liverpool, folded in 1983, and from then on things did start to look bleak for the Non-League side.
In an attempt to stay afloat, they merged with Cheshire Lines, Aldridge's former team, in 1992, but this marriage would last only a year. After de-merging the club was liquidated at the high court, bringing a sad end to a romantic footballing tale.
There is a phoenix club called South Liverpool, which still plays to this day, operating outside the Football League pyramid. Though they have no relation to their predecessors, the memories of Puskás, Case, Aldo and Holly Park live on.
Read more about the 100-year history of South Liverpool FC in HYDER JAWAD's book REST IN PIECES.