YOU get moments where the absurdities of modern football just smack you right between the eyes.
It happens when you realise all the talk around the Championship play-off final is about the astronomical amounts of money the winner gets in a sort of 'Dr Evil' style, and when Manchester United fans are bragging about how many more tweets there were about Mourinho's appointment than there were for Guardiola's, and then last night came another.
Twitter went mad as a big name in football reportedly became available, and fans from every team were begging for their club to make an immediate move to bring him in. However, this wasn't a bright new up and coming player, or even a marquee manager fancying a new challenge.
No, this was a clamour for a sporting director. Yep, one of them.
Ramón Rodríguez Verdejo, more commonly known as 'Monchi', is reported to have told our old mates Sevilla that he wishes to move on. After 16 years of service he fancies pastures new, and the Twitterverse was out in force last night pleading for him to come to their club and 'fix' their transfers.
But why do so many football fans think he can sort out their club? More to the point, should Liverpool be among the chasing pack?
Monchi, a former goalkeeper at Sevilla, joined the club's technical team in 2000 when they were in a severe financial crisis and had just been relegated, and became sporting director in 2008.
Recently, as we all know, the Andalusians won their fifth Europa League/UEFA Cup in the last eleven years, their third in a row, and when they faced Barcelona just a few days later in the Copa del Rey, competed in their 14th final in the last decade. All this while making profits of reportedly over £150m in the transfer market.
Before Monchi, Sevilla had won just four trophies in their entire history. There are many who argue that Monchi has been more important to Sevilla's success than any manager or player, but what is it exactly that he does?
He heads up Sevilla's player recruitment and sales, as well as many of the day-to-day tasks within the club, but for the sake of keeping this article shortish, let's just focus on the transfer side of things.
The art of player recruitment is a very particular and skilled one, in spite of what the millions of 'fantasy Monchi's' on Twitter and on forums might have you believe. It is why Geoff Twentyman was so integral to Liverpool's success in the 70s and 80s, and why Brian Clough was nothing without Peter Taylor. Football has advanced since then of course as the global game has opened up, but the basic principle remains the same.
Monchi recently explained to Sid Lowe of The Guardian (and new bezzie mate of TAW) the make-up of his scouting team and how it works alongside the manager:
"Sixteen people cover a series of leagues. For the first five months we watch a lot of football but with no particular aim: we're just accumulating data. Every month we produce an ideal XI for each league. Then in December we start watching players who appeared regularly in different contexts – home, away, international – to build the broadest possible profile."
Monchi pulls out his phone and, carefully reducing the image so the names can't be seen, says: "That gives us this." A colour-coded spreadsheet shows players by position. Around 250 potential targets, in all positions. "The manager says: 'I want a left-back who averages 11km a game, runs 800m at full speed, uses both feet.' And from these, 10 will fit."
In his time at the club he has signed the likes of Dani Alves, Ivan Rakitic, Carlos Bacca, Luis Fabiano and of course several of the players who took Liverpool apart in 45 ruthless minutes in Basel such as Kevin Gameiro, Coke, Ever Banega and Grzegorz Krychowiak.
Of the players sold, he has regularly made profits of well over £10m, and in some cases over £20m.
There have of course been some flops along the way but in the main, Monchi and his team have brought through players who have made Sevilla one of the most competitive teams in Europe, and managed it all by buying cheap and selling high.
Though bear in mind he also once signed Christian Poulsen. On purpose.


Monchi and his team work from the end of the summer through to April figuring out which players the club need to target. Those selections are locked in by the end of April and from then on it's purely about negotiating the best deals to bring them in. It's the sort of work that would prevent a situation where you fail to sign Alexis Sanchez and Loic Remy, and then have to settle for one of two completely inappropriate alternatives as the transfer window is about to shut, for example.
If you weren't already, you're probably now thinking: "Yes, we could very much do with that at Liverpool. How does he feel about Popworld and purple bins?"
Well, hold your horses. The early rumours coming out of Spain are that he's likely to be heading to Manchester United as José Mourinho is apparently a big admirer. Whether his approach of buying lesser-known players on the cheap to sell them on high goes with United's recent ethos of 'buy expensive stuff that makes people take notice and worry about where they fit or their sell on value later' is certainly up for debate. I can only imagine how few of Monchi's blood vessels will have gone unblown when he hears that they're after Ibrahimovic.
They are of course just rumours though. In fact Sevilla are yet to confirm his departure themselves. However, if he is to leave then many believe at the very least that he has his sights set on England, having previously lived in London for six months to get a better idea of how things work over here.
Liverpool's current set-up, the fabled 'transfer committee', allegedly works as a six-man operation made up of the manager, Ian Ayre (CEO), Mike Gordon (Director), Dave Fallows (Director of Scouting), Barry Hunter (Chief Scout) and Michael Edwards (Director of Technical Performance).
There have been all sorts of accusations and stories about how Brendan Rodgers found the set-up difficult to work with, being forced to work with players he didn't want in the first place, being vetoed on targets he felt were crucial in team development and a lack of joined up thinking when it came to recruitment generally. The sort of thinking that brings in Roberto Firmino and Christian Benteke to the club in the same window, for example.


However, with Ayre leaving next year and a manager in place who is used to working with a sporting director, might it be time for Liverpool to look at taking on a similar model?
A lot of the vitriol aimed at the unfortunately-named transfer committee is based on assumptions and with Jürgen Klopp saying he was absolutely happy to work with the system in place when he was appointed, maybe it is best if people let it go and just let the club get on with working the way it has been doing, if Klopp really is happy with it. After all, it's made a good start to this window (Karius and Matip for less than £5m in transfer fees would have Monchi doing cartwheels).
FSG could be forgiven for showing an interest in Monchi if he really is available though. As mentioned, he has reportedly made over £150m in profit in the transfer market in the last decade at Sevilla, and also played a big part in bringing along a youth system that has seen the likes of Sergio Ramos, Alberto Moreno, Jesus Navas and Luis Alberto be sold on for big money. Largely to us, admittedly.
The phrase 'Moneyball' is used far too often and incorrectly in relation to FSG and how they work, but they – like every football club owner – will love the idea of buying low and selling high, and it's something that Liverpool in particular have been quite bad at in recent times.
There's another quote from Sid Lowe's interview with Monchi that leapt out at me, and may well ring true with several Reds: "There are loads of off-field things in which they (English teams) beat us easily," he (Monchi) says. "And on the football side, I saw very good work being done. But there's a disconnect between that work and the advantage they glean from it. I know English clubs that are very professional, scouts everywhere, but the information they gather isn't always applied. Why? Because they have money. That enables them to take fewer risks: 'I'm not going to discover (Seydou) Keita at Lens; let Sevilla do that and then buy Keita from Sevilla.'"
In being a catalyst for so much of the recent successes of Los Rojiblancos, Monchi is also, somewhat ironically, the only link between the current set-up and the less impressive yesteryear of the club. He was an unspectacular keeper, largely second choice at the Ramón Sánchez Pizjuán Stadium, but interestingly made his debut against Real Sociedad, where John Aldridge put one past him and Dalian Atkinson stood on, and dislocated, his finger.
As with Liverpool's current manager, Monchi found his true calling in football after he retired from playing and has built up a network of trusted people consisting of ex-players, coaches, friends and general data folk who all sing from the same hymn sheet and most importantly, understand Sevilla FC.


That could be a key thing here.
On the face of it, the skills of Monchi and his crew are perfectly interchangeable from club to club, and probably even league to league. However, if you look at the best sporting directors in the business today, there is a noticeable pattern.
Michael Zorc and his famous work in a similar role both with and without Klopp at Borussia Dortmund also happens to be a former player and devotee to all things yellow. Max Eberl is doing a tremendous job as director of sport at Borussia Monchengladbach, having spent the majority of his playing career at the same club.
They were given the opportunity to do that role at the club they played for because they were so familiar with the club. It could therefore be that they just 'get' their respective clubs and know inherently what kind of attributes it takes to play for them.
So could that be the answer? If Liverpool are going to go down the route of a sporting director does it need to be a Monchi or a Zorc, or can the club not just find its own one? Could a Hansen, a Keegan, a Carragher or even a Dalglish step in and take on a similar role?
Something raised my eyebrows last December (yes, both of them) and it wasn't just the naked Santa pen I got from Sarah at work. A certain former Red by the name of Luis Garcia tweeted that he had received his Sporting Director License. He is now a fully qualified…one of them.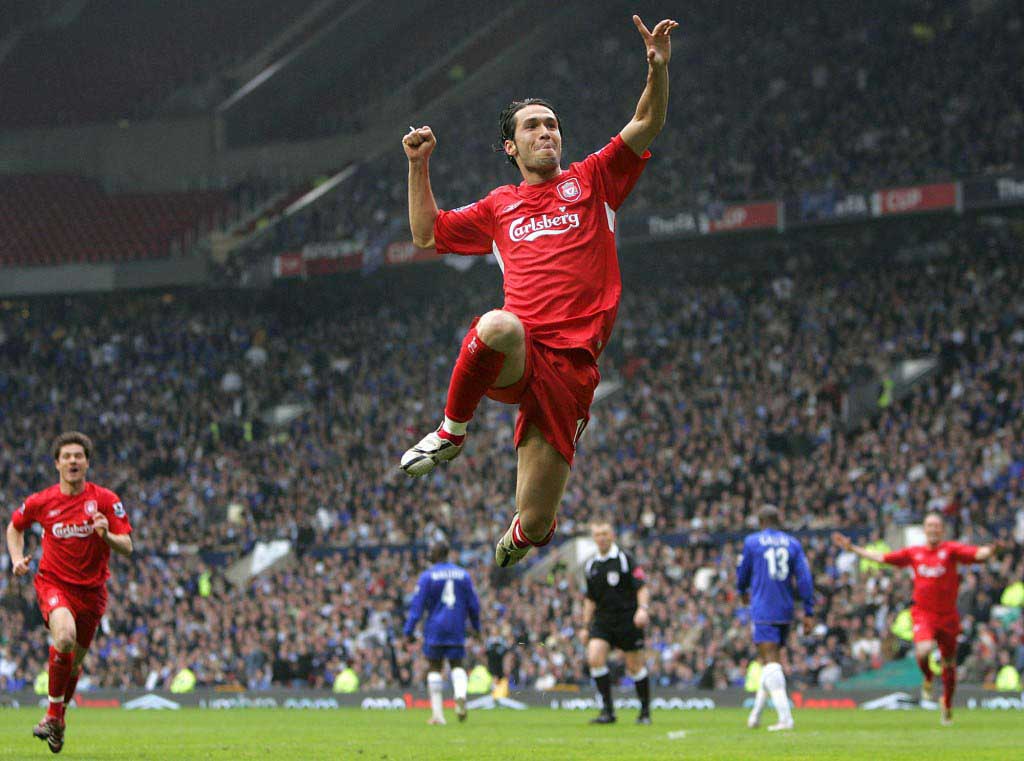 It would after all give us an excuse to sing the song again (rather than just randomly doing it when he's not about as we do now).
I bet Monchi and his crew don't have a song, or if they do then it's something naff along the lines of "Hey, hey we're the Monchis! People say we Monchi around…"
I can just see it now. Monchi is appointed new sporting director at Liverpool. The owners jet in to welcome him. They show him around, make him feel at home and end with a good firm handshake before asking him what he has planned. Monchi says nothing, he just hands them a piece of paper. John Henry opens it and staring back at him are two words.
'Sign Reus.'