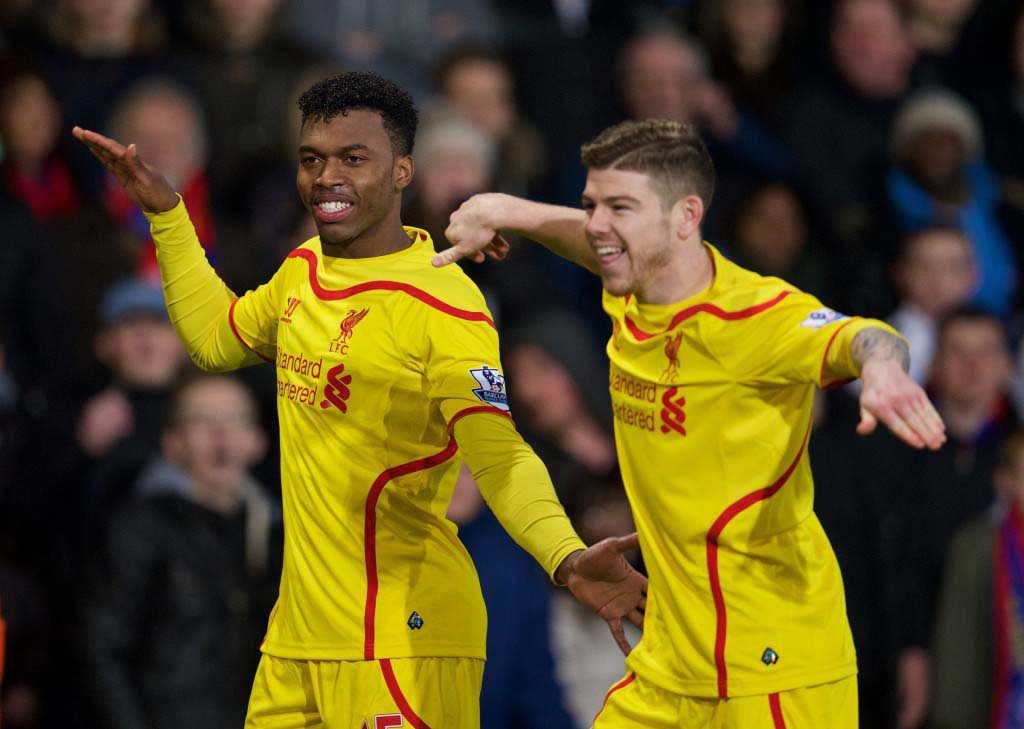 "I AM someone who wants to play every minute of every match. I am so ambitious, so hungry for success that it is hard to put it into words."
These sound like the words of a player who is driven, motivated and determined, writes JOEL RABINOWITZ. These are the words of Daniel Sturridge.
But there is a idea, driven by some in the media and which many fans and pundits buy into, that Sturridge has attitude problems. He doesn't work hard enough. Jurgen Klopp doesn't rate him. He doesn't want to be at Liverpool. So they tell you.
When Liverpool conceded in stoppage time to lose 1-0 to Villarreal in the Europa League semi-final first leg, Klopp's decision to leave Sturridge on the bench was unsurprisingly met with heavy criticism. How can you leave your best striker on the sidelines when scoring an away goal is so valuable? You can guarantee Sturridge will have been extremely disappointed to play no part in the match, especially considering his excellent recent form.
Yet Klopp's decision to go with Roberto Firmino up front made logical sense in the circumstances. It was a tactical ploy which saw Liverpool win 3-1 at Stamford Bridge and hammer Manchester City 4-1 earlier this season. Firmino was chosen to provide a higher work ethic, to win back possession and buy into the gameplan of staying compact in the first leg. The truth is, it worked for 91 minutes.
Liverpool were on the brink of a highly professional and pragmatic European away performance. If it stays 0-0, the Reds are in the driving seat heading back to Anfield and we're not talking about the absence of Sturridge. There was Joe Allen's missed chance early on. The incorrect offside decision against Adam Lallana as he was through on goal. Firmino's shot which hit the post. Alberto Moreno's missed chance later on. Fine margins cost Liverpool on the night.
50 – Daniel Sturridge has now scored 50 goals in 87 appearances for Liverpool (all comps). Landmark.

— OptaJoe (@OptaJoe) April 20, 2016
Not starting Sturridge was understandable. Not bringing him on at any point was more surprising, especially given that Villarreal looked there for the taking if Liverpool had played with more attacking threat. A fresh Sturridge on at 65 minutes against tired legs and you'd fancy him to do the business. As it stands, Liverpool find themselves in a tricky situation heading back to Anfield. If Liverpool do not progress to the final, the decision not to play Sturridge in the first leg will come under further scrutiny.
This all feeds the narrative that Klopp has a personal issue with Sturridge. Whereas in actual fact, Klopp's man-management of Sturridge has been nothing short of exceptional. We must remember this is a player who has hardly been able to string three games together without breaking down with injury until recently. Since arriving at Liverpool in January 2013, Sturridge has missed 614 days out of 1,121 with 18 different injuries. Klopp made Sturridge undergo a 'mini pre-season' to build up his fitness before returning to match action in early February. Since then, Klopp has dealt with him superbly. Getting Sturridge fit and healthy, a regular option, has been an understated achievement in Klopp's first season in charge.
Last season there was too much pressure placed on Sturridge as soon as he returned from injury. He was expected to be the main man in the absence of Luis Suarez. Klopp has taken a different approach, gradually easing him back into a rhythm of playing football again. 60 minutes here, 30 minutes there. Divock Origi's breakthrough has relieved the pressure on Sturridge's shoulders too.
When asked about Sturridge's performance in the 2-1 victory away vs Bournemouth, Klopp was keen to emphasise the other 10 players and take the limelight off Sturridge. It's all about the team for Klopp, not individuals. He showed this when selecting Origi ahead of Sturridge against Dortmund in both ties, which paid huge dividends. Sturridge has not been guaranteed a starting spot by Klopp, who has kept him hungry, needing to fight for his place in the side.
The amount of criticism Sturridge regularly receives from fans is rather astonishing given his performances for the club. There are plenty who have suggested Liverpool should sell him in the summer and he remains under-appreciated by many who don't realise just how good a player he is. The numbers do the talking. His Premier League goals per game ratio is 0.63 — better than Suarez (0.62) and just shy of Torres (0.64).
He is the fourth fastest Liverpool player to reach 50 goals in the post-war era, reaching the landmark in 87 games — many of which came as a substitute and not at full fitness. The notion that Sturridge was made to look a better player because of Luis Suarez is lazy and baseless. He is a brilliant striker in his own right — the only Liverpool player with a legitimate claim of being considered world class.
For a player with such an outstanding goal record, Sturridge hasn't been loved by the fans in the same way Torres and Suarez were. He's never truly had a song that sticks from The Kop. He's often accused of being lazy and arrogant. It's rather perplexing, to be honest. You can't help but feel some level of sympathy for the guy.
When Liverpool lost 3-1 to Swansea, Sturridge went straight down the tunnel after applauding the travelling fans. He has often looked sulky when substituted by Klopp. Fans and the media jump on this to feed the narrative of this supposed 'rift' between Sturridge and Klopp. Ask yourself the question — do you want your star striker to be happy when he gets taken off or doesn't play well? Sturridge is a winner. He hates losing. He sets high standards for himself and is disappointed when he doesn't meet his own expectations. He is human after all.
https://twitter.com/DanielSturridge/status/726773865263800320
Questions remain over his long-term future at the club. Will he accept being benched in the big games for tactical reasons? Should Klopp always play his best player no matter what? Can Sturridge be trusted to buy into Klopp's philosophy of hard pressing and high work-rate? At this stage, it's all a guessing game. If you're convinced Sturridge wants to leave then you can find the evidence for it. It seems almost as if there are people determined to create this scenario where there is a problem between Klopp and Sturridge. The truth is, we simply don't know what happens behind the scenes.
Sturridge told Klopp at half-time in the Swansea game that he wanted to play 90 minutes. Klopp clarified after the game that everything is 'good' with Sturridge, mentioning there are still four days until Villarreal come to Anfield. That will be the acid test — will Sturridge start? Surely he will. He has to. Liverpool need goals and Sturridge is the most likely source. If Klopp does not start him, however, then it will be a clear sign that Sturridge is not the kind of striker Klopp wants in his long-term plans.
If Sturridge is not a part of Klopp's future plans then that is the manager's decision. It would be a shame, but Klopp would have his reasons and we should trust him. But we don't know if that is or isn't the case. For all we know Klopp has slowly been building Sturridge's fitness and views him as absolutely integral to his plans for the future.
For now then let's show him some support. Give him some love. Sing his name for once. Klopp has got Sturridge back and playing football on a weekly basis, something we've been yearning for for so long. We are lucky to have a player of his quality. Sometimes you don't appreciate what you have until it's gone. So let's appreciate Sturridge for what he is — a supremely talented player.