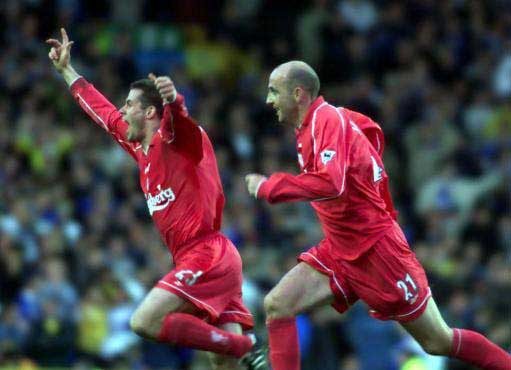 THERE is an illuminating interview in this month's edition of FourFourTwo magazine with Gary McAllister, who reveals that not only did he read Liverpool fanzines upon joining the club in 2000, but also that an editorial line from one of them acted as motivation.
Full responsibility on social media has yet to be claimed though it is imaginable back issues have been trawled through since publication on Monday because it was promised by someone that if McAllister played in more than 10 matches, "he'd show his bare arse in Woolworths."
McAllister, at 36, realised he still had something to prove and it prompted him to train through the summer, "so that I could arrive at Melwood ready to go."
In the same interview, McAllister tells of his fears in the Merseyside derby at Goodison Park where he shuddered to think about Jamie Carragher's reaction had his injury-time free kick landed in the Park End stand rather than the back of Paul Gerrard's net.
McAllister was 13 years Carragher's senior and yet Carragher had clearly developed into a respected leader of the team by then for McAllister to consider the potential backlash.
McAllister, indeed, later explains that he relished his role of senior citizen — seeing it as part of his job to nurture junior members of the squad like Steven Gerrard while also allowing them to breathe.
Both stories — particularly the presence of footballers involved in them — got me thinking about what it takes to play for Liverpool, especially on a week where the futures of young and older players are being debated following the dispiriting display at Swansea City on Sunday.
When Liverpool won at Bournemouth a few weekends ago, it was determined by many that Brad Smith and Kevin Stewart, particularly, might have a future at Liverpool; that, indeed, Jürgen Klopp had transformed them into Premier League players.
After Smith was sent off at Swansea and Stewart was rounded on for supposedly going AWOL in midfield, it suddenly became a discussion that revolved around why both of them were right to be overlooked by previous regimes and other clubs. When Klopp speaks about the "fickle" nature of the media's questioning, it could be applied to wider opinion as well if you think Internet debates count for anything.
In this extreme world where liberalism has died and only polarised opinion on politics, religion and economics, football follows, depending on whom you listen to, Smith and Stewart are either a) reliable enough Liverpool squad members based on what happened in Bournemouth, or b) absolutely rubbish for their roles at Swansea. Pedro Chirivella — for being substituted after 45 minutes on a debut where he did, indeed, struggle, currently falls into category b).
Daniel Sturridge, meanwhile, is either the saviour of all Liverpool hopes, or, instead, destined to leave this summer because of his non selection at certain times.
This overlooks the possibility that Klopp, perhaps — unlike other managers Sturridge has encountered so far in his career — has decided to treat his injury record with the respect it needs and though ego might reflect the player's frustration sometimes, he is equally intelligent enough to realise that it is for his own benefit as well as the club's in the long term that he does not play every game, even if some are important ones.
Klopp is led by emotions and because he is happy to admit it publicly, it does not mean that he cannot make sharp strategic decisions. Maybe we're misreading him.
This is an era where opinion is delivered as statement of fact and yet, Klopp's opinion is the only one that counts and even though he is incredibly open with his thoughts, that doesn't mean he's telling everyone what his plan is all of the time.
Maybe he doesn't necessarily demand all young players emerge as bona fide first-team regulars immediately. Maybe he's a bit old fashioned, using the reserves like they used to be used: as reserves — only stepping up when necessity called for it before dropping down again. Maybe he realises — unlike previous Liverpool managers — the benefits of having five or six reserves he can call on, meaning his first-team squad doesn't have to be so big and means he can work in a more intimate environment where it becomes easier to foster a spirit. That's what he did at Borussia Dortmund. Maybe that's what he's planning for next season.
Whether it's because of academy status or the wages young players earn, we have for too long demanded the finished article straight away. If you suggest otherwise, the money argument is waved in your face or you are accused of lowering expectations and standards.
It took Raheem Sterling around 30-odd games for Liverpool to be dismissed as an overhyped prospect. That status stuck with him from the winter of 2012 until roughly the same time in 2013 before he became a crucial part of the most enterprising Liverpool team in recent history.
Sterling, of course, might be an extreme case considering everyone knew about him for two to three years before he'd even made his Liverpool debut. Smith and Stewart are different because Klopp has clearly seen something that others did not, considering Smith did not do enough in a trial at Barnsley for them to really pursue him aggressively and Stewart was released by Tottenham Hotspur and brought to Liverpool because of Alex Inglethorpe's will.
In press conferences, Klopp has reminded everyone frequently that football is not the exact science that some claim it to be. In the same way that he might not suit managing some clubs, players can fit the needs of some teams but not all. Klopp has also said before that he likes to judge a youngster at 23 rather than 20 or 21, as is the way in England, where there is a tendency for judgement to be rushed.
It is imaginable that his mind is made up about the abilities of some, though. The energy of his Dortmund side was supported by the strength and speed of wing players and despite starting well under him, Jordon Ibe's collapse in confidence since has been alarming. It is up to the player and the manager to find a way back quickly because the wages attached to the new contract Ibe signed a year ago means his presence in the Liverpool squad will have to be justified to the paymasters.
Time feels like it is closing in on Martin Skrtel's Liverpool career as well. As captain of a young Liverpool team at Swansea, his performance simply needs to be a lot better. If he has not developed leadership skills at 31 then he never will.