IT'S funny how quickly perceptions and opinions of a player can change, writes MATT KENNY. With the constant stream of breaking news, 24/7 access to opinions on Twitter and podcasts all over the show, popular opinion from a week ago can almost feel old hat such is the sheer volume of coverage modern football gets.
As one of the foremost clubs in world football, with as large and diverse a fanbase as you will find anywhere, Liverpool experiences this phenomenon as feverishly as any club.
Liverpool fans are constantly analysing players, assessing, arguing, chatting. And more arguing. The arguing never ends.
If you're going to be a part of this, you've got to pick a side and draw a line in the sand. You mean to say you like Jordan Henderson AND Joe Allen? Get out of here mate, I asked you to choose.
One player who has experienced the toing and froing as much as anyone is Dejan Lovren. Who may, or may not, be better than Mamadou Sakho depending on which of Liverpool's centre backs you've decided to like this week.
Lovren seems to be experiencing the familiar cycle that so many Liverpool signings (Lucas, Henderson) seem to go through. The first stage is hype and expectation.
Arriving from a superb Mauricio Pochettino-inspired Southampton for a cool £20m, it's fair to say that the Croatia international was walking into Anfield with a belief he would be the Reds' first choice centre-back and the one to finally shore up the side's shaky back line.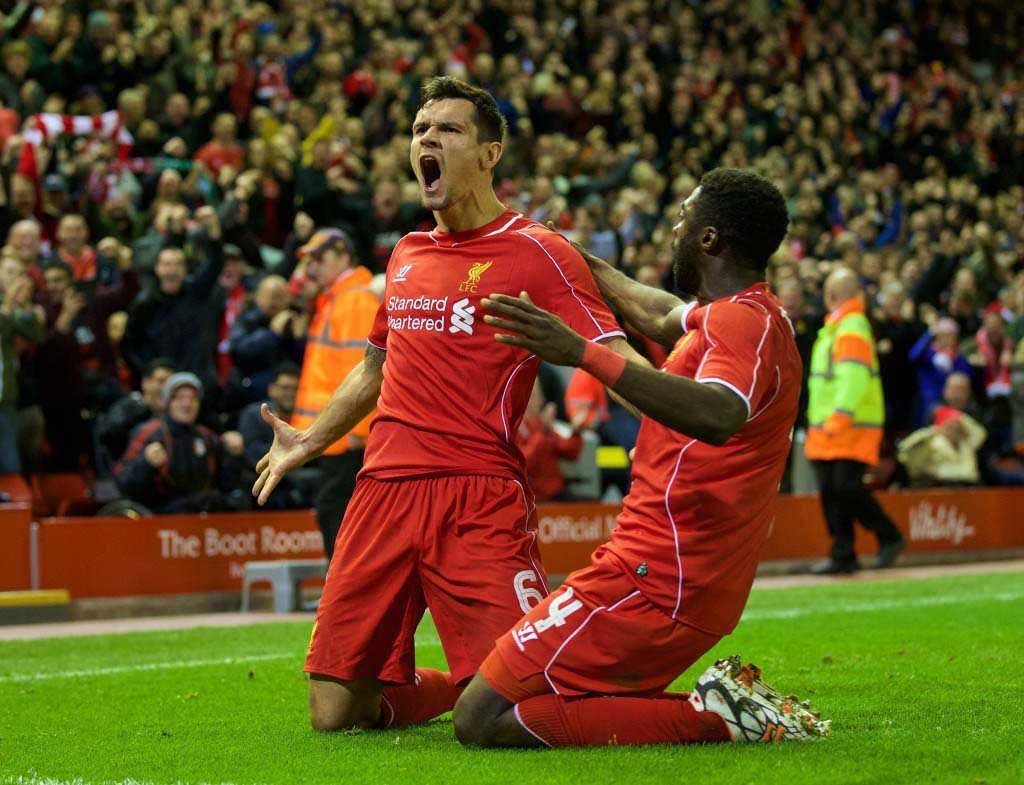 This was an opinion shared by manager Brendan Rodgers, who hailed his new signing's leadership skills, and went as far as to say Lovren was the player to replace what the side had lost in Jamie Carragher.
"He is a dominant, number one centre-half, who reads the game well, offers good guidance to the back four and the rest of the team — and shows his qualities of range of passing, too," said Rodgers.
These opinions were echoed by Carragher, who spoke glowingly of Lovren on Sky's Monday Night Football and hailed him as the best centre-back in the Premier League prior to his transfer. High praise from a player who doesn't give out compliments on a whim.
In his early games, Lovren looked every bit the player we expected, making his debut at Anfield against Jürgen Klopp's Borussia Dortmund, where he strolled about the pitch, spraying passes all over the park and looking a real thoroughbred of a defender.
https://www.youtube.com/watch?v=HgCTZdnzkAc
This continued for a few more games but there's only so long you can play alongside Martin Skrtel and in front of big Simon Mignolet before your head gets wrecked, and Lovren soon found himself struggling for form, being labelled a flop and even being discussed as a potential departure in future transfer windows.
The pedigree was clearly there, as both a footballer and an athlete, but as time went on Lovren's indent on the bench became more pronounced and a new start was appearing the best solution for all parties.
To me, Lovren's poor form always felt like a result of playing in a Liverpool team that was systemically bad at defending, rather than Liverpool's defensive woes stemming from his introduction into the side. Like Sakho, he was a defender with real quality that had proven himself at a high level and they don't just become bad players overnight.
What did happen overnight, however, was Liverpool gaining a new manager. Out went Brendan Rodgers and in came Klopp. Circumstances, and a lack of quality alternatives, have led to the Croat regaining his place in the side under the German and playing himself back into form with much of the Reds' recent (slight) defensive improvement down to his burgeoning partnership with Sakho.
Klopp seems to have instilled a certain belief in all the defenders who struggled under Rodgers, with Lovren, Sakho, Kolo Toure, Alberto Moreno and Nathaniel Clyne all noticeably improving over the last few months.
Suddenly, the Reds had two centre-halves who were beginning to look like they could help us a grind a 1-0 out, as long as their goalkeeper didn't fall over his own arse and drop one into the goal. As their form at the back started to improve, confidence began to grow and both Lovren and Sakho started to contribute at the other end as the pair both netted crucial goals in the comeback against Dortmund.
https://www.youtube.com/watch?v=PmnFG7cD_AA
But as with anything relating to Liverpool, the good times can only last so long before shit hits the fan and this week the club were hit with news that Mamadou Sakho will likely receive a lengthy ban for testing positive for a banned substance.
The absence of the Frenchman means that the Sakho vs. Lovren argument will be put on hold for the foreseeable and the Reds' number 6 has a chance to firmly establish himself as the club's number one centre back as the season draws to a close.
Cameroon international Joel Matip has already signed on for next season, and a silky run into the opposition box in Schalke's most recent match has had the Liverpool internet lighting up today, while Klopp hinted that the defence will be his main summer priority in his most recent press conference.
But if Lovren can keep improving, and showing more of the form that triggered the praise that poured on him pre-Liverpool move, then he may save his manager a lot of time and a lot of money.
Perhaps, all you need is Lov.