By Dylan DaCosta
NOT good enough, impact sub, biggest goal threat, season over.
The perception, and perhaps reality, of Danny Ings' Liverpool career has changed multiple times already – and the lad has only spent a few months on the pitch.
In the midst of the lack of goals, ideas and confidence displayed in the opening 11 fixtures under Brendan Rodgers, Ings stood out in stark contrast. But six months and a season-ending injury later, and fans have had no indication of what Ings can do under Klopp. There is, however, a greater understanding of the type of player Klopp is – and isn't – looking for in a frontman.
https://twitter.com/IngsDanny/status/657598963617517568
Origi and Firmino have the efficiency, willingness and skillset the manager is looking for. Benteke doesn't. Sturridge has all the talent in the world, so the rest is irrelevant.
Danny Ings, pre-injury, looked a genuine Klopp player. The fire, the determination, the passion – it's what I (and Klopp) want from a footballer. Jürgen has spoken several times about playing football from the heart, and I'll be damned if you find someone in our squad who does that more than Danny Ings. But even before factoring in potential summer deals, he has plenty of competition to get past before he finds himself starting games for Liverpool.
So what next for Danny?
I'll preface this by saying I love the lad. Genuinely love him. Wanted to go out for curry with three friends and Danny but someone else had the privilege.
https://twitter.com/lfc/status/675403701721260036
I think he'll work his socks off. I think he comes back and gives the pre-season everything he has. Klopp has given many players a chance to prove their worth, and he'll do the same for Danny.
One up top, two up top, Götze, Alario, Markovic – it doesn't matter. There are places to be won, and Danny Ings will fight for his chance. Where there's a willingness to fight and grow, there is potential under Jürgen Klopp. Ings, still a young lad, can seize that initiative and force his way into the manager's plans (whatever they may be).
He'll come back with a determination to build on the flashes he showed early in his Liverpool career. He looked lively, he looked dangerous and he played with fire. Those are all qualities that are of use to Liverpool and Klopp. I can see those qualities sparking a genuine connection with the Anfield crowd. He's got it in him. Hell, even his rehabilitation is filled with pure, unthrottled determination.
https://twitter.com/IngsDanny/status/701398319348772865
You know what you're going to get with Danny Ings. He will run and press and score goals. In that sense, there's something very Dirk Kuyt about him. The energy, the hard work, the big moments – you can see how Ings can fill that place. Like Kuyt, he could be helped with a willingness to play multiple positions and roles. He looks capable of leading the line for a European away, chasing every ball, running the channels and looking to get the Reds on the counter.
He looks capable of playing with a partner to batter the smaller sides. The flashes of him with Sturridge were very promising, and Jürgen could be tempted to let Ings buzz around another front man next season.
It's possible he could do a job out wide. The raw desire and physicality are certainly there. He may not have the delivery or trickery of a traditional wideman, but he has goals. Goals win games, so get as many goalscorers on the pitch as possible.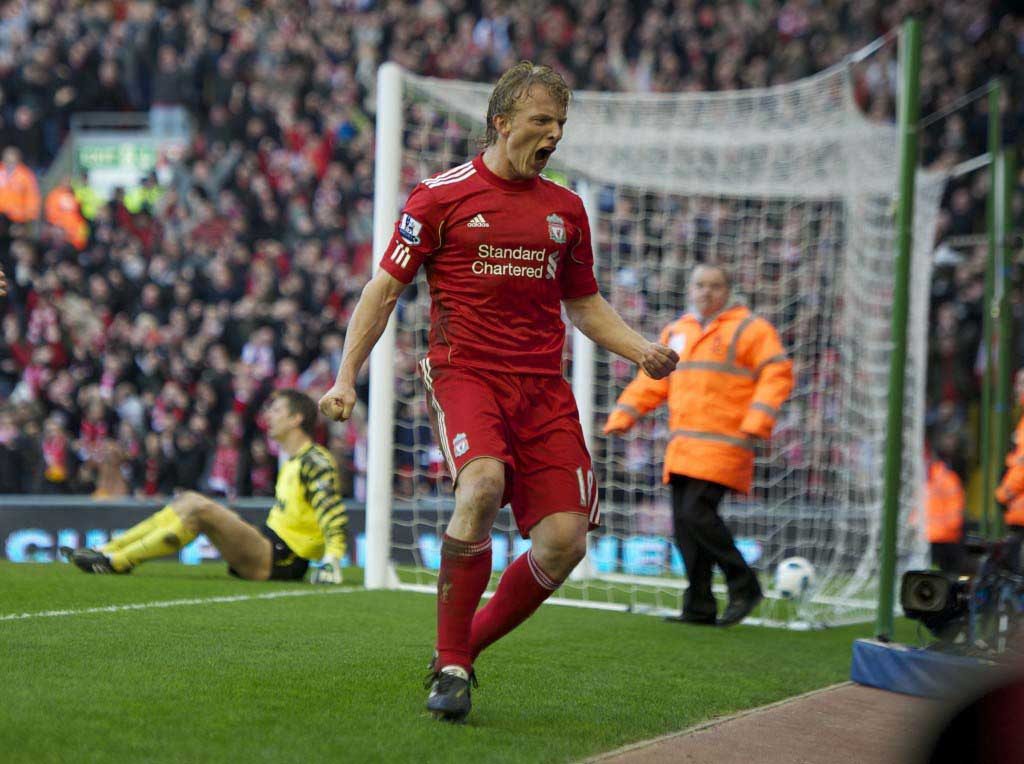 With all the transfer speculation, he's become something of a forgotten man. But I remember the Danny Ings who wore his heart on his sleeve, who celebrated ferociously and who loved playing football.
Isn't that the type of player Klopp wants? The one who connects with the fans and plays from the heart? There should, and will, be room in the squad for a player who will fight for the badge.
It doesn't have to be as a first choice player, because that spot is reserved for nobody (as even Daniel Sturridge has found). Plenty of strikers have made a career of being fantastic substitutes. What Manchester United wouldn't do for a Chicharito right now. Ings can be that for Liverpool. Tired legs? Bring on a fresh Danny and let him harass the opposition. Down a goal? Throw Ings left midfield and tell him to get into the box. There is use for Ings, and Klopp will see it.

Why can't he score 15 goals next season? Why can't he bang in a derby hattrick? Why can't he score in a cup final?
He will be here next year. He will fight. He will score. He will train hard and he will take whatever chances are given to him. That's all I need. I suspect it's all Klopp needs too.
There's a place for Danny Ings at Liverpool next season. He'll fight to make it an important one.
@dylandacosta
LISTEN: Neil Atkinson, Rob Gutmann, Steve Graves, John Gibbons and Ben Johnson talk Danny Ings.