DEMAND outweighs supply when we consider a certain kind of striker. The type sought after by all but who usually gravitates towards Europe's elite.
The sort of forward whose presence will instantly elevate others around him, and who has the ability to illuminate any game no matter the occasion.
He will possess all of the grace in the world, exuding superiority and emanating a particular kind of brooding arrogance that the best do.
He's cold. Clinical. He's always available and will find space through instinct and exploit it, without a thought.
He'll score goals. And goals. And goals. Goals against Manchester United, Arsenal and Chelsea. Crucial goals in cup games and on European nights. Last-minute equalisers against bitter rivals just as they think they have it won.
This kind of player is not let go lightly. You hold on to him at all costs. His influence is immeasurable because within your side he is the catalyst to all of your optimism and deluded expectations.
His goals are the reason everyone is having a pint, choosing post-match boozers just for their jukeboxes and spilling out of karaoke three hours later than planned. A player of this ilk spoils you on and off the pitch.
https://www.youtube.com/watch?v=I7LGSC0DoSs
And then there are adjectives that you would not normally associate with a player of this calibre at your club: undervalued. Unappreciated. Unloved.
So let's talk about Daniel Sturridge.
There's a curious lack of affection for a striker who possesses all of the qualities mentioned above. There always has been and it remains despite 40 league goals in 64 appearances since his debut in 2013.
It feels like he'll never properly be one of us — because we won't allow him to be.
Clap, clap – clap, clap, clap – clap, clap, clap clap: Sturridge!
Was that difficult, lads?
The thought of what a little bit of love could do for the player is frightening when you consider without it he's been able to perform to the level he has since his arrival at Anfield. Can we have more of the same on Thursday please?
For some though, it seems scoring against Stoke or setting up our only goal against second-placed Spurs just isn't enough because the player doesn't look happy when substituted. The absolute bastard.
Remember the delight on Robbie Fowler's face when he was subbed? Can you recall the beaming smile of Luis Suarez when the hook came? No, me neither.
We're told his form has dipped on returning to the first team, yet he has scored five in nine appearances and provided one assist. It's testament to his ability that we expect more of him.
A few weeks back on a poll on This is Anfield, the majority voted advocating the sale of Sturridge for £45million. Yet I bet they mourned the departure of a sulking Fernando Torres when he was sold for similar money in 2011.
A little bit of perspective is in order.
When did fans of eighth placed Liverpool Football Club suddenly find themselves in a position to let go of their best player because they have a problem with his personality?
I read this on a forum on Sunday:
"He's hard to love. The reason is his wretched body language which fluctuates between astonishing self love and tormented self pity. I hate the extravagant 'look at me I'm praying' every bit as much as I do the 'look at me, I've been unjustifiably subbed again.
"Both speak to a fragile ego of course but both grate against the collectivist ethic that we pride ourselves on at Anfield. In fact the 'self' bit is so strong in Sturridge that you wonder how much he really enjoys playing for Liverpool."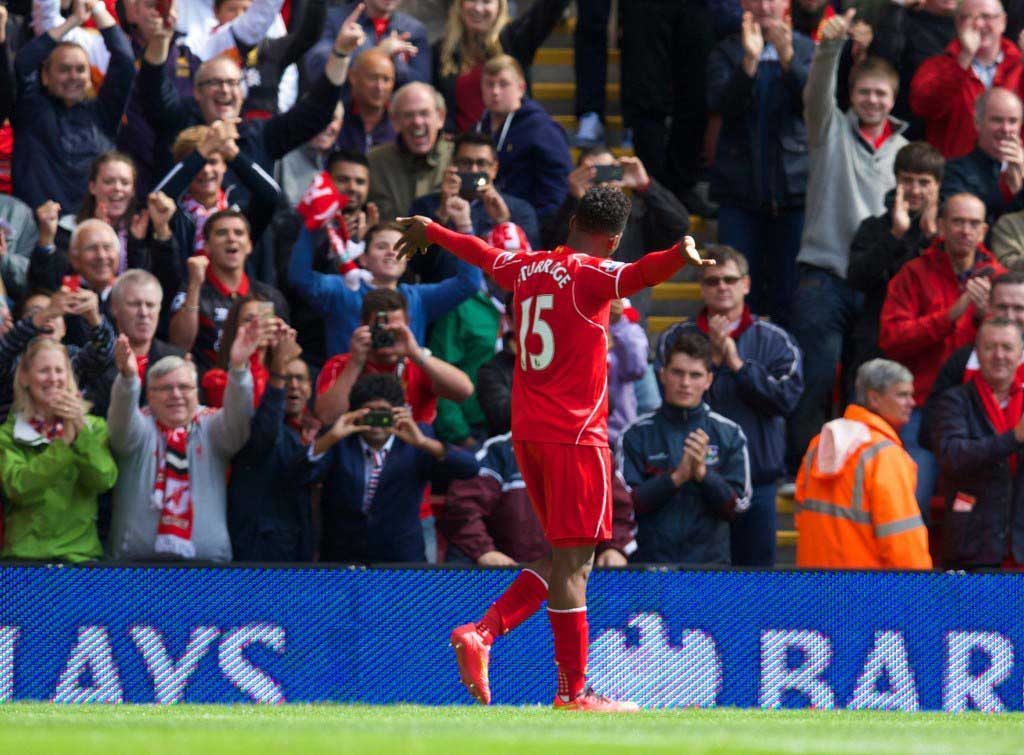 Most strikers have an ego, an arrogance that manifests in different ways but that is essential to the role they play within their team.
It's time this unwarranted misconception and unhealthy fixation with his body language or perceived demeanour is swept aside because he's a sumptuous footballer, one now finding fitness, scoring goals and contributing in all of the ways you wished he would when he was missing from action.
He's everything you would hope for in a new signing this summer yet he's already on the book, wearing red and scoring goals, so let's show our appreciation because you would fume for everymore if he tried to engineer a move away.
Daniel's display at the weekend was a timely reminder of his unquestionable qualities and the Kop have now proven they have it in them to react to that by chanting his name.
A certain amount of revisionism is required. It's time for us to re-evaluate our relationship with the striker we signed for £12m three years ago.
His talent merits adulation, at the very least respect. For those who choose not to offer him that…I fear it might take losing the forward for them to appreciate just how good he's been in red. Eighty four (84) appearances. Forty eight (48) goals.
When Sturridge scores, The Reds usually win. And when The Reds win…