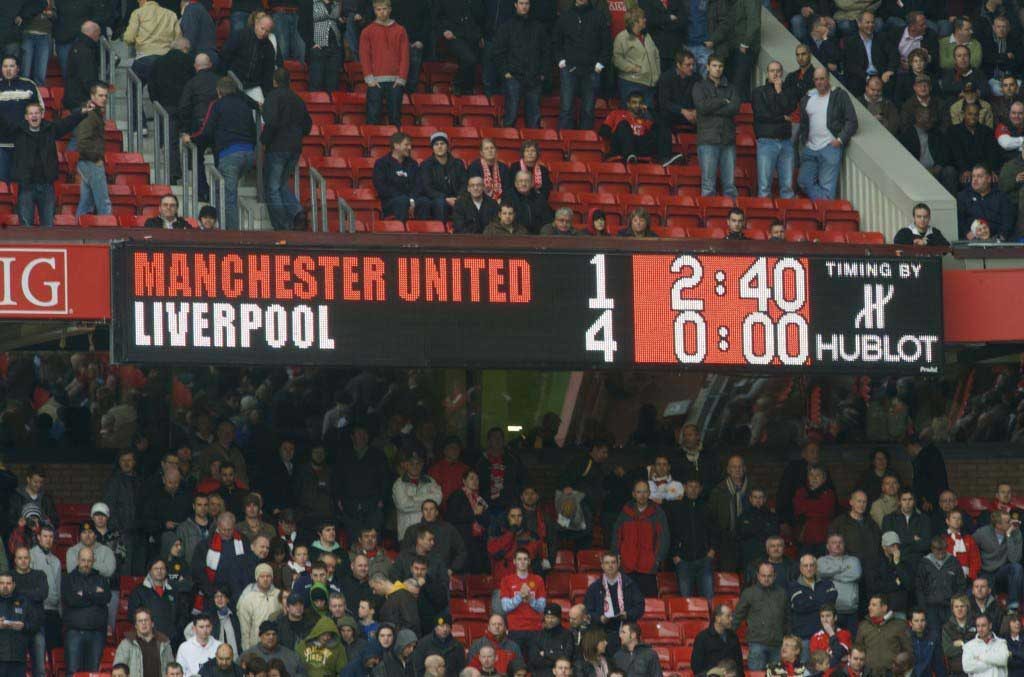 AWAY games actually start two or three weeks before when  you decide whether you are going or not. Tickets need buying, transport needs arranging and, in some cases, passes are needed from home. For most, the whole thing is a complex decision-making process based on time, money, work, how good the Reds are and how much time you are currently spending in the house.
Bearing all those factors in mind going to Manchester United away on March 14, 2009 wasn't the no-brainer it might seem in hindsight.
Two weeks before the fixture at Old Trafford, Liverpool's league performances had featured a home draw with a not-yet-good Manchester City followed by the worst performance of the season away at relegation-bound Middlesborough.
Those results meant Liverpool had slipped to third in the table, behind Chelsea on goal difference, and seven points behind leaders Manchester United having played a game more. After some early promise, it looked like another year when the league was going to slip away.
In between those games, admittedly, was a win away at Real Madrid — one when the city was sweeping with rumours that Rafa Benitez had been sacked. More crucially, that was an away most regular travellers went to. It was expensive, too — my ticket alone was over £100, and it was the type of last-minute three days away that costs you a weekend away with the other half a couple of weeks later.
What else? Our record at Old Trafford was dreadful. Rafa had lost all four league games at Old Trafford, and the defeats were getting bigger, not smaller. They were also an annoyingly brilliant side. Solid at the back, with a front three of Carlos Tevez, Wayne Rooney and Cristiano Ronaldo. It was genuinely one of the best teams United have ever produced.
Finally, going to Old Trafford has generally not been that much fun. Yeah, it is great if we win, but we hadn't been doing that then. What generally happened is you got on a bus that you weren't allowed to drink on that takes you direct to the ground.
Then you were ushered from your coach surrounded by Mancs screaming at you into a ground where they wouldn't serve you alcohol. Then you got beat, surrounded by 60,000 Mancs calling you "murderers".
Then the police kept you in the ground for an hour afterwards without even letting you go to the toilet. Then you got ushered back to your coach and you sat on a dry bus home wondering if that was the worst £70 you've ever spent, or whether it was marginally better value than last year because at least the team had a bit of a go early on.
This is a very long-winded way of saying that in 2009, when we beat Manchester United 4-1 at Old Trafford, loads of my mates didn't go. It just felt a game too far. A trip they couldn't face. A Saturday that could be much better spent going the pub, staying at home or doing just about anything at all. So I went with my dad.
It's a different day with my dad at Old Trafford. We drive, which means we can leave when we want and I can have a couple of cans on the way. He also brings a great packed lunch even though it's only 40 minutes away.
We then walk to the ground when he likes to play a game of "Isn't it funny that I can talk and you can't". My dad moved to Liverpool aged 18 and has retained his Gloucestershire accent. So he'll ask me a series of questions as the crowds get bigger and laugh his head off at my mumbled responses.
In the ground, it seemed like the game was going to go like the rest of them.
Even before kick off we seemed up against it with the news that Alvaro Arbeloa had injured himself and Sami Hyypia had to step in. It seems strange now to be that worried about Hyypia, but this was Sami very much on the way out. A break-glass emergency before he left in May — not a lad you start at Old Trafford against their front three. Pushing any of our centre half to right back was less than ideal.
Then Pepe Reina gives away a penalty and they go 1-0 up and their fans in that weird row before the away section are turning round and giving it loads. Why did I come here again? Same as it ever was.
Except Rafa's Reds had other ideas. Scoring back early is often crucial in these games and Fernando Torres had us level in five. More crucially, it was a demonstration of what Rafa had been telling his players all week: If you get Torres at Nemanja Vidic, he'll crumble.
Suddenly, we are running at them with purpose and belief. Playing better than a team in such a drab kit ever should. Lucas Leiva and Javier Mascherano imperious. Sami rolling back the years. Steven Gerrard dangerous every time he picks up the ball. He's too much for Patrice Evra and wins a penalty. The captain gets up and slots it himself.
He then tried to neck the camera right in front of us and I wanted to do much more to him than that. We go in at half time 2-1.
At the break, talk is buoyant yet cautious. No-one wanting to tempt fate. Liverpool had looked the better side, but surely Manchester United would come back at us.
They did, but it was all strangely controllable. Ronaldo, who didn't have many great games against Liverpool in the Premier League if truth is told, was subdued and what they were able to throw at Liverpool the defence dealt with admirably. Confidence was growing. Mixed with that fear that never leaves you if you were present for Manchester United 2 Liverpool 1 in the FA Cup in 1999.
Then a triple sub. Typical Alex Ferguson. More of a threat than a tactical switch. Something designed to startle and confuse.
Paul Scholes, Ryan Giggs, Dimitar Berbatov — just trying to get into heads by showing off their array of attacking talent.
It might have worked had it not been for Steven Gerrard, a man who was determined to do plenty of startling and confusing of his own.
Gerrard surged past Vidic one more time than the defender could handle and he was off. If that didn't calm the away end down the resulting pearler from Fabio Aurelio did. Game well and truly over — and I love saying that.
Ten minutes to go in a ground like that when you've got the game won is the best place in the world. Oh give me that on Thursday, lads. When you're bouncing and bragging and being as cocky as you like. All the songs. All the swagger. Born to be a Scouser, victoriously. The ground is emptying out, but you are just getting started. Keep me in for two hours if you want, dickheads, I know enough songs.
Then a fourth. Andrea Dossena. A trickle of home fans leaving becomes an exodus. Dave Sutton, who writes for us sometimes and appears on Periscopes even less, said he spoke to a Manc friend of his after the game who said he was in his seat when the ball hit Dossena's boot and was in the pub by the time it hit the net. That's how it felt. They all just disappeared. Don't worry, lads, we'll party on our own.
After the game the texts start.
Lads who've been everywhere can't believe they missed this one. Lads who have seen all the bad days and didn't get the pay off. It was days like that why you persevere. When all the heartbreak is a distant memory. We can still win that league you know. These are shite.
It was a game partly famous for some after-match comments. When Rafa Benitez told 18 other Premier League managers that was how you beat Manchester United and Alex Ferguson tried to pretend they were the better team. I didn't know that at the time though. I was bouncing through Salford Quays trying not to look like a Cheshire Cat.
They are great early kick offs when stuff like that happens. Even with the stay behind we are home for 5pm. Well I say home, I mean back in Liverpool. I didn't get home until much, much later than that.