I PRESSED the tab button. That's all I did. Then the field exit button. And everything disappeared. All of it. The whole sodding thing.
And I hadn't saved anything. Hour-and-a-half's work. And it was great. You're obviously going to have to trust me on this, but it was like Tolstoy. And Proust. With a bit of Woody Allen thrown in. It caused arguments, it cured diseases, it rid the world of poverty and hunger and ended wars. It spoke in the tongue of angels and genius dripped from its every syllable. It was fucking glorious. And I wiped it. It had all the answers and I wiped it.
I could weep.
I'm blaming David Byrne. I'm blaming being distracted by the sheer majesty of Talking Heads Remain In Light and, very specifically, Born Under Punches (The Heat Goes On) and Crosseyed And Painless. It's hard to blame such beauty for such misery, but there you go. I'm hardly going to take the blame myself, am I? Greatest thing you ever read, perceptive and witty and perfectly formed and you'll never read it. The world will weep for it is now less than it would have been.
So, let's try and do it from memory.
I want to talk about the FA Cup. Might seem a bit random as we haven't been in it for a couple of rounds but I want to talk about it. Might not seem that random if you've already heard this week's Tuesday Review (and if you haven't, why haven't you? It's really good. Sean and Neil's bits, mostly. But I'm on there, too). If it IS random though, at first, bear with me (Christ, you've got through those first two paragraphs haven't you? Unless Robbo's edited them out for making no sense, in which case THIS bit will make no sense. Unless he's edited this as well, in which case you won't be reading this. The mania's setting in, lads, the mania's setting in) it'll all make sense. Promise.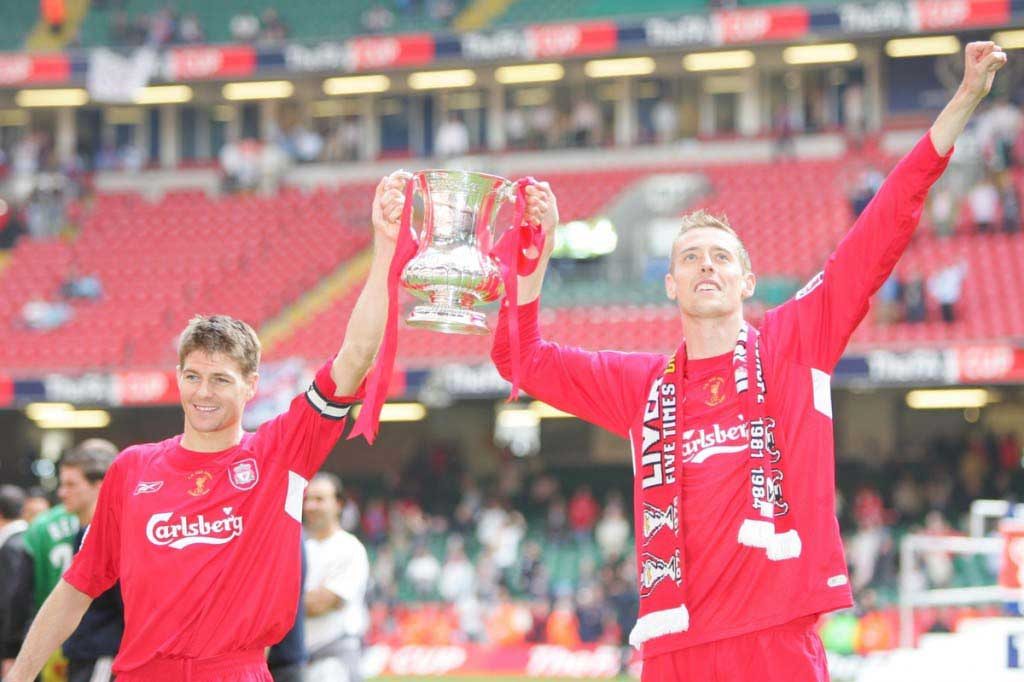 I said that I was happy with the prospect of going out of the FA Cup. Not here, not in the bit I deleted. Ages ago, this was, in something that I *think* I managed to not destroy. I said that I'd be okay with it. Pre-West Ham, that's what I said. (I've changed to Heaven Up Here now, always safe with HUH). Obviously, when we actually went out against West Ham, when the West Ham lad felt Lucas looking at him a bit too hard and crumbled under the full existential weight of Leiva's death gaze and spawned a free kick from it, I was as gutted as everyone else.
And yet, and yet.
Part of me wishes that we were still in the FA Cup. Not least because, the way that the draw's panned out, we'd have been playing the Mancs three times in a week and I have a sneaking suspicion that, if we beat them three times in a week, we get to keep them forever. File them away somewhere near the back of the trophy room.
"On the left you can see the European Cup which is now housed in our trophy room for eternity following our glorious fifth win on that beautiful Istanbul night. To its side is the second version, representing the next five victories. To the right you will see replicas of our 30 league trophies, the last 12 as you are aware, having been won consecutively in the seasons starting with 2016/17. At the far end of the room you will see the 15 FA Cups."
"Dad?"
"What, son?"
"Ask him what that is at the back. The small shabby thing."
"No need, son, I know what that is. That is the last team ever to represent Manchester United in English football. They're ours now. Forever."
"Is that them? Bit shit aren't they?"
"They are, son. But don't let your mother catch you using that language."
Part of me wishes that we were still in the FA Cup. Not least because it looks very, very winnable.
(Look, don't hate me for this next bit but…..I want the Bluenoses to win the FA Cup. I'm ready for the full-on gloat that they'll try to pull if it happens but we can deflect that one by winning the UEFA Cup. And then obviously starting our decade long domination of….well, bloody everything. But. The Blue wife and son — I'd like them to have a couple of nice days out with a big shiny thing at the end. "What's your most commented-on piece, lads?" "Easy, it's that one where Salmon went into total meltdown and said he wanted The Ev to win the FA Cup. Knobhead." "He's right about Heaven Up Here though." "He is, he is.")
Part of me wishes we were still in the FA Cup. And the other part of me, that part that writes articles that make angels weep and manages not to delete the sodding things, knows, absolutely KNOWS that being knocked out of the FA Cup has been a major, major benefit to us.
Remember when we were playing footy every five minutes? Remember when there was no way at all that Jürgen could get the lads out onto Melwood and change anything? When he had no time to teach them anything? When training was clearly recovery and very little else? Remember when they didn't seem fit enough? When, from the moment we hit the 20-minute mark at Spurs, that it was obvious these lads weren't as fit as Jürgen thought they'd be and maybe weren't up to doing the job he needed? When he apparently/obviously put in double shifts in training and suddenly hammies were twanging all over the place? That time when we suddenly had broken players all over the shop? Seems a while ago now, doesn't it? I mean, I've even seen photos of Danny Ings jogging — we're living in a new age.
So, out of the FA Cup means that, while United are running round their place trying to figure out what Dimitri Payet is doing to them, Roberto Firmino's having a few days in Tenerife, sunning himself and figuring out what new horror he intends to inflict on messrs Blind and Rojo and their mates. Out of the FA Cup means that we're resting, means that we're recovering, means that we're training — properly training — means that we're learning.
Out of the FA Cup means that we're starting to see a Jürgen Klopp Liverpool. And a Jürgen Klopp Liverpool looks to be a fairly gorgeous thing. It's fast and fearless and it's flowing and it's free. And it's thoughtful.
Jürgen has this set of lads and he knows which of them is going to understand what he wants and do it. He knows that he's got the time/had the time to teach them and he knows that he can trust them and he knows that they'll take his patterns onto the pitch and they'll use them and they'll adopt and adapt and push and pull and they'll be right and comfortable and confident and the more that they work, the more confident they'll become.
Thinks about the United game. Think about last Thursday's United game. Gorgeous isn't it? Magnificent, massive; look at it, gaze on its wonder, walk around it, soak it all in. Now think properly. Think hard. What formation did we play?
4-4-2? Yeah, there was that. 4-1-4-1? That too, Jürgen's told us that. 4-2-3-1? Bit of that. Sure I saw a 4-3-2-1 with a flat three at one point and when we pushed our full backs up and dropped Can or Henderson into the gap between Lovren and Sakho then we were very, very definitely 3-5-2. Except for when it was 3-2-3-2. Liked that one. Nice shape to look at.
And even the 4-4-2 was two completely different 4-4-2s. One of them is a straight line and has a very late eighties' McMahon and Whelan-type centre two in Hendo and Emre. None of this holding midfielder and attacking midfielder stuff. Two lads who can do it all and will take turns to do either/both and the 11 lads in the other shirts will have no idea which is doing which or who is doing what. I think we're going to be talking Whelan/McMahon comparisons a lot in the coming days and I think that talk is going to be a beautiful thing. Which I think makes Adam Lallana our Ray Houghton. For those of you who are far too young, being Ray Houghton is a bloody good thing. A bloody good thing.
Although, possibly, it's actually Firmino who is Ray Houghton. The point is, we're making the comparison and it's good. Have you noticed the way that Lallana doesn't have fitness issues any longer? Noticed the way that all these lads are playing cute balls around the corner of their man? Noticed the way that we were pressing in boxes of four players? Noticed the way that the other 4-4-2 was a box in the middle of the park with Hendo and Can behind Bobby Firmino (I did it, I called him Bobby, I know how many people are getting wound up by that and I'm not arsed) and Adam Lallana (needs a funky nickname. Adrock L? Something crass like that, start a Nivea advert level fume? Don't care, Lallana's as great as some of us aways claimed, keeps possession).
Keeping possession. That's a good thing. I like that. Playing football with the ball at your feet, creating the moments that confuse and confound and create and suddenly doing all this at speed. At speed, with understanding, with the knowledge that every lad on that field is flexible enough, thoughtful enough, to do exactly what the manager wants and what the manager needs. That he's ready to bring in more lads that will feel the same, will think the same, will do the same. A team full of lads that know that they can change shape and make things happen? You'll have that, won't you?
That's what the manager's giving us already. We know, we know what we're capable of, we've seen it and it's a beautiful thing and it's getting more beautiful by the day. This is what time gives you, this is what space gives you, this is what working the whole thing out and applying all your thought gives you.
It gives you organisation and awareness and fitness and freshness. It gives you the fact that, while everyone around you looks as though they're starting to tire, you look as though you've just hit a second wind. It gives you a view of the top four and that view looks very, very clear all of a sudden. It gives you a step forward. It gives you STEPS forward. Giant steps.
And that's kind of what I wanted to say about the FA Cup. Christ, you should have read the original, it was gorgeous.