WE all realise we live in a world gone mad.
That much can be taken as wrote. Football went looney some time in the 1990s. Let's not try and name the date. There was a time when people just went to football matches. Like it was the most natural thing in the world to do.
I recall looking at a crumpled fiver, some point in my teens, and thinking, 'I know, I'll go the game'. Like you go the cinema, or the boozer. Let's be clear. We're talking the 80s here. I was young and a fiver was still not a great deal of money.
Then the men came. With their big ideas. They didn't used to like the beautiful game. It was proletarian, smelly and prone to kick offs. Even putting it on the telly carried risks.
How can we forget those moments when a Coleman or a Motson had to inform us that they couldn't show us the violence going on just off camera, but assured that it was very real, and also, frankly, not on.
We were saved from worst of the British disease — the hooliganism — and so in time was our national sport.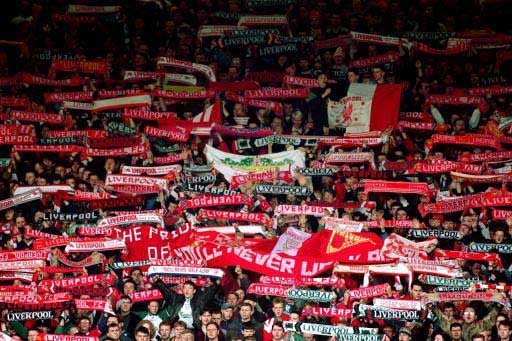 In the 80s we talked of a utopia. The one they seemed to have endured in post-war USA. Sports events that families went to. Being served hot dogs at their seats and slapping backs with opposition fans. Jumbotrons. Nacho hats. Not a care in the world.
Meanwhile, we were kicking each others heads in.
Anfield, February 2016. We are pissed off. The utopia arrrived and it had most of the foreseen merits. Nobody was getting hurt. The food had got better. But it cost a fortune. So much so, that a huge slice of those who used to go to football matches could no longer afford to do so. For the remainder, the financial burden was ebbing towards a breaking point.
Jesus, this is getting tough. Nobody told us they'd be days like these. When Jürgen Klopp rocked up he made us feel safe. Like we'd never need to be afraid again. He enveloped us is in his vast warm Jürgen-ness. It felt like we'd come home.
Now though is a horrible time and it feels like it's getting worse. Injuries, inconsistency and now fans and club itself at loggerheads. Klopp is getting fast-tracked here. It usually takes us a good three years to break our managers.
Kloppo is going to need to be more Kloppo than he's ever been before.
Sunderland in the league with 14 league games to go. And we're barely arsed. When do we give up then? Is this that moment? February 6. Best part of four months worth of league football left. It can't have come to this.
Me, I can always get myself in the mood. Football is habit and I am its creature. I can get up for a match day plagued with issues. Anfield always calms me down. It always comes down to its green baize, red seats and red men. Always transfixes me.
Sunderland won't be very interested in yet another LFC existensional crisis. They've got a league to stay in. Hopefully our boys will dig deeper than I can and find a reason to win. Trying to pick a side for today is vain folly. Let's have a go.
Rotation will be the watch word given Leicester just passed, and West Ham is on the horizon. If we close our eyes we could be in 2008 or 2009 and wrestling between Champions League and title-chasing selections. We snap to and realise that we're actually debating the merits of getting to the fifth round of the FA Cup or trying to finish sixth.
Klopp's measured approach will most likely be to switch out four or five from Tuesday with the same trick in mind for next week.
Christian Benteke and Jordon Ibe could well come in as starters then. Joe Allen surely too, unless a slight injury prevents his selection.
There is no case for testing Jordan Henderson's injury again. At the back Mamadou Sakho isn't playing well and is ever one game from a fresh injury.
Giving Steven Caulker a league debut might be a good idea.
We go again. We'll always go again. Only until 77 minutes though today, boys. We asked the men nicely. We won't ask again. Up the Reds. Let's get it won.
Predicted team: Mignolet; Clyne, Caulker, Lovren, Moreno; Allen, Can, Milner; Lallana, Ibe, Benteke.