I INTERVIEWED John Barnes for Goal.com to discuss being third on their list of the greatest 20 players to ever turn out for Liverpool. Typically, he wasn't fussed over such an accolade and shared some brilliant insight into what made the club so special and what changed during his spell…
The crazy English wind, as Jurgen Klopp has described it, is swirling through Liverpool city centre, causing the rain to swat our faces. It's 11am, but the stone grey clouds that dominate the sky give the allusion that evening is close. It is a majestic frame in which to spend time with a majestic figure. Only 30 seconds passes in the company of John Barnes before he is hooted at by a delivery truck with its three passengers all pushing their thumbs up and out the windows. He stops, waves and returns the show of approval.
As we cut across from Chapel Street and head towards a popular Argentinian restaurant, a young man shouts out, "Barnesy, nice to see you again" and as we're about to enter the eatery, a much older one shakes his hand with a look of reverence that needs no accompanying words.
Barnes may not have been born in Liverpool, let alone England, but it is unmistakable that this is his city and these are his people, who still appreciate one of football's greatest artists.
"There's something about this place," he says. "You don't live in Liverpool, it lives in you." Having moved to Merseyside from Watford in 1987, the Jamaica native has never returned back south. His seven children have grown up calling the city home and it is where he transformed from one of the country's most exciting talents to one of its very best.
Two FWA Footballer of the Year accolades and a PFA Players' Player of the Year trophy prove as much. The late Sir Tom Finney described his gifts as "once in a lifetime" while Peter Beardsley remarked he was "the best I played with bar none".
The ease in which Barnes toyed with opponents and manipulated the ball was spellbinding. He could decorate a game and decide it. Read it and run it. Here, in a booth at CAU on Castle Street, sits an indisputable icon, but there is no ego or self-indulgence. This interview is to mark Barnes' place among Goal's greatest 20 players to have ever turned out for Liverpool but he cares little for such labels.
"One Liverpool fan might think I was amazing, but then you'll get an Everton or Manchester United fan who will say I was overrated or average," notes Barnes.
"So, what's the truth then? I have never gotten carried away with praise or criticism because it doesn't define you. It's a lesson I got early on from Graham Taylor at Watford, who told me to believe in who I am over what people are saying."
Fitted with indigo jeans, a casual black shirt and a charcoal blazer, you'd be forgiven for thinking Barnes was just another diner at this South American establishment. But don't be fooled. He used to lull opponents into a false sense of comfort by drawing them close, showing them the ball and then showing them his shadow as he skipped, turned, or sped away.
He was a completed checklist of football brilliance: power, cunning, intuition, pace, balance, vision, intelligence, craft. He did the simple things superbly and matched it with the things others simply couldn't do.
Kenny Dalglish's "heart leapt" when Barnes agreed to a £900,000 move to Liverpool in June 1987 after a drawn-out transfer. The Scotsman long had designs to sign "the magnificent athletic specimen, who had the determination to push himself harder and harder." Barnes, too, had long been contemplating representing the most esteemed club in the country.
"Even before I got to Liverpool, I wondered about what their secret to success was," he explained. "On England duty when I was at Watford, you'd have top players like Glenn Hoddle and Bryan Robson sitting around and we'd actually ask the question: 'what makes Liverpool so special, so great? Why are they so dominant?' We'd look around at the England squad and the best players weren't from Liverpool, but they were the team winning European Cups.
"It was hard to understand, but I wanted to feel and experience it. And then when I joined the club, you could see that it was because of putting into practice everything Bill Shankly spoke about: giving every bit of yourself, the tight bond with the supporters, the real understanding of what it meant to be part of a team, the hunger to always want to be better."
For Barnes, the Liverpool juggernaut was largely down to the mutual respect in the dressing room. "When Liverpool were winning European Cups, it was Manchester United that had the superstar players and Tottenham had plenty of fancy ones, too, but collectively, Liverpool were the best team," he says.
"Football players can't help the way the fans see them, but they can always control how they see themselves. Although we had Kenny Dalglish, Kevin Keegan, Ian Rush and huge players who the supporters saw as better than their team-mates, these players never saw themselves as better, and that was important. The relationship that every player had with each other and the respect was a big part of the success, and that was extended to the interactions with the fans and the community.
"When I look at Barcelona now, I actually think of Liverpool back then in terms of how everyone works for each other and [the] value they have in each other. Real Madrid, with their galacticos, are the opposite."
The mentality at Liverpool was to ensure success was only a starting point, never the conclusion. Barnes explains: "Doing what was necessary to win was a pre-condition. When we won the league for the first time after I signed [1987-88], I was expecting a huge party and celebration. Ronnie Moran came in and had the medals in a plastic bag. He put them on the table and said, "four weeks until pre-season, lads".
"That made a huge impression on me. Success wasn't a one-off, it was built in as a habit and that philosophy increased your desire. The next season, we lost the championship to Arsenal on the last day of the season with the last kick of the game. Afterwards, he came in and put the medals on the table and it was the same message — pre-season in a month.
"The thinking was you'd get comfortable if you got too carried away with winning, and that if you got too disappointed with losing, you wouldn't be able to lift yourself and push again. Winning was one thing at Liverpool, but the work that went in from Monday to Friday to ensure that we got a reward on the weekend was the most crucial element.
"We were always well prepared and so we conditioned ourselves to win. This attitude suited me because growing up, my father preached that if you want to be good at something, you don't only put effort into it sometimes, you repeatedly do. It is a full-time responsibility."
Fittingly Barnes, who does not focus on his own brilliance, selects the 1988 slaughtering of Nottingham Forest as his favourite outing in a Liverpool shirt. He did not score in his side's exhibition and neither was he man of the match.
"Individual moments are useless if you don't win something at the end of it. That is what I was taught," he says. "The 5-0 over Nottingham Forest was my favourite game at the club. It was a 90-minute masterstroke, a performance of humility. Football is mostly about making good decisions, simple decisions. What I learnt at Liverpool was you make the same decision whether you're 6-0 up, 2-0 down or nil-all.
"Players would've been forgiven for showboating at the end of the Forest game because we'd already scored five, but none of my team-mates were interested in that. They continued to play simple and make the right decisions — not based on the scoreline, or the opponents or the fact we were playing well, but just based on the basics that got us to that result in the first place. That was a complete team performance and a very intelligent one."
Like previous generations, Liverpool were defined by their humility and work ethic in the eighties. They were feared, admired and a certainty for trophies. The next decade would be different for the club, and also for the player following a rupture of his right Achilles tendon before Euro 92. Reflecting on that period, Barnes says: "The one thing Liverpool always had was strong senior players. The young players always learnt from the older ones.
"From Bill Shankly's time, the older players were the most powerful at the club along with the manager and backroom team, of course. When Bob Paisley was manager, it was Dalglish and [Graeme] Souness who'd get stuck in at half time if things weren't going well and sort it out.
"In the 90s, suddenly a batch of older players were being replaced with younger players and that changed the dynamic in the squad. When I was trying to continue that legacy of instilling discipline as a senior player, I was just seen as a moaner. Bringing in one or two youngsters at a time was always the balance the club tried to keep, but then it became six and seven at a time and there was a big shift in mentality.
"People look at Manchester United back then and say they brought through a lot of kids, but they also had Alex Ferguson who ensured that discipline was at the top of the agenda. The players we had were as good or even better, but what we lacked was that determination and order that we used to have, which was no problem for United under Ferguson. The Bosman rule also placed a bigger importance on young players. The clubs needed to tie them down to long-term deals and so the experienced pros towards the end of their contracts were no longer a priority.
"When I was young and playing well, Alan Hansen at 33 was more influential and important than me at the club, which was 100 per cent right. But when I was coming to the end of my career, the younger guys were more important. The power shifted and so did the mentality. Football was becoming more and more about superstars and less about the collective aspect of a team.
"Even now you see it. If Real Madrid lose for example, fans will say it's not Cristiano Ronaldo's fault and maybe he even believes he is better than his team-mates and is not to blame. That kind of thinking was so far removed from the successful Liverpool sides."
Barnes was only 28 when he suffered the Achilles setback. He altered from a quick, skilful winger to a measured deep-lying playmaker. He was the metronome, rarely ever wasting a pass. "I was just happy to be back playing after it," he says. "I didn't care what position it was. Obviously, being a fast player who is aggressive on the ball it is quite a change to then use it differently, but it prolonged my career by seven years at Liverpool.
"I think some people were annoyed that I wasn't still explosive, but I felt lucky to be able to drop into midfield and keep contributing for the club."
Regardless of his position — he also served Liverpool as a forward — Barnes was near flawless and his rebirth was no surprise to those who watched him daily.
"John was so much more than a dribbling winger. He could pick a pass, playing the ball first time," Dalglish explained in his autobiography. "Above all, John conformed to Liverpool's long-running theme of flair within a framework. A keen student of the game, John listened, learned, matured and blossomed into one of the most formidable, all-round attacking talents in the world."
As a kid, he operated as a No.10 and even as a centre-back. His football brain could calibrate the requirements for any role with nothing in the game seemingly beyond him.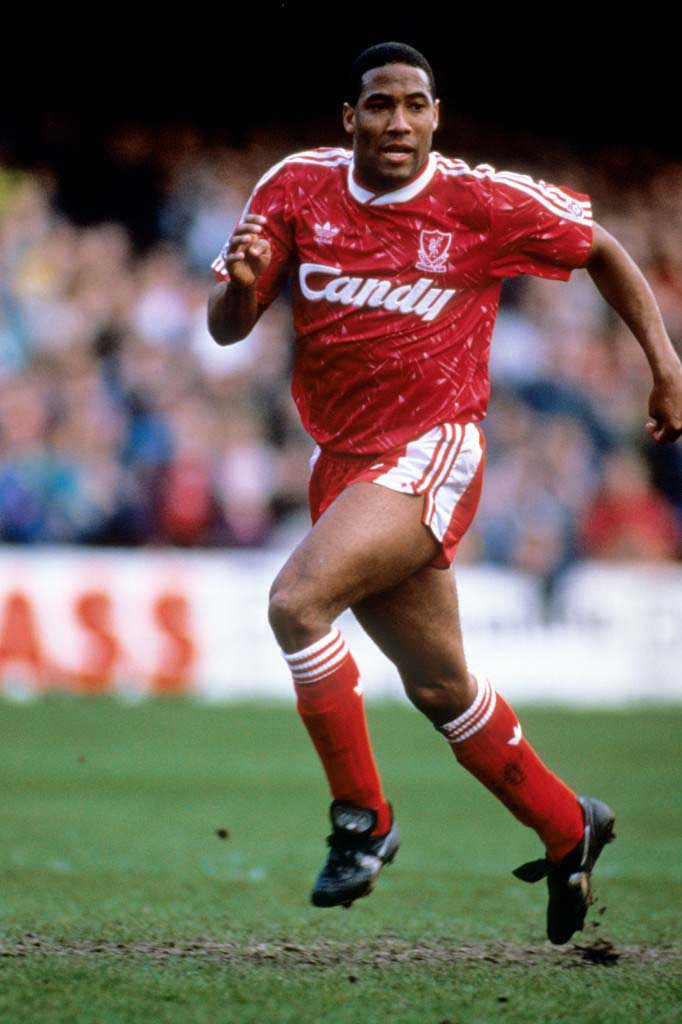 In his mid-30s with his famous thighs and his waist expanding, Barnes was still the head of mastery at Liverpool."Technically, he's the best player I've ever trained or played with, he was great with both feet, they were both exactly the same," detailed Jamie Carragher.
"I'd say he's the best finisher I've ever played with. Barnes never used to blast his shots — they'd just get placed right in the corner. You speak with the players from those great Liverpool sides and ask them who the best player they played with was and they all say John Barnes."
It was a shame that he never got the opportunity to showcase his powers on a European stage at his peak. It was unfortunate that England could never maximise his strengths as well as Liverpool did. And the constant racial abuse he was subjected to both on and off the pitch was utterly repulsive.
Barnes dealt with the glitches of his career as gracefully as he glided past defences. The striking image of the luminary backheeling away a banana thrown at him during the 1988 Merseyside Derby at Goodison Park is symbolic of the way he expertly flicked aside the kind of negativity that would have ordinarily been debilitating.
"Just as I never got stuck in the clouds when I was doing well, I never got down when I was abused because of the colour of my skin or because I wasn't as effective for England as I was for Liverpool," he says. "None of it mattered to me. I am who I am, I know who I am so outside voices never got to me and I was never naive enough to take anything personally or let people get under my skin."
Beyond his genius with the ball, was his dignity in the aftermath of the Hillsborough disaster and how he always represented the club with distinction. Liverpool had a winner on the field and a champion off it too.
As we depart the restaurant, heading in different directions, I turn my gaze left and watch as passers-by look at him in awe. Barnes may not buy into the legend label, but that's exactly what he is.
The original article appeared on Goal.com here…