HERE'S how this starts:
In football, as in life, you're surrounded by hindsight. It's everywhere, colouring your outlook, shaping your views. You can't move for the stuff.
All the opinions, all the analysis, all the outrage. All formed with hindsight. All the product of wisdom acquired through events. Or, more accurately, after events.
Wise after the event. That's the starting point. That's how to approach this thing, this crazy, glorious, infuriating, wildly significant thing. This thing that now stands out as a fork in the road, a watershed, a line in the sand separating all the triumphs that came before and all the struggles, the dashed hopes and the false dawns that are still endured 25 years on.
Twenty five years' worth of hindsight. Too much hindsight. Too much perspective. That's what it does to you. That's what it's always done.
The context:
Liverpool, Liverpool, top of the league. Three points clear, in fact. But storm clouds have gathered. It's hard to shake the feeling that this is a side on the wane. The legendary class of '88 are, to all intents and purposes, no more.
Hansen, sidelined, knees crumbling, faces imminent retirement. Johnston, back in Australia. Whelan and McMahon, the engine room, ageing and injured. Aldridge, packed off to Spain against his wishes. Beardsley is inconsistent and out of favour, a godsend for every taxi driver in the city with a wagging tongue and a fertile imagination.
And the Great Man, himself, is under pressure. Dalglish, for perhaps the first time in his Liverpool career, is facing criticism. His team selections are overly cautious. He's spiky and irascible. His most recent signings, Carter and Speedie, are plain weird. He's got a vendetta against Beardsley. There's not much fun around anymore.
A cup tie with Everton, even a mid-table Everton lacking genuine quality, could be just the boost everyone needs. Or it could be a minefield. You know what Everton are like; waiting in the shadows with a baseball bat, only too happy to smash our aspirations to a million tiny pieces given a good head-wind and the slightest encouragement.
You'd take it, though. Even after a nervy 0-0 at Anfield, with a lacklustre Liverpool unable to fashion a breakthrough and a typically combative Everton bemoaning a penalty that wasn't given. The usual thing. You'd take a replay. Because it's a midweek derby under the floodlights — the noise, the hostility, the tension, the collective joy and communal despair. The prospect of magic, the chance to be heroes, just for one day.
The match:
Pre-internet. Pre-smartphone. Pre-Sky Sports News. Team line-ups rarely leak in advance. Inside the ground, the technologically sophisticated, transistor radios pressed defiantly to ear, carry the news, later confirmed by the stadium announcer. And sometimes it's difficult to comprehend.
When word goes round that Liverpool are starting the replay with six recognised defenders, at least four of whom are specialist full-backs, the response from the Reds scattered all over Goodison is one of puzzlement.
A similar approach at Highbury two months earlier had resulted in a damaging and comprehensive 3-0 defeat. And led to perhaps the most sustained and hostile questioning yet to come Dalglish's way. Though injuries to Whelan and McMahon have forced his hand to an extent, it's hard not to conclude that Kenny is making a point to his critics. He's putting himself on the line, here. Circling the wagons. Making a stand. A last stand.
But the class is still there. Beardsley is reinstated, to link with perennial Everton nemesis, Rush. Barnes is an ever-present threat. Nicol has seen it all, done it all. Molby still exudes the air of a PE teacher patiently indulging his eager charges before halting their bustle with a blast of his whistle and a "No, this is how you do it…".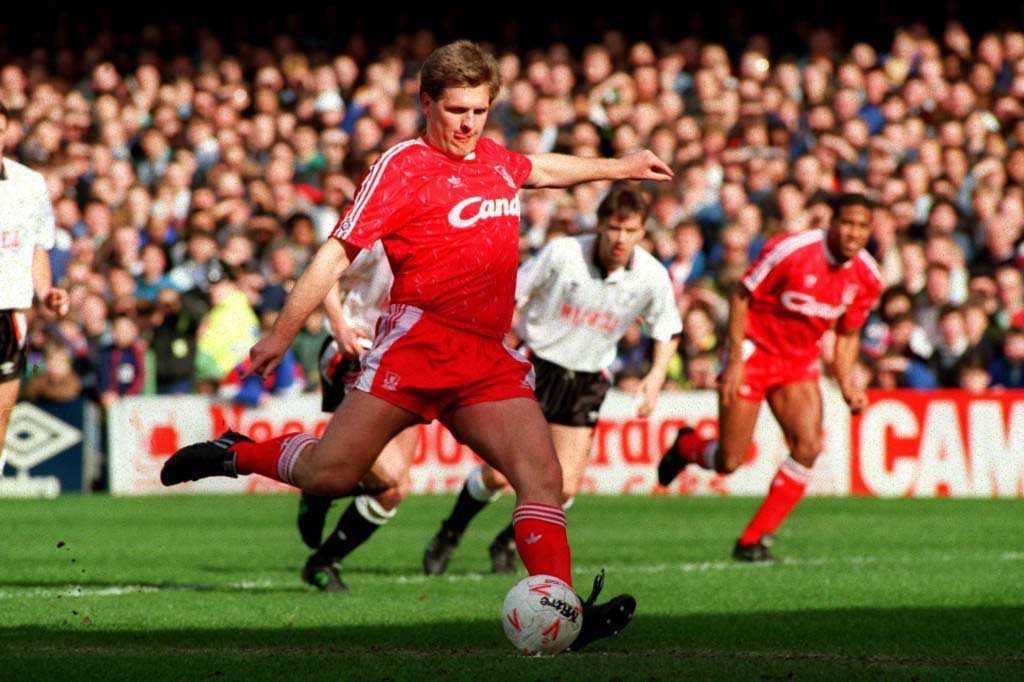 Everton are intense. They want this badly. They know how to compete, so they compete. They know how to tackle, so they tackle. They know how to appeal, so they appeal. They know that Liverpool's weakness lies with their defence, with their ability to withstand a barrage of high balls. So they knock it high and long and often.
Continuing the theme of the previous decade, Sharp is a nuisance, a one-man mission to kick over apple carts. Nevin fizzes around him cleverly, slight of frame, indie of fringe. Ratcliffe eyes Rush with suspicion, almost obsession, not giving a yard, the way you'd expect when you're up against someone who has already scored 23 goals against you and has the scent of more.
And then he blows it. Robbed by Rush on the touchline. Rush with a clear run on goal, bearing down on his mate, Southall. Waiting, waiting, then a chip over the prone keeper. Hinchcliffe works miracles to keep the ball out of the net, but his clearance is diverted to Beardsley and a tidy half-volley gives Liverpool the lead.
1-0.
"We're on the march with Kenny's army…"
For the rest of the first half Liverpool are in control. Knocking it around nicely, biding their time, always capable of extending the lead, just about coping with the aerial assault.
Two minutes into the second half, that's all gone out the window. A cross from the left (of course), Sharp unmarked (of course), a header beyond a flailing Grobbelaar (of course).
1-1.
The momentum shifts. Everton now on top, Liverpool unable to keep possession, panicky, careless, impotent.
Until the 71st minute. When Beardsley collects a short pass, evades one blue shirt, drags the ball away from another then fires a swerving, left-footed missile into the Everton net. The definition of unstoppable.
2-1.
"We're all going to Wembley…"
For about 70 seconds. A long punt into the heart of Liverpool's darkness, a flick-on, Grobbelaar racing recklessly off his line with little prospect of reaching the ball, a hurried Nicol backpass beyond the stranded keeper, and Sharp, again, prodding the equaliser. If goals are works of art, we've gone from the Sistine Chapel ceiling to a grotesque rendering of Jeremy Clarkson's face scrawled on a balloon by a very stupid child in under two minutes.
2-2.
Again the response. Molby with the cross. Rush with the glancing header into the corner. Of course Rush. About the only thing that makes sense in this ridiculous game is a Rush goal. It's a reassurance, a way of calming frayed nerves, a hand on the arm to say, "It's all going to be ok, everything is as it should be."
It's going to be the winner, the whole ground knows it.
3-2.
"And we'll really shake them up, when we win the FA Cup…"
And yet. Oddly, the same ground fails to be even slightly surprised when Everton equalise a third time. The last minute. That stings. That always stings.
A hopeful flick into the Liverpool area, defenders frozen, reacting just that second too late, and Cottee, alive, alert, slotting past Grobbelaar with ease.
The last minute. Never stops stinging.
3-3.
Something happens to Barnes in extra time. He's been peripheral thus far, unable to impose himself on proceedings. Too little space, too few options. But now he's on fire. Running at the Everton backline, jinking, tormenting, a series of precise arcing crosses. He wants this, he's not being denied. And he isn't.
In the pantheon of great Liverpool goals, the one Barnes scores in the Gladwys Street End is always going to be among the very finest. Cutting in from the flank, advancing with intent, then, from the angle of the penalty area, curling a vicious, dipping, right foot shot into the top corner. Anyone else and you might think it was a fluke, an over-struck cross or a hit-and-hope. But this is Barnes. Look on his works, ye Mighty, and despair.
4-3.
"…Cos Liverpool are the greatest football team."
You don't throw away a lead four times in the same match. You just don't. Because that suggests a team with a real problem, with a defensive vulnerability that can't be ignored. It might happen to other teams, but not Liverpool. Not this Liverpool.
Seven minutes to go. Molby breaks up an attack, cannily slips the ball back towards Hysen. Just clear it. That's all. Job done. No fuss, no threat. What you don't do, under any circumstances, is let it run through your legs in the hope it will reach your goalkeeper. You don't do that. You don't even consider it.
Hysen lets it run through his legs in the hope it will reach his goalkeeper. It doesn't. Cottee, again. Bloody Cottee. Firing under Grobbelaar to level again. For the last time.
4-4
On the final whistle, Goodison, as one, breathes out. There'll be another game, another chance to go through this torture. But that doesn't matter right now. In truth, it never will. Not after this; not after what comes next.
The hindsight:
Watch it again, 25 years later. Look at Dalglish. Everything you need to know is there. Slumped against the dug-out for the duration of the match. No interaction, no instructions. A helpless onlooker, not a participant. 120 minutes without a substitution. The clues are everywhere, to those who wish to see them.
He resigns the next day. The pressure has built and built. In the wake of Hillsborough, Dalglish was transformed from football icon to civic figurehead, willingly acting as grief counsellor, moral leader, guardian, shoulder to cry on. In immersing himself in the outpouring of communal grief, in attending funeral after funeral, in visiting the injured and comforting the bereaved, in becoming an integral part of the fabric of the healing process, he stored up a host of psychological baggage which would, eventually, take its toll.
Combine this with the ongoing challenge of maintaining Liverpool's dominance, of rebuilding a team that is in decline (yet still sits at the top of the league). The 4-4 draw is Liverpool in microcosm. Still capable of attacking devastation. Too often undermined by defensive frailty. Unconvincing, unbalanced and looking older by the week.
Pressure. Everywhere he looks. His health suffers. He is not a well man. He sees only one way out.
Hindsight. Can't avoid it.
The Everton match is the end of that Liverpool. The great Liverpool. The all-conquering Liverpool. A fork in the road, a watershed, a line in the sand. We know the rest. We know what happens now. Souness, terrible kits and a descent to mediocrity. We've been fighting against it ever since. Sometimes gloriously, sometimes heartbreakingly, sometimes with a shrug, sometimes a raised fist. But have we ever really beaten it?
This is the kicker. This is why that 4-4 draw means so much, 25 years on. It's a symbol of everything we had and everything we lost. It comes to us, dripping with hindsight, and plunges a knife in our chest. The scars re-open.
They never really fade away. They never disappear.