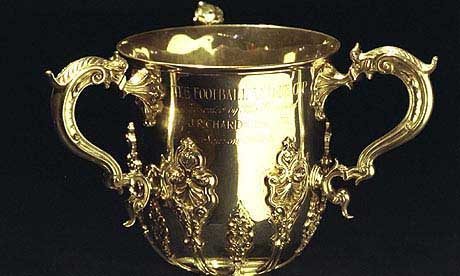 THE League Cup. It's "our" tournament, we've got eight of these beauties in the cabinet, basking in their glory. I say glory, they aren't league titles, European Cups or even FA Cups, but they're there and they all tell a story. You want more stories? I'm not gonna give them to you because I'm really lazy and I've got other things to do, but LFC History, Wikipedia and various VHS or DVDs will fill you in on that one.
Two of the last three have done my head in though — penalty shootout victories against Championship sides that have had you pulling your hair out just urging Liverpool to do something easily in a cup final for once.
Anyway, I digress. Get to the Rocket, M62, turn right at Warrington and get on the M6, straight down and turn left at the A50 and you've arrived in 1978. Sorry, I meant Stoke. Easily confused.
They're half decent now aren't they? They got rid of Tony Pulis, decided they wanted to do the football as opposed to getting it in the mixer and kicking people (it worked for them, fair enough) and signed some footballers.
Lovely side to watch, dangerous on the counter, pace, and loads of quality. Xherdan Shaqiri, Ibrahim Afellay and Bojan are all Champions League winners, while Marko Arnautovic seems to think he is.
Bizarrely, he turned up at Werder Bremen in 2010 with a resplendent pair of pink boots with "CL Winner 2010" on them.
And yet here's the Champions League 2010 Final Wikipedia page — and he's nowhere to be seen.
So, we can either laugh at him, or we can remember our own Champions League winners Zak Whitbread and David Raven.
Takes a special kind of loon to claim he was a part of the biggest club game of 2010 when he was nowhere to be seen, doesn't it? To be fair, he was an unused substitute twice. Just not in the final. He's good at football though — should probably keep an eye on him and make sure he doesn't score. Be a good idea that.
A score draw is a good result for Liverpool. Get the away goal, get back to Anfield, make them come at us and remove the chance of another side turning up and frustrating the hell out of us on home turf.
We look pretty limited in terms of what we're going to do at the Britannia. The spine of the team has to stay given we've got only two fit centre backs (Kolo Toure probably doesn't count now), two fit central midfielders and one fit centre forward. Dejan Lovren and Mamadou Sakho, Emre Can and Lucas Leiva and the much maligned Christian Benteke look certain starters.
https://www.youtube.com/watch?v=YKMBn4XVjqw
Injuries have robbed Jürgen Klopp of options.
Danny Ings, Divock Origi, James Milner, Jordan Henderson, Martin Skrtel, Joe Gomez and Daniel Sturridge are seven players you wouldn't complain about seeing in the starting line up and not a single one is available.
Liverpool are up against it in a hectic spell that's left the club, pretty unfairly, being asked to play Wednesday night in Sunderland, Saturday lunchtime in London and Tuesday night in Stoke.
We haven't been able to rest anyone, we haven't been able to give lads a breather, and we've been pretty much full throttle for 270 minutes in a week.
Energy levels aren't going to be high. So keep compact and limit the need to run. That's what I'd do, but it's important to remember that Jürgen Klopp knows lots more about football than me. He also knows more about the physical and mental state of each and every member of the Liverpool squad.
The Reds simply can't fall into the trap of attempting to play long balls up to Benteke's head though, not least because Stoke's centre halves can head the football really well but also because no-one seems to have figured out that if Benteke does win the ball, there's no-one close enough to him to actually do anything with it. You play direct, long balls, you get men in around the centre forward. We don't.
May as well just kick it out for a goal kick.
James Collins won 23 headers on Saturday. 23! How did we not get to 10 and figure out that it wasn't working?
Instead, we carried on lashing it up to Collins to head away. It's similar to how we stuck with passing on a ploughed field at Watford — if something isn't working, react to it, change it and try another approach. Don't just carry on and try, try again.
All that said, the single most important aspect of this whole semi-final thing isn't actually getting to the final. Oh no. It's that we need to prevent the game against Everton from kicking off at 12pm on a Sunday because no-one wants that do they? Get us a nice, 7.45 on a Wednesday night sometime in April or May. That's when football should be played, not when the religious lads have to jib Church to go the match.
Big performance in this one, send Kolo Toure and some kids to Exeter, and then we get into the real meat and drink of the season. January's great, isn't it?
If I'm guessing at the team, because Rob always does: Mignolet; Clyne, Lovren, Sakho, Moreno; Lucas, Can; Lallana, Coutinho, Ibe; Benteke.
[rpfc_recent_posts_from_category meta="true"]
Pics: Propaganda-Photo–David Rawcliffe
Like The Anfield Wrap on Facebook