SIMON Mignolet isn't a terrible keeper. I know that goes against the narrative a bit, but there you go. He really isn't terrible. The problem is that he also isn't all that great and that's what's causing us such never-ending problems at the back.
The furore surrounding Mignolet and his position as Liverpool's number one has died down a bit in recent weeks, partly because of Jürgen Klopp's refusal to be drawn on suggestions that we're going to buy another goalie and partly because of the Belgian's performances. They haven't been brilliant, but they've also mostly been without any of the howlers that made us all want to choke him with his over-sized gloves.
The fact that we've also watched Adam Bogdan in goal has no doubt aided the cause of the Simon Mignolet fan club a touch, too.
Yet I still think a new goalkeeper is of paramount importance, even if the recalling of Danny Ward from Aberdeen suggests that Klopp has some grasp on the realities of just how dire the situation is between the sticks is for Liverpool. I can't pretend to have seen even one second of the youngster's performances in the SPL, so I'm not going to claim he'll be our savour or anything like that.
Here's the thing for me, though. That thing I said in my opening paragraph about Mignolet not being all that great? That's the nub of too many issues for me to be happy if he remains our number one for longer than another couple of months or so. I'm not going to go into the specifics of his issues as they've been dealt with elsewhere in much better fashion than I could ever offer.
What I will do, though, is explain why I think Liverpool Football Club can only benefit from bringing in a world-class goalkeeper.
Let's start with the dodgy defending we seem to display whenever the opposition has a corner or a free-kick in a dangerous position. There's no way that the presence of someone in goal that couldn't catch an STD on a night out in Wigan doesn't permeate through to the rest of the team. Absolutely no way whatsoever.
Just because he hasn't messed up for the last few matches doesn't mean he won't in the next one. He's done it far too many times now, in too many different circumstances, for anyone in the defensive unit to trust that he hasn't got another brain-fart in his locker when you least expect it.
That uncertainty means that defenders and midfielders alike will only be half-thinking about their own jobs, fully aware that if they don't make their header or pull off the tackle they need to do then Migs will probably end up doing something mental like punching them in the head instead of picking up the ball.
There's also the fact that the defenders must think twice before figuring out what to do with the ball.
By the nature of the job, all goalkeepers have a mistake or two in them but most of the time if you're under pressure then you know you can put the ball out for a corner without panicking about the consequences. That Mignolet makes our defence at corners look like a scene from Airplane! when things start to go wrong means they will practically pass the ball to the opposition rather than let them have a corner.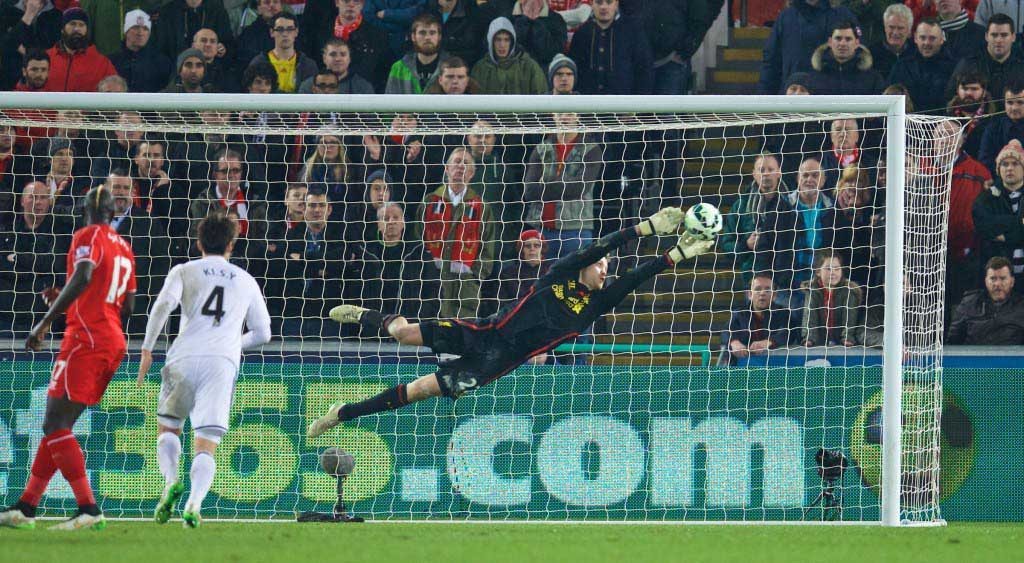 Leicester City don't have the best defenders in the world. Manchester United don't have the best defenders in the world. Manchester City don't have the best defenders in the world (though they should for the money they've got). Yet what all of those teams have in common is a goalkeeper who will, more often than not, dig their defence out of the shit if he's called upon. Does anyone seriously think United are above us in the league if we swap goalkeepers?
I certainly don't.
Joe Hart is prone to the occasional mistake, but he's also capable of producing tremendous, dominating, match-winning performances. When was the last time Mignolet dominated anything other Twitter feeds?
Here's something else to think about: Would a world-class goalkeeper also produce better performances from our strikers?
If Christian Benteke knew in training matches that he needed to thread the ball through the eye of a needle in order to score, wouldn't he be slightly better when in one-on-one situations in real matches? He certainly can't get any worse if recent matches are anything to go by.
Right now all of Liverpool's players know that all they have to do to score at Melwood is shout "nice boots" at Migs and he'll look down to see what they're talking about. It strikes me that there's a reason we are constantly dominating the shots on goal stats but not converting them into the actual goals that matter so much.
All of that means there's an argument to suggest that a top-class, dominating goalkeeper allows the defence to relax a little bit and get better organised at corners and set-pieces, whilst it will also sharpen up the attackers in front of goal.
https://www.youtube.com/watch?v=4RZ5AfzvDtg
There are loads of arguments to be had about the role of John Achterberg in all of this by people with far better knowledge than I.
I must confess I'm worried that Ward is returning to the club with him still as our goalkeeping coach given that he's so far been around during the least reliable period in Pepe Reina's career and also at the scene of the crime for Brad Jones, Simon Mignolet and Adam Bogdan.
He might ruin the lad before he's even played a major game for us. I'll leave that discussion to those more knowledgeable people that I talked of, though.
Mignolet isn't a terrible keeper. At times he has the ability to do something exceptional. The trouble is what he does the rest of the time.
We've tried a goalkeeper that's okay. Let's move past that and go for a No.1 who is exceptional.
You never know, it might improve every single part of the team.
Is Danny Ward the answer? I don't know. The only thing I can say with any certainty is that Simon Mignolet definitely isn't.