ADAM Lallana, bare-chested and tattoos showing: running away from a knuckle-thrusting group of young lads, his face blotto — embracing anyone prepared to dance.

It could have been a scene from outside the Blue Angel at three on a Sunday morning. Instead, it was a Premier League football match.
Norwich City scored four and Liverpool scored five: what happened there, really, was the equivalent of two sad fools in the street fighting over the dregs of a Skol can at 2.30 in the afternoon.
Jürgen Klopp: look at the state of him. He's staring down Tony Pulis, who, like Jason Bourne, is looking one way and then the other, as if the legacy of Treadstone is here and exit routes are necessary.
Klopp at Norwich: look at him now. I can't remember a Liverpool manager doing this: legging it up the touchline, expressing his desire for a player to come hither; damaging his glasses in the heat of the human sandwich.
Last night, Joe Allen scored the tie-clinching penalty in the semi-final of the League Cup, a competition Liverpool almost exited against Carlisle United in September.
Allen also equalised against Arsenal in injury time and has probably been Liverpool's most influential player since the start of 2016 despite mainly acting as a substitute.
Later on, you almost knew Klopp was present before you could actually see him. The doors of the Anfield press room were left open. Stoke manager Mark Hughes had been in, taken defeat with dignity and left with his hands in his pockets.
From across the hallway and down the stairs, there was a distinctive cackle. It pierced the silence and a few close to me began to laugh. Klopp was approaching.
This is a manager who has led Liverpool to two successive home defeats: to Manchester United and a first in almost 57 years against Stoke City. Away from home on Saturday, four goals were conceded at Norwich, a team whose fight against relegation seems futile.
Klopp is yet to deliver on his promise of "full-throttle football." Yet he has delivered full-throttle reaction.
Suddenly, Lallana is showing signs he might have the endurance to play for Liverpool. Suddenly, Allen has become the angry little man in the pub confronting everybody — more like the next Gennaro Gattuso than the next Xavi. He deserves more game time.
And, suddenly, defeat isn't inevitable when Liverpool appear beaten. The crowd will invest time and patience where there is defiance.
Perhaps the confusing state of affairs is a consequence of Klopp inheriting a good squad of players on paper but not one that will be good for Liverpool in reality. Right now he is attempting to turn the throttle of a scooter, not a superbike.
Liverpool have good strikers but not necessarily the strikers Liverpool need. Liverpool also have good midfielders but way too much of the same.
Liverpool do not have a good defence or a good enough goalkeeper and this is where Klopp must focus his energies on major improvement in the same way Gérard Houllier did. No other team has achieved sustained success on a base of quicksand.
Mamadou Sakho is certainly not the new Alan Hansen but he could be the new Neil Ruddock.
Sakho has many supporters, those who will counter-argue this suggestion aggressively, probably using statistics to try to make sense of their own thoughts.
These folk have infiltrated the stadium on match days, too, screeching Sakho's surname whenever he recovers one of his mistakes in a manner that is just as desperate as it is dramatic and committed.
Is he the defender that seems tough enough because of his posturing, only for the reality to be exposed in what players from opposition teams say privately about him, and the encouragement they take from his name on the team-sheet? There are bonus points for his charity work, of course, though it counts for little when results are at stake.
Reaching Wembley so soon under Klopp points to better things ahead for Liverpool. The three years spent with Brendan Rodgers were not a waste. He helped outstanding players bring excitement as well as pleasure to Anfield.
A flawed recruitment strategy — of which he was a part of — squandered millions upon millions of pounds without ever reaching a cup final. Yet in little over three months Klopp has dragged the squad he inherited through mud without entering the transfer market.
Never before has a Liverpool team as limited as this been able to move itself into a position where it needs to win only one game to win a trophy.
In 2005, Rafael Benitez had Steven Gerrard approaching his peak when Liverpool reached the League Cup final only to lose to Chelsea before the impossible happened in Istanbul.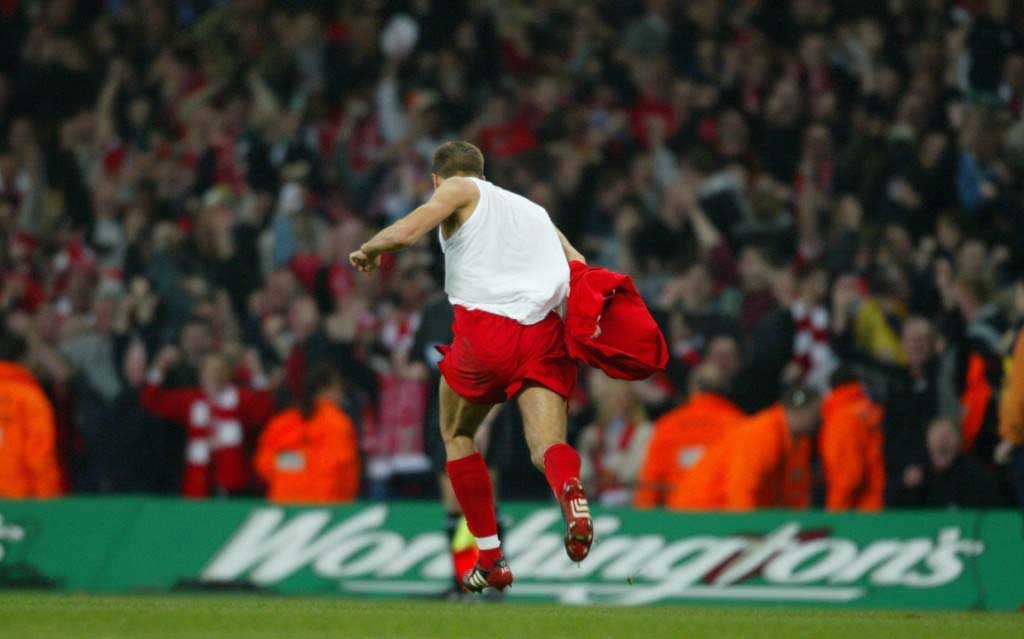 He also had Jamie Carragher, Didi Hamann, Xabi Alonso, Sami Hyypia and Luis Garcia. Will any of Liverpool's current squad be remembered in the same light as those six?
Recruitment must be the next step for Klopp.
Riding momentum is crucial for any manager. Ask Rodgers how he felt when Luis Suarez was sold and there was nothing he could do about it at precisely the moment Liverpool should have been capitalising on their best league season in 24 years.
It went backwards from there.
It is only a few days before the closure of the transfer window. Liverpool should not rush to hasty decisions about signings but the club should be equipped to make them and try hard to satisfy Klopp.
Liverpool has a cup final to prepare for.
Surely someone would relish the prospect of becoming an instant hero in that game?