FROM the beginning, Martin Skrtel's shaven skull was a stark vision. It made him appear forbidding, like a jailor on a nightshift at Lubyanka Prison. Those deep, sunken eye sockets. The wide shoulders. There would be bloodcurdling screams from those who crossed him.
Liverpool's supporters warmed to the defender more or less immediately. A banner was stitched and released on the Kop. "Martin Skrtel is so hard he asked for a Big Mac in Burger King and got one," it read.
Internet forums went a bit crazy with the Chuck Norris thing for a while. "If two Martin Skrtels tackled each other simultaneously, time would collapse and the earth would cease to exist," wrote one person.
"Martin Skrtel does not run," added someone else. "He jumps on the spot and the planet moves into position."
Others followed the trend: "Martin Skrtel doesn't shave; he kicks himself in the face. The only thing that can cut Martin Skrtel is Martin Skrtel."
"Before he goes to sleep, the bogeyman checks the cupboards for Martin Skrtel."
"Martin Skrtel can sneeze with his eyes open."
And finally, (my favourite): "Martin Skrtel owns a box of white dog poo…"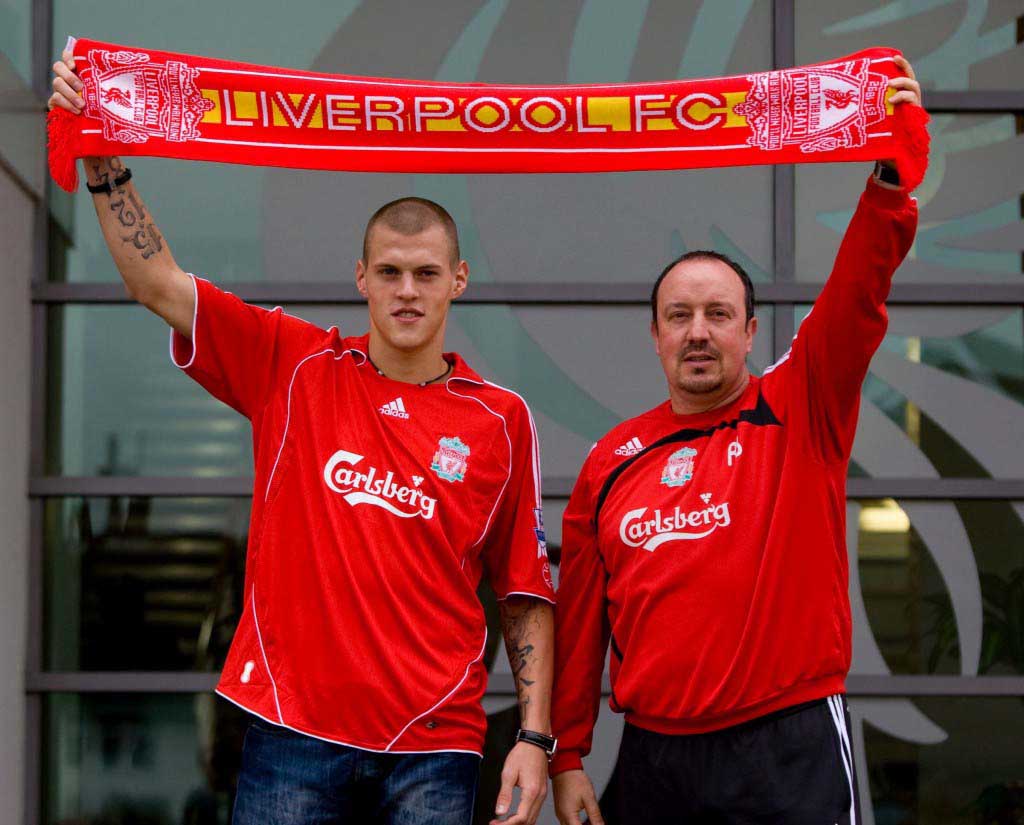 It did not seem to matter that although he clearly possessed a decent recovery speed, Skrtel had gotten himself into some sticky situations — much like Dejan Lovren in his first season especially — by flying into challenges like a fire engine arriving at the wrong address.
Rafael Benítez, who signed him as a Russian champion from Zenit St Petersburg in 2008, persisted. Skrtel's selection was guaranteed most of the time.
The Slovakian was in Roy Hodgson's team. He became the club's player of the year under Kenny Dalglish. Brendan Rodgers was supposedly considering replacements but Skrtel became virtually an ever-present during his reign, preferred to Daniel Agger who was marginalised and released back to Brondby.
With Jürgen Klopp now in charge, Skrtel remains.
Skrtel has been around for ages. Lots of managers have liked him. And yet he's not a hero, there is no song for him and nobody is really sure how good he is. Not since Stig Inge Bjørnebye has a foreign player featured as much without really being recognised.
Bjørnebye was a Liverpool player for eight seasons. This is Skrtel's eighth season at Anfield.
I remember interviewing one of Skrtel's regular adversaries four seasons ago as he prepared to face him again. Off the record, he said that the prospect did not concern him — not because he was the type of player that had a higher belief in own ability but because Skrtel wasn't really what his appearance suggested he might be.
He highlighted the ease at which he scored from set-pieces when Skrtel was marking him, reasoning that the art of blocking without fouling wasn't developed skill. Neither was communication. "He doesn't speak very much," was one argument.
I left that day, watching Skrtel defending corners and free-kicks, surprised at the amount of space he afforded opponents; realising that although he wasn't always responsible for the defining mistake, he was there at the scene of the crime: guilty of joint enterprise.
The change in confidence amongst Liverpool's defenders since Klopp's appointment has ben startling.
Nathaniel Clyne has been played in his best position and looks comfortable again; Alberto Moreno suddenly seems able to see beyond a five-yard radius of his own presence at left back, while Lovren does not seem on the verge of making mistakes, or in his very specific case because of his cost — human rights atrocities.
Skrtel has been good, too. The finish for his goal against Manchester City was outstanding: the own-goal against Newcastle, which moves him to seven for Liverpool — and level with Jamie Carragher — understandable.
At least he was trying to stop it happening. While for some, it might suggest that Skrtel was caught out of position in the first place and slow to react to the developing threat, others would claim a defender should always be prepared to risk his reputation, statistically at least. And he does.
Klopp has claimed that he does not have much money to spend in January, although he might be trying to dampen expectation.
Perhaps he does not have to buy a defender like Neven Subotić from his old club from Borussia Dortmund. Perhaps, indeed, Skrtel can benefit from Klopp's advice: the German played his entire professional career at Mainz; moving around the pitch from centre forward, to central defender, to right back.
Perhaps Skrtel will now receive the type of defensive coaching he did when Dalglish was in charge and Steve Clarke, once a defender with Chelsea, organised training sessions.
7 – Martin Skrtel has now scored seven own goals in the Premier League; only Richard Dunne (10) has more. Oops.

— OptaJoe (@OptaJoe) December 6, 2015
Klopp can tell him, through his own experience, what he expects a player in his position to do and how, even, a centre forward might act around him. Perhaps Skrtel will improve with the type of detail that was rarely delivered under Rodgers.
And yet, Skrtel will celebrate his 31st birthday next Tuesday. By age, he is currently the most experienced regular in Liverpool's first team, though he was not even mentioned as a potential successor to Steven Gerrard when Liverpool's captaincy became available last summer.
Currently, he is the fourth choice for that role behind Jordan Henderson, James Milner and Lucas.
Daniel Sturridge is injured again, Sturridge always seems to be injured. Skrtel is available as usual. He's reliably fit. But does that make him the dominant centre half on which Liverpool's foundations should be built upon?
If he is not a leader now, then surely he never will be.
[rpfc_recent_posts_from_category meta="true"]
Pics: David Rawcliffe-Propaganda Photo
Like The Anfield Wrap on Facebook