WATFORD were rightly pleased with themselves after Sunday's comprehensive win. And why not? Tipped by many to go down, they are seventh in the Premier League table, a point off the Champions League spots, after walloping a team with a trophy cabinet they can only dream of.
Troy Deeney, in particular, had lots to say afterwards. His comments that he "bullied" our centre halves and that "they just didn't fancy the fight" no doubt had an element of bravado about them, but also probably a bit of truth. While I can't imagine Martin Skrtel really went off because "he didn't fancy it", he certainly didn't seem to be enjoying himself too much on the pitch.
Most Liverpool fans seem a bit fed up with Skrtel now. The tough-man look without the tough-man game. All tattoos and no tackles. A player who seems to owe a lengthy Liverpool career to the fact that we always had something else that needed sorting out first.
Or is a lack of viable options? Have Liverpool looked around and decided the lad who is seven out of 10 at everything will do? That talented centre halves are so few, the premium they cost isn't worth the risk or the financial focus?
The lack of top-class English centre halves in particular is staggering. For all the problems English football has had in the past, producing centre halves wasn't one of them. Lads who looked like they were made of granite and could head it away all day.
Steve Bruce won a bucketload of medals at Old Trafford but never won a single England cap, such was the competition in his position. Now at Manchester United Chris Smalling, a decent player but certainly no Bruce, has 21 caps for his country. Phil Jones has 20. They will both probably finish their careers with 50-plus.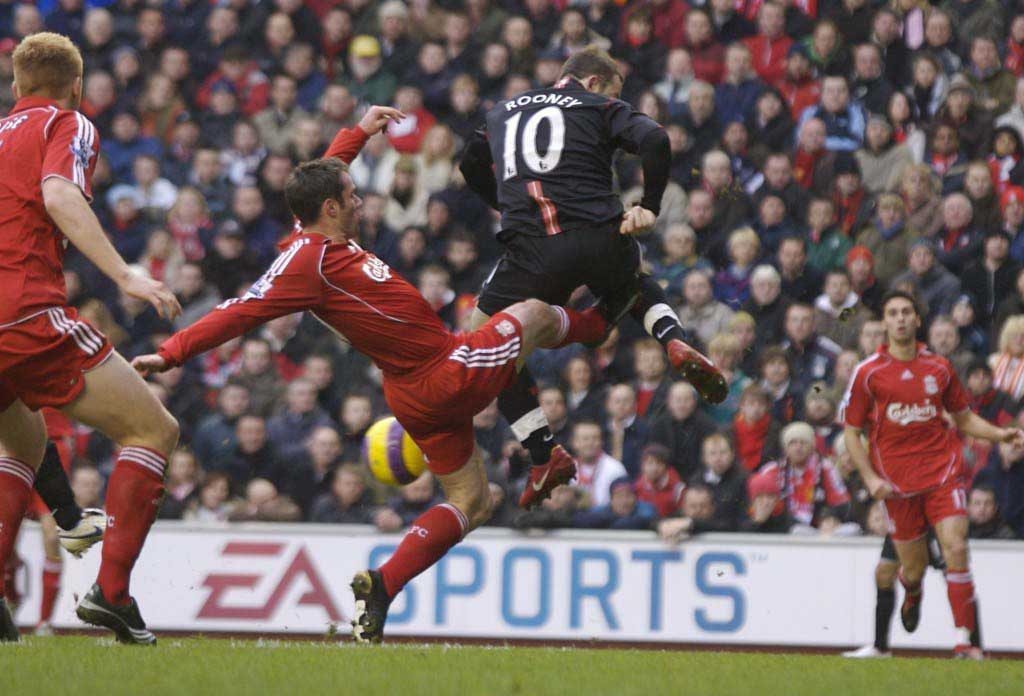 More recently than the man with a head like a beach ball, Jamie Carragher was playing in Champions League finals but couldn't get a regular place in the England team. Ahead of him were the considerable forces of Rio Ferdinand and John Terry, defenders who would have got in any national side at the time. He also had to worry about the likes of Ledley King and Jonathan Woodgate, whose injury-plagued careers shouldn't distract from their talent. Both of them would walk into the England team now. Even if they couldn't walk.
Surely we shouldn't have to look too far for a commanding centre half to replace our timid Slovak? In the past we've even produced a few of our own. Do Jamie Carraghers, Phil Thompsons or Tommy Smiths not exist in the city any more? Or are we doing something to them? Knocking out their fight?Deeney thinks defenders don't like defending any more. He said: "It's all pretty passing football, they all want to play like Barcelona." He might have a point.
At some point in this country it was decided that we weren't producing players of a high enough technical level. Maybe this was correct. But are we obsessing over producing a team with perfect technique instead of recognising that, in certain positions, other characteristics are more important?
I watch a fair amount of Under-18s football. The technical level in this country is astounding. But all the academies play a similar way: 4-2-3-1. Short passing. Centre halves who could play in midfield. How much does this prepare you for "real" football? Players like Troy Deeney don't exist at academy level. He was rejected by Aston Villa and instead joined Chelmsley Town.
I think there are a few players at the academy right now that could make it at Liverpool. But I worry about the defenders. How is the academy system is preparing them for what is ahead? It's all too nice.
https://www.youtube.com/watch?v=X8E12r5q-nw
To make matters worse they are shielded from other types of football from a very age. I heard a story the other day of a five year old at the academy who was not allowed to play football with his friends at school. Why? What are they scared of? Someone kicking him? I hope they do. Because West Brom kick you, so you better get used to it.
The loan system is supposed to help with this. To get footballers used to a more physical brand of football at a lower level.
The problem is these clubs don't seem to fancy the defenders. This Is Anfield posted on Twitter that Ryan McLaughlin, highly thought of at Melwood, is on his way home from Aberdeen because he can't get a game. Joe Maguire, who started a pre-season game for Liverpool in the summer, has already left Leyton Orient because he couldn't hold down a place.
They are two very technically gifted players that, bizarrely, still might make it at Liverpool. But Aberdeen and Leyton Orient couldn't give them a start in leagues where physicality is more important.
It is no coincidence to me that the best defenders in this country at the moment developed away from the elite academy system. Gary Cahill became a top-class defender at Bolton Wanderers. Phil Jagielka played over 250 times for Sheffield United before moving to Everton. When he was 17, instead of playing for Manchester United Under-18s, John Stones was playing for Barnsley's first team.
All three of those can pass a ball, they can all play. But they all learned, the hard way, what to do with a striker who throws his elbow in your face. They got tough. They had no choice.
Chelsea bid £30million for John Stones in the summer because, will all their resources, they can't figure out how to produce a young player like him. Maybe they are doing it wrong. Maybe we all are. Maybe for a centre half a couple of years at Barnsley is worth 10 years of short passing drills at an academy.
For Liverpool to develop a centre half we need to find a way to toughen them up. To get them exposed to lads like Troy Deeney. This could be a recognition that our own coaching staff don't have all the answers. That Jamie Carragher might have learned as much playing for Bootle Boys as he did for Liverpool reserves.
Otherwise? Well we could hope there's a decent kid knocking about at Barnsley or simply dread the day the Reds face another Troy Deeney.
[rpfc_recent_posts_from_category meta="true"]
Pics: Propaganda-Photo–David Rawcliffe
Like The Anfield Wrap on Facebook