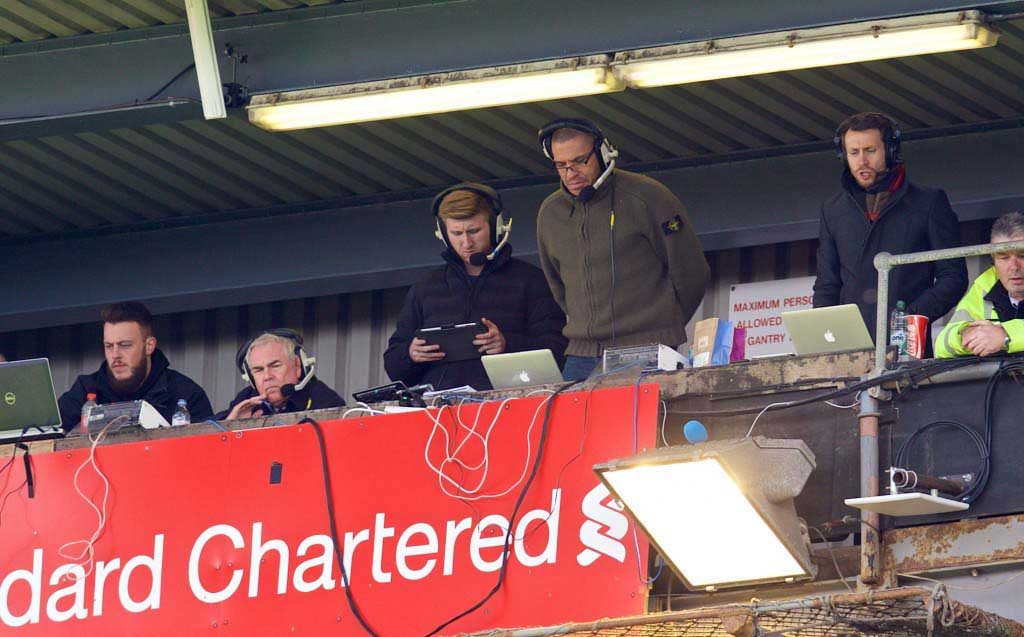 THE greatest moments in football history are often remembered by replaying the iconic bellowing of the commentator.
They can be that extra sprinkling of something that makes the hairs on the back of your neck stand on end.
"Some people are on the pitch, they think it's all over. It is now!"
"Now Dalglish, across the face of the goal!"
"Barnes, Rush, Barnes… Still John Barnes… Collymore closing in!!!"
However, more often than not of late, the only thing commentary seems to be achieving is doing everyone's head in.
Having had to follow last Saturday's win over Chelsea on Twitter, which is an incredibly nervy way to spend 90-plus minutes by the way, it was remarkable to see that for every tweet about what was actually happening in the game, there were 10 more commenting on the way Ian Darke and Trevor Francis were calling it.
It was interesting to see how wound up people were getting just by the way the commentators were approaching the game.
Trevor Francis seemingly unaware Lucas is the best header of a ball in Liverpool's starting 11. Surely he's seen him play at some stage?

— Neil Docking (@NeilDocking) October 31, 2015
https://twitter.com/simonfurnivall/status/660441981211025409
Didn't think it was possible, but BT have found a worse co-commentator than Michael Owen in Trevor Francis.

— Tom (@TomBeynon) October 31, 2015
The make-up of the modern commentary team sees them masquerading almost as a comedy duo, with one straight man calling the action and an "analyst", inevitably an ex-player, whose job it is to give his opinion on every single aspect of the game.
BT Sport has recently decided that two isn't enough, and now regularly have one lead commentator, two analysts, and a former referee to comment on any contentious decisions.
It wasn't always this way. Some of the all-time greats and their dulcet tones are, and always will be, synonymous with some of the most iconic moments in football history.
From Kenneth Wolstenholme and David Coleman, to Gerald Sinstadt and Brian Moore, and of course Barry Davies, John Motson and the late Tony Gubba. They all gave character to the games they were calling, and more often than not just got on with the task of describing the game, intertwined with interesting facts and relevant stats.
Fast forward to today, and you have the likes of Martin Tyler, Jonathan Pearce, the aforementioned Ian Darke, Darren Fletcher and Clive Tyldesley. The latter two in particular often end up trying to be more like Ant and Dec alongside their respective analysts rather than commentators.
While Fletcher and Robbie Savage (or Fletch and Sav to use their showbiz names) are understandably designed to be a double act due to their work on BBC 606 and BT Sport, Tyldesley and Andy Townsend have long been making watching the football on ITV insufferable.
Ever since he lost his 'Tactics Truck', the purpose of Townsend hasn't been entirely clear. Seldom will he ever make a salient analysis of any intricacy of a game beyond "That's not a foul for me, Clive.", while Tyldesley is king of the over-pronunciation of foreign names ("Drog-barrr!") and is often guilty of a sarcastic tone that makes you thankful he's never been on the same gantry as Mark Lawrenson.
Tyler is widely considered to be the benchmark of modern commentary. He's been in the game for decades and to his credit has largely been excellent in that time. The problem is that, perhaps now more than before, he feels a bit too robotic, like he has been programmed by a Sky Sports technician with pre-planned responses for anything that might happen. His reactions to goals only seem to cover an understated "Oh no, disaster for the opposition" to a potentially trouser-replacing scream of "Yes!!!" (see Anthony Martial's effort against the Reds).
His reaction to Sergio Aguero's title-winning goal for Manchester City against QPR seems to come from the same planning. As unbelievable and unpredictable as the moment was, his reaction and subsequent "I swear you'll never see anything like this again!", while dramatic and fitting, still felt a little staged, as if he knew he was recording for future Sky Sports adverts. Model professional certainly, but feels devoid of genuine emotion that you got from a Davies or a Moore.
As for Jonathan Pearce, well he shouts at everything, so it's hard to decipher what he's feeling at any one time. Let's be honest, when he's commentating we're all really just waiting for Matilda and Sergeant Bash to come out and clean house.
Then there's Jon Champion. His description of Luis Suarez's handball goal against Mansfield the other year as "the work of a cheat" was said with such deliberate disgust and disdain you'd have been forgiven for thinking he was describing Lance Armstrong. It was clear hyperbole to make what had been rather a dull game seem interesting, and way beyond his remit of a play-by-play commentator.
He was at it again the other week when he and Owen Hargreaves were covering Liverpool's home Europa League clash with FC Rubin. Both had spent the entire game talking about how Jurgen Klopp's Liverpool looked no different to Brendan Rodgers' Liverpool, and couldn't resist jabbing here and there to raise the point and to make a story. Then, without any sense of irony at all, Champion said that Reds fans would need to show patience as Klopp couldn't be expected to turn things around overnight.
Speaking of Hargreaves, there has been a strange tendency in recent years to have former players co-commentating on big games featuring their favoured team, where there is inevitable bias.
I don't mind the likes of Alan Smith and Gary Neville as commentators generally, and even Hargreaves makes some pretty good points (in between mentioning for the 5,000th time what a good signing Douglas Costa was for Bayern Munich), but no matter how good, how balanced or how valid their commentary is for Arsenal, Manchester United or Bayern games respectively, you can't take any of it seriously any more than you could listening to any fan describing a game their team is playing in.
For example, when Neville is covering a United game, we as the viewer know full well what his allegiances are, so when they score and he's trying to remain calm and talk about the mistakes the defenders made, you know it's all completely insincere. All he's got in his head at that moment is "Get in!!! You beauty!!!!" Him trying to no-sell what we know is in reality full-on glee becomes more of a spectacle than the goal itself.
It may be time for some of today's commentators to take a leaf or two out of Alan Partridge's book, who of course brought us such fine moments as:
"Yes, Yes, Yes, Yes, Yes, Yes, Yes, YEEESSSSS. That… was a goal!"
"Tw*t! That was liquid football!"
"The goalie has got football pie all over his shirt."
https://www.youtube.com/watch?v=o4ezBOXQYkI
It seems from social media and general discussion — as well as the lads on the podcasts mentioning it on more than one occasion recently — that there is a growing distaste of modern day football commentary.
One point that came up on the podcast this week (which has been nominated for an FSF award, go vote for it once you've finished reading this) is that commentators have more power to influence than many think. If they give an opinion and hammer it home enough, for many watching it can become ingrained in their mind as fact.
An example being Alan Smith's insistence that Mamadou Sakho is "dodgy" on the ball in every Liverpool game he commentates on, despite all evidence to the contrary. He says it repeatedly, in spite of the contrary evidence right in front of him as Sakho fizzes ball after ball straight to a team-mate. Then all you hear from other football fans is how dodgy Sakho is on the ball.
These days commentators, in particular the analysts, feel it is their duty to tell everyone their thoughts on everything, no matter how misdirected or even hypocritical they may be. I am certain that listening to Michael Owen claim that a kick to the leg of Emre Can in the box against FC Rubin would have been a "soft penalty" will have resulted in Mauricio Pochettino putting a shoe through his telly if he hadn't been preparing his Spurs team to face Anderlecht at the time.
Perhaps there's something to be said for having just the one person on the mic. That's how it used to be way back when, and for some of the more obscure games on BT Sport they still do it that way, and it's actually quite nice. No forced "banter", no passing judgement where it isn't needed, just someone telling you what is happening and leaving you to make your own conclusions.
Let's get back to commentary being a great accompaniment, and not a 'show' in itself.
When done well, football commentary can be the shine to a luxury car, the percussion to a great orchestra, or a cheese to a fine wine. Right now… for me, Clive… it's more like a fart on a crowded train.
* We've been shortlisted for Podcast of the Year by the Football Supporters' Federation. Please vote for us here! Don't let Alan Davies win!*
[rpfc_recent_posts_from_category meta="true"]
Pics: David Rawcliffe-Propaganda-Photo
Like The Anfield Wrap on Facebook