WITH Liverpool taking on Crystal Palace at Anfield in the Premier League on Sunday, The Anfield Wrap's GLENN PRICE spoke to Eagles legend GEOFF THOMAS, who experienced both the low of the 9-0 drubbing at the hands of the Reds in 1989, and the revenge in the FA Cup semi-finals just a few months later.
TAW: Let's start with your memories of playing against Liverpool (a loaded question to a certain extent).
GEOFF THOMAS: Yeah… (laughs). I think I've experienced both extremes playing against Liverpool. Being beat 9-0 and missing a penalty at 6-0 when I could've changed the game (laughs) to then in the same year beating them 4-3 in the semi-final obviously shows what football is all about. The highs and the real lows were on show in those two games really.
We played against a side that was so experienced and respected by everybody in Europe and we just took it on the chin. It was a lesson that thankfully we learned from and a lot of the players who experienced that went to go on and have great careers. A few sadly paid the price for that, mainly the goalkeeper Perry Suckling. But a lot of the guys got through it without being mentally hurt too much.
Every time you played Liverpool, you felt like you were playing a club with great history and felt privileged to do so, especially at Anfield. Even back then, the surface was still one of the best and walking out and seeing the 'This is Anfield' sign made you feel really privileged to even step out at the place.
TAW: Liverpool were flying high around that time, things have changed since. From the outside looking in, do you still regard the Reds as a massive club?
GT: I don't think any club like that loses it's status, Liverpool are still a massive club. I think if you look at football history, Manchester United have been up there for such a long time now but before Sir Alex Ferguson took over they were in dire straits. All clubs go through ups and downs. Liverpool have been through something tricky but they're still doing well. Any other club at the lower end of the Premier League would gladly have their "problems".
TAW: There's constant talk at Liverpool about the atmosphere at Anfield nowadays, how it can improve, why it isn't as good as it once was, Palace fans seem to have nailed things at Selhurst Park and helped to make it a bit of a fortress. What is the atmosphere actually like there these days and how much does it help the players?
GT: There's been a mini-revival of a great atmosphere at Palace. When I was playing, the Holmesdale Road End was the place to be. That seemed to get lost a little bit but now they seem to have a big chunk of support that congregate there now and the noise seems to go round the whole stadium.
It's earned a reputation of being one of the best atmospheres in the Premier League now. Most of these guys support their club because it's been in the family for years. It's similar to a lot of the fans at Liverpool, they are die-hard Palace fans. Even though the numbers aren't as great, they're making a great atmosphere every time the Palace are out. And the following on the road is great, too. It's always been a good following, so expect a loud few thousand at Anfield for sure.
When everything goes well, a good atmosphere helps. Playing against certain clubs, if you can keep them quiet for the first 20 minutes then the fans will turn a little bit. That's when players have to understand that when you're playing for the big clubs that's what you have got to stand up to. When things aren't going well, the players have got to be really brave and show that they're still brave enough to want the ball and play well in the shirt. But it works both ways.
TAW: Do you think other clubs should do more to help with the atmosphere within stadiums?
GT: People have been trying to get areas in grounds where it's easier for the fans from yesteryear to get back in because the game has got really expensive now. And the atmosphere at football grounds has definitely changed since I was playing, it has become a bit more corporate but the die-hard are still there and pouring their last pennies into supporting the club.
I think it would be great for football clubs to see the game offer more support to the loyal fans who have been through thick and thin over many years helping them because they're the guys that really create the atmosphere.
TAW: Moving on to the present day now, you played with the Crystal Palace boss Alan Pardew, did you see him as manager material back then?
GT: Even though Alan came late into football and from non-league he had a very good football brain and always had an opinion about what needed to be done if we needed to get back into a game and so on.
Our dressing room back then wasn't always shy of voicing their opinions but he was one of the louder voices. That's tough when you've got the likes of Ian Wright and Mark Bright in the dressing room.
I always thought he spoke from football intelligence. Recently we've seen John Terry call out Robbie Savage but it doesn't matter how skilled you are as a footballer, if you've got a good footballing brain you might not achieve what the greats do playing-wise but it does give you the ability to have an opinion on what should be done.
That was Alan Pardew, he's recognised as being sort of a journeyman footballer but he used what he had to the best of his abilities and made the most them in a very good side. He's well loved at Palace and well loved because of that goal against Liverpool in the semi-final. He was getting a little bit of flak but then the crowd supported him and he became "Super Al" from that day on. That just shows you how quickly football can turn.
TAW: What do you make of the job he's done at Palace so far?
GT: I think he's done brilliant. Straight from the off he had a pretty easy game against Dover away in the FA Cup, they won the game 4-0, but you could see that he'd taken the shackles off a few of the players.
Under previous managers, Palace had played in more of a negative way to survive in the Premier League. The likes of Yannick Bolasie and Wilfried Zaha need an arm round them sometimes and a kick up the backside other times to get most out of their ability because they're both fantastic footballers.
I think Alan recognised that and tried to loosen the shackles on them defensively and turn them into a more attacking side. They're a pleasure to watch now and very good on the break away from home.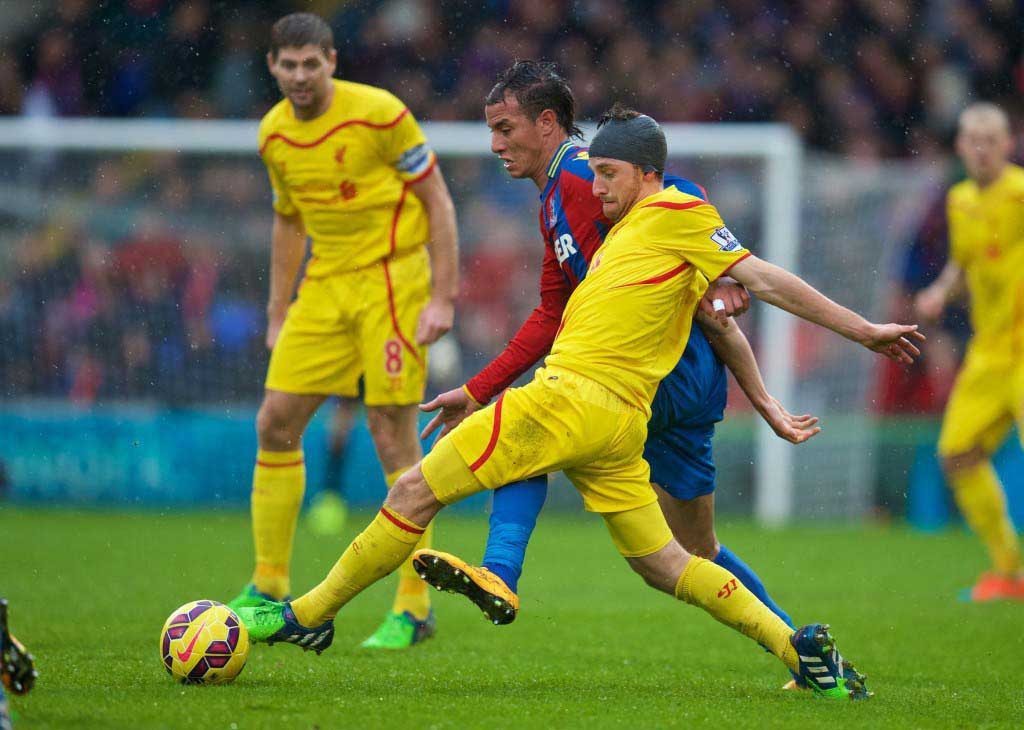 TAW: You're slap bang in the middle of the table (10th) is that about where Palace expected to be at this stage?
GT: I think if they finish around there, a lot of Palace fans will be very happy. I think certain commentators are getting carried away with the start similar to other clubs. It's a long hard season. I think when you're sitting third or fourth, people start dreaming about Europe. If Palace come around eighth this season, I think that will be a fantastic result for them.
TAW: It's been a difficult spell for Palace, not winning in their last four, how have they played during this spell?
GT: I think when you come away disappointed from a 0-0 against Manchester United, it just shows how far Palace have come over the last couple of seasons. They're up there and respected as a decent side now.
Alan wont change or panic as a result of the current form because I don't think it's been too bad. It's been a tough run and they lost a player against West Ham, which changed the game. That's the way it goes during a season.
From what I've seen of Palace this season, they're a good mid-to-top-end side.
TAW: Can we expect Bolasie to cause Liverpool problems again?
GT: He's one of these guys who's starting to get more consistent. That was the frustrating thing with him when you've got a player, with such flair who doesn't produce it week-in week-out. Alan is demanding more from him and Zaha and we're starting to see more responsibility from them. They'll be looking to hit Liverpool on the break, Palace are quite solid at the back and don't concede that many goals.
TAW: Obviously Yohan Cabaye was the big-name summer signing. How good has he been so far?
GT: Palace have probably lacked someone creative in the past couple of years. They have always had workmanlike midfielders. I think he adds a little bit of class and sees passes that the normal player doesn't see. It's a credit to Alan Pardew and his management that he was able to sign at Palace. It's very hard to put a value on players and whether they're worth it, but he's another piece in the jigsaw.
TAW: What do you make of Liverpool's new manager Jürgen Klopp?
GT: I think Liverpool have done something very similar to what Palace have done with Alan Pardew. They've employed someone who is going to change the atmosphere of the place. I really liked Brendan Rodgers and, as a coach, thought he had great ideas.
But sometimes people of Liverpool like to play with a smile on their face and it got a little bit too intense under Brendan, especially when things got a little bit wrong. I think this guy has come in with a real fresh attitude and you can see the players already responding to that.
And finally, predictions for the game?
I would like to think that Palace can come away with a draw and that's me speaking with Palace at heart. But I think it might be too much to ask.
* We've been shortlisted for Podcast of the Year by the Football Supporters' Federation. Please vote for us here! Don't let Alan Davies win!*
[rpfc_recent_posts_from_category meta="true"]
Pics: PA Images & David Rawcliffe-Propaganda-Photo
Like The Anfield Wrap on Facebook