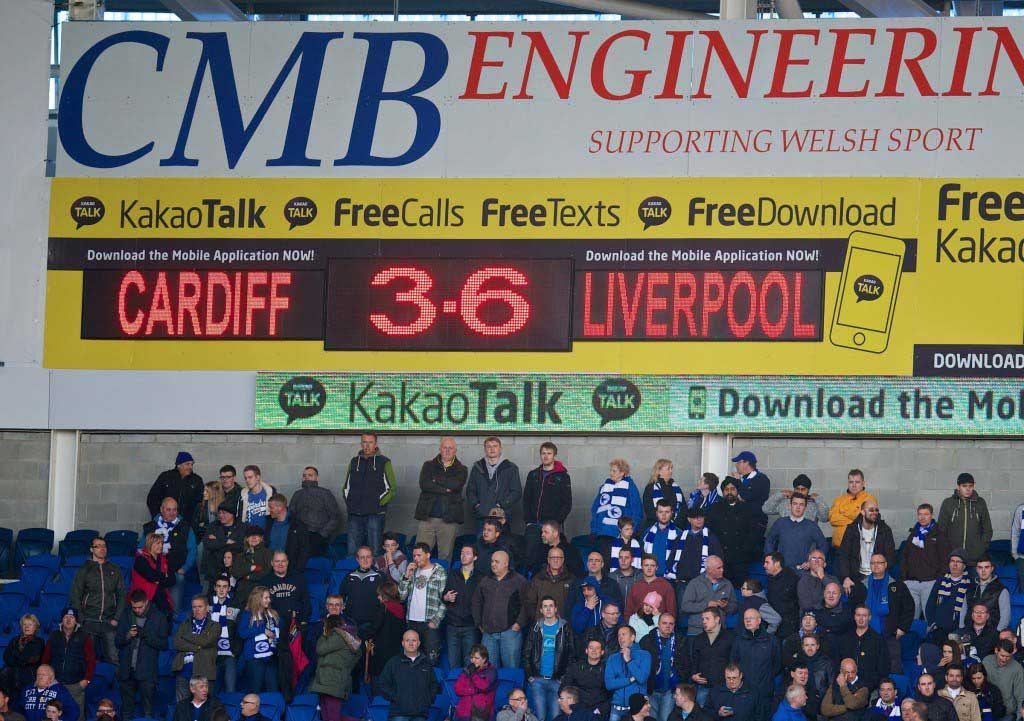 THERE'S a reason why we do this football thing.
There's a reason why we cross miles, get colds, end up sunburnt, applaud and shout at regular interviews and celebrate or moan before crossing those same miles again for little reward. There has to be a reason for this nonsense.
Sometimes there is nothing other than the beige rolling of bland seasons. For the majority of clubs there's nothing to shout about for years, decades even. So what makes those people do it? Why do we do it?
The answer is March 22, 2014. Well, it is for me anyway.
Cardiff City 3 Liverpool 6 will long live in my memory and, for once, it's for football reasons rather than the accompanying silly stuff. See, away days are a collection of silly stuff that happen to you and your mates before and after the match. This was no exception. To start off, that day we were given a PDF printout, designed for away fans to tell us how to get to the ground — where's nice to eat and drink and so on.
That's a lovely idea, not really in keeping with the usual strict policing of fans. It views us as welcome guests rather than a necessary hindrance to the day's events. The problem was that they chose to give us the pamphlets mere metres from the ground itself so it was pretty useless by the time we read it.
Another good thing about match day is bumping into your mates. I saw Martin Fitzgerald outside the ground and Rob Gutmann inside. I saw Gareth Roberts in his seat on the back row. It was like an Anfield Wrap orienteering game. Spot the contributor. Handshakes, slaps on the back. Nice.
Later that night we stopped off in a village somewhere for something to eat and encountered one of those unusual breed of waitresses who smile while giving you your food while somehow bollocking you at the same time. Not everyone can do that. Make you feel welcome and chastised in equal measure.
A good away day with my mates. One to remember.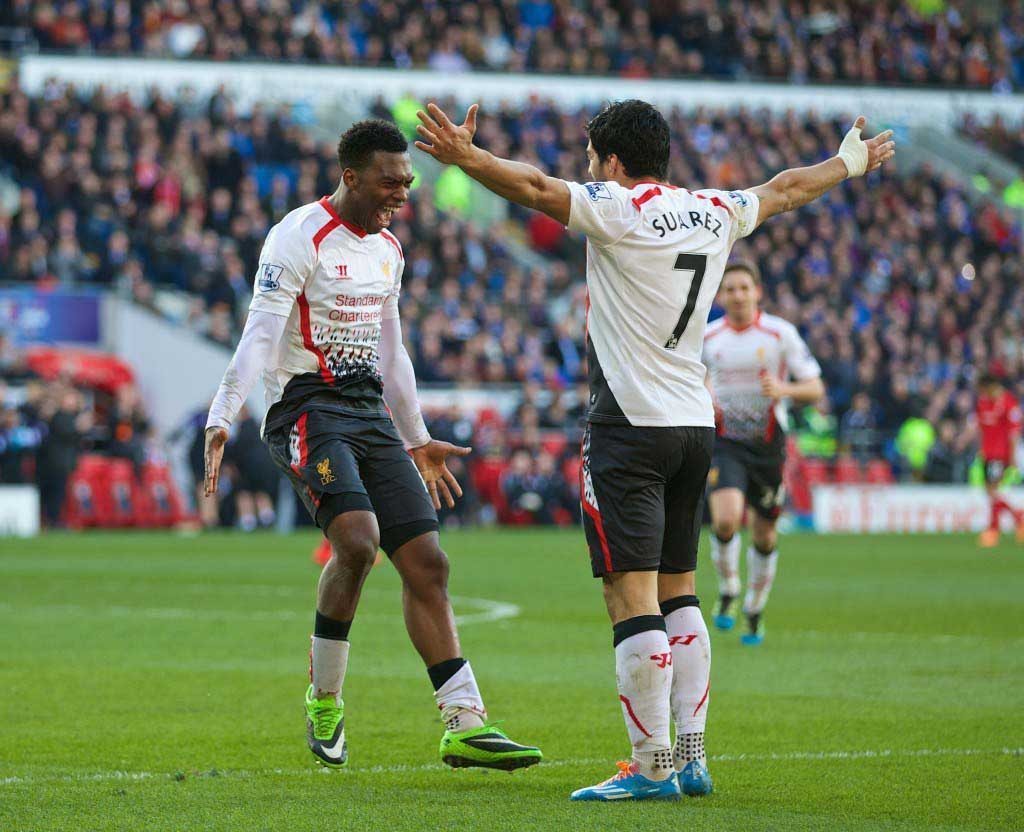 And usually it ends there. You see your mates, you have a laugh, and you go home. But this was no ordinary game. This time the football exceeded the day out.
You don't need me to tell you what happened. We went behind twice and won 6-3, but that's a prosaic reading of something much more ethereal. When Cardiff scored their second goal my mate said: "We'll need four here, you know." Liverpool sneered at such cynicism and gave us six. But it wasn't the goals. It's what happened afterwards.
We left our seats and queued near the exit behind the very goal where Luis Suarez had completed his hat-trick minutes earlier. We were with people we didn't know but sort of did know as we were all here united in the same cause and celebration. We bounced, we sang, we laughed, we hugged and we shouted at the sky. "We're gonna win the league. We're gonna win the league. And now you're gonna believe us and now you're gonna believe us and now you're gonna beliiiiieeeeeeeve usssss …
(I've sang that hundreds of times since the last time we won the bloody thing but I've never quite believed it. I sang it at Fulham away in 2009 — this generation's Wolves 1976 — but I was still worried. In Cardiff I believed it. That was a title-winning side. We were giving goal starts and still knocking in fives and sixes. Champions can do that.)
…WE'RE GONNA WIN THE LEAGUE."
And that's why we do it. That's why we trawl through the sludge. That's why we sit through 1-1 draws in the cold or take time off work and family to go to see the Reds, knowing full well that actual ecstasy is pretty unlikely. We do it because one day it might become ten to five on March 22, 2014. We do it for those moments. We do it for the joy.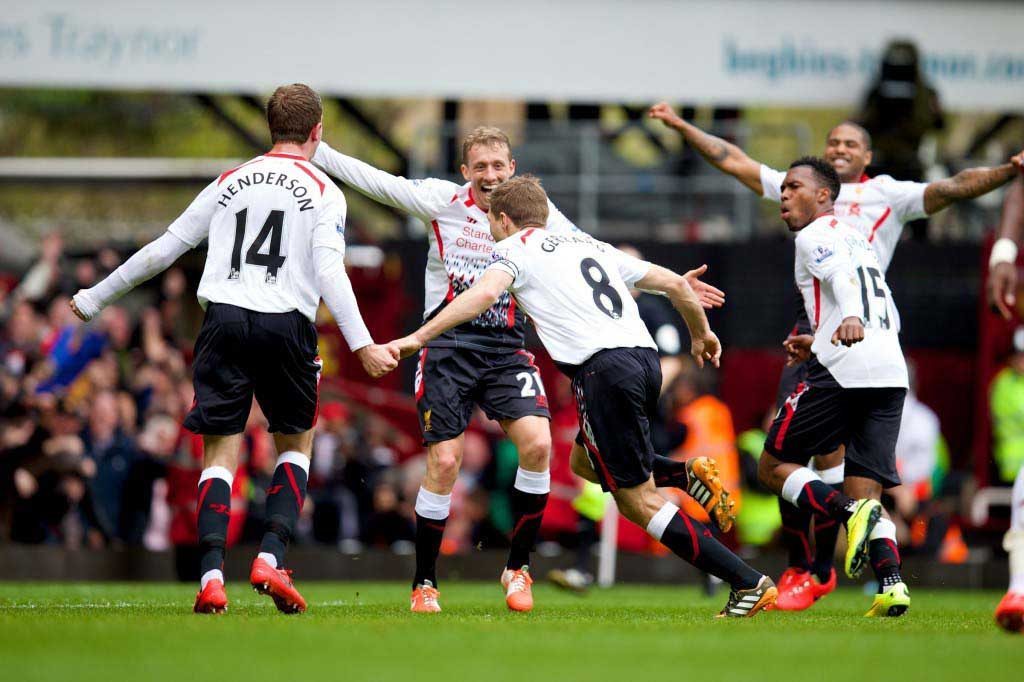 A few weeks later I was sitting in a pub near Upton Park following Steven Gerrard 2 West Ham 1 (which is what it felt like to me). I was a broken man. I was shaking. This had gone from joy to panic — even to what psychologists call "the fear of success." We won and I was still a wreck. We do it for this reason, too. We do it because there are times when it makes us feel alive AND because it scares the shit out of us.
But that's gone. The last season and a bit have seen some awful football, terrible season-defining injuries and the re-emergence of Red v Red in the stands. At Goodison yesterday we sang the "Dalglish" song. My mate counted down five seconds before the usual follow up airing of "Brendan Rodgers". None was forthcoming.
Irregardless of justification, I don't like Liverpool sacking managers. That means Liverpool have failed.
You know where you were when managers were sacked. I was in my office when Rafa went before a period of expletive-heavy typing with my elbows to an equally angry forum, Hodgson's departure saw me in my car, shouting with joy to nobody while Kenny ended with me alone in a pub, drinking. Drinking heavily. My own personal Brendan graveyard was just outside Warwick services on the M40. Different emotions for all of them. Rafa was fury, Hodgson joy, Kenny an intense sadness and…
And…
It's hard to know how that felt. It's been coming and the cowardice of the owners meant that the drowning man had to wade in the water for four months too long. Yes, cowardice. They could have ended this. They could have ended the pain of the club and the man who could no longer get Cardiff back thanks to a mixture of poor transfers, loss of good and great players, injuries, a bizarre transfer strategy and some plain old bad luck. The writing on the wall was Wembley. He wasn't waving anymore. The owners watched.
I suspect the players did, too. On the way back to the car yesterday I took this photo. I still don't know what it means.
Hold Nothing Back. Fair enough. It's a bullshit term designed to sell something or other, but why have a pic of the lads looking disinterested? For me it sums up the situation perfectly. Lots of bluster but nothing underneath it. I doubt there was a similar scene in the dressing room in Cardiff. These lads just look lost or bored. Or both. They look like they're waiting for change. Or a bus.
The owners have said that the sacking gives us a better chance of success on the pitch this season. Strange that they never considered that four months ago. Yes, they could have been lining up replacements but there's been no announcement as yet and our next game is two weeks away with most of the players being away for much of that period.
The manner in which the news was greeted speaks volumes about the support. From open celebration through a sad shrug to fury and talk of spoilt impatience. I won't be a hypocrite. I wanted him gone last season but celebration is over-doing it. If Liverpool are sacking managers Liverpool have failed and who the hell can celebrate that? Now we start at another Year Zero with underperforming players, a bedding-in period and further, dreaded "transition".
If we're back at the sludge and questioning why we do this thing before another high swings round, can we least look at ourselves and put our own house in order? Maybe do our bit to arrest the slide? We're part of this club — the majority of it if anything, and we too have failed. For anyone at Goodison in our end yesterday it must have been a revelation. Shouting, singing and just generally giving voice to everything good about LFC and everything bad about the Blues. Players react to that. When James Milner came over to take his corner he looked at his feet but raised his hands in an attempt to raise the decibels. We did so. Yesterday, in that stand, was great.
Anfield, by contrast, is a cinema. Milner would need more than a gesture to change things there. Absolute silence. That has to stop. That has to change. We talk about the passion. We seldom show it in the ground.
But there's a bigger problem and it's us. I've no idea who the next man is but I'd like it if all of Liverpool supported him. Again, I won't be a hypocrite. I was very critical of Brendan Rodgers in his first year. That sort of personality — the dossier, the soundbites etc — doesn't sit well with me though it led to harrumphs rather than firing barbs at his private life and teeth.
I was also a little tired of being told to exercise patience by the very people who did the opposite in May 2012, but it wasn't all out war on Brendan. I was still coming to terms with a hedge fund manager sacking Liverpool's greatest player and my antipathy wasn't directed at the new man. It was against a state of affairs where the football decisions were being made by the man who produced Mork and Mindy.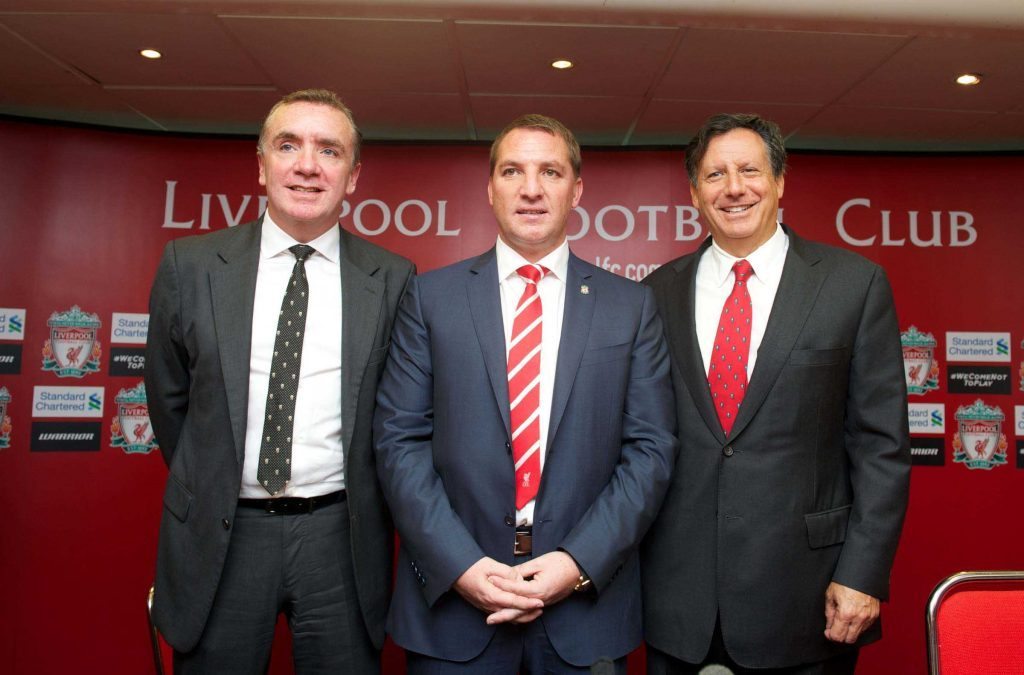 But, like Don Corleone before me, I'm prepared to forego any vengeance if we can just get back to those minutes in South Wales.
The interminable bickering from Rafa to Hodgson to Kenny to Brendan has made this club — or at least the sludge days of this club — pretty unbearable and I'm tired of the factions. For example, at half time at Arsenal I tweeted that it was the best we'd played in 15 months. Three people — Brendan hardliners all — told me I was a disgrace.
I was complimenting the manager for getting the tactics right against a better team — agreeing with their analysis about our strong start to the game, yet I was a disgrace. You can't win. Even praise and surprise is factional. How ridiculous is that?
There's seldom an agenda when the team performs. There was no agenda in Cardiff. The team is playing well when the crowd is loud and completely behind the idea of what we're trying to achieve. James Milner shouldn't have to raise his hands to conduct the volume. James Milner should be thinking, 'They think we can do this and maybe they're right.'
Can we just end the petty and vindictive squabbling now that we're starting again? Can't we call an end to the Mafioso brand of continual vengeance? Can we all just get back to Liverpool? Can we just draw a line and try to win the fucking league? Is that too much to ask?
I don't like Liverpool sacking managers. Sackings means Liverpool have failed.
I don't know what Brendan will do now but I know one thing. We'll always have Cardiff and I'd like more of them please.
[rpfc_recent_posts_from_category meta="true"]
Pic: David Rawcliffe-Propaganda Photo
Like The Anfield Wrap on Facebook