A DAY is a long time in football. Two days an eternity. It seems strange that approximately 48 hours before I am writing this Brendan Rodgers was preparing a Liverpool team for a Merseyside Derby. 
Since then a lot has happened. A manager has been sacked and gone on holiday to Spain. Another manager, who was thought a week ago not to be fancied by the owners, is now being touted for the job so heavily that every presumes it's a sure thing. A million lads on Twitter have got a handsome German as their avatar. Oh, and we drew a game of football.
Football fans tend to think about the now. We're very short term. Who'll win us our next game of football? Which footballer can we buy to immediately improve us? We've not even buried the last fella yet, and we're already obsessing over the next one. What magic he might weave to improve us. What nights he might give us ahead.
I'm fine with that. We're all as bad as each other. We're all just trying to hope. Dreaming of greater things. But, if it's alright with you, I'll raise a glass to the last fella first. And the nights he gave me. Here are six of the best under Brendan.
1. Norwich City 2 Liverpool 5 — 29/09/12
It feels now that Brendan Rodgers' time at Liverpool has been reduced to "one good season" which he is given varying degrees of credit for. That first season was an interesting one though, as the manager tried to get to grips with what he had available, and the players tried to get to grips with the new style of football they were being asked to play.
There were signs of promise, even in the first half of the season when Liverpool were largely inconsistent and failed to pick up enough points.
The Reds had been unlucky not to beat champions Manchester City in the first Premier League home game of the season, playing well until a Martin Skrtel back pass gifted Carlos Tevez an equaliser in a 2-2 draw.
A few days before this September game at Norwich, a Liverpool reserve team, which included Samed Yesil and Dan Pacheco, and a substitute appearance from a 16-year-old Jerome Sinclair, won well at West Brom, a revenge of sorts after Liverpool were beaten 3-0 at The Hawthorns on the opening day. Not just the result, but the style of football Liverpool showed at a tough ground after going 1-0 down, suggested that some of the younger players were getting to grips with what was being asked of them quicker than some of the senior pros.
Then came Norwich — a performance, and scoreline, that would become a bizarre norm 18 months later. Liverpool passed it from back to front quickly and effortlessly. Suarez scores after two minutes. Liverpool are 4-0 up before the hour. They conceded chances but created more. They hunted the ball and broke quickly. Suarez scored a hat-trick and should have won 100 penalties, but it was at the time that he wasn't allowed them.
I thought that performance would kick-start our season, we'd been so impressive. It didn't. Liverpool only won two of the next eight league games. But, in September of the manager's first season, the template for the future was set. The video of that game is well worth a watch. If only for the Norwich fans gloating as Suarez misses a chance at 1-0. How did that work out for you, lads?
2. Newcastle United 0 Liverpool 6 — 27/04/13
Liverpool's first season under Brendan didn't kick start after Norwich. It really got going when we were able to add real attacking talent in Philippe Coutinho and Daniel Sturridge. Results and goals improved almost straight away.
Liverpool followed up a 5-0 home win against Swansea in late February with a 4-0 away win at Wigan in early March. The week after they beat an excellent Tottenham Hotspur team 3-2 in a brilliant game of football that went one way and another.
In late April we went to Newcastle United and could have beaten them 10-0.
The Reds had to settle for six. Luis Suarez was suspended, because he'd obviously bit someone, but by then we had other players to excite us. Others capable of taking the team to the opposition, and scoring goals. Lots and lots of goals.
Newcastle tend to finish seasons looking like a pub team, if we are honest. But the style and ease of which they were carved open time and time again was a joy to watch.
A Suarez-less Liverpool took 10 points from the last four league games of that season, and then won the first three games of the next campaign as well. Not bad for a one-man team.
3. Tottenham Hotspur 0 Liverpool 5 — 15/12/13
In some ways it's strange to think of this game as the one where a brilliant season caught fire. Liverpool had actually won their previous two games four and five to one. But this result, just two weeks after an abject away performance at Hull City, seemed to completely change the mindset of everyone at the club.
An interesting development took place a week before. Steven Gerrard pulled a hamstring stretching to shoot, and had to go off. Lucas Leiva came in for the Spurs game, and Joe Allen was pushed forward to partner Jordan Henderson.
How those two played ahead of the shield Lucas offered changed how we all saw the Liverpool midfield operating from then on.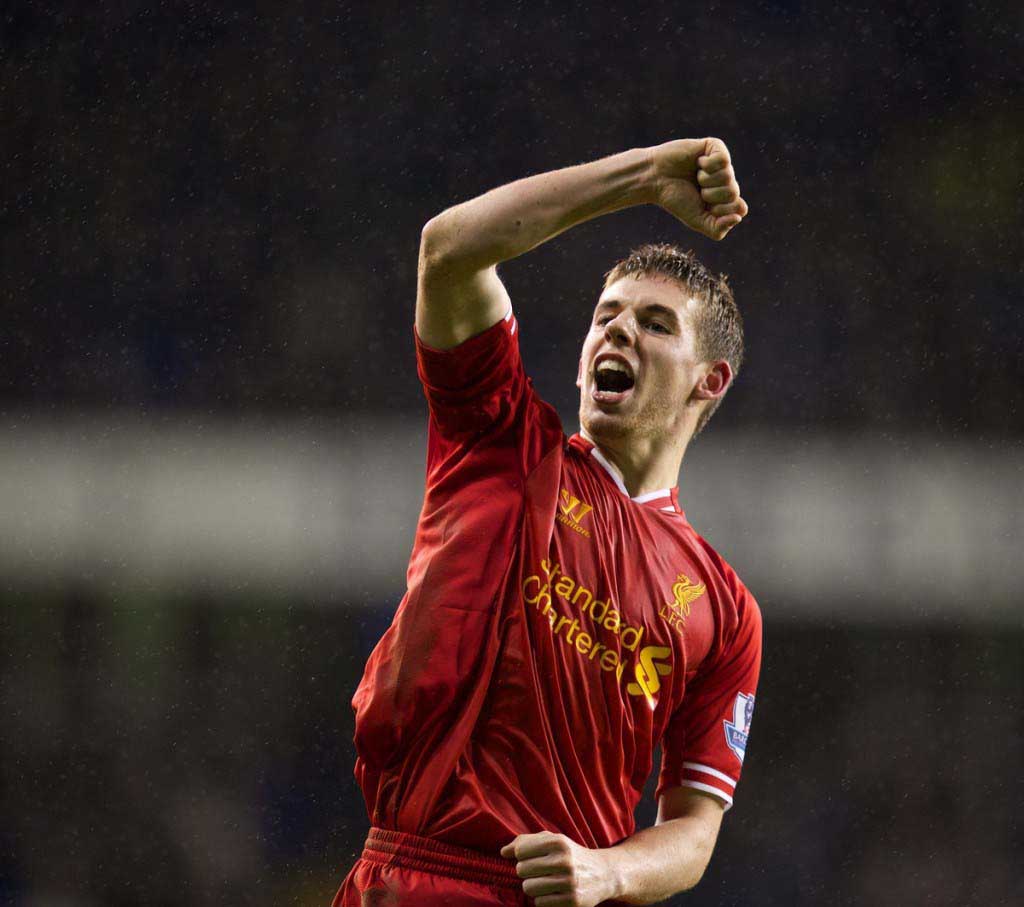 When Gerrard (who covered the game with seemingly mixed emotions for Sky) eventually returned he admitted he had spoken to the manager about his role moving forward, and a new position was created.
The Tottenham game was the embodiment of the manager at that time. It was everything he was saying he wanted from a football team.
It was all the words that had left his mouth transformed into footballers before your eyes. Sterling, who had looked lost at Hull, was terrifying. Allen and Henderson doing the work of 10. Luis Suarez being Luis Suarez. Not a minute's peace for the opposition, not a minute's let up from the lads in red.
And Jon Flanagan.
https://www.youtube.com/watch?v=r03448msArI
4. Liverpool 5 Arsenal 1 — 08/02/14
I could have picked the Everton game ten days before. That was fun. Everton turned up cocky as hell, and got beat four zip. But I didn't want to pick two games so close together, and Arsenal was Arsenal wasn't it? The most improbable 20 minutes of football you will ever see. When anything seemed possible. When you sat in a football ground thinking you might beat Arsenal 10-0.
That was an Arsenal that were top of the league, with the best defensive record in the country. Absolutely taken apart.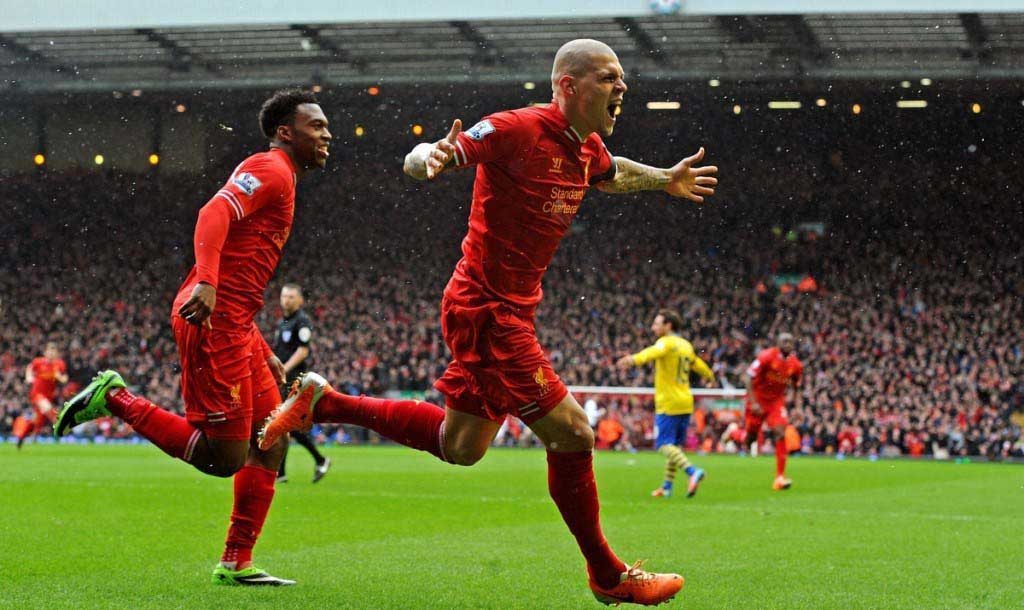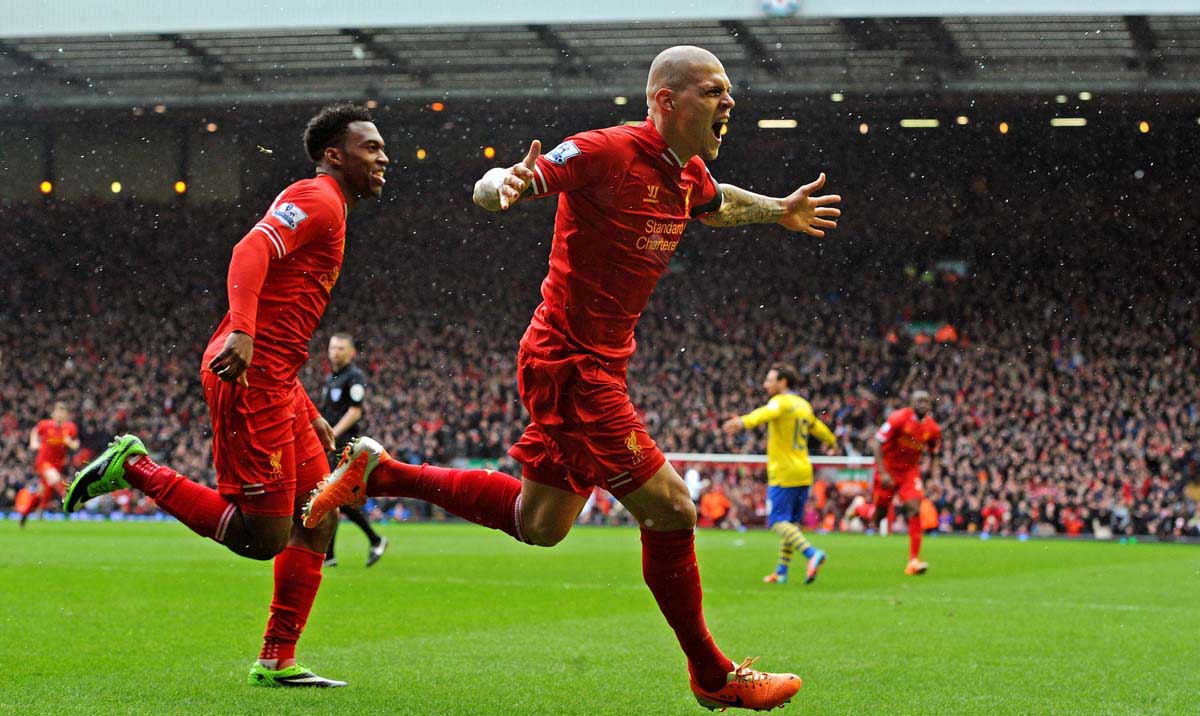 Luis Suarez sacrificed himself for the team that day, playing as a wide forward allowing Liverpool to exploit Daniel Sturridge's pace through the middle. Rodgers tweaked his team often like that throughout the season. Always looking for weaknesses in the opposition. Always managing to get buy-in from his believing players
Suarez still should have scored with the best shot of the season. Sturridge should have got more, really. But that first 20 minutes. It was the start of 10 in a row.
https://www.youtube.com/watch?v=wl6iIgSvXZI
5. Manchester United 0 Liverpool 3 — 16/03/14
I found it tough to decide between this and the Manchester City home game, but United away that season is the perfect response to those who said Brendan Rodgers' Liverpool could only win a certain way.
This was a model away performance. The type that looked like the template for the Champions League next season.
Liverpool, as Steven Gerrard put it after the game, "dominated from start to finish". They were happy to be patient, to wait for opportunities that they knew would come. They strutted around the 'Theatre of  Dreams' like they were champions of the world playing away at Yeovil.
The manager made bold decisions, too.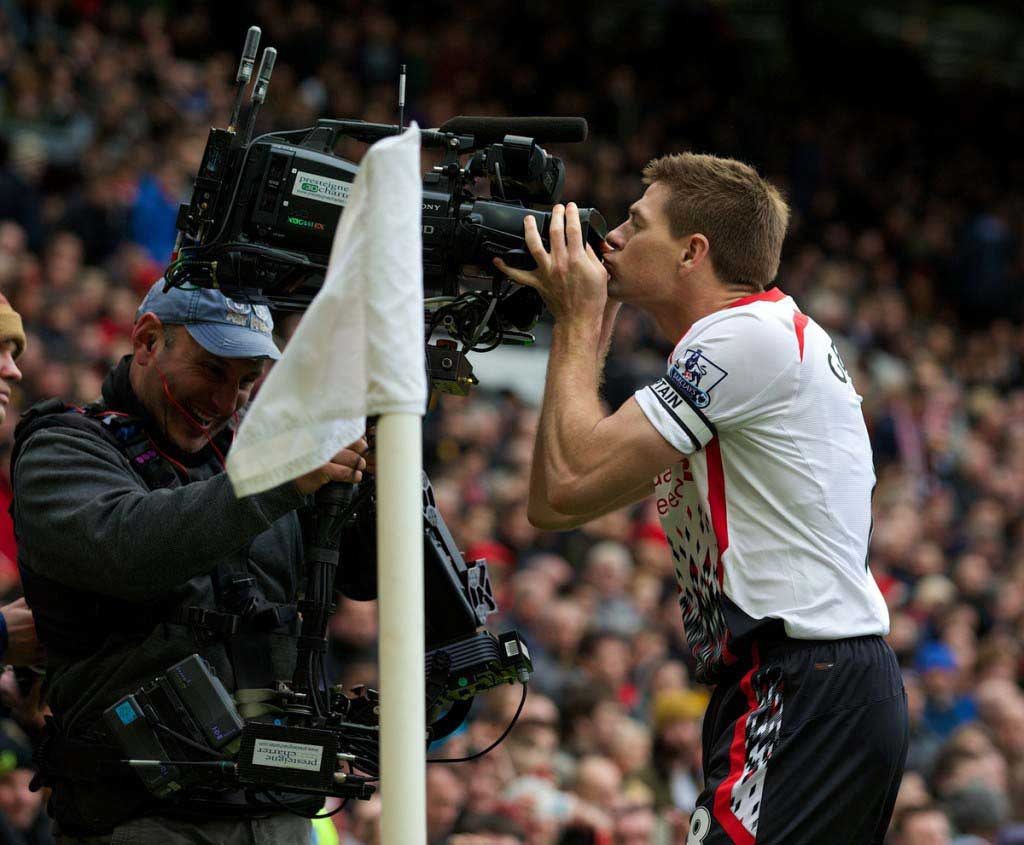 He played a 4-4-2 diamond in a second game running, to allow Suarez and Sturridge to both play up front.
In the previous game he had played Coutinho in the hole behind him, but substituted him for Raheem Sterling, who helped win the game against Southampton with a late goal and a fine cameo. So he started Sterling at Old Trafford, a huge call for a young player in such a big game.
I can't think of another manager in the league who starts a 19-year-old Raheem Sterling, who everyone said was all pace, as a number 10 away at Old Trafford for the first time.
Sterling was arguably our best player for the rest of the season in that position, showing a deft touch and tactical awareness, not to mention goalscoring ability, that many outside of the manager's office didn't associate with the player.
You can have good players. You can have Luis Suarez. But football teams can turn up at that ground already beat. Eleven Liverpool players all believed they were better than their opposite number, and then proved it on the football pitch for 90 minutes. A huge amount of credit for that goes to the manager.
I don't half miss Luis Suarez playing for handballs in the box.
https://www.youtube.com/watch?v=nDd0YeDRzGo
Liverpool 2 Manchester City 1 — 01/03/2015
The fact that I could have picked from a ton of games the season before, but this season was relatively slim pickings, shows just how quickly the wheels came off for Brendan's Reds.
There were more good days than are often remembered though. Even if they weren't quite as spectacular. After a defeat at Old Trafford and a change in formation, Liverpool went 13 league games unbeaten. This was number 11, and the highlight of the lot.
Manchester City were five points off the top and playing well. They'd beaten Newcastle 5-0 the game before, and beaten Stoke City 4-1 away the game before that.
They played well at Anfield, too, and scored a lovely goal that not many football teams are able to. Liverpool scored better ones though, and crucially twice as many. Henderson and Coutinho with power and precision.
It is hard to remember now but optimism was fairly high around Anfield after this game. Liverpool were playing well only three points off third place, and still in a FA Cup that no-one else seemed to want to win.
Daniel Sturridge was coming off the bench and looking sharp, and a good season looked very much achievable.
It wasn't to be, of course. Later in the month a defeat at home to Manchester United started a run of results that would ultimately lead to the manager's departure. But it's strange to think that as late as March, things looked like they could have been very different.
[rpfc_recent_posts_from_category meta="true"]
Pics: PA Images & David Rawcliffe-Propaganda Photo
Like The Anfield Wrap on Facebook