EVER since April 30, 2011, I've wanted Jürgen Klopp to be manager of Liverpool Football Club.
That was the day that his Borussia Dortmund side won their first Bundesliga title since the charismatic German had taken charge. He had won the fans over with his attitude, his commitment, his drive and his tactical acumen — and he'd done it all against the odds.
As his massive grin and air punching delighted the Westfalenstadion, all I could do was look at him and the love in the eyes of the Dortmund fans. I was hooked.
Before I get stuck into the meat of this article, I just want to say that while I believed the time had come for Brendan Rodgers to leave Liverpool, it didn't make it any less sad to me when Ed Chamberlain announced it on Sky Sports, and Thierry Henry groped Jamie Carragher's leg.
There was so much to be said and thanks to be given, but then Neil Atkinson boxed it off entirely with his belter of an article, so I'll move on to the new guy.
As I said when I was gushing on this very website about the signing of Roberto Firmino (he will come good by the way, trust me), I've been keeping a close eye on the Bundesliga in recent years. It's a lovely league full of quality players, big characters and Germans — lots of Germans. One of the main things that drew me closer to it in the last decade has been one particular German: Jürgen Klopp.
What finally sealed it for me with Klopp on that day in April 2011 when they beat Nuremberg 2-0 to clinch the title was that he was unique. He had used risky methods, gone all in, and done it all with a fantastic swagger about him. He was as passionate as anyone I'd seen, he was a laugh, and he was a winner.
He had also not taken a team of ready-made superstars and made them play to their potential. It was more a team of misfits who he trained, refined and turned into the champions of Germany. Twice. He had bought in some players for minimal spend, but essentially it was his training and his tactics that had brought he and Dortmund what had been unexpected success.
Something that will be trending worldwide no doubt for the next few months is the term "gegenpressing", which is a method of pressing the opposition relentlessly and intelligently. It requires exceptional levels of stamina, organisation and technical ability, and can be devastating if used correctly. The best example of its utilisation came when Klopp's Dortmund smashed Real Madrid to smithereens in a 2013 Champions League semi-final. Robert Lewandowski scored four that day. Bet he never manages that again.
Liverpool fans can expect to see gegenpressing at Anfield shortly, but such is the necessity of hard work and stamina, it might take a while to get to the levels that Dortmund managed. However, when it clicks it should be a sight to behold, especially given some of the less than stellar players currently manning Premier League defences (not just ours).
Klopp summed up how his style compares to others when speaking about the difference between himself and Arsene Wenger: "He likes having the ball, playing football, passes. It's like an orchestra. But it's a silent song. I like heavy metal."
https://www.youtube.com/watch?v=jwuBfaNm53I
As a player, Klopp was a defender. He played his entire career at Mainz, an indication of the loyalty he would later show in his managerial reigns. He scored a none too shabby 56 goals in 346 appearances. Unsurprisingly he went on to manage the club, guiding them to their first ever promotion to the Bundesliga, and later into the UEFA Cup. They eventually went back down and Klopp resigned after failing to get them back up at the first attempt. After seven years at Mainz he went to Dortmund, where he took over a sleepy giant; a very sleepy giant.
'Die Schwarzgelben' (the black and yellows) had finished 13th the previous season, and in Klopp's first two years at Westfalenstadion he earned sixth and fifth place finishes. In his third year he won the title. In his fourth year he won the title. In his fifth year he came second and reached the Champions League final. In his sixth year he came second (to Pep Guardiola in his first year at Bayern) and reached the German Cup final. In his final year he came seventh and again reached the German Cup final. As at Mainz, after seven years he felt he had taken the club as far as he could and resigned.
He earned the respect of the world with the results he achieved and the trophies he won, but it could be argued that he gained admirers as much for his personality as for his football. Charisma is a hard thing to define, but whatever you think it might be, Klopp has it. This is where Liverpool come in.
This club rose to the top of the game thanks to the cult of personality around a certain Scotsman to whom inevitable comparisons will be drawn, and it might seem tedious to do so, but it's true. Liverpool as a club thrives when it has a cult of personality to rally around, and Klopp is 'that'. He's very 'that'. There is no manager more 'that' working today.
During his chat to Neil and John on TAWPlayer, Guardian journalist Rafa Honigstein stated that while at Mainz, Klopp would give speeches in the town square at end-of-season parties that would inspire the masses to worship him. Sound familiar?
If you're remotely interested in Liverpool or Klopp you will have read the quotes already, but I'm going to pick out my favourite ones that show just why this man belongs among us:
"It is not my sport. I don't like winning with 80 per cent [possession]. Sorry that is not enough for me. Fighting football, not serenity football, that is what I like. What we call in German 'English' — rainy day, heavy pitch, 5-5, everybody is dirty in the face and goes home and cannot play for weeks after."
"I show my team very often Barcelona but not the way they play. Just the way they celebrate goals. Goal no 5,768 in the last few weeks and they go 'Yeeeess' like they never scored a goal. This is what I love about football. That's what you have to feel all the time. Until you die. And then everything is OK."
"I'm a bit proud of my first red card as a coach. I approached the fourth official and said: 'How many mistakes are allowed here? If it's 15, you have one more."
"[Henrikh] Mkhitaryan fits us like an arse on a bucket."
Aside from all this romantic stuff about having a manager whom certain folk will I'm sure label a 'bloody ledge', can Klopp fix Liverpool's current shortcomings? In particular, can he fix this dodgy defence?
Looking purely at his work in Dortmund, season-by-season, here's his number of goals conceded in the league:
2008-09: 37 goals (second best record in the league behind Schalke after conceding 62 the season before)
2009-10: 42 goals (joint seventh best)
2010-11: 22 goals (comfortably the best. The next best was 39)
2011-12: 25 goals (third best behind Bayern — 22 — and Mönchengladbach — 24 –)
2012-13: 42 goals (fourth best)
2013-14: 38 goals (second best)
2014-15: 42 goals (seventh best, and an oddly recurring number)
It seems that his ability to keep it tight at the back can fluctuate, but it also seems to have gone hand-in-hand with the trend of the Bundesliga in terms of numbers of goals. The next question is can he achieve the records from 2010 to 2012 with the current players at his disposal? Well here's another quote from the man:
"When a team concedes 62 goals, the defence is not the only problem. Something generally went wrong. With me, everyone has to defend."
https://www.youtube.com/watch?v=tz6AibY7DZM
There's already been a lot of talk about which individual players may flourish under his guidance. The whole point of Klopp is that everyone gets turned up to 11 (heavy metal football, you see), but in particular you would imagine Bundesliga alumni Emre Can and Roberto Firmino will step it up.
There's also Christian Benteke. Klopp was reported to be interested in signing the Belgian to replace Lewandowski in 2013, but was thwarted by Aston Villa's asking price. Now he has his hands on him, can he turn the £32m man into the next Lewandowski? If he can even get him close then what a thing that will be.
I raised my doubts about signing Benteke for Rodgers, but if I'd known he'd be playing for the German instead, I might not have been so quick to poo-poo the idea.
Many have pointed to Klopp's final season at Dortmund as a reason to be wary. After six excellent years, his side fell off a cliff in 2014-15, and found themselves bottom almost halfway through the season. A post-winter break recovery saw them recover to a seventh place finish and a cup final, but Klopp admitted his time was up and called it a day.
There are many theories about why the fall was so sharp, from the loss of Mario Götze and Lewandowski to rivals Bayern, to the players finally being burned out after all that gegenpressing, to Klopp himself being out of ideas. It just seemed to be the end of the cycle.
He had been overachieving for over half a decade, and when you don't have the top=level financial power to reinvest in your team time and time again, eventually something's got to give. After seven years at Mainz he'd done as much as he could, the same was true at Dortmund. Let's face it, if it goes wrong here in his seventh season after six seasons of joy, we'll all take that, right?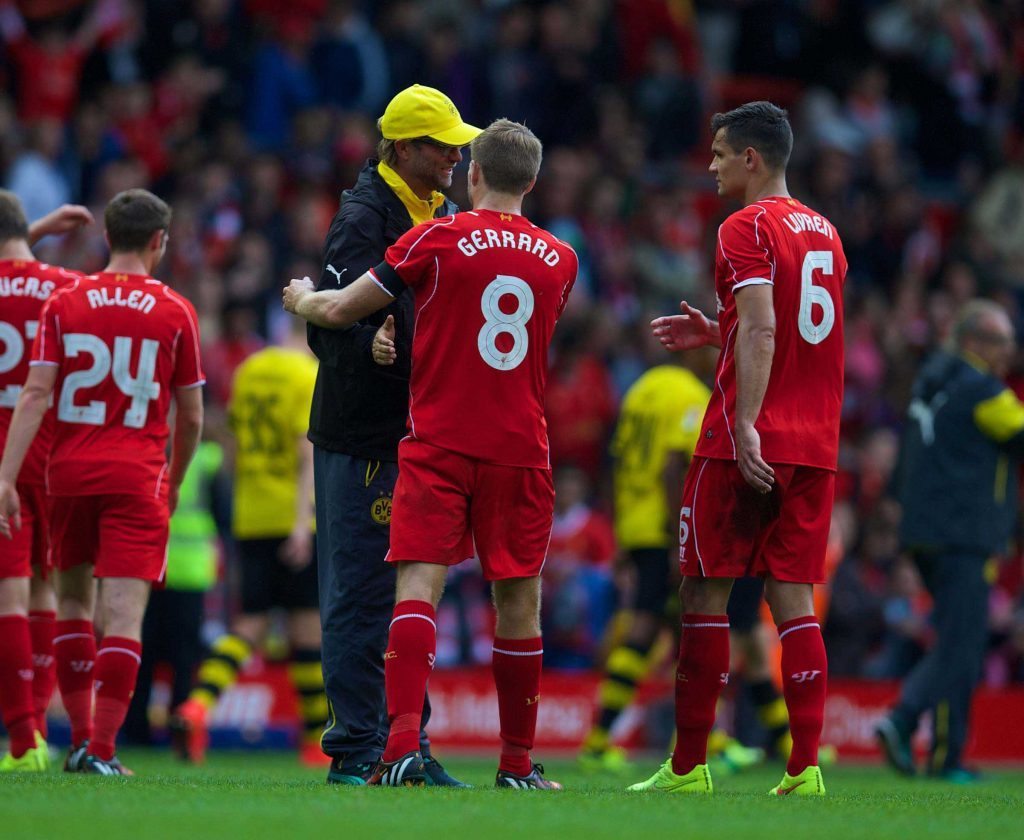 Something to point out about that season that could be a worry here is the improvement that came after the winter break. Klopp used every inch of that six-week period to re-energise his players and get them back on track. With no winter break in England, he won't have the luxury of extra time on the training field to right the ship if it sails off course.
There is also the onion in the ointment that Klopp will have a very tricky start to his career in the Premier League. His first five league games are Tottenham (a), Southampton (h), Chelsea (a), Crystal Palace (h) and Manchester City (a). In fact he won't get a chance to face a bottom half club until December when we travel to Newcastle (unless you count Chelsea…).
As has been said plenty over the past few days, the similarities between Dortmund and Liverpool are bordering on eerie, but there is no denying that Klopp comes to Anfield with much higher expectancies than in the Ruhr. He finished outside the top four in his first two years there, but such was the club's previous malaise, those were considered good seasons.
Thankfully most reasonable Reds gave Rodgers the three years he'd asked for, albeit the middle one got him a lot of kudos points. Klopp needs at least the rest of this one and the whole of next before people start to judge him. Whether that will happen is a different matter.
'Kloppo', as he is affectionately known in Germany, is a very emotional man who gets emotionally attached to his clubs. As other Anfield Wrappers have mentioned, we have a history of emotionally and sometimes physically destroying managers. Let's try not to do that to this one, because he will go absolutely all in here.
TAW Player: Raphael Honigstein on Jurgen Klopp

Since I first wanted Klopp at Anfield in 2011, my reasons for wanting him have changed. It started off as him being like a talented version of Ian Holloway, only more rock 'n' roll (sorry Olly, you're more 'spoons on a colander'). Now, it's because of 2013-14. That was the most fun year to be a Liverpool fan of my lifetime. I want more of that because I'm greedy, and I'm sure you do, too.
Well Dortmund had that kind of fun for a good four years under Klopp. I'm not saying he'll definitely bring that back here, but if he can't then there's not a sole out there who can.
Let's face it, even if this does all go inexplicably tits up, it's going to be a bloody good laugh.
Ever since April 30, 2011, I've wanted Jürgen Klopp to be manager of Liverpool Football Club. On October 8, 2015, Jürgen Klopp became manager of Liverpool Football Club.
I didn't think my living room was big enough for naked cartwheels, but there we are.
Willkommen, Jürgen!
[rpfc_recent_posts_from_category meta="true"]
Pics: PA Images & Propaganda Photo
Like The Anfield Wrap on Facebook