THE well-worn script has been shoved down our throats so many times that you know the lines off by heart when it's regurgitated for public consumption once again.
Liverpool are finished. Liverpool are a relic. Liverpool are living in the past; a famous name but an average club followed by deluded fans who can't accept the status quo of the modern game.
Look at the history, they say. Liverpool can't win the league, they haven't won it for 25 years. Look at the finances, they're out-muscled by the clubs they are desperate to overthrow, stranded in a Northern city where no superstar wants to play.
That's what they say. But frankly, who the fuck are they? Liverpool the city, the people and the club have been at their best when they offer an aggressively displayed two fingers to the naysayers, the doubters and the deriders. There's a swagger and a fight about Scouse at its finest and that should be the ruling emotion, not the one of subservient resignation dictated from afar.
We're living in the past, they say, feeding off former glories and tied up in our own self-importance. We got it all so badly wrong — with the ground, with owners, with managers, with transfers — that now it's locked in forever, we're too far gone; no way back. The rich men have won and we may as well just accept our fate.
Even Jamie Carragher, one of our own, warned on Sky in the wake of Brendan Rodgers' sacking that the club is morphing into a Tottenham Hotspur, becoming a perennial also-ran; a club that the 'big' clubs don't care about and don't see as genuine contenders.
"At this moment we're becoming a team who think we're a big club but we're not," said Carragher before the appointment of Jurgen Klopp.
Facts play a part, and the facts are that since the last title in 1990, the closest the Reds have come to ending the wait for number 19 are four second-placed finishes — 1991, 2002, 2009 and 2014 — with 2009's 86 points the best total achieved.
In the seasons that have followed the last league title the Reds have finished: 2, 6, 6, 8, 4, 3, 4, 3, 7, 4, 3, 2, 5, 4, 5, 3, 3, 4, 2, 7, 6, 8, 7, 2 and 6.
The modern barometer — Champions League football — doesn't show a much warmer picture. Since losing to Fiorentina in December 2009, the club has contested just six games in the competition.
Three potless years have followed the 2012 League Cup win, with the FA Cup of 2006 the last trophy to grace Anfield before that.
So everyone's right…right? Well, no. No, they're not.
History says what it says. But while the successful part of Liverpool's history shouldn't be discussed outside of Anfield, neither should the unsuccessful part of it be discussed in it.
Liverpool are outmuscled financially by four clubs in the Premier League and the advantage of beefier wages and transfer fees is well documented. But why talk about "par" when you can aspire to more? Semi finals and sixth place? No thanks, we can beat the system. We can fight for better. All of us. Let's forge a spirit around that idea, not one that acquiesces to the so-called norm. Let's make fists not shrug shoulders.
@TheAnfieldWrap here's the pic @robbohuyton was talking about. I took about 40 screen shots Ayre face is perfect. pic.twitter.com/JpeKHaWSpF

— Jürgëñ (@Joey_Blogs) October 12, 2015
When Brendan Rodgers introduced "par" to Liverpool fans and the wider world it was another sign that his time was up. He'd grown tired and weary and his mouth had ran away with itself again. A charge that could be added to a crime list numbering the farce in Real Madrid, the embarrassment of Aston Villa and the Stoke surrender.
There are plenty filing through the turnstiles every other week at Anfield who have watched the Reds win every title there is to win. It's harder now, everything might point to Liverpool being underdogs, also-rans and worse, but underdogs can still win. And they have. Wearing red.
When Liverpool were losing at Bolton, drawing at Blackburn, losing to Birmingham City at Anfield and away at Middlesbrough, who was betting on the Reds to lift a fifth European Cup having overcome Bayer Leverkusen, Juventus, Chelsea and AC Milan with a squad containing Djimi Traore, Igor Biscan, Josemi, Antonio Nunez and Milan Baros just six months later?
Who had Liverpool down as title contenders after losing to Southampton at home and Hull away before ending the season 30 goals and 23 points up compared to the previous season and leaping from seventh to second in the rollercoaster of 2013-14?
The answer to both must be no-one beyond the outrageously optimistic and there lies a lesson. Those Liverpool teams forgot the facts, ditched the financials and put history to one side. They come out swinging, we all loved it and look where it got us.
That's what Liverpool must do again. Fight. Work harder. Make sure that those torturous surrenders of last season are never seen again. When a team comes swaggering to town with big money stars trip them up. Poke their eyes out. Flatten them. Don't roll out the red carpet, give up with a whimper or, if you're the manager, save your best players for another day. Scrap, battle, go to war — give the fuckers hell. Tell them this is a place to fear.
Liverpool — more than any other team in the country — have it within the club, the city and the support, to aim higher than history says it should be allowed to. The Reds can leap financial high bars. It's not easy, but it can happen. And why? Because when fans, players and manager are on the same side it is something special at this club. Something that despite all that is said and written, remains a source of envy for many football fans up and down the country.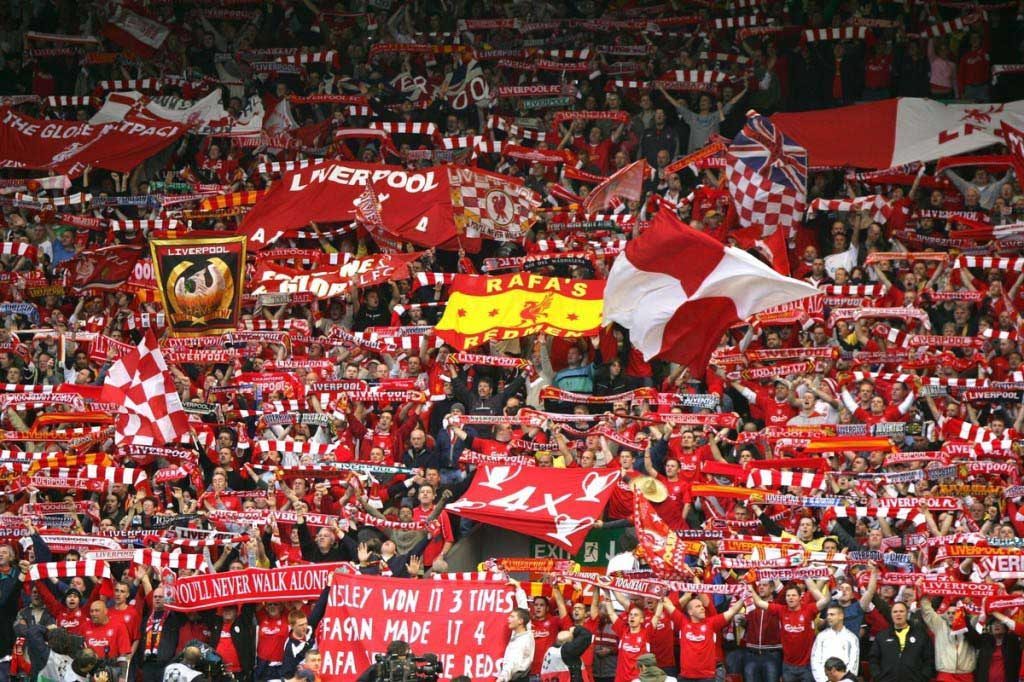 The very things we are derided for — the 'delusion' (hope), the absolute belief we can beat anyone (passion) and the idea of us being different (pride) are our strengths, and strengths that should be the foundation to aim higher.
I've witnessed fans of other clubs mock the times when Anfield Road was full of supporters singing and supporting a team that was smashing the odds to compete for the title. We made the players feel ten foot tall. And we enjoyed doing it. It's you who's doing it wrong, not us.
I've read — including on this site — fans of other teams who claim that by backing Jurgen Klopp — a manager described by World Soccer this month as "Football's most wanted man"– and pitching him as a statement of intent, a fresh start and a chance of competing again, that we are just showing why Liverpool fans are laughed at everywhere else. Sorry, what?
The Liverpool message should be simple. Fuck them. Fuck rules, "par", financial leagues and players that want to play in London. Fuck defeatist attitudes. Fuck watching matches with your arms folded and brows furrowed. Fuck it all. Because we are different. And when Anfield is alight with atmosphere, there is no better place. We can, should and will again, come out fighting against anyone. We're 'deluded' because we've seen it happen before, felt it happen before and now we think it will come again. It just needs the spark. It's early days, and we haven't even seen the man take charge of a Liverpool match yet. But it's really hard to believe that Jurgen Klopp isn't that spark. And if we hope, pray and urge him to be the catalyst? Well isn't that the point?
Liverpool can't go out and pick a ready-made squad from the most expensive shelf, we know that. But the squad at the very least can be organised into something that can fight, that can compete and that can upset. Something that can pour everything into a game, and make every effort to win it, by fair means or foul.
Jamie Carragher's words should sting. Because he understands what it takes. Because he displayed that very spirit time and again in a red shirt. And look where it took us. We can do that again, we just need to strip out the nonsense. Stop talking ourselves out of it. Stop listening to people who don't matter. Get in there, make a noise, shout, scream and tell the bastards they won't grind us down. Liverpool's a city that dares to fight. That flicks two fingers to those that say we can't. We can. We have. And we will.
Klopp wants believers not doubters. So let's talk the talk.
If you're still doubting that the big German with the steel and the smile can't revive the Reds, have another read of the quotes that follow this from his press conference. That there what he's describing? That's a team we can get behind. That's a manager we can back. That's a style that Liverpool will love; that has the spirit of the city sewn into it.
"We will conquer the ball, yeah, each fucking time! We will chase the ball, we will run more, fight more [jabs finger on table].
"We will work better together. We will have better organisation in defence than the other teams. We have to find our own way to play.
"Our performances have to be enjoyable for ourselves. I don't want to tackle too rough but if there is a tackle that is legal, a good tackle that gets the ball, it's like a goal, if you want?
"Yeeaaah! [punches air] The players have to get the feeling that, I don't know, they can dive into the game. What I want is to be a real special team."
Do you think Klopp cares that people say his methods won't translate or that a team can't press like his Dortmund side did in a league without a winter break?
Do you think Klopp will fight both his corner with his paymasters and press and our corner with everyone else? Shouldn't he wear a suit for his first press conference? Should he really be describing the club's executives as "cool" or virtually getting them in a headlock in front of the watching world?
He doesn't give a fuck. And neither should we.
Jurgen Klopp is bringing Liverpool's 'fuck you' back. And I can't wait.
LISTEN: Free Podcast – Jurgen Klopp
[rpfc_recent_posts_from_category meta="true"]
Pics: David Rawcliffe-Propaganda-Photo.Com & PA Images
Like The Anfield Wrap on Facebook