VERSION three. I keep starting this and it comes out all wrong. I've tried my usual tricks of starting with a point that seems unrelated to football and then revealing the direction that I was always going in, in a frankly smart-arsed manner. I wrote a whole thing about how leaders' legacies are always flawed — whether by themselves or due to others' or outside actions — and I dared you all to prove me wrong, to name one leader who steps outside that concept.
I tried stealing a maxim that I know Neil loves — that 'all plots lead to death' — but got stuck talking about death and it was really sodding miserable. I thought about the idea of doing what my mate Gaz — a United fan but a good lad (probably be really pissed off at being name-checked here) — reckons I do too much; tell you what I'm not going to talk about and then do it anyway. Which I've obviously just done. Then I thought, 'sod it, cut to the chase'.
So.
Seriously. What the fuck is Steven Gerrard doing?
Who is this book supposed to benefit? Anybody want to answer that one for me? Anybody?
I don't like the idea of criticising Steven. He's meant too much for too long, done too much. A 17-year Liverpool career — I feel ungracious throwing any negativity his way: "You said bad things in your book, Stevie."
"I won the Champions League for you."
"Oh aye, yeah, there is that."
But still I can't get my head round this one. It's added to the air of negativity that already exists around the club. Who does that help?
I'm guessing Gerrard doesn't need the money. Just a hunch. The nice mansion in LA, the decent lifestyle, the bespoke home under construction in Formby — he's not on his uppers and needing a 'tell-all tome' to pay next month's mortgage, is he?
So if it's not the money, what is it? A desire to set the record straight? To let people know how misunderstood he's been over his career?
Steven, you've been idolised, lad. You don't need to be insecure over what we think about you, we pretty much think that you're a god among men and a lot of us are just waiting for your second coming. Waiting for the day that you walk into Melwood with one of Kenny's old big coats on and start teaching some of the lads how to play as though they care as much as you.
Is it to let us know what was going through your mind at key moments? Don't really want to know to be honest. Those 38 seconds when you charged around the centre circle against United trying to kill anything that wasn't wearing red? Worked out what was going through your mind at roughly the point that the red card came out. And no matter what prose your ghost writer has couched your thoughts in, it's bullshit.
What went through your mind was this:
AAAAAAAAAAAARRRRRRRRGGGGGGGGHHHHHHH!
For 38 seconds. Any writer who tries to put that into words is kidding themselves. Primal, United-focused rage. No more, no less. And we got it. We knew it. We figured it out. Don't bother explaining. We know. Nobody but us is buying the book — and I think there are a lot less buying it now if we're honest.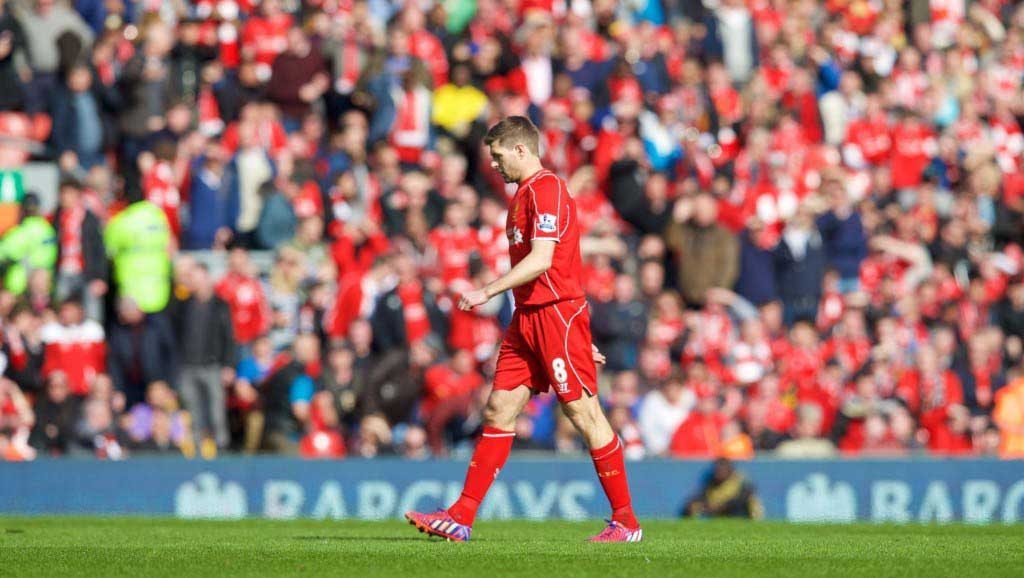 And while we're kind of on the subject; why do ghost writers always write books in a way that we know people don't actually speak? Not just the person in question but people in general, human beings?
The passages in these things have never been spoken by anybody. Ever. Not in that way. I mean, I get it lads, it's a paid gig and we'd all love more of those but….make them talk like human beings would you? Ta. (I'll push Si Hughes' books here — talks to footballers, relates what they say, dead easy, dead normal. End of advert.)
Shall we do the big one? The one that's really pissed everybody off? Go on. Let's.
Rafa. "We shared our greatest sporting night" and all that. I totally get the fact that you didn't really get on with Rafa. That he may have been a little cold toward people. Torres said it. Think Carra said it. Rafa was single minded. Rafa wasn't a people person. Cool. He gave us the Champions League. I'll have as many cold-hearted bastards as you can find if they keep doing that.
He made you — sorry, I've gone all open letter again, didn't mean to, hate it when that happens — the best midfielder in the world. He may not have used your first name in press conferences or referred to you by your nickname and honest to God, I get that that might piss you off a bit but….Champions League, greatest midfielder of your generation. As trade offs go, I'd have that one.
And if we're all kind of up to speed on the fact that Rafa may not be the warmest boss on the planet — and I think we are — who benefits from being told this again?
Rafa's done the right thing on this, saying he disagrees but isn't going to be drawn into it. Although his idea that Stevie's going to sell more books because Rafa's managing Real is, quite frankly, just a little bit mad. And might back up some of Gerrard's reasoning if we're being fair.
There's some ups of course. He's nice about Brendan's man-management skills. Although that's not going to sit well with a lot of us at the moment is it? Possibly badly timed on that one, Steven. He thinks Mario is quite endearing at times. Which is nice. And there's the whole Diouf thing.
Any chance to call Diouf out as a knobhead of the highest order should always be taken. The fact that it's then provoked Diouf into some kind of comedy routine where he gives a glimpse into El Hadji world (like Banksy's 'Dismaland' but far, far shitter) and lets us know how revered and worshipped he is worldwide and that the former Liverpool and England captain is jealous of a man last seen not being arsed for Doncaster then Leeds is just gorgeous. Worth having the book out there just for that.
And no, El Hadji, none of us believe Steven Gerrard is a racist. We just think he thinks that you're a knobhead. Trust me, we all think MUCH worse. You got off lightly on that one, mate.
There's a proviso in all this, obviously: I've not read the book yet. I can't, it's not out until next week. I've read the extracts. I wasn't going to but I figured if I was going to write this then I had to. I've gone to the Daily Mail's website and read them. I've gone to the Daily Mail's website. I don't think that I'll ever feel clean again. You made me do that, Steven. You owe me.
I'm not going to read the book. I don't want to. I don't want to think of Steven Gerrard as a bloke who's decided, immediately after finishing his Liverpool playing career, to score some points. Someone who's decided that he should let us know that our idols don't actually always like each other. Someone who wants to point out that, if it was up to him, he would still be there if he had been offered some kind of coaching position.
It feels like an attack on the club, like a man who feels that he's been treated badly attempting to get some measure of revenge in public. And that may be the case. He may have a point. He may be right in the notion that the club has badly mishandled one of its greatest servants.
I had always thought that Steven Gerrard would walk back in one day as manager. Surely the easiest way to ensure that would be to keep your mouth shut, be nice to everybody and be back here, suited and booted, in two years' time, ready to build a dynasty?
Perhaps he knows that path is already blocked. Perhaps this is his final goodbye. We've no way of knowing. At the moment though, it just feels a little bitter, a little spiteful, a little petty and, at a time when the fanbase is possibly more split than it has ever been, it feels more than a little unnecessary. It feels like just one more thing to contend with. One more negative.
And yes, I know, the first comment in the box below will throw this question right back at me (consider this saving you the trouble on that one) but: who does it benefit?
[rpfc_recent_posts_from_category meta="true"]
Pics: David Rawcliffe-Propaganda-Photo
Like The Anfield Wrap on Facebook