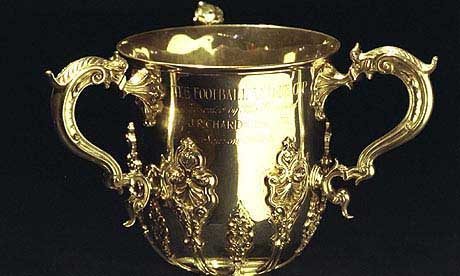 GIVEN Liverpool skipped the League Cup second round due to playing in Europe this season, and the fact you'd expect many of the minnows to be out by now, a home tie against Carlisle United — positioned 10th in League Two — is in theory about as good as it could have got for the Reds.
That was certainly the feeling when the draw was made, with Liverpool on seven points out of nine in the Premier League and riding high. Since then Carlisle have won three and drawn one from their four league games, scoring 10 goals in the process, while Liverpool have, well, yeah…
The Cumbrians suddenly look a lot more tricky, Liverpool look a lot more nervy and I'm reading sentences like "Carlisle United are the top scorers in all four divisions", which, frankly, I can do without. The main reason for this is Jabo Ibehre, who has scored 10 in 10 this season and sounds like a cross between Alan Shearer and George Weah.
They've also got a Columbian midfielder, who I've decided must be brilliant, and a French playmaker with a name suspiciously like Henry,
But it's still only Carlisle, isn't it?
A team who have never beaten us on the eight occasions we have played them. Two of those were in the 1974-75 season when Carlisle had their only season in the top flight. Despite winning their first three games of that season, they still managed to finish bottom and Liverpool won both games to nil.
In the cups the last occasion we played Carlisle was in 1989 on the way to an emotional FA Cup win, triumphing 3-0 in the third round at Brunton Park. You can see the footage of the goals here, although I prefer another grainy video when you can hear the Carlisle supporters cheering every tackle.
So how good are they? Ever since I went to watch Liverpool play Bolton Wanderers in a FA Cup Third Round replay under Graeme Souness in 1993 and expected them to be tripping over the ball, only to see them beat us 2-0, I have struggled with the true level of the lower leagues compared to Liverpool.
A clue might be in our loan players. The fact that Sergi Canos is a million miles away from our first team but was voted man of the match for Brentford at the weekend suggests to me that we should be able to use any players at our disposal and win the game. But then I read that Joe Maguire can't get a game at Leyton Orient, and I'm back at square one.
A TAW listener with a soft spot for Carlisle messaged us and said they shouldn't be underestimated and would have a real go, as they did in beating QPR away from home in the previous round.
But then our friend Iain MacIntosh, who has seen them live this season, spoke to Neil yesterday and said we should, and I quote, "piss it". So conflicting emotions there, too.
Basically, it usually comes down to this in these cup ties: Put a decent team out, and approach it properly, and you should go through.
I actually think picking fringe players helps fight complacency, as they are keen to prove their worth more than established first-team players.
I'd be looking to find a way to get Jordan Rossiter, Joe Gomez, Jordon Ibe, Adam Lallana, Divock Origi and Roberto Firmino in the team.
All of those could do with minutes and all of those should have far too much quality for Carlisle United. I'll let the rest sort themselves out.
KICK OFF: 8pm. Tickets still available from Anfield. TV highlights, Channel 5, 11pm.
ODDS: Liverpool 1-5, Draw 77-10, Carlisle United 20-1
LAST MEETING: Carlisle United 0 Liverpool 3 (Barnes, McMahon 2). FA Cup Third Round, January 7, 1989.
READ: Liverpool, Carlisle United and the ghosts of Anfield past
[rpfc_recent_posts_from_category meta="true"]
Like The Anfield Wrap on Facebook