I REALLY do not want to be writing this piece. Let me say that first, to get it out of the way.
If I had my way — if we all had our way — Liverpool would be cruising at the top of the league and we would all be huddled together talking about the majesty of Brendan Rodgers and his merry band of men. However, where we find ourselves just five games into the new season is a position quite similar to the one we were in at the end of last season. That is, huddled together whispering quietly (and some of us not so quietly) about how, and if, Rodgers will hang on to his job. And so here I am, writing this piece I do not wish to be writing, adding my voice to the every growing din of whispers around Anfield.
The footballing reasons for sacking or keeping Brendan Rodgers will no doubt be poured over by John Henry, Mike Gordon and the men earning the big bucks in FSG but they would do well, in making the decision, to look slightly beyond just the results on the pitch and trophies in the cabinet. Because a manager, no matter how well his CV reads, is not a Liverpool manager if you cannot imagine his face on a flag in the Kop.
League position, transfer records and commercial potential all matter, but for managers of Liverpool, it's all about the cult of personality. They have to get 'it'. And we have to get them.
It all started with Bill Shankly. Everything seems to start with him. Enough has been written about the great man for it to be fairly clear that there was, and still is, the ultimate cult of personality built up around Bill Shankly by Liverpool fans. His hard working, socialist life values and his press-pleasing way with words means that even today, Shankly is a near mythological figure in football, not just at Liverpool. He married his quotability and working class attitude with a happy knack of stock piling trophies for the Reds. The fans didn't stand a chance. They were swept up in the great man's wake, drawn in by his alluring charm and captivated by his every move. Such was his impact on the culture of the club that we all today are still in thrall to the cult of Shankly.
Ever since then, Liverpool, more than any club in England, has looked to build a cult of personality around their managers. We look for something in each man, something that can tie them back to Shankly, to where it all began for the Red Empire he built. And if you look closely enough, this is often the intangible that marks a manager out for success or failure with Liverpool.
Following Shankly was, of course, Paisley. While not as outgoing publically as his predecessor, Paisley carried himself with great dignity and had an innate likeability, while at the same time possessing a razor-sharp wit that the Liverpool fans adored. His was a cult awash with even more success than that of Shankly.
A sparkling sense of humour and an air of devilment was not always necessary for fans to turn their Liverpool managers into Messiahs. Kenny Dalglish was adored as manager for the art he created on the pitch more than for anything he said while in the dugout. In the wake of Hillsborough and the toll it took on him, another layer was added to the Dalglish legend; this time as a man of compassion, one as much a part of the club as anyone ever had been.
Rafa Benitez was another not blessed with the silver tongue of Shankly or the homely charm of Paisley. Nor was the football played under his watch particularly exhilarating. The fans idolise Benitez for 15 minutes of magic in Istanbul. Exactly what was said in the bowels of the Attaturk Stadium may never be divulged to us, but enough is known that Rafa will remain one of the most beloved managers in the club's history. He won a lifetime of devotion the night we won it five times.
In much the same way that the more successful Liverpool managers have been the ones around whom fans can gather to worship and build cults around, those men who have struggled in the job have been similarly difficult to raise onto a plinth for adoration.
The clearest example of this is Roy Hodgson. Appointed at one of the most turbulent times in the club's history, Hodgson nevertheless failed to carry himself in any manner like a Liverpool manager.
From day one he talked the club down, attempting to lower expectations and goals. While Liverpool has often been a club which got easily carried away and held unrealistic expectations in recent years, Hodgson went completely in the other direction. The wrong direction. He underestimated the importance of projecting confidence as Liverpool manager.
Liverpool FC might not be the biggest club in the world for money, or for likes on Facebook. But they are the biggest club in the world to its fans. And any manager who misjudges that as badly as Hodgson did is doomed to fail, his smallness of ambition rejected by fans who want to live in hope.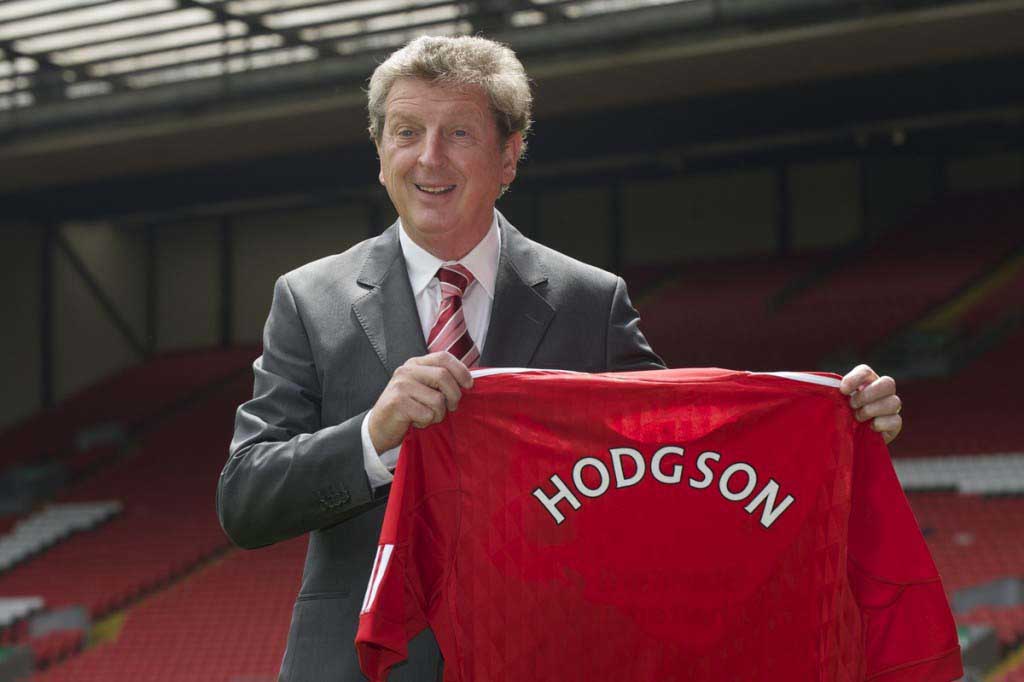 And so we finally circle back around to Rodgers. Appointed when he was just 39, Rodgers looked like he had the ideal profile for fans to adore. His cult of personality was easy to construct. He was ambitious, came from (relatively) modest footballing beginnings and he talked a big game, speaking like he knew the job was an important one.
In 2013-14 (forever known as The Year We Nearly Won the League), his budding legend reached fever pitch. The brand of football being played all year was as exhilarating as Anfield had seen since at least Roy Evans' time, if not before with some citing the game played by the magical 1987-88 side.
The long unbeaten run and a sense of destiny swept all of us along with it and the banners and flags began appearing. "Make us Dream," read the banner in the Kop, and Rodgers' side certainly did that.
As the long-awaited title was dangled tantalisingly closer, the cult of Rodgers grew ever more. The memes appeared all over social media. You remember the ones. A picture of Shankly in the background, Rodgers in the foreground and an imagined conversation between them playing out in text form. Bit mad. But we all believed. We all dreamed.
We know what happened next, but it did not greatly diminish the cult of personality around Rodgers, by and large. He still talked his big game and the Kop still dreamed.
Fast forward to the end of last season and Rodgers found himself in a delicate position. A mixed (at best) season saw the positive mask slip and the proclamations Rodgers is so fond of suddenly looked slightly foolish at different intervals.
The final-day 6-1 humiliation at Stoke seemed to leave the writing on the wall for the Northern Irishman. There was a sense Rodgers was on the brink with Jurgen Klopp lurking in the shadows and in the end only a re-jigging (ok, an entire reconstruction) of his back-room team kept the Bostonian wolves from the door.
A summer of rebuilding for the second year in a row has failed to yield immediate results and the same questions asked of Rodgers at the end of the previous campaign are being asked again, this time with added worries over an apparent ebbing away of the identity the manager had tried to cultivate during his three years in charge.
It is not just the on-field identity that has seemed uncertain in recent times. The swagger and confidence of Rodgers, much derided in some circles, seems to appear and disappear week by week. He deals in only the extremes.
When the team are winning, the players (and, indeed, he himself) are world beaters, the best on the planet. When things go wrong, Rodgers engages in fatalism of the highest degree, talking of fearing for his job and appearing as if the weight of the world is on his shoulders.
The only constant, of course, is "character". It is hard for fans to build an empire on such uncertain foundations, such mood swings and mixed messages do not make for banners and flags with which to adorn the Kop.
As I have said already, FSG will look at far more than fan opinion in making their decision on Rodgers' future. But behind any decision, be it retaining him or replacing him, the size of personality is a key (albeit possibly intangible and slightly hidden) factor.
FSG may decide to keep faith with Rodgers and they may point to his vision for the future or his relationship with players as the reason.
They may decide to remove him and seek to appoint somebody who more closely matches their philosophy or may be able to attract a different class of player.
Behind all of this though, if you take a moment to look, the success of Rodgers or whoever may follow him could be predicted by how the fans take to him — by how many flags bear his face in the Kop.
Managing Liverpool is, and always has been, a cult of personality.
[rpfc_recent_posts_from_category meta="true"]
Pics: David Rawcliffe-Propaganda-Photo
Like The Anfield Wrap on Facebook