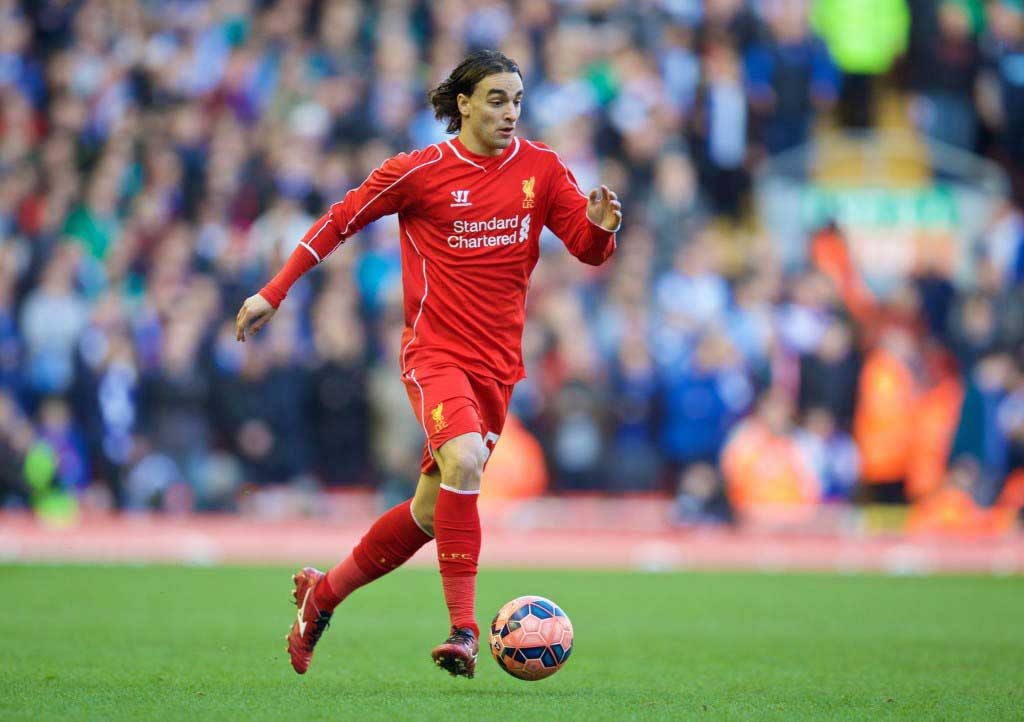 LET'S take it back. It is relatively quiet in the Melwood reception area, with training long finished and the players going through their post-session routines of refuelling, ice baths and — for the really brave — a table tennis battle with Jose Enrique inbetween his selfies.
Lazar Markovic, scheduled to be interviewed by Liverpool's magazine, makes his way down the steps to the welcome hall and spots a familiar face. A smile quickly forms and an elderly woman makes her way towards him sharpish, leading to an extended embrace. Given the affection, I figure this is probably his mother or perhaps an aunt.
But it is his translator, whom he's met through the club. After the interview, he hands her signed shirts, they share a few laughs, hug, say goodbye and even though I now know better, it still looks like they're family. Because, I suppose, he treated her as such.
Watching the interaction sparked my mind to recall another story. When Markovic was signed, he needed to go to France to fetch his visa. Naturally, he had a first-class ticket for his flight. But when he boarded the plane, he realised that the female player liaison officer accompanying him, who was pregnant, had an economy seat. He insisted that she switched places with him, persisting until she eventually obliged.
Put aside football for just a minute, and drink this all in. It doesn't equate to goals or points and definitely not trophies but there's *something* in knowing there are some genuinely good eggs at the club you support.
Right, the football… Markovic's first season on Merseyside showed glimpses of what he could offer, but also served as a reminder that he is a player still developing. Liverpool knew they were buying coveted potential rather than the final product, but the game can be unforgiving. Lazar will unfortunately be judged on the £20m that was paid for him, much like Raheem Sterling's flaws won't be so easily tolerated now that he is a £49m star, earning just under £200,000 a week at Manchester City.
Players don't set their transfer fees, but can get strangled by the expectations that come with them. Markovic was supposed to buzz in, and immediately blow down the Premier League, as people will often add: for his price.
https://www.youtube.com/watch?v=Wk0f9_Kqvpk
But at his age, in a new environment — the second completely alien one for him at just 20 years old — he needed to be eased in, afforded time to settle, learn a new philosophy, understand a faster, more physical league, acclimatise to a different dressing room, adopt defensive responsibilities, navigate added levels of scrutiny and worldwide expectation…
At Benfica in 2013-14, Lazar had started 19 top-flight games and was subbed in on seven occasions. Last season he managed 11 run-outs from the off and was brought on seven times. Not ideal, but not a gigantic difference in a tougher league.
However, while fans are impatient, often players are too and perhaps just as others imagined he'd go from zero to 100 real quick, Lazar placed those demands on himself.
That Liverpool found themselves in a nightmarish transition phase post-Luis Suarez didn't do the starlet any favours. There won't be too many willing to bet against the theory that if you drop Markovic into the team from January to May 2014, he'd have been spellbinding. Confidence is not everything, but it is a thing and had Lazar been exposed to the kind of highs of the title tilt, he would have contributed a fair few stanzas of that poetry in motion.
He struggled last season largely because Liverpool did. And it's no coincidence that when they didn't, neither did he. Markovic played his best football of the campaign when Liverpool played theirs — from the clash against Bournemouth in December until he hobbled off against Bolton in February, he very often looked just the part. He dazzled against the Cherries, was absolutely sensational away to Sunderland, his movement in the 2-2 draw with Arsenal was edge of seat stuff and he was ace against Spurs.
His self-belief did go for a walk in the park for a short period. He stopped trying to beat his marker to open up space, and started to pass backwards. From around October 2013 to the turn of the following year, Raheem Sterling went through the same conflict — as do most young players.
"I started looking for easy options rather than taking a chance myself, beating a man, taking a shot on myself," he said.
"I'd stopped being natural, [and doing] all the things that I'd done which got me into the first team in the first place."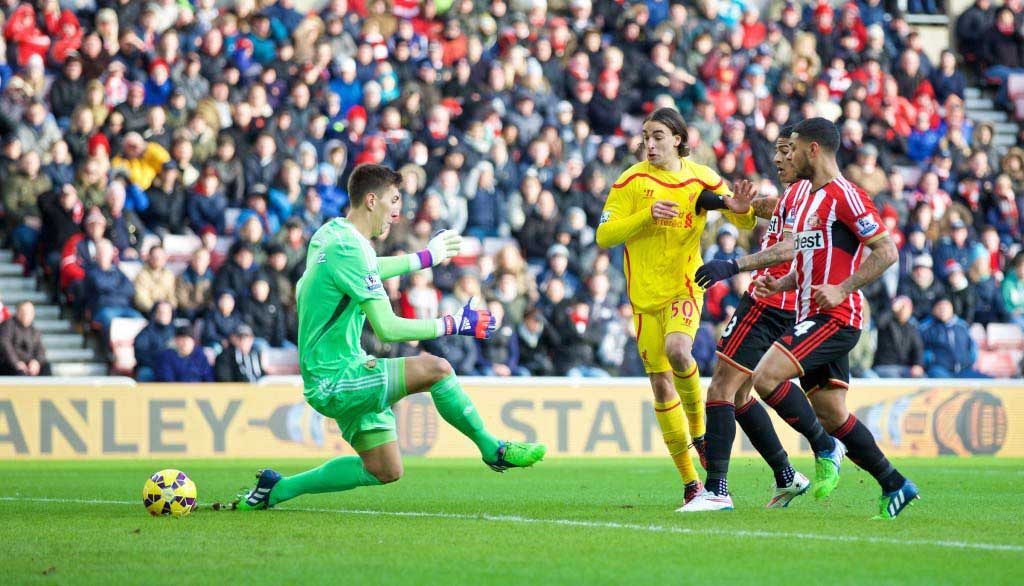 Steve Peters worked with Sterling and helped him rediscover his confidence, helping remove "that barrier, not to be worried about making mistakes."
Against Thai All Stars, Markovic was stationed at the tip of the diamond and located all the qualities that make him such a special player. Now it's only pre-season, and it was only against what-where-they-called-again? but hopefully Lazar is bulldozing through his mental block.
Now, I know some of you have been rolling your eyes throughout this article, waiting to shout that the answer is simple: DON'T PLAY HIM AT WING-BACK, making it seem a jail sentence of sorts when it is still very much an attacking outlet under Brendan Rodgers. Granted, Markovic would probably rather feature as a second striker, playmaker, or out-and-out winger as it's what he's always known. But the WB excuse is one of those skewed narratives that spread like Nutella — his best performances of the season came from that very role, apart from the fixture with Tottenham at Anfield where him and Philippe Coutinho were stationed behind Daniel Sturridge.
Jordon Ibe is not naturally a wing-back either, but I don't see anyone directing angry statements over his selection there. Part of Markovic's problem is that when he was rested after being roughed up at Bolton, the 19-year-old was thrown into the Merseyside Derby at Goodison Park, and gave Everton a new friend — his shadow. Ibe was a ball of attacking aggression, looking right at home in the position — a new one for him too — and he repeated the trick in the home victory against Spurs.
That Markovic and Ibe have been used in an unfamiliar position, is a positive thing — it shows that the manager trusts them to do something beyond what they've been pigeon-holed as. It will ultimately benefit them if they allow it to. Ask Jordan Henderson. And, if you can put aside all the swear words in the world for a second, ask Sterling.
Lazar understands this. "In Serbia, people do not recognise me for my defensive qualities. Sometimes you have to move away from what is comfortable to regain something in your game. I have approached my career in this way. Different is good."
While I can see the merits of Rodgers adding work ethic and diversity to Markovic's game, I do not think the manager has done his confidence any favours by frequently substituting him. Especially when the player was hooked at half-time, which happened on four occasions — all away from home.
Each situation had value from a performance analysis and tactical view (two of the shuffles ended in victory, the others were the 4-1 defeat to Arsenal and the semi-final exit to Aston Villa) but from a purely psychological perspective, it seems unproductive and unkind to give a young player the picture that he's the problem. From the outside in, anyway.
Perhaps his usage in his debut season was explained to him, perhaps he needs to work on having more faith in himself so Rodgers can invest extra in him, and if he ever needs advice in this respect, Markovic can look to his captain.
For all the things that didn't go quite so right in Lazar's first term in red and for all the options Liverpool now possess in wide areas, any talk of him going out on loan or being sold is so wrong. It should be chokeslammed. Hard.
Liverpool knew they were buying potential. We've only just scratched the surface of it and seen evidence that the lad has tralalala in his toes. I think he'll be better off for the trials he endured last season, and with the club bringing in Pep Lijnders to work on elite player development with specialised one-on-one sessions, Markovic can only sharpen his artillery.
The competition will be fierce, but I hope that he's having all of it. Backing himself and building up to an explosion of excellence.
Lazar got into his first club, Partizan, only because they wanted his older brother. His father refused to let Filip travel alone, so they accepted the younger Markovic as part of the package.
But he is at Liverpool because he is one of the most promising young players in the world. Lazar and the club should remember that. As should we.
[rpfc_recent_posts_from_category meta="true"]
Pics: David Rawcliffe-Propaganda Photo
Like The Anfield Wrap on Facebook