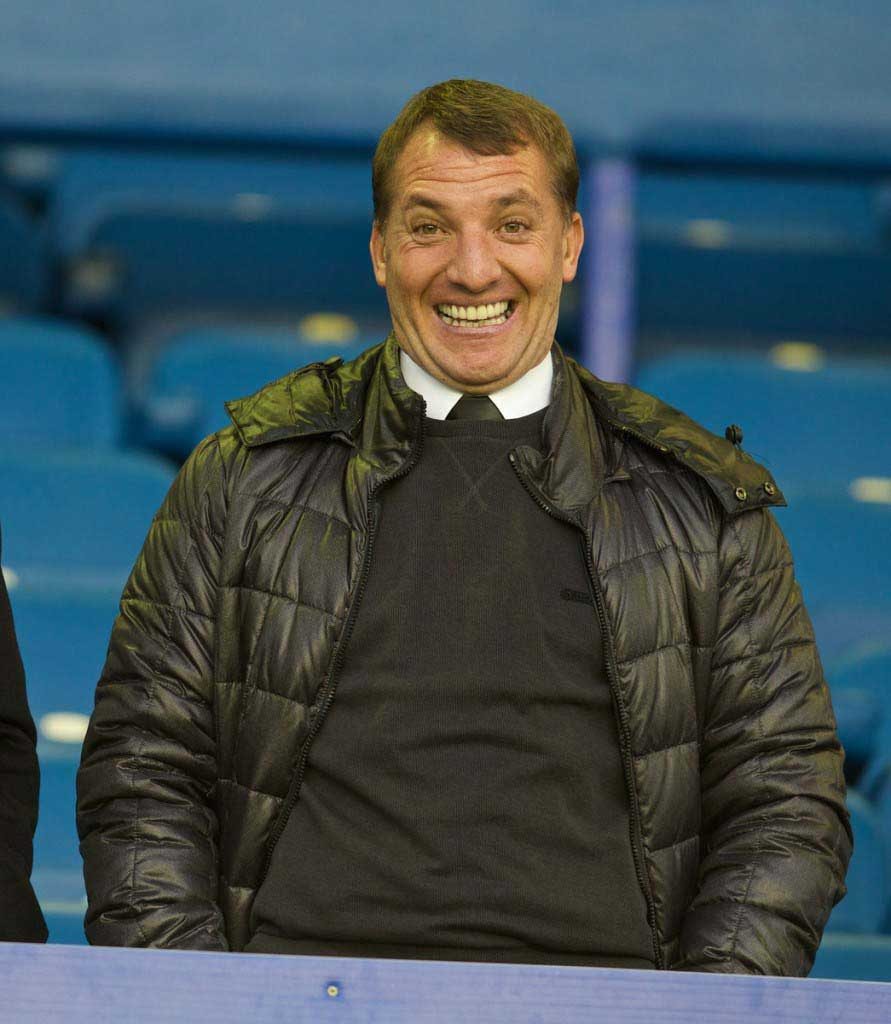 AFTER what has felt like months of speculation (it's been two-and-a-half weeks…), the manager situation has finally been put to bed. Brendan Rodgers will remain as Liverpool boss… for now.
There had apparently been leaks of information — something which seems to happen an inordinate amount at Liverpool these days — that Rodgers was safe, but something just didn't feel right about it all.
Why did the owners make him sweat on it for half a month if they had no intention of sacking him? Why did Tom Werner feel the need to come to England to do his review when he couldn't be arsed doing the same for Steven Gerrard's last game? And, perhaps most curious of all, why wasn't Rodgers sacked when Kenny Dalglish, who had just won a cup and been to an FA Cup final, was?
What has been especially odd about it all has been the timing. Not just that it's taken this long and that it was leaked to journalists at roughly the same time as Sepp Blatter's resignation (how convenient), but almost the entire timeline.
For those who wanted Rodgers out in the immediate aftermath of Stoke City 6 Liverpool 1, no news was bad news. For better or worse, there was to be no reactionary sacking to that humiliation. It was going to come down to the infamous end-of-season review.
However, early indications from sources said to be close to FSG were that Rodgers' job wasn't even going to be in question, let alone on the line at the review.
Just after the season had ended, there were cries for the manager's head, but online polls seemed to have the fans split at roughly 60-40 against Rodgers, taking into account a few thousand desperately tragic opposition football fans who like to skew the results.
It was perhaps right that the owners were going to let a cooler head prevail. Potential replacements hadn't even finished in their current roles, there was no need to rush what was going to be a massive decision.
However, two weeks later and not only had the fans who wanted Rodgers out not relented from their stance, but they'd been joined by roughly an extra 20 per cent. New polls recently were showing it was now 80-20 in favour of change. Whatever your own opinion was, that's toxic — particularly when you consider that a poll in Madrid suggested that 65 per cent of Real fans wanted Carlo Ancelotti to stay before he was dismissed.
As well as Rodgers' failings last season, a major reason people wanted change was the potential to replace him with someone of the ilk of Ancelotti or hipsters' favourite Jurgen Klopp. This is where the story started to get very curious.
In the media, Rodgers' position went from 'not in question', to 'vulnerable'. Odds shifted significantly, too. A few days ago there was a story leaked that Rodgers was definitely safe, but then the German media went with a story that Klopp would be interested in the Anfield hot seat should he be offered it, in spite of stories that he wanted to take a sabbatical. Exactly the same regarding Ancelotti came from the Spanish media, or in particular, the Madrid media.
Unsurprisingly, stories the next day were that Rodgers' position was now under serious threat. Tongues were wagging up and down the land and across the world, with Liverpool fans in the main salivating at the prospect of either the German or the Italian being in the Reds' dugout come August.
Speculation reached fever pitch when the very reliable Jonathan Northcroft of the Sunday Times reported that the Liverpool hierarchy were indeed considering other options, including Klopp, if after the review they decided a change was necessary.
On Monday, Klopp confirmed that he was to take a break from football. A day later, and Rodgers' safety is confirmed, and mere minutes after, Ancelotti tweeted saying that he'd turned down a return to Milan to take some time off.
Could it be that FSG have given Rodgers his last warning, knowing that should they need to pull the trigger halfway through the season, they may have a well rested Klopp and/or Ancelotti to choose from? Or are they merely backing the man they hired or, more to the point, their own decision to hire him in the first place?
There will be a thousand different stories on what really went on, but the timing of it all was a little too coincidental. Maybe they didn't fancy Klopp, who has just come off a very trying season himself, or Ancelotti, who would surely have kicked up a bit of a fuss about the transfer setup. Or maybe both indicated they weren't interested. Or maybe neither were ever contacted or even under consideration in the first place.
Thanks to @acmilan for their support interest. It was hard to say no to such beloved club to me but I need some rest. I wish them the best

— Carlo Ancelotti (@MrAncelotti) June 2, 2015
Something that doesn't sit right with me is this. The question of the manager's position was apparently left to the review. This was a meeting between three men, Rodgers, Werner and Mike Gordon. Of that trio, Rodgers outdoes the other two in football knowledge by a significant distance. I just have this scene playing out in my head where they ask Rodgers if he's the man for the job, he says yes, and they say, "Well you know the game better than we do, so we'll take your word for it."
Anyway, what's done is done. Rodgers stays, but why?
Perhaps it's his willingness to work with the transfer committee setup. Reports initially suggested that FSG were planning a major overhaul of the committee, and were going to ditch it altogether in favour of their initial plan to have a single Director of Football, which would be a condition that Rodgers would now have to accept after rejecting it when he took over three years ago.
However, recent reports indicate that FSG still have complete faith in the transfer committee set up, in spite of it's many failings, and that appears to be the most likely scenario. If they had intended on changing the setup, why haven't they done it already? Why is the club making bids for numerous players presumably selected by said transfer committee? If you make that change you do it in February, not June.
Rodgers had a tremendously big job on his hands when he came in three years ago. Now, if anything, he has even more to do and to prove. He has to convince the vast majority of the fanbase that he can turn things around, and he has to convince a dressing room that appeared to largely hang him out to dry at Stoke that he should be the one managing them.
He also has to get Liverpool playing like Liverpool again.
Talk to anyone about the situation and you'll get different arguments, opinions and sometimes facts ("Lovren made more errors that led to goals last season than the whole of League One combined!") but one thing that is constant is that everyone mentions the style and substance of the general play, or lack thereof.
Last season was awful from Spurs away onwards, with the slight turning of the corner between December and March. However, the football still wasn't anything you could hang your hat on during that time, and the spectacular way in which it all unraveled showed just how flimsy and superficial it had been.
When Rodgers arrived he titillated us with phrases like 'death by football' and teams coming to Anfield to face 'the longest 90 minutes of their lives'. There have been periods during his time in L4 where he's achieved this, but they've been too infrequent and too skin deep. Rodgers needs to give his team an identity, a consistent method of playing that builds a trust in him from his players that it will be enough to beat anyone if they execute it well.
The main thing that will concern me, and should definitely concern Rodgers, is that more so than ever the knives will be out. Just look at the reaction to losing to Manchester United in March. After three months unbeaten, one defeat was enough to turn a large amount of the crowd (admittedly in a crucial game against bitter rivals) against him. The way things are right now, even if he starts the season with 15 straight wins, a defeat against a Newcastle or a Swansea will inevitably bring back the "I told you so! Rodgers out!" comments.
He wanted more coaching time last season. Well this is his chance. After a good rest and chance to clear his head, a pre-season with very little disruption from international tournaments and plenty of time to spend with his players before it all kicks off again in mid-August, Rodgers has no excuses. If he can't make a team out of these lads in those circumstances, he can't do it at all.
Transfers will be crucial, they always are, and the strong links so far to Milner, Ings, Clyne and Benteke are, to me at least, somewhat underwhelming and certainly uninspired. As Times journalist and TAW contributor Rory Smith said this week on The Game football podcast, if they really are Liverpool's targets then FSG could save a lot of money by firing their scouts. A five-year old who has watched Match of the Day a handful of times could have identified those players.
I, like I'm sure many of you, had fallen in love with the idea of Klopp coming in. I had my 'Kloppite' scarves, mugs, t-shirts and superlambanas ready to go, but alas he will not be Liverpool manager… just yet.
The new season is just two and a half months away, and like it or not, Liverpool will head into 2015-16 with Brendan Rodgers as their manager… for now.
Over to you, Brendan.
[rpfc_recent_posts_from_category meta="true"]
Pics: David Rawcliffe-Propaganda
Like The Anfield Wrap on Facebook