I MET Malcolm McDowell once, writes ROB FRASER. I've been a [sort of] journalist for nearly 20 years but this wasn't an interview. I was on holiday in Taormina, Sicily and their film festival was taking place and Malc was being honoured [so was shampoo spokesperson Andie Macdowell which made me suspect there might've been a bit of Rolodex confusion in the organisers' office].
It turned out that I knew a Scottish director with a film in competition and he only went and won [Guy X it's called, with Jason Biggs from American Pie and Orange Is The New Black, pretty good movie] so me and my wife ended up at the closing night party as his plus ones. And I ended up six feet from the guy out of If… which I loved when I was 14 and at a Catholic boys school in Woolton, especially the bit where he grabs a machine gun and starts shooting the place up. And he was in Cat People, which featured Nastassja Kinski wearing not very much so also had a bit of a cult following among the adolescent cineastes at SFX.
But it was Malcolm McDowell so I already knew if we were going to chat I'd be trying to steer the conversation to A Clockwork Orange, I mean, come on, Kubrick and that. Only I never got the chance, because this was June of 2005, and the second he heard my voice — the second he heard my accent, really — he grabbed my arm, looked me in the eye and said: "Are you from Liverpool? God, what a fucking game that was!"
McDowell grew up in Yorkshire, has spent most of his adult life in Los Angeles so has no particular affection for LFC: he just sat in a Business Class departure lounge in Dubai airport and watched the Champions League final like a neutral until those mad six minutes when he just got swept along, when we became, in all senses, irresistible.
From then on he's desperate for us to win but his flight gets called, right before the match goes into extra time. But once you've played a psychotic Roman emperor you find a way to get what you want.
"I asked the captain to keep me up to speed," he said. "So we've taken off but there's someone in the control tower watching a TV, he's shouting over to the guy looking after our flight, he's telling the pilot and the pilot is commentating on the penalties over the plane intercom, and I'm going crazy in my seat."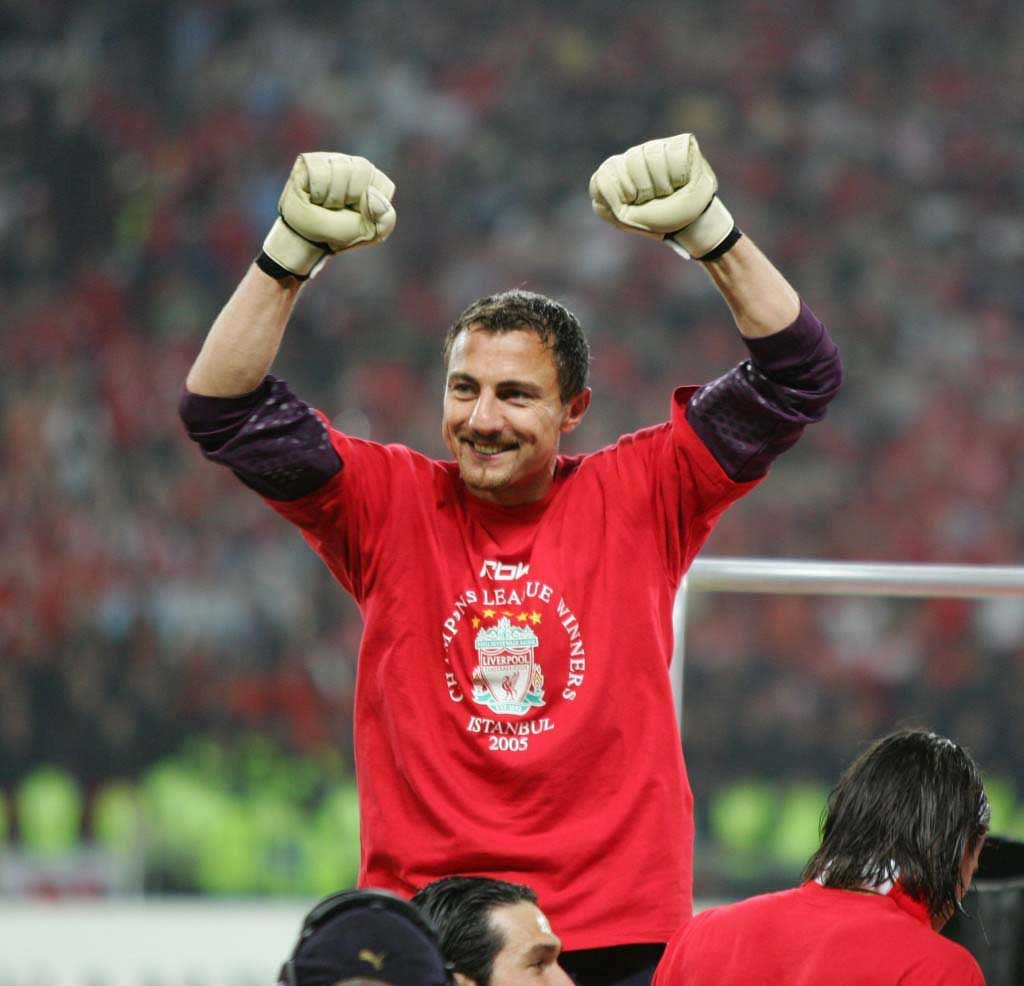 I never got to ask him about Stanley Kubrick. Not arsed.
That's what it was like being a Liverpool fan that post-Istanbul summer. I was in London for work and watched the game in my mate's flat with a load of lads from school, all of us stood up from the Gerrard header onwards. Once the trophy had been presented a couple of us went into town and that's when it started: my phone never stopped. Boro fans, Villa fans, Celtic fans, even a United fan — ringing or texting because I was their Liverpool-supporting friend and they wanted some kind of connection to the miracle they'd just witnessed.
Your mates are one thing but it carried on in the pub afterwards with grins from bar-staff and random embraces from total strangers. It carried on at the work meetings I had stupidly scheduled the next day. It carried on when I got back to my adopted home, Glasgow — every cab ride meant reliving Smicer's expectation-defying goal, Carragher's cramp-defying blocks, and Dudek's laws-of-physics-defying save from Shevchenko.
With no major sporting event that year Istanbul held the spotlight longer than it would have if a World Cup or Olympics had come along to steal its thunder, and being a Liverpool fan, with a Liverpool accent, carried with it a kind of reflected glory.
It hasn't always been like that.
British Rail used to have this special offer thing — a family rail pass that gave unlimited train travel anywhere in the country for a week. Jimmy Savile did the adverts. Anyway, in the school holidays of 1981 me and my mum and dad used one for a succession of days out: Blackpool, Llandudno, Colwyn Bay and, on the one absolute scorcher with which we were blessed, the Lake District.
Such were the Draconian licencing laws at the time that my auld fella had to abandon wife and child on the banks of Windermere and nip into the boozer for a pint before three o'clock closing. Hearing him place his order a tourist couple approached tentatively, concern etched on their faces: "Excuse me, but are you from Liverpool?" asked the wife and, getting a wary nod from my dad by way of reply, went on "just how bad is it there?"
To his eternal credit — probably because it was the time of the Toxteth riots and the woman's heart seemed to be in the right place — my dad limited his response to a brief "it's not frigging Beirut" and got stuck into his mild.
That's the thing with the accent: sometimes it's a badge of honour, sometimes it's a cross to bear. I lived in Manchester for nine years; unfortunately the nine years that saw the seat of English football power move to the wrong end of the East Lancs Road. I worked in a video shop [ask your Nan] where one of the customers addressed me, quite cheerfully, as Scouse Cunt. As in: "Alright, Scouse Cunt have you got Silence Of The Lambs?"
I took it all in good humour as he was part of a local criminal family — more Fredo than Sonny or Michael but still. I was similarly diplomatic if I ever watched us in the pub, although this strategy needed a rethink after Ruddock headed in the equaliser in the 3-3 against Man U under Souness.
There are Reds' supporters from across Britain and around the world — some of them regular contributors to this site and the wonder that is TAW Player — who live and breathe the football club and, genuinely, no one is undervaluing the intensity of their devotion: it's just that the accent alters the experience.
The vast majority of people who hear you speak immediately assume you're a Liverpool fan — same goes for indigenous Evertonians too, of course, which is one of the reasons they're always fewmin' [must be like constantly telling people you went the Cavern loads but only ever saw The Swinging Blue Jeans].
A decade on from the post-Istanbul Summer and again there is a dearth of major sporting events but instead of the ultimate ice breaker we're left with conversational cul-de-sacs — "Are you happy Rodgers is staying? Do you think Sterling will go?" – and the accent has switched from blessing to curse.
At the time of writing there has been no "marquee" signing and we all know FSG's transfer policy is so rigid it might as well be carved into Ed Miliband's slab. But surely to Christ their criteria is missing a key element: we are Liverpool and we need something to talk about.
[rpfc_recent_posts_from_category meta="true"]
Pics: PA Images/David Rawcliffe-Propaganda Photo
Like The Anfield Wrap on Facebook
Subscribe to TAW Player: https://www.theanfieldwrap.com/player/subscribe