THIS Sunday the players of Liverpool Football Club will form a guard of honour to herald the arrival of the new English Champions. Whether we like it or not Chelsea are the victors and should be lauded as such. Not by us, you understand, but by the club. In the true Corinthian spirit of the game it is only right and proper that congratulations be metered out. Credit where it's due. They've done something that we could not. A salut.
This is a good thing, a classy thing. I like to see the nastiness, the snideness and vitriol taken out for once and an appreciation of the game itself taken into consideration, but…
But…
Well, I'm not keen. Let's be clear here. This isn't something we have to do. The Premier League have not stipulated that this is a requirement. In many ways it would be wrong if it were. After all, you can't force someone to offer congratulations against their will. Even the most begrudged handshake — the Stuart Pearce, as it were — is still a handshake. No, we have volunteered to do this. Aren't we nice? Aren't we a class act?
There's a precedent here, albeit of somewhat mixed heritage. United have previously applauded Chelsea on to the pitch and, indeed, Chelsea did the same to us in the 60s. We've even done it for Leeds when there was even less love lost between the teams than there is today. But why has this fabricated bonhomie started? I don't recall it happening in our heyday. When we were winning Leagues the opposition just got off so we could hurl the trophy around and exercise poorly rehearsed Jamaican handshakes. None of this guard of honour stuff.
I voiced my dissatisfaction of this on Facebook. Many of my mates argue that we should be doing it as it's the done thing. It's that word again — class. No one likes a bad loser and to show your appreciation is both true and noble. Without a degree of sportsmanship this game is nothing. I agree with that, but this just seems fabricated. Something for the cameras. Something to keep the PR machines of both clubs in full swing. Something they can sell.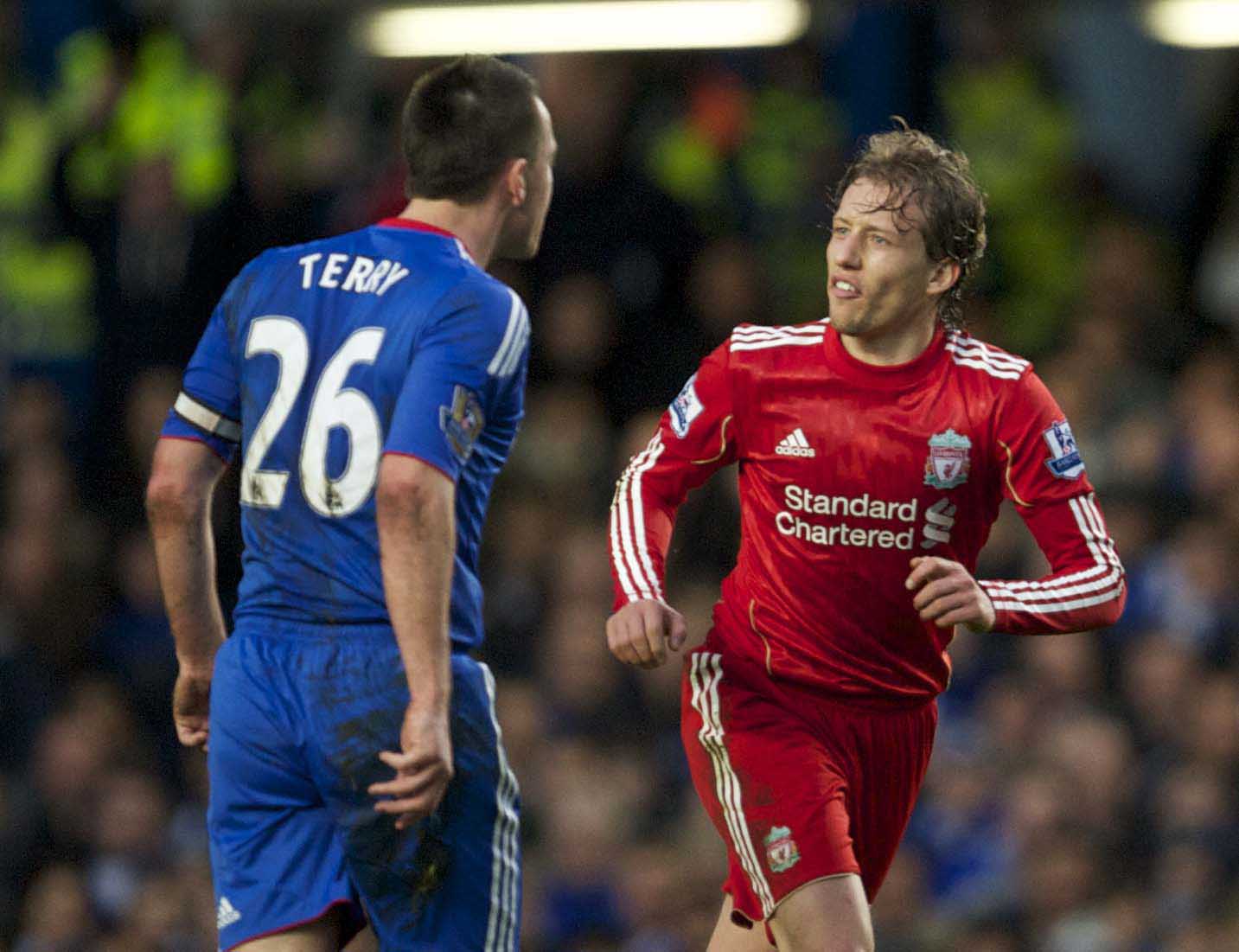 It's just empty though. A slap on the back from captain to captain is all well and good but I doubt our lads are bristling with excitement at another League title going somewhere other than our trophy cabinet. That's nothing to do with Chelsea as such. It's anyone. But the club have volunteered to shove our lads on to the pitch and take it like men.
I doubt our fans will be joining in the applause. As Johnson from Peep Show says: "Show me a good loser and I'll show you a loser."  Our lads can smile politely like gladiators thanking Caesar and the club can take as many pictures as they want, but they best not tape the away end. There will be no guard of honour from us. Scheduled regard is no regard at all and, in any case, I prefer impromptu acts of respect. They mean more. Fan to fan. Clapping Madrid on at half time in 2008, staying behind seconds after we've conceded the most heart-wrenching title to Arsenal in '89, recognising great goals against us. That. Then there's the fan stuff. The away end clapping Hull City for their fight with their owners. See also Cardiff last season. That's better than any fanfare smartarsery.
What I don't understand about Sunday is the mental momentum. Picture the scene. The lads are fed, watered and stretched and sit patiently waiting for Brendan's instructions. Let's guess at those words. I won't do the accent and you might like to throw in a few 'okays' in but let's have a go.
"These may be champions but today they're facing Liverpool. They're facing a Liverpool side with much to prove, a Liverpool who are still fighting for the last Champions League spot with our bitter rivals. They may be champions. They may wear their medals but they'll be wearing our studs in their legs. They're going to be given the most uncomfortable afternoon of their lives.
"They're playing Liverpool today and they're holding on to our points. So take every ounce of hurt, every ounce of pity, every ounce of shame of this degradation of this abomination of a season and cram it into the best 90 minutes of your lives. No quarter given, no tackle shirked. It's our ball today. They're playing with our ball so get it back and hurt them.
"Oh, and before you do, give them a big round of applause and remind them that they're so much better than us."
Er, yeah. Okay.
Of course this is a nice thing to do but why can't it be done after the game or with a line on the website once everyone's finished? Give them their trinkets when our season is over, not theirs.
This isn't for us, of course. It's for the game. It's for the Premier League. It's for the product. It's a nice sign off to the season. Well, I'm sorry but we haven't finished yet. We've got a target to reach. We're not on the beach.
Yet, we volunteered because Liverpool is a nice club with nice PR and a fan base that is different to the other savages. We're refined, fair and the envy of the world, so we play ball. We always want to be seen as the good guys. Look at Liverpool. First out of the traps when the call for a classy club comes.
We're so anxious to show how lovely we are that we occasionally overdo it.
Look at the Madrid game this season. We're back in the Champions League. It's the biggest side in the world. This isn't going to be easy but it's a massive step in our development. So what do we do? We applaud every substitution. Not just Ronaldo who, knobheadness aside, is a hell of a player. Marcelo gets a better reception from our end than his own. Marcelo!
Again, respect is a fine thing but not to the point where it goes against the whole point of the game.
Then there's this. Bear with me because it's not going to be popular and I've got to be careful.
Last weekend, Rebecca Ellison, wife of Rio Ferdinand, died after a short battle with breast cancer. To die at such a young age is a tragedy and, obviously, our thoughts are with Rio and his children. My friend was Rebecca's age when she too succumbed to the same illness and hearing the news brought back some unwelcome memories.
The football world can be worthwhile at moments like this and it reminded me of the outpouring of  emotion when Gary Speed tragically died. My Twitter feed offered its condolences in a touching and caring manner and, although they never could, I hope the family took some comfort from them. Football is, let us not forget, a community and one that brings us all together.
However, one tweet had me shouting at my screen. It read: "Here's a chance for #LFC to show its class at Anfield today."
That looks pretty innocuous, doesn't it? But it sent me flying into a rage. It should have been a call for a moment of reflection before we go about the day's business, but it wasn't that. It was "a chance". That infuriated me. A chance? Of course, we're going to be sympathetic. A woman has died and her husband plays for that day's opposition. It's not a point-scoring bonanza. A chance?
I chose not to reply but other tweets poured out.
"Football rivalries aside…"
Why preface any sympathy with those words? What has football got to do with offering commiserations of this kind? Here's another…
"I've never liked the twat but…"
WHAT? Bring the word "twat" into an RIP message? Well done for @ing him, too. He'll want to read that. Well in, lad. You're doing a nice thing by saying that you're sorry for him and everything but as long as you told us that you hate Man U first…
At the match itself the QPR fans sang "Rio" for a bit and, because they were mostly inaudible, the Kop gave a small round of applause. Before the game Steven Gerrard gave Joey Barton and QPR flowers as we offered our condolences. Then we got on with the game. That's how it should be. Ignoring it would have been appalling and overdoing it would have been saccharin. We got this right.
I have a mate who works for QPR and was with the first team on the day. He tells me that both Rio and the club were touched by the gesture.
The next day I had a look at Facebook and around a few sites for views on the game. There were plenty of pictures of Gerrard handing the flowers over, but with the wrong type of headline. "Liverpool show their class." "Stevie hands over wreath in an act of class." The true narrative was about how great we had been, how nice and how appropriate LFC fans were. How we "look after our own". The posts forgot one thing. The death of a young mother. The names Rio and Rebecca were seldom mentioned. What seems to have been important was just how Liverpool are good at this stuff.
I get that we cling to the ideal of being different.  Rio did indeed receive some disgusting tweets because many are vile. Not us though. We went the other way. Massively. So much so that we forgot what the true meaning of "class" is. Class is about acts of selfless kindness with no request of reward or thanks. It's not about pointing at your own chest when you've done something good. That negates the entire deed. Yes, it's better than calling the poor man for everything but it doesn't make it right.
Applauding the champions is a class act. Well done. But, doing it before you face them is just stupid and weakens your camp before hostilities commence. It's us being 'nice' again. Being seen to do the right thing. We're above the common herd and it gets us absolutely nowhere.
You can still be classy and be snarly, bad bastards on the pitch. I want that round of applause to be begrudging, to be hurtful. I want those Liverpool players to be furious that they have to do it. I want them to show Chelsea that. I want a nice round of applause after the game as they lift their trophy, and I want them to raise it with a rare home defeat behind them and with bruises on every limb. I want Liverpool to draw a line now and take it into next season. It's time we realised that being nice doesn't always bring home the bacon. Not all the time.
This season we made it to Wembley and surrendered a goal lead with a grand total of 10 tackles and five fouls. That's nice Liverpool. That's 'hope we're not getting in the way' Liverpool. That's Liverpool not wanting to cause a fuss. That's a Liverpool where our captain-in-waiting advertises moisturiser. I'm tired of that Liverpool.
So I'd like some of our fans to stop treating modern day tragedies as photo ops, our club to be furious at our defeated season and our team to remember that the opposition are playing with our ball and that will never do.
[rpfc_recent_posts_from_category meta="true"]
Pics: David Rawcliffe-Propaganda-Photo
Like The Anfield Wrap on Facebook