GARETH Roberts told me he had access to accounts and documents around Heysel. He had spoken to a senior lecturer at Manchester University, Geoff Pearson, and Geoff had said we could come over and have a look at everything. We turned up and were surprised by the amount of information there was.
Geoff, an author on crowds and policing, was very helpful and a font of knowledge and gave me a cup of tea in a Manchester United mug. We started working through it and started trying to take it all in. There was all sorts in there. A Liverpool Echo supplement of letters from June 11, 1985, an essay on the media narratives that came out of Heysel, all sorts of police reports. Handwritten minutes and translations.
We decided we needed to go away to think about things. Think about what you say about all this now. There was almost too much. There was a book's worth, which was where so much of it had come from — the researching of a book by journalist David Stuckey and Sir Harry Livermore – a former Lord Mayor of Liverpool whose law firm Silverman Livermore represented 16 of the accused in the Heysel trial. Having access to all this meant that we had to try to do it justice insofar as you can. We leafed through what we could and we needed to put together a plan.
We returned and took the boxes to a room and began reading everything and brought John Gibbons with us. It was a lot of reading and it was as grim as you'd expect dealing with the deaths of 39 people. The police interrogations done on Merseyside of the 27 who were initially charged were emphatically similar.
Merseyside Police clearly had an arranged plan in terms of how they were interrogating their suspects but with the exception of about five or six of those 27 charged with involuntary manslaughter, you felt a smidgeon of sympathy for the young men they were interviewing.
One wrote a letter after the interview emphasising his own culpability and his own guilt. Two were shown video footage of their involvement and they were wearing Juve scarfs they'd swapped earlier on the day. Another was asked what he was doing in a specific video frame when interviewed and replied "acting like a cunt." Another asked the police what was going to happen to him.
"What do you think is going to happen," they asked in reply.
"I'm going to get banged up."
"Do you deserve it?"
"Yeah. I deserve it."
That you read in these accounts, these reductions of bravado to its inverse point; the transformation of it into fear and shame — that you hear the voices of young men you maybe were or young men you may have known or young men you know of, echoes through. And that's why there's a smidgeon of sympathy. Because you are pretty sure, pretty, pretty sure you and the young men you know and have known are better than that, would never do that, would never conceive of doing something like that but you also know it isn't 1985 — thank the lord it isn't 1985 — and you aren't on a broken down terrace, feeling penned in. You weren't in Rome the year before. You haven't done their day. You haven't had that mile in their shoes. But you have been in and around gangs of young men on match day. You've known what that is like.
You've known what that is like and you've known that people who come under your flag have, in some way, been integral in the deaths of 39 people, you've heard people chant "murderers" at you.
Reading these reports, chanting "murderers" actually removes the sheer misery of involuntary manslaughters. Murder implies a choice to actively kill. In these police reports is unavoidable acknowledgement that there was attack, by Liverpool supporters. But also there, not always, but often, is sheer misery at the outcome. That misery is in the Liverpool Echo letters page. That misery is in so much written and said.
Many, not all, but many of these young men didn't have the agency to murder, just the opportunity to kill without knowing they were going to kill. In a sense the greatest shortcoming is how entirely brainless the thing is. How choiceless it is in its key moment; how easily avoided it could have been had better choices been made earlier.
Reading these reports, with 30 years' distance, it is easy to have a smidgeon of sympathy because to not have it would deny the humanity of both you and them. However you have enormous sympathy, endless sympathy, for 39 families and beyond devastated, that collective desolation and loss around something so easily avoided. You are alive here and now, in this city, and know 30 years' distance is everything to police interviews and absolutely nothing to bereavement, sudden, unexpected collective bereavement which also has to be entirely personal.
When I was sitting in the room, reading the evidence I Googled something and stumbled onto something written by Steve Graves some years ago for this website. Steve had written:
"I've always voted Labour, enthusiastically and without a second thought. Does this place some responsibility for the Iraq war dead on my shoulders? I guess it does. The fact the Tories would have been, if anything, more hawkish over Bush's war doesn't change that. It was Labour's call, people died in their hundreds of thousands (or millions, depending on whose figures you use), and like it or not it happened on their watch, in our name.
Does the same collective responsibility apply to Heysel? Technically perhaps it shouldn't. Many of today's fans weren't even born. I was three years old. Are we directly at fault, 'murderers' as some more excitable fans of other clubs would have it? No, but that doesn't mean we can't accept that crowd violence was at the root of the tragedy, that behaviour common among Liverpool fans as well as those of other clubs contributed directly to – caused — the deaths of 39 people.
"The 'amicizia' efforts before the 2005 Champions League meeting between Liverpool and Juve were heartfelt, the Kop doing what it does best – rising to the big occasion. In truth, though, it was always in danger of feeling like a hollow gesture. Alan Hansen, speaking in 2005, admitted he rarely thought about Heysel even though he was in the Liverpool team that night. But then, what can we do?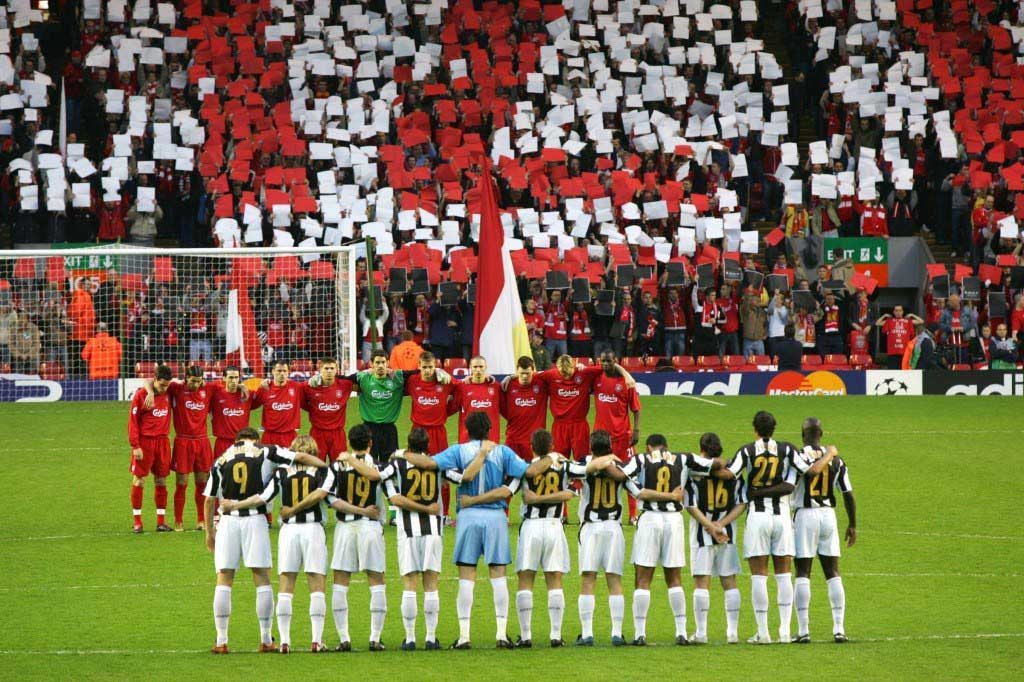 "A permanent memorial was unveiled outside the Centenary Stand in 2010, but even that drew criticism from those keen to accuse our club and city of seeking victimhood. Trying to make it 'our tragedy' was as bad as ignoring Heysel altogether.
"It's a double bind. We can't win. And maybe that's the point – who wants to win when it's very far from being a game? What happened at Heysel was largely the fault of people who fell under our banner. It's unfair for fans in 2012 to shoulder some of that burden, but shoulder it we must.
"As a number of Juventus fans made plain at Anfield seven years ago, for many an apology is not enough. Nothing would be enough – no constructive means for resolution exists. Heysel cannot be undone. Perhaps the best we can do is to commemorate 39 Italians, Belgians and an Irishman who never came home from a game of football. To accept that sometimes unfairness is thrust upon you, and all you can do is walk on, bowing under its weight."
This remains entirely true now, but perhaps you can unpack that weight, look at it, understand it, before picking it back up in some way. We read the documents. We interviewed people including two Italians, Serafino Inguardia and Francesco Caremani. We read books. We recorded conversations, got four people from Liverpool who were there at that time, in that place in a room and they talked. Mike Nevin said: "It felt good to do that." And perhaps there could or should be a point at which those determined to make you carry that weight can pull back, can know it was a different time and can know and understand exactly what went on.
Francesco Caremani told me two things that I will hold on to.
Firstly, that Juventus supporters want to know that Liverpool supporters know and acknowledge the charge was an attack and secondly that people who use football tragedies to score points are "fucking idiots." Fucking idiots. Those chants and their written extensions are essentially the same infuriating en masse brainlessness that got us all into this mess.
I can have some sympathy for how it happens, but look over there and you can see actual people who are and remain bereaved.
Let's think about them.
LISTEN: Podcast – Heysel 30 Years
READ: Heysel 30 Years: The Barbarians are Coming
READ: Heysel 30 Years: When In Rome
READ: Heysel 30 Years: Why Did No-One See It Coming?
READ: Heysel 30 Years: An Eyewitness Account Of May 29, 1985 In Brussels
READ: Heysel 30 Years: Oh God, What Have We Done?
READ: Heysel 30 Years: The Italian View
READ: Heysel 30 Years: What About Justice For The 39?
READ: Heysel 30 Years: We Meet Again