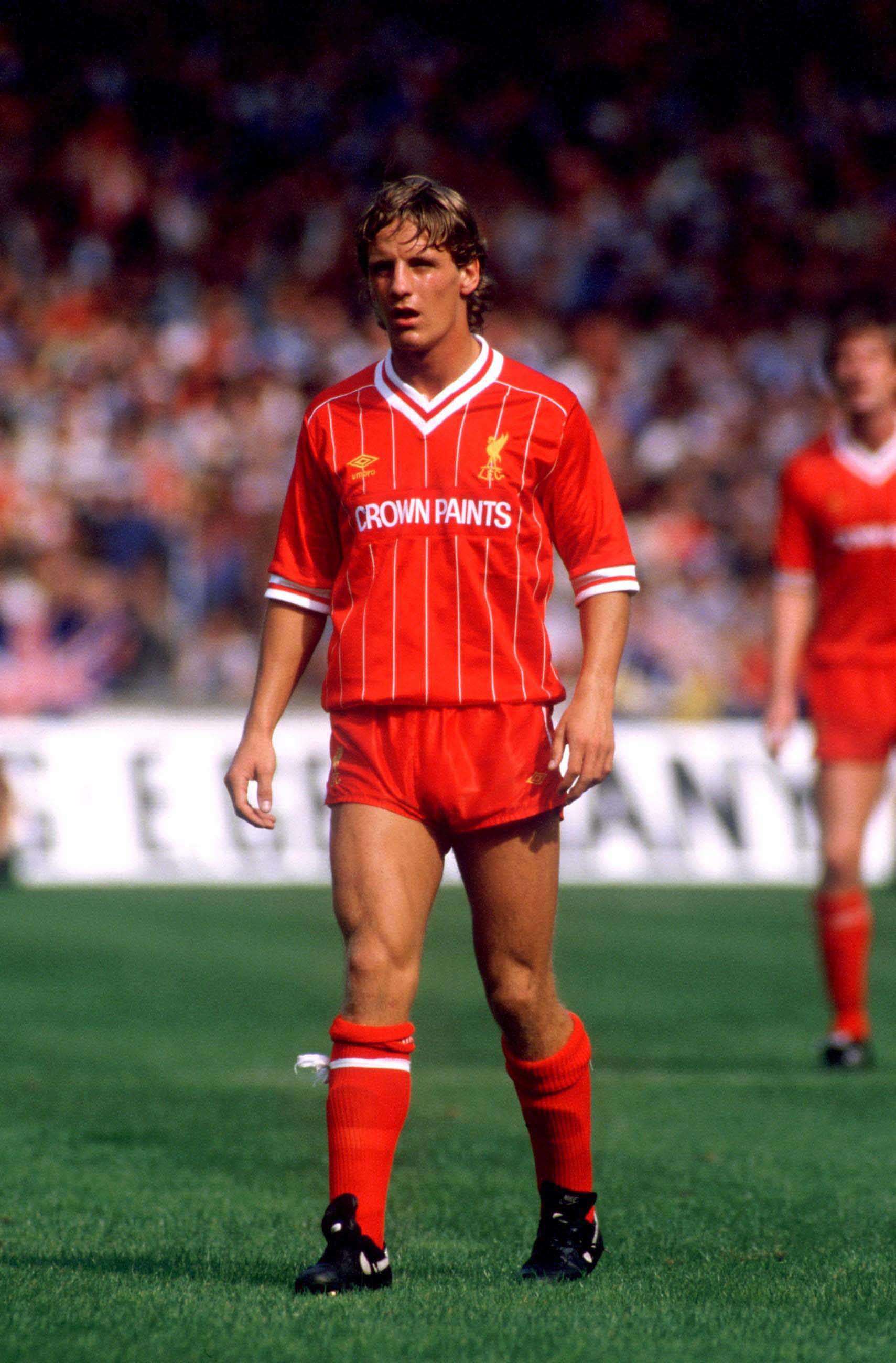 I'VE read a few articles recently where people have reminisced about their favourite players of yesteryear and it evoked memories of my own personal idol, Paul Anthony Walsh, writes GILL NEVIN. My adoration for him during his time at Anfield and for some time after he left can really only be described as an obsession.
I first became aware of his existence when the newly promoted Luton Town came to Anfield during the 1982/83 season. I only went to the occasional game in the Kop at that time, clutching a much-ridiculed kitchen stool with sawn-off legs, which enabled a vertically challenged 11-year-old girl to gain a better view of the action.
I had endured the usual Kop rite of passage of sitting on a barrier from about an hour before kick-off but was prone to bouts of excruciating cramp and inevitably fell off at the first crowd surge. The young scallies who mocked my stool on Walton Breck Road because it wasn't the more common milk crate didn't have any compunction about shoving me off and clambering aboard whenever we got a corner.
I don't remember that much about the game itself but was enthralled by this small, muscular dervish who gave the usually composed Mark Lawrenson a torrid time. In one sublime, unique piece of skill (see the video below c.38 seconds in) he twizzled Lawro's muzzy through 360 degrees, nutmegged him and squared for Brian Stein to score. As Lawro would say: "What a meeerment." Although Walshy didn't score he was a clear man of the match and helped Luton to a 3-3 draw.
This was the start of the love affair. I secretly began taking an interest in Luton's results and prayed that they would avoid relegation so I would have a chance to see him at Anfield again. The odd cameo appearance on Match of the Day simply didn't suffice. I think part of my desire to keep my liking for him a secret was that he hailed from London's Plumstead and at that time of my life, I had an unhealthy dislike of all things Southern — particularly Darts' Eric Bristow and Snooker's Steve Davies. I can only blame the influence of my big brother Michael of this parish for this rabid parochialism but it did make me feel distinctly uncomfortable about my fancy for Walshy.
Walsh went from strength to strength, showing every sign of fulfilling his early promise and won PFA Young Player of the Year award in 1984. There was (I thought) a particularly flattering photo of him to celebrate this achievement in the Figurine Panini sticker album, I think I must have accumulated about 50 of them but I wasn't prepared to do any swaps, even though he was wearing his Luton kit.
There was much less transfer speculation 30 years ago but I remember Liverpool being linked with Walsh in the press fairly soon after his first appearance at Anfield. To my great delight, the stories proved correct and in May 1984, we bought him for the bargain sum of £700,000. When we won the European Cup in Rome a few days later, I was in a state of feverish excitement, attributable to a heady combination of our magnificent victory and heatstroke. Seeing him in a Liverpool tracksuit on the pitch celebrating that historic win in Roma's back yard was almost too much. That game though! I don't think I will ever fully recover from the shock of Steve Nicol's shoot-out miss, I can hear my childish voice shrieking "Ohhhhhh…..Stevie" in the most anguished manner imaginable.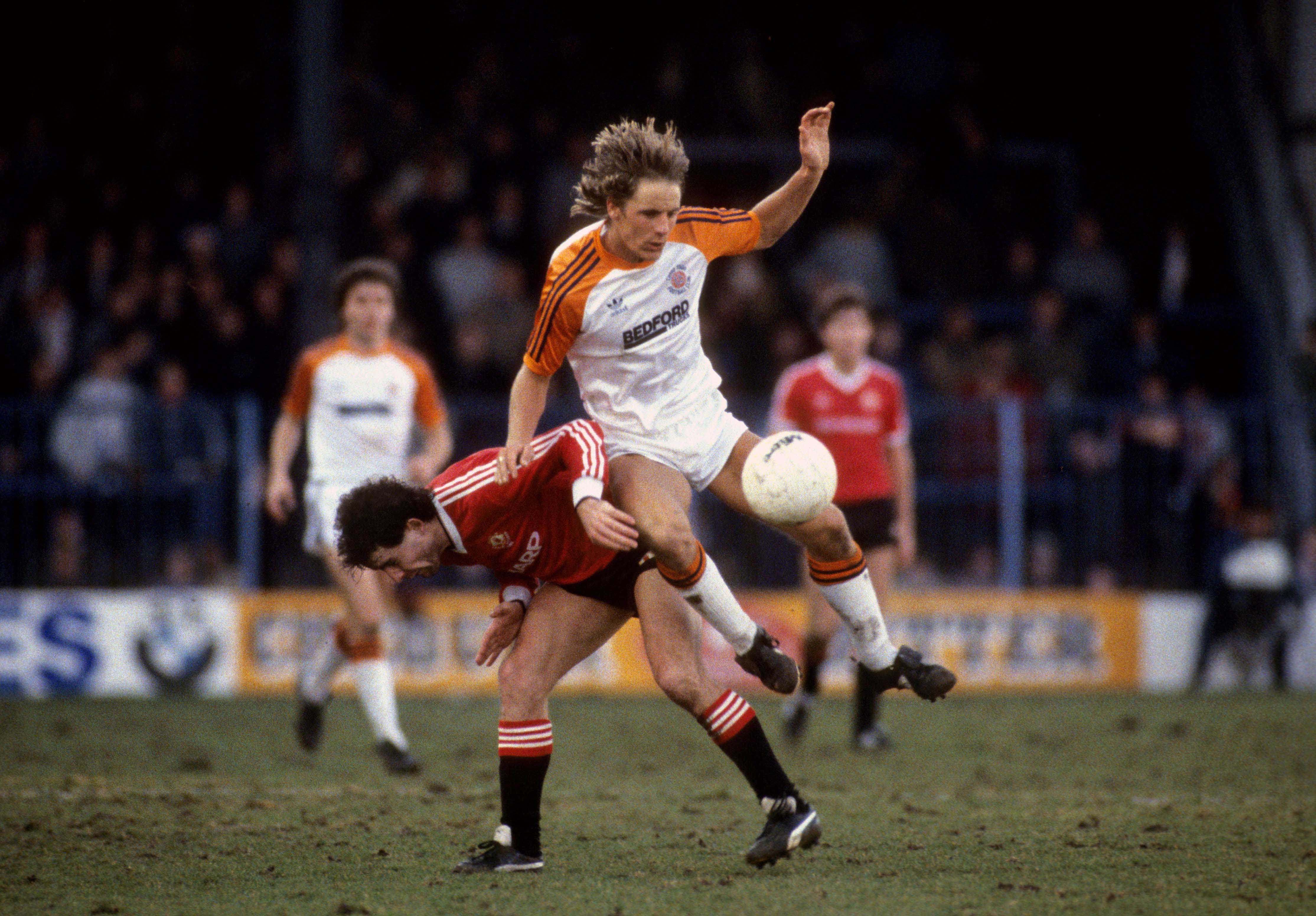 I attended the majority of home games during the 1984-85 season although I didn't get a season ticket until the following year. I was lucky enough to witness Walsh's Anfield debut in a Liverpool shirt in August 1984, he scored within the first minute and the Reds eased to a comfortable 3-0 victory. However, his place in the first team was far from assured in the early days so I had to be satisfied with the occasional glimpse of him. His stock rose immeasurably amongst the supporters following a bundled equaliser against Manchester United a few weeks later but he was already a superstar in my eyes. His low centre of gravity and ability to turn defenders was evident from the outset and distinctly reminiscent of my previous favourite, Kenny Dalglish. Poor old Dalglish didn't get a look in from then on (soz abar that, Kenny). In fact, Walshy specialised in goals from about a yard out against our greatest rivals; what's not to love about that?
By that stage, he was already sporting the trademark flowing scallycut most 80s Liverpool girls found so endearing. Match of the Day was religiously recorded and watched at least 20 times if he featured in a game. Footballers were not accorded the same hero status in those days so he rarely featured in daily newspapers or lifestyle magazines which adorn newsagent shelves nowadays. Every week I scoured Shoot and Match Weekly for pictures of Walsh. I soon started to accumulate an impressive montage on my bedroom wall; it was such a relief that my obsession no longer had to be clandestine now he sported the famous red shirt.
The highlight of his first season was undoubtedly his last-gasp equaliser in the FA Cup semi-final against Manchester United at Goodison Park. Much to my chagrin, I wasn't allowed to go due to concerns about safety and having seen the golf balls with embedded nails (termed "missiles of hate" by the tabloids the following day) which were hurled by, and at, Liverpool fans, I suppose I have to concede that my Dad had a point. Anyone watching that match now should bemoan the lack of passion which besets modern football; the entire ground was absolutely bouncing. Of course, there were less admirable aspects, such as the exchange of "Shankly 81" and "Munich 58" chants and an undercurrent of violence but on the whole it must have been a raw, life-enhancing experience.
I was pacing our front room throughout the entire game, witnessing another epic Liverpool comeback on the radio. If we were losing my superstition was to insist that the radio was turned off for a few minutes and on this occasion, my tactics paid off with Whelan's superlative equaliser with about three minutes of normal time remaining. Into extra time and a goal behind once more, I was despairing again as the seconds ticked away and I thought we were out, so off the radio went again. I turned it back on almost instantaneously to be greeted by a cacophony of noise, I couldn't hear what the commentators were saying so it was about a minute before I realised we had levelled again and the hero was none other than Paul Anthony Walsh. The poor cat was allowed back in and swung aloft like a trophy. The tragic black feline was also a victim of my paranoia as he wasn't allowed in the house if we were losing.
I revelled in Match of the Day that evening, particularly enjoying the sight of Walshy edging onto the screen at one point, picking his arse before exiting to the left. Then came the madness of the equalising goal and the absolute highlight which was the post-match interview. I think that may have been the first time I actually heard him speak and I was bewitched by his apparent shyness and soft London tones, describing how the ball "had been at a bit of a difficult height but I just sort of bundled it in". He may not have had the eloquence of Dickens — he dropped his "aitches" and spoke pure cockernee (sic) — but that interview ratcheted up my admiration for him yet another notch.
There was significant press coverage following that match, however I was horrified to see MY Paul Walsh posing with his then girlfriend, Melissa. She was the stereotypical footballer's girlfriend with her long blonde hair, glamorous clothes and slightly vacuous expression. I'm sure she was pleasant enough but, by God, I loathed her. I painstakingly edited the picture of them together from Sunday's paper to ensure not one iota of her remained before it could be added to my collection. Although this was one of my first insights into Walsh's personal life, it wasn't one I enjoyed.
To my mind, a more preferable insight into the man's character was an amusing tale which circulated the city in the early days. Walsh had not managed to find suitable accommodation when he first came to the club and so he took up residence at the Holiday Inn Hotel on Paradise Street, along with his boxer puppy. Apparently the dog didn't take too kindly to being left alone for lengthy periods of time, presumably when his owner was training and ate the majority of the furnishings, much to hotel management's disgust.
Although we lost the replay of that FA Cup semi final, Walsh really started to settle in towards the end of his first season and also made his mark in Europe. He scored twice against Austria Vienna at Anfield in the quarter final, the second a perfectly weighted volley although he slightly blotted his copybook by missing a penalty later on when his hat-trick beckoned. He also scored his fair share of goals during April and May. It had been an encouraging start for the man who many believed would be the natural successor to the great Dalglish.
I had noticed during the close season that Walsh sported a gold and onyx ring and was absolutely determined to get one just like it. Sadly, enquiries with jewellers (even Ratners) revealed that a replica was well outside my budget but I was given a much smaller version which bore a vague resemblance to his for my next birthday; I could be very persistent in those days.
The 1985-86 season started under the awful cloud of Heysel (Walsh played in that ill-fated final) but even that could not entirely diminish my excitement of possessing my first ever season ticket. It was bright green, with CHILD stamped in red capital letters and cost me the princely sum of £45. My thanks must go to my ever generous, albeit bluenose, Uncle Tom as the purchase was funded by him following my confirmation ceremony. I was overjoyed at the prospect of seeing Walshy on the pitch every fortnight, plus the occasional away game and I was not to be disappointed.
The Double season did not start particularly well for Liverpool or Walsh and he didn't score a league goal until October in a 2-1 defeat against QPR. He was being rotated by player-manager Dalglish, and became sufficiently frustrated to slap in a transfer request. I'm not sure he ever came off that transfer list. Perhaps using uncertainty as a spur, Walshy embarked upon a vein of form which was undoubtedly the best period of his career. He scored two against his former club later that month and featured regularly on the score sheet from that point. In addition to his goals, he was a brilliant foil and creator for Ian Rush. Defenders hated him running at them and consistently backed off, he also instinctively knew when to stop, spin and leave them for dead again. Despite his diminutive stature, he was also a surprisingly good header of the ball.
Walsh ran riot during the latter part of 1985, putting in a particularly memorable performance against West Brom when he scored one and created the other three in a comfortable 4-1 victory. He scored his first hat-trick in the League Cup against Brighton and featured in the Screen Sport Super Cup, a competition I particularly enjoyed and still harbour great memories of giving Everton a good pasting over the two-legged final.
Although Liverpool's form dipped towards the end of 1985, Walsh's stock didn't and he continued where he had left off on New Year's Day by scoring in the draw against Sheffield Wednesday at Hillsborough. Norwich visited Anfield for the 3rd round of the FA Cup, it was a bitterly cold, snowy day and the pitch was white, which resulted in some particularly photogenic pictures of Walsh, juggling an orange ball, who netted again and was our best player in an easy 5-0 win. It was another Sunday when I bought at least three newspapers.
Two goals against Watford and one against West Ham meant that Walsh's tally thus far was 18 goals in 25 games. It is an indication of how times have changed to recall that the Kop's response to his fantastic displays was to sing "Walshy for England". It's hard to believe any such chant would be heard at Anfield again, and certainly not while the Owl remains on his perch.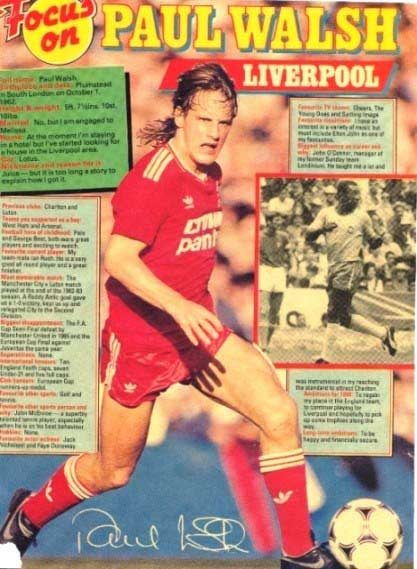 I simply couldn't wait for the visit of Manchester United at the beginning of February. When he ran on, everyone noticed Walsh was sporting a newly-shorn barnet; in my opinion all the better for showing off his admirable cheekbones.
The atmosphere was incredibly tense, Mark Hughes went down in front of the Kop to be regaled by chants of "Oh, die you bastard, die". Walsh started brightly, pirouetting away from his opponents and looking certain to add to his goal tally when disaster struck. Kevin Moran, who had never been a popular figure at Anfield, challenged Walsh, who plummeted to the ground. It was evident straight away that he had suffered a bad injury and went off. Many compared it to the demise of Samson which I did not find in the slightest bit amusing, I was inconsolable.
It transpired that Walsh had sustained ruptured ankle ligaments and he missed most of the run-in of a season to which he had contributed so much. The historical narrative says Dalglish decided to return himself to the team, but he'd hardly played while Walsh was in such form and it's unlikely he would have picked himself so consistently had the little magician remained fit. Walsh looks remarkably pensive in some pictures following the FA Cup final defeat of Everton which sealed the double. In the league, Walsh scored 11 goals to Kenny's three. In all competitions, his 18 in 32 games bettered Dalglish's seven from 31.
While Walsh was struggling for fitness after his injury, I was also fighting my own personal battle in the privacy of my bedroom. I was convinced that my failure to meet and go out with him could be blamed on a certain fleshiness of my upper thighs. I researched various exercises targeted at slimming down the offending area and performed these religiously, repeating the mantra "Thigh exercise or you will never marry Walshy". I'm not sure these had much effect but if you're reading this Paul, I think my thighs are pretty spot on these days. It is amazing what an acrimonious divorce can do for your figure.
Dalglish had been forced out of partial retirement due to Walsh's injury but even he couldn't go on forever. Walsh returned to first-team action in October 1986 and demonstrated he had retained some, if not all, of his old ability. He was a first-team regular for the majority of the 1986-7 season but aside from a hat-trick against Norwich City, his eye for goal was much diminished.
Perhaps his frustration boiled over at Southampton in the League Cup semi of February 1987. I don't condone violence in any way but admit to finding Walsh's actions that night rather funny. When Kevin Bond tackled him from behind, raking studs down those legs, Walsh clearly wasn't happy. He turned round, only for Bond to spit in his face. Walsh took a furtive glance around to see if the referee was looking — take note, Stevie — before throwing a magnificent right hook which knocked the big carthorse, about twice his size, into the middle of next week (see from 10mins 58secs below). The ref missed it but a speccy grass of linesman intervened and a red card was inevitable. The Bond family were another who didn't feature on my Christmas card list but as far as I was concerned, it just confirmed what a feisty and determined character he was. By all accounts, Dalglish was in agreement and he barely received a telling off for the misdemeanour.
My unrequited love for him continued unabated but it was incredibly maddening to witness a season lacking in joy for everyone, as Liverpool went trophy-less, and he was plagued by niggling injuries. When Dalglish invested in Aldridge and Beardsley in 1987, the writing was on the wall for him and me; it was the beginning of the end.
Despite Liverpool enjoying a brilliant season in 1987-8, I could hardly bear to read the newspapers as Walsh would be linked with a different club every time I dared to look. The ubiquitous "Wantaway Walsh" headline nearly broke my heart. Every night, I pleaded with my posters and prayed that there would be an upturn in his fortunes to persuade him to stay. Unfortunately, it was not be.
On 16 February 1988, it was announced that he had had been signed by Tottenham Hotspur for half a million pounds. It was half term and I was supposed to be revising for my GCSEs but I refused to get out of bed. I was in complete denial, followed by bouts of uncontrollable crying. I think it was a relief to my parents that the transaction was completed during the holidays as I would have refused to go to school. I was bereft.
My school friends rallied round; one wrote to Jim'll Fix It, suggesting he set us up on a date but she didn't get the courtesy of a reply (Christ, that was a lucky escape). A more resourceful mate, Vicki, wrote directly to Terry Venables and explained the situation. She refused to show me the content of the letter but knowing her vivid imagination, I can make an educated guess. She received a more courteous response and I was the proud recipient of a glossy signed photo of Walsh resplendent in his new kit, a Spurs key ring and car sticker. I think El Tel may have missed the point but we were also given an open invitation to come and meet the great man in the players' lounge after a game of our choice.
https://www.youtube.com/watch?v=Y3Olnmihq3M
Quite why I never availed myself of this offer, I'm not entirely sure. It wasn't because I feared he wouldn't live up to expectations, I was more concerned that I might hang onto his leg and have to forcibly removed by security. I wasn't persuaded my thighs would stand scrutiny either. The upshot was that we didn't go and slowly but surely, my passion started to fade.
I still loved seeing him when he came to Anfield with Spurs and subsequently Manchester City. He didn't play well or ever look like scoring against Liverpool. I continued to follow his career and sometimes it made me sad to think he was plying his trade at the likes of Portsmouth when his early days had promised so much.
Despite some dodgy haircuts during his time as a pundit on Sky Sports, I can admit that my heart still gives a flutter at the sound of his voice. If I shut my eyes, I can visualise his mesmerising runs and engaging smile after he'd scored. They were halcyon days, he was my first love and had the world at his feet; I can almost hear the Kop singing, "There's only one Paul Walsh."
[rpfc_recent_posts_from_category meta="true"]
Pic: PA Images
Like The Anfield Wrap on Facebook