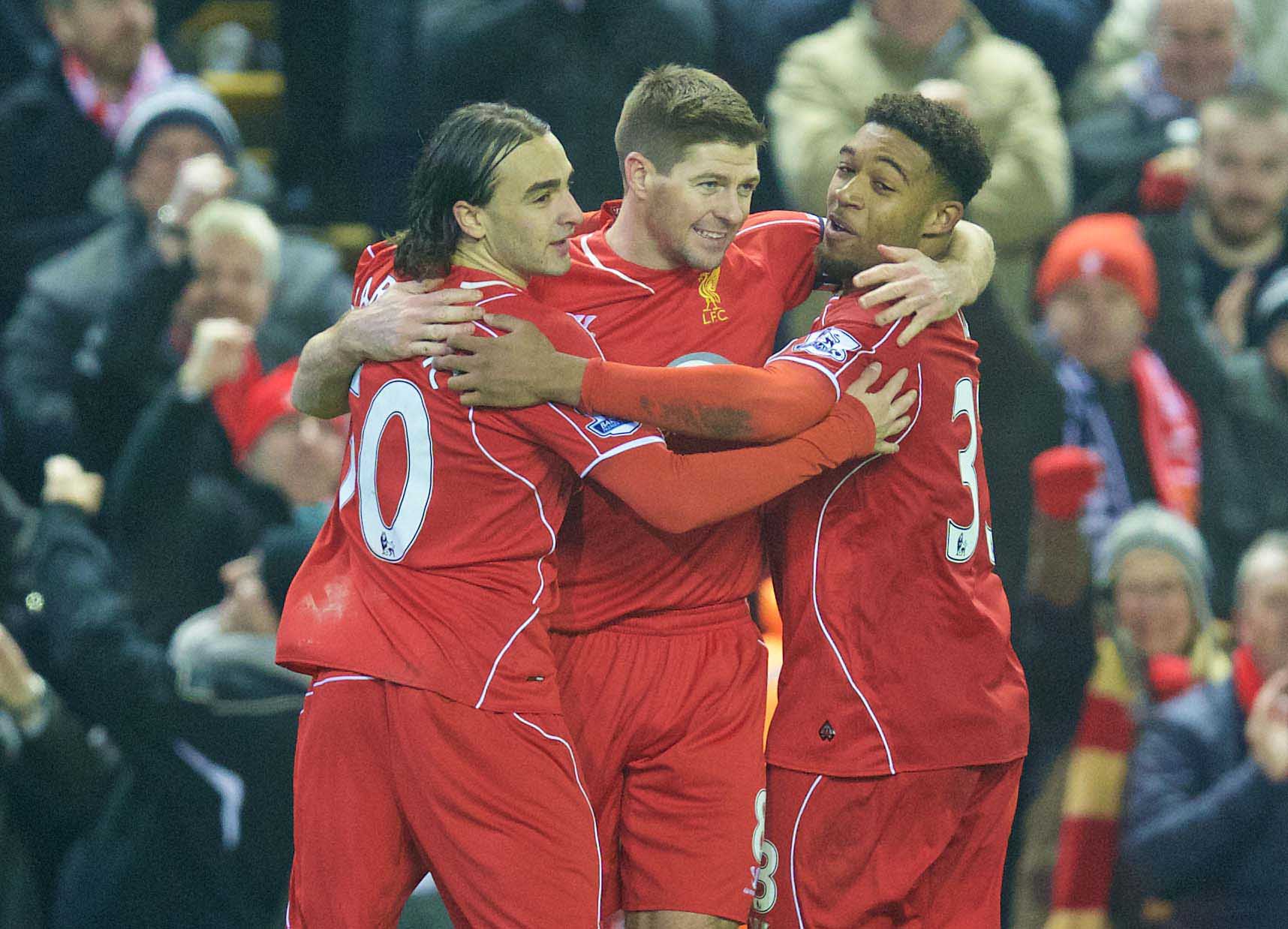 DID you get it? Yes. You're right. In the weekend that 50 Shades of Cack is released, I've decided to go back to the golden age of porn for my title. Great Google opportunity there. All about increasing the page count, guys.
The O then. The O's. Let's talk about the O's. Let's talk Options, opinions and optimisms, shall we? (See, I don't just throw this stuff together, there's thought and planning and everything).
We've seen the options for about the last six weeks now but Tuesday night — glorious, wonderful, beautiful, impassioned Tuesday night — flagged them up in the greatest way yet. Tuesday night we saw what we are, what we're capable of, saw the post-Gerrard future and thought, you know what? We're fine. We're going to be fine. We're going to be more than fine, we're going to be sodding incredible.
Can anybody remember the last time they saw all three substitutes work to such fantastic effect? We saw potential being achieved, we saw rebirth for at least one and — let's say this now — more likely two players. Rodgers does rebirth. Sometimes it's forced on him by lack of options, sometimes it may have always been planned that way but whichever it is, he embraces it. He brings them back in. Sakho. Sakho is rebirth personified. There was no way back from that derby walk out. Until there was. Until there was and it was glorious. Rebirth. There was no coming back for Lucas. Napoli beckoned. Until there was the coming back, until the set aside and forgotten suddenly became the vital, the key.
Lallana for Markovic? Easy call. A thoughtful, tricky player (hell of a turn on young Adam, swivels like nobody on the planet and I swear to God he's a damn sight faster than everybody gives him credit for) for a pacy, tricky player. Adam unlocks things. He's a glorious, graceful scalpel of a player. He changes things. Give, move, receive, move, cross, Mario. Sorted. Lovely footballer. A £25m substitute for a £20m winger. Two new players both working out fine, thanks.
Mario for a tiring Danny? Sturridge may not have scored but God he worked. His presence gives defences all kinds of nightmares to think about. His dropping to hold the ball gives space to Phil and Lazar and Jordon — space to caper and torment and create and torture in roughly equal amounts. And when he went it gave Mario the chance of rebirth. Gave him the role he could play until the end of the season. Swear to God, I saw Mario Balotelli chase a ball into the corner, saw him chase lost causes. I know I saw him score. And the reaction? Incredulity that it had finally happened? Joy for the lad. Support. Proper support. He may not have worked out. He may not work out but for that moment we were with him. A £16m substitute for a £15m forward.
The key though. The substitution that will be the most important substitution of that game in the long term. Steven Gerrard. I'm coming back to Steven, that's the opinion bit. Gerrard 'tires' (Gerrard's hammy goes) and Brendan doesn't do the obvious, doesn't do the safe, doesn't do what he would have done in dark, dark November. He doesn't bring on Joe Allen to shore up the midfield and hope and hold. He brings on Dejan Lovren. He does what every single person in the ground would do and he pushes Emre, with his speed and his physique and his sheer desire to lead a charge, THE charge, any charge into the middle of the park and he shows us what's coming. HE shows us this Saturday and he shows us next season and he shows us what we'll hopefully see until I've turned sixty (Jesus). He shows us Emre Can running a Liverpool team and Bayern Munich sit there scratching their heads and trying to figure out how they let THAT happen. First option, the buyback clause? Coulda, woulda, shoulda.
And very quietly, at the back, Dejan Lovren does very little wrong. No rash dashes, no fighting his other defenders for the same ball. Weeks, months, on the sideline, watching, thinking, figuring out. And maybe, just maybe, Brendan's just done with Dejan what he did with big Si. "See them? Just do that? Okay?". Dejan Lovren's Liverpool career starts here. Started Tuesday. Onwards, upwards etc.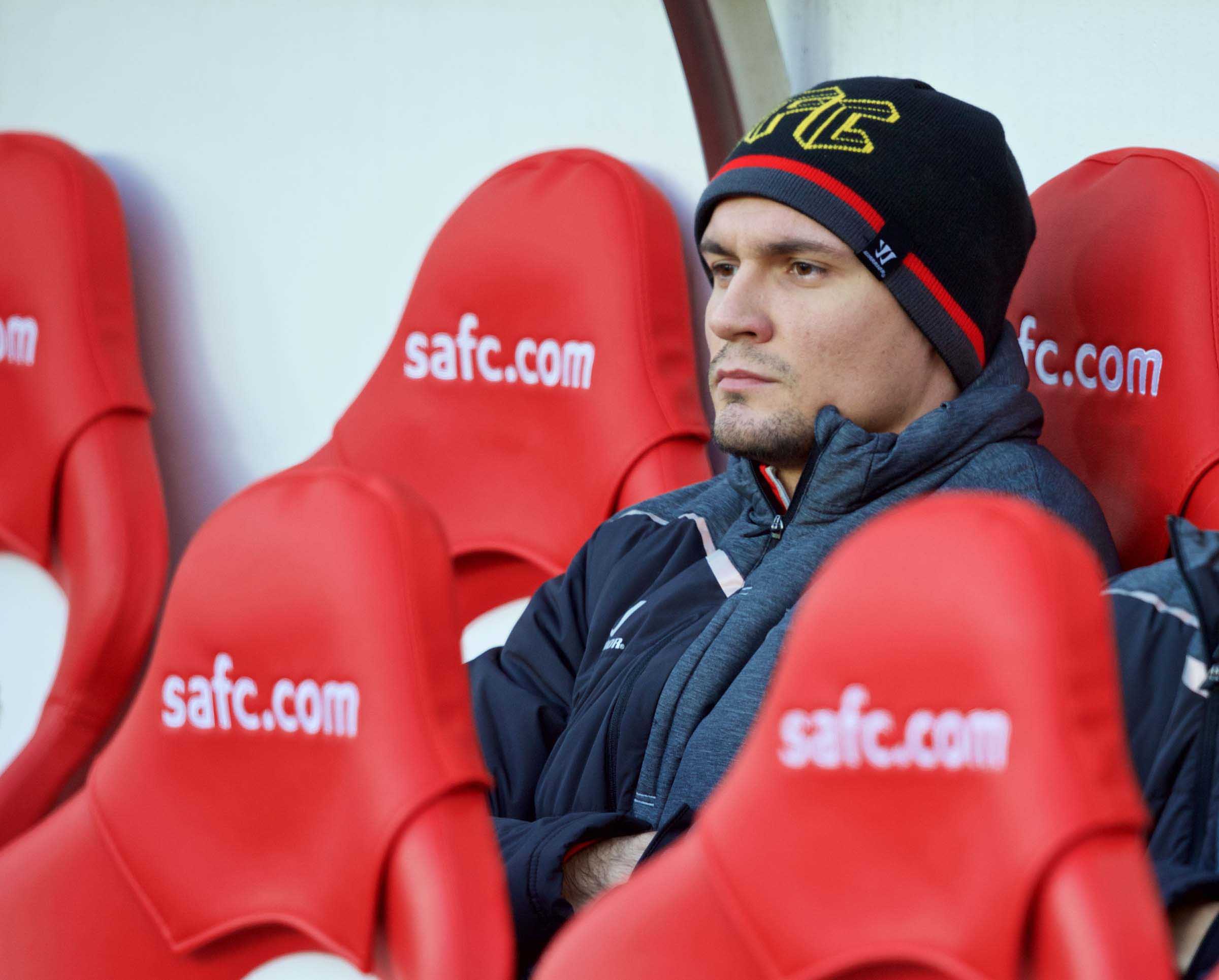 And we revise our opinion of Dejan. And we don't use Joe Allen. Which means that Joe's out of the firing line and doesn't have to listen to the groans every time a ball is less than perfect. We liked Joe last year. Liked him when he wasn't there. Liked the fact that he made things tick. We don't like him this year, all he does is make things tick. We do this. All of us. There's always one player that we won't take to, that can't do enough. It's human nature. It's also human nature that we change that player every so often. They've all been through it. Allen. Henderson. Lucas. Skrtel. Johnson. Mario. Mignolet. They're all the weak link in the team at one time or another for one fan or another. Gerrard.
Gerrard. The best example I've ever seen of a player dividing opinion. Steven's over. He's finished. Can't do it any more. We want him to lift the FA Cup but we'd prefer it if he didn't actually play until about the 90th minute of the final if we can help it.
Can I offer up a contentious opinion? (I like offering up contentious opinions at the best of times but this one's a doozy).
I thought Steven Gerrard was absolutely magnificent on Tuesday night.
Sharp intake of breath there? There's some righteous fury coming my way. I know this.
The thing is, I'm not alone. I'm a grown up now, I sit in the Main Stand. My Kop days are over. The blokes around me were in agreement. The guys I spoke to at half time were in agreement. Gerrard's best game of the season. Moving freely, chasing down holes in the midfield, moving the ball forward, creating, cleaning up. Covering for Jordan Henderson a lot of the time; Jordan making ALL the wrong decisions, not challenging, backing off when he should push forward, moving the ball carelessly, making the wrong pass.
Our kid though. Our kid still sits on the Kop. Meeting in the cold afterwards for that walk across the park I was stunned, literally stunned (well, not 'literally', that would be ridiculous) to find that he'd seen a different game to me. That Gerrard had apparently been appalling. That Henderson was the better of the two. That my call for Henderson to be subbed (for Lovren to come on and Can move forward – come on, I got that bit right) was apparently absurd. Twitter went with our kid. One of us is wrong. I refuse to accept it's me. I know what I saw. Or maybe it's just a matter of opinions, maybe everything's subjective and there's no right answer here.
The joy is, we have options. We can lose Gerrard, lose Lucas, give Sturridge a rest, not have Raheem anywhere near the field and still put three past a very, very (best team to come to Anfield this season) Spurs side.
Options. Options all over the place. Which can only be grounds for optimism.
[rpfc_recent_posts_from_category meta="true"]
Pics: David Rawcliffe-Propaganda
Like The Anfield Wrap on Facebook