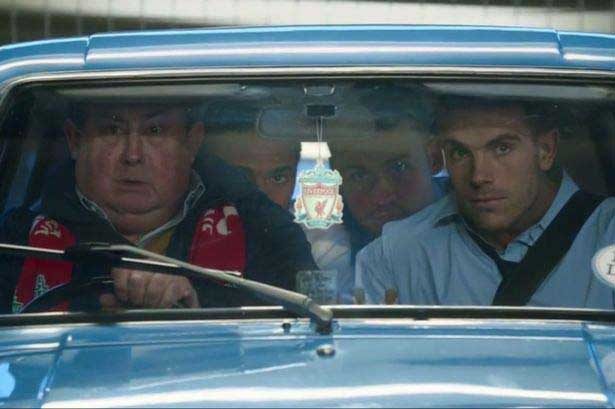 IT'S funny what people get angry about.
Maybe I've changed. Grown up, maybe. It's taken a while if so. Either that, or the vagaries of modern football have taken their toll.
This advert Henderson, Sterling and Mignolet have done? Not arsed. At all. It means nothing to me. It doesn't affect me in any way. I just can't angry about it. Once upon a time, I'd have trotted out the arguments: we're selling out, it's embarrassing, why can't we be different, not the Liverpool Way…
Now – to me at least – it just doesn't matter. It's a bit shit, but it's worthy of nothing more than a shrug of the shoulders. I see some young lads cashing in while their star shines bright. Good luck. And football clubs cashing in on anything and everything is what clubs do now. Ever bought a cuppa at half time? A sausage roll? A bag of crisps? There you go. How about paying just for the chance to buy a ticket? That happens too.
To be honest I'd rather clubs made money out of players than fans. They're getting well rewarded. We're not. So an advert or ticket prices? What should arse you more?
I'm not trying to justify it. It is what it is. Loads of adverts are shit. And that's another one. Marketing, promotion, advertising… it happens whether you like or not. 'Not' for a lot of people, obviously. The club having a 'male grooming partner' is of course laughable. But it's bollocks I don't need to concern myself with. If it's making money it's not going to stop. There are more important things in life. I'll file it with people saying 'window of opportunity' and 'blue sky thinking'. It's corporate bollocks. It's not for me.
There you go. It's not the Redmen conquering Europe. It's not Graeme Souness knocking a rival out or Steven Gerrard smashing Gary Naysmith. But take a look around – this is part of the game. The door was opened to this a long time ago. And now the door has gone. Instead it's automatic doors and a new area for executives.
It might be sad. Cringe worthy. Wool. Whatever you want to call it. What it definitely isn't is new. The club never used to be this way? They've sold out? In 1979 Liverpool became the first club to have a shirt sponsor and plastered Hitachi on the player's tops. How's that for different?
When I started going in 1990 I remember the 'Wonderfuel Gas' advert high above the Anfield Road. And players associated with Liverpool in shit adverts? Jason McAteer washing his hair, Kevin Keegan's homoerotic encounter with Henry Cooper, Lucozade Sport getting to John Barnes's thirst fast, Ian Rush like a rabbit in the headlights talking about cereal, Kenny Dalglish ringing all the fans for BT.
The club – and the players – will do things in the name of cash.  I'd like Liverpool to keep the kits simple and traditional. I'd like them to avoid plastering nonsensical statements around the ground. But I'd also like Liverpool to win and for them to do it at a price I can afford. I'd like to take my children to the match, too. I'd like them to experience the Anfield roar, the buzz of a goal, the sights, the sounds. I want them to get the bug that they'll never get from television.
The new TV deal would allow a club the size of #LFC to reduce match day prices by £41 for every PL game & be no worse off.

— PriceOfFootball (@KieranMaguire) February 12, 2015
A huge Premier League TV deal bolted on to deals such as these product partnerships should make affordable tickets eminently possible. And if that's not the case then one day I'll join the thousands of one-time match-goers that have already been priced out. I'll watch the game on the telly. Go the odd match. Just how the Premier League bosses and their boardroom chums seem to want it.
The average price of cheapest tickets in England has risen at almost twice the rate of the cost of living since 2011. Increasingly the game is being transformed into an out of reach piece of sports theatre for the chosen few. And yet that theatre takes place in deprived communities, on the doorsteps of kids that look to a sky illuminated by Anfield floodlights then head inside to watch the game on the telly if they can afford a Sky and BT Sports subscription.
Ticket prices is one thing that I passionately feel should be addressed. The supply and demand argument simply doesn't wash. Liverpool FC isn't Weetabix. And when we're part of the show – the 12th man, the flags, the atmosphere – then the match-going hardcore should be encouraged, rewarded and engaged with not pushed away and replaced with a Thomas Cook package holiday.
The continual increase in ticket prices encourages a transient support – different people in different seats every week. That might mean tills ring a bit louder in the club shop or the kiosks inside the ground but it also kills the songs, the support, the flags, the banners. The people who make the effort to do that – the people who go week in week out – are part of 'the product'.
The prices just keep going up forever because there's a demand? Yeah, cracking argument. See you in the boozer in a couple of seasons. We'll watch it on the foreign satellite. I'll bring the kids.
Adverts? Fuming? Here's loads of them. Get angry about ticket prices. That's something you should be arsed about.
Steven Gerrard and XBox One
Kevin Keegan and Brut
Steven Gerrard Adidas animation
Mario Balotelli and Nike
https://www.youtube.com/watch?v=HVFDzDiNPrw
John Barnes and Lucozade
Kenny Dalglish and BT
Fowler, McManaman and Rush recreate Milk ad for Sport Relief
Ian Rush and Golden Crackles
Fernando Torres and Nike
[rpfc_recent_posts_from_category meta="true"]
Like The Anfield Wrap on Facebook