A TYPICAL Friday which began – as always – with tea and chocolate biscuits. They must be opened by the same people each week and the gaffer has first go and his packet must have two chocolate sides together like a sandwich. It is just part of the amazing Friday routine which you have to put down to superstition. Ronnie always opens the other two packets. If we play on a Sunday the biscuit routine is switched to Saturday. We split into pairs with one player getting the tea and his partner going for the biscuits… It sounds childish, but Liverpool couldn't possibly prepare for a game without this routine.
It's odd to think that the team Ray Houghton is talking about, the irresistible '88 side of Aldridge, Barnes and Beardsley, would need to indulge in such a routine, writes ANNA WALSH. After all, they won the league by miles, playing some of the best football the First Division had seen. However, footballers are a superstitious bunch — see Daniel Sturridge walking backwards onto the field of play for example —  and the traditions around the old boot room had served Liverpool well through the 70s and 80s.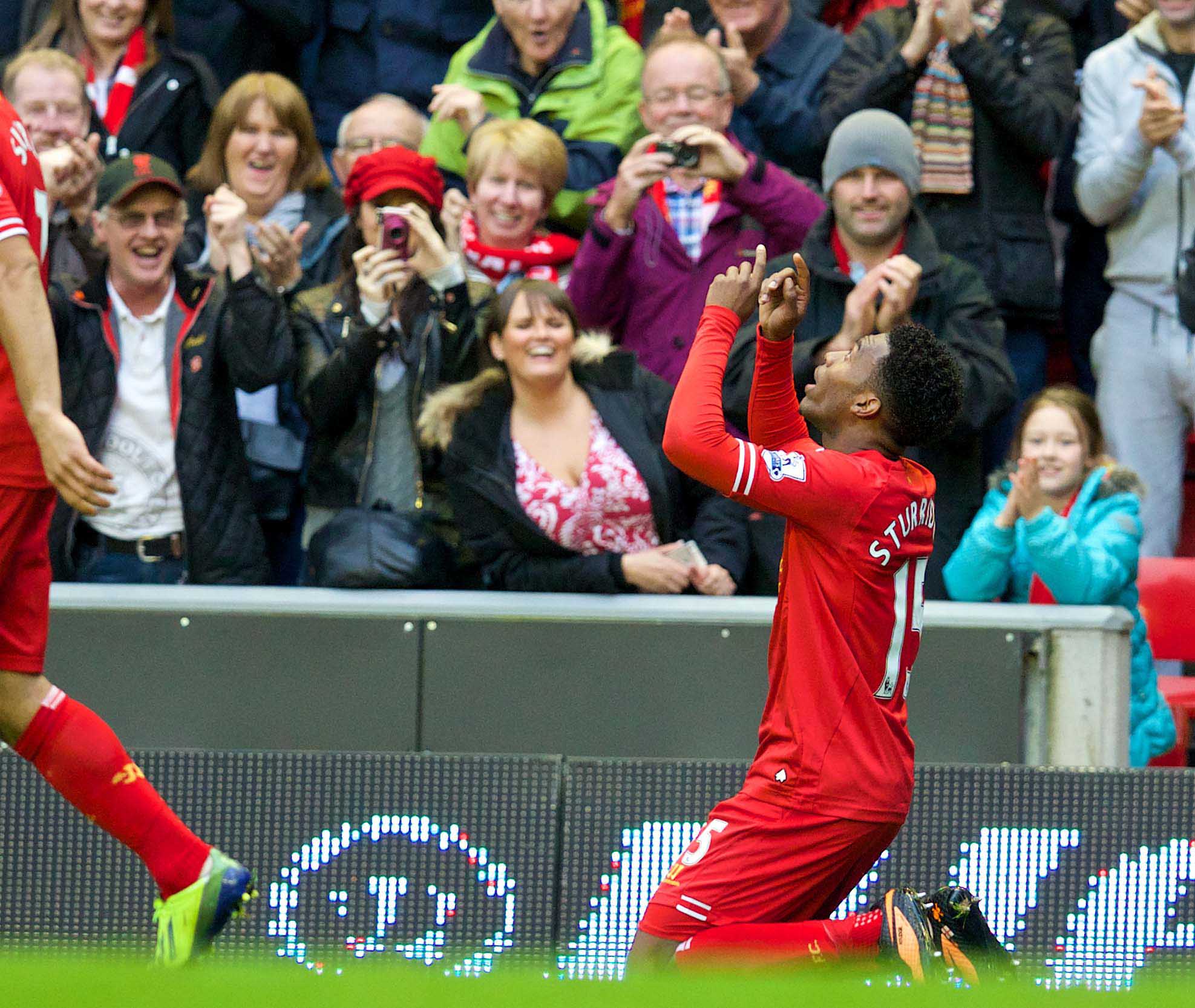 Brendan Rodgers clearly understood the importance of the traditions of the boot room when he moved to Liverpool. Whether he had also read Liverpool: The Glory Decade is less clear, but in restoring the old 'This is Anfield' sign and the red nets at Anfield he clearly nodded to the superstitious among players and fans. And for a while it seemed these totems appeared to provide a new strength in the team. Fortress Anfield, with its old traditions and its new pressing game, buoyed the team and the fans to believe that the stars really could align for them.
Whether it's Pepe Reina parking in the same space, David James spitting on empty urinals or any of the remarkable number of urination related superstitions alluded to here, athletes are renowned for ensuring they follow certain routines. And it's not just footballers. My friend Tom, a rugby player, says he doesn't really have any superstitions — except that he stops at the same Tesco Express for egg and cress on brown, blue Powerade and Jaffa Cakes before every home game. Maybe he'll change this when he returns after breaking his leg in the last home game he played in.
Psychologists relate superstitious beliefs and actions to something called locus of control. The higher your locus of control — an ability to recognise and accept the amount of control that you have over events and actions – the less likely you are to fall back on superstition. Players, then, can have at least some influence, for better or worse, on the outcome of a game. For the most part though, the most a fan can do is make some noise and hope it has a positive effect. This lack of control can be frustrating, and leads some of us to behave superstitiously. Saluting magpies and avoiding walking under ladders is all very well, but I'm sure I'm not alone in having some sports-watching superstitions.
Whenever a game goes to penalties, like last night's against Besiktas, I have to leave the room, or at least keep my eyes shut. We've seen Steve Bruce do something similar.
During the 2006 FA Cup Final, I paced around outside, keeping score from the shouts of my West Ham fan friend who was watching in the living room. Even if I don't really care who wins, the cruel emotional spectacle of a penalty shootout is something I find as stressful as watching operations on Holby City.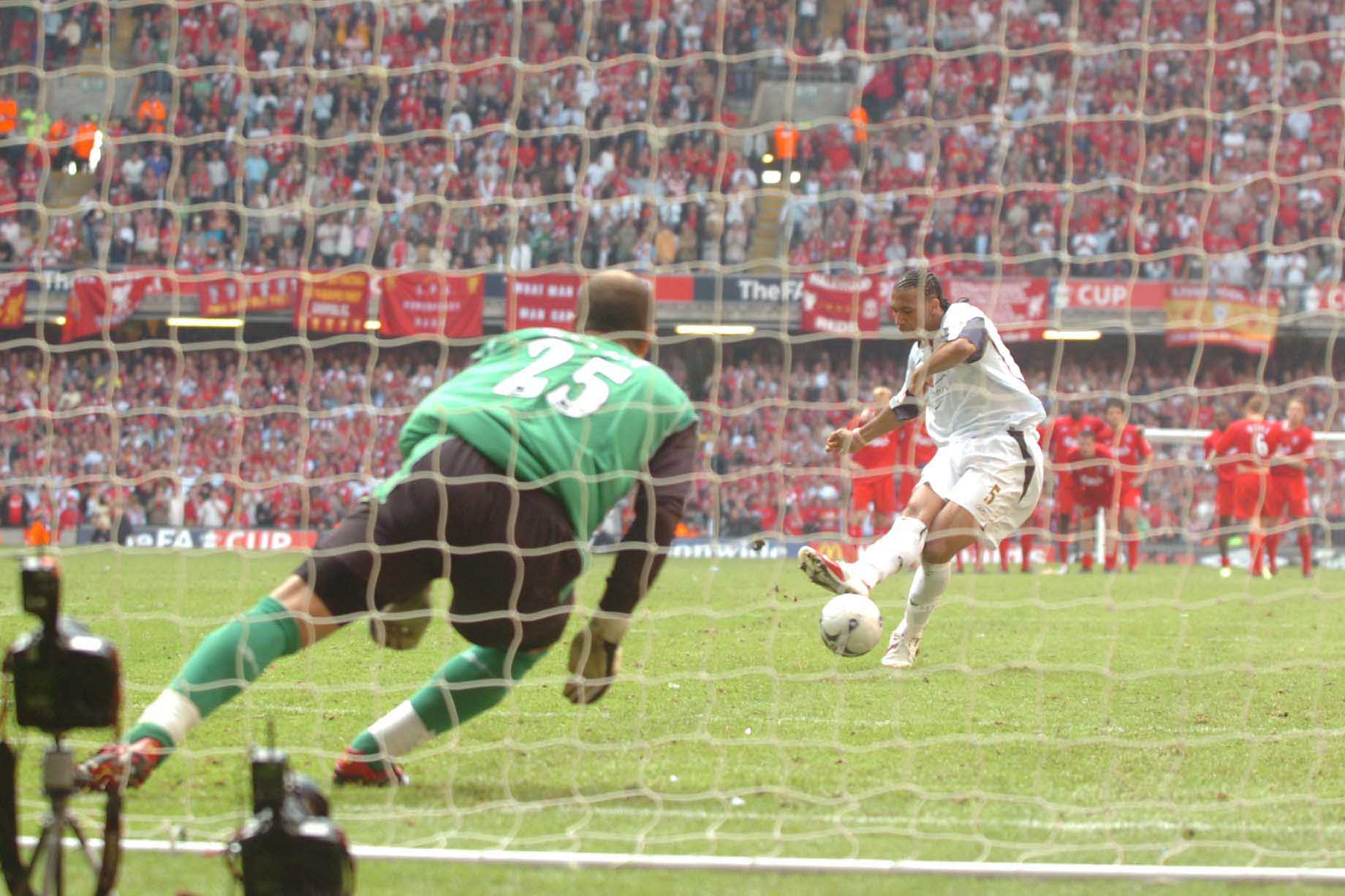 During the legendary final in Istanbul I made everyone — even the Man U fan and the lad in the vintage Milan shirt — hold hands and chant 'score' when the Liverpool players stepped up. Dudek's shaky-legged tribute to Grobbelaar, a welcome nod to the glory days, suggested an attempt to recall the spirits of past victories, and to threaten the opposition with the forces of history. Either that or he was scared of Jamie Carragher. I only saw the kicks though — on the world's smallest telly — afterwards: a lifetime of spot-kick eye closing continued.
Last season, the red blouse with white flowers that had served me well through watching the Man U and City games was thrown out in anger after the loss to Chelsea. The pub I watched in was blacklisted, and the friends I watched it with were excommunicated until the end of the season in case *they* were the reasons we had lost. The new red t-shirt — an Asda panic buy with stripes for those who care — was unveiled for the Palace game, even though I was only listening on the radio, and until half time it seemed to have been a sound investment. Then everything fell apart and it was back to the wardrobe.
My friend Dave, a Sheffield Wednesday fan, never shaves on the day of a game, an action he is certain has absolutely no effect on the result but one that he feels compelled to continue with anyway. Gary at work's United-supporting friend keeps his lucky 'win pants' on until United lose, when he changes them: an event which happens more regularly now, which must be a relief for the man in question's nearest and dearest.
Another, anonymous, respondent, wears the same stripy red and white boxers for each Liverpool match. Janine will never bet on her beloved Middlesborough to win, as such an act always precedes defeat. In the FA Cup fourth round, she put money on them winning only because a win against Manchester City was such a ridiculously far-fetched proposition that she figured superstition would be null and void. Maybe that weekend's remarkable FA Cup results will spark a new tradition for her.
Not betting on your own team to win certainly seems to be a common one; also, counting your chickens by even mentioning winning something — I can't have been the only one watching the Football Focus where the venerable Alan Hansen confidently predicted Stevie G lifting the Premier League trophy and shouting, 'Alan, NOOOOO!' at the telly.
This hastily compiled bar chart specifies the types of superstition that my respondents follow for most of the games that they watch: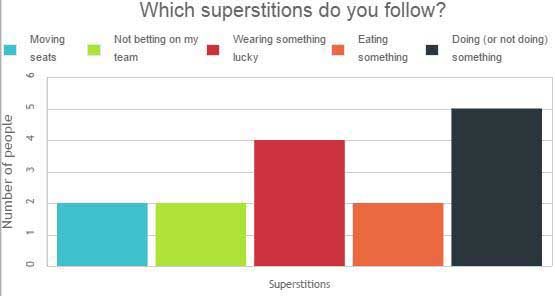 One respondent's assertion — that the superstitions he follows never work, and are therefore stupid, is fairly pertinent here. These things that we do have no bearing on the results. Yet we do them anyway. Why?
Sometimes being a fan is hard. We want our team to do well, but more than that, we want to help them. Buying the merchandise or going to the game can clearly have an impact, but anything more than that and the effects of your travails are likely to be negligible.
Saying that, this run of better form (last night was a different competition, right?) began when I started listening to the games on the radio. Maybe there's something in that?
[rpfc_recent_posts_from_category meta="true"]
Pics: David Rawcliffe-Propaganda
Like The Anfield Wrap on Facebook